MODEL REVIEW: Freightliner could not have picked a tougher time to launch its much tested and much touted Cascadia, a few short months before COVID-19 sent the world into a terror-stricken spin. But business goes on and more than a year after a prominent family company put one of the country's first Cascadias to work, the truck has ticked every box for both the owner and the driver
For the most part, Brett Cleary is a bloke who likes to keep things relatively simple. Simply put, he is the third generation of Cleary Bros, an immensely proud and resourceful family company which for more than 100 years has built and operated quarrying, transport and civil construction enterprises from a base on the Illawarra coast which nowadays, is little more than an hour's drive south of Sydney.
Similarly simple, within this family's code resides a strong, historic appreciation for things that work well and at the other end of the scale, an equally strong disdain for things that don't. When it comes to equipment that doesn't meet expectations, second chances are rare in the Cleary mould.
These formidable and sometimes fierce attitudes are in the blood. Brett's 80 year-old uncle Denis Cleary is perhaps most resolute of all, a trait no doubt shared with his late brothers John and Brian, and inextricably inherited from their father and company founder, Jack Cleary.
Still, a liking for simple qualities doesn't mean dislike or even disregard for the inevitable evolution of technology. Not at all. However, the Cleary credence is that the progression of technology into a piece of equipment – be it a truck, a car, an excavator, a phone, a computer, or whatever – does not and should not give licence to the loss of basic qualities like strength, durability and reliability. Otherwise, what's the good of technology?
Moreover, the way Brett Cleary sees it, it's not for him to know the finer technical details or performance protocols of a particular piece of technological wizardry, but it is most certainly for him to know if it does or does not realise its maker's claims or perform to the ultimate benefit of the company and its people. Simple as that.
So, as 2019 drew to a close and Brett and Cleary Bros transport manager Steve Crandell joined a big crowd of guests invited to Sydney for the stellar launch of Freightliner's much anticipated Cascadia conventional, there was plenty of thought about how this newcomer with all its advanced safety and operational features might actually enhance and perform in Cleary's truck and quad-dog work.
The only way to know was, to put it simply, bite the bullet. Thus, with the workload to justify an additional truck and quad-dog combination, an order was soon placed for a Cascadia 116 model punched by a Detroit DD13 engine rated at 505hp (377kW) and 1850lb-ft of torque, driving through the overdrive version of the DT12 12-speed automated transmission.
Was he nervous about the purchase, particularly given the truck's blank record in Australia?
"No, not nervous at all," Brett instantly answered. "Freightliner is a recognised brand and they're obviously out to make a statement with this model. Besides, from everything I'd read and heard about it, it has a good track record in America and supposed to be really good on fuel.
"We were confident it'd do the job."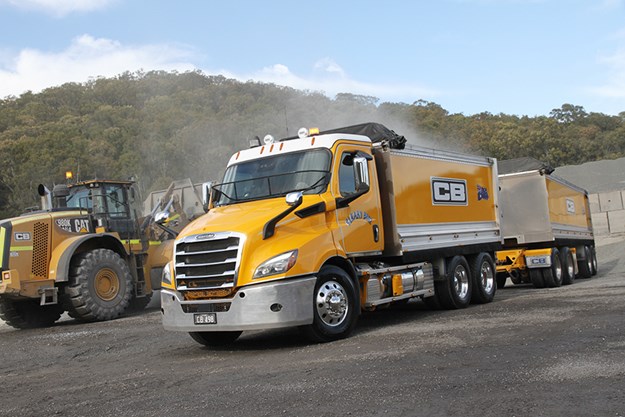 Similarly, it was an adamant Brett Cleary who said there was absolutely no inherent desire to be among the first to take delivery of a Cascadia but there was certainly the intention to see if facts matched the fanfare. Mostly in concrete agitator applications, Freightliner already has an established presence in a diverse Cleary fleet of around 100 trucks but the lone Cascadia would be running head-to-head in truck and dog roles where Mack, Western Star and a smattering of Kenworths were well established and largely liked.
Cascadia's standard safety suite was, however, a powerful influence on Cleary's considerations. Brett doesn't shirk from a belief that safety features have become a societal, economic and largely elemental factor in modern-day trucking operations and with Cascadia, Freightliner has taken a huge leap ahead of its conventional rivals. This alone was a decisive factor, but there were others.
Mack, for example, has a long history with the company but it's a blunt Brett Cleary who asserts the bulldog appears to have grown complacent, quickly adding that the presentation of a new Anthem model did little to excite renewed regard for the breed. "To be honest, I couldn't see what all the fuss is about," he said seriously.
As for Western Star, specifically the 4800 and 4900 models, he contends it is possibly the most durable fleet truck in the operation but an uncompetitive price for an increasingly aged design is difficult to justify. "Nothing's changed on the truck for years but the price just keeps going up. Why?" he asks with a shrug. That said though, the smaller 4700 model remains a consistent choice for Cleary's agitator work.
A self-confessed fan of Kenworth, Brett again emphasises that high price is difficult to justify given the relatively basic features of the standard specification for truck and dog duties.
Yet when asked if Cascadia was substantially less expensive, an emphatic Brett Cleary said, "No, it definitely wasn't cheap but you get more for the money. A lot more."
And now, more than 15 months after Cleary's Cascadia finally went to work following a typically long wait for a new tipper body and four-axle dog trailer, Brett Cleary didn't hesitate to answer the two most pertinent and revealing questions: 'Has it been a good truck?' and 'Would you buy another one?'
"I haven't heard any complaints, so it must be good," he says with a smirk. "Believe me, if there was something wrong with the truck, someone would be going crook about it but I just don't hear anything. Not a word." A short pause precedes, "Except, I've been told a few times it's good on fuel."
In fact, over the life of the truck so far, the on-board computer records a fuel average of 2.04km/litre (5.76mpg) with the average improving to 2.08km/litre (5.89mpg) over the last 50,000km. Again, there are no complaints about figures which are an improvement on other brands in the same role at the same weights.
"I suppose the truck has surprised me a bit. We obviously weren't negative to start with, but it's definitely better than expected, by a country mile. So, would I buy another one, yes, for sure."
Still, a year doesn't make a lifetime for any truck, and especially in the Cleary fold where the company's tradespeople have an envied reputation for keeping equipment in good working condition far beyond a first life expectancy.
Nonetheless, it's a thoughtful Brett Cleary who contends, "Next time I'd probably go for the 16 litre (126) model, mainly for the climb up (Mount) Ousley. They're pulling big weights up a big hill and the bigger engine (rated up to 600hp and 2050lb-ft) would just do the job easier. It might even be the same or a touch better on fuel."
As for the standard of back-up service – an issue which has occasionally dogged Freightliner and its Daimler Trucks Australia master – he says thoughtfully, "No complaints there either, but you don't really get to test the service side when the truck's doing everything right.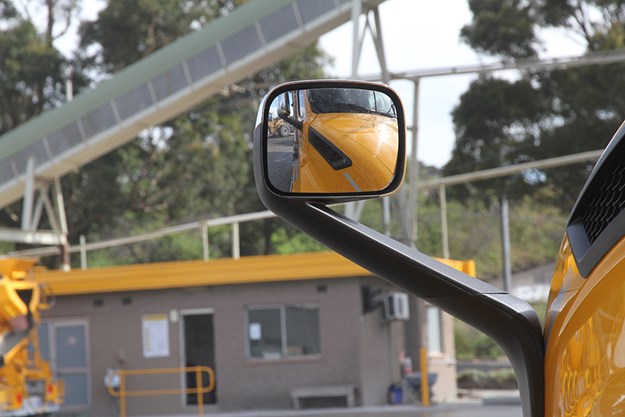 Indeed, as the truck's driver Kieran Pearce confirmed a day earlier, the only time the Cascadia has been off the road was a brief interruption in its early life for a Freightliner recall on the radiator.
"Seriously, I've got nothing to complain about," Brett insists. "Nothing at all, and so far I can't see any reason why it won't stay that way."
In fact, the level of contentment now extends to Freightliner's corporate cousin Mercedes-Benz and an order for a flagship 2663 model for an innovative high-gross combination currently under development. As Brett explains, the Benz will tow a relatively short tandem-axle tipper trailer coupled to a four-axle dog and, operating under higher mass limit (HML) guidelines, gross weight will be around 70 tonnes.
"It's a design that gives us a payload potential up to 51 tonnes," he comments, optimistic the combination will be up and running early next year.
As for the choice of Mercedes-Benz in a Cleary fleet where Kenworth and Volvo are the most obvious cab-overs, he says succinctly, "I haven't heard any negatives about Benz. They've been keen to get a truck into the fleet and from what I hear, they perform well and they're good on fuel. I'm actually really keen to see how it goes."
Meantime, it's a forthright Brett Cleary who concedes that Cascadia isn't the only thing that has surprised him over the past year and more. Despite the stifling impacts of COVID-19 and initial predictions of economic doom and gloom, he declares the Cleary business has stayed strong.
"It hasn't been easy at times but it hasn't been nearly as bad as expected, or predicted by some," Brett remarked. "Like everyone else, we've had to make adjustments in every area but the business has largely stayed strong and productive. With all the negatives going around, we genuinely expected it to be a lot worse."
Behind the Wheel
Back in early August 2020, the Cleary Bros Cascadia's maiden loaded run was for our video and written report on the truck's features and the reasons behind the company's decision to opt for Freightliner's latest and possibly greatest truck.
With a relatively light load, the Cascadia 116 did everything expected of a sparkling new truck and quad-dog combination. However, like most of these exercises, it was simply a sample and there was no illusion that a true measure of the model's qualities and specifically its all-important build quality would only come from time and toil in the real world.
And so it was that 15 months after that initial drive, Cleary Bros willingly agreed to another run in the truck, only this time we planned to do it from the passenger seat alongside driver Kieran Pearce who has been at the Cascadia wheel for all but 3000km of almost 150,000km now on the clock.
Forthright and considerate with a build typifying a passion for playing hard core rugby league even at the bruising age of 37, the farmer's son and qualified mechanic originally from Harden in south-western NSW has definite views on Cascadia and isn't shy about sharing them. What's more, he makes no apology for views that are completely his own, unimpressed and uninfluenced by the random opinions and comments of those who haven't spent any time in the truck.
In short, Kieran has an extremely high opinion of Cascadia for reasons that openly reflect an acceptance of modern technology and perhaps more to the point, an acquired confidence to allow the truck to perform exactly how its designers and engineers intended. As he would soon state, "I'm just happy to let the truck do its thing and as far as I'm concerned, it does it well."
It's 8am and obviously much later than his normal start time when we meet at Cleary's Albion Park quarry weighbridge where he has the truck spotless. Inside, it's as pristine as the day it was delivered and shows no visible signs of wear after more than a year's work. Better still as he steers the truck up to the stockpiles for a load of blue metal, there's not a squeak, squawk, rattle or moan anywhere.
'The cab seems to be holding up well so far.' He nods, "Yeah, real good. I hate rattles and squeaks in anything but I haven't had one so far."
The load is soon on and with the combination operating on performance-based standards (PBS), the weighbridge confirms a gross weight of 57.1 tonnes which, according to Kieran, equates to a payload of 38.8 tonnes. Tare weight of the Cascadia combination is, he casually comments, several hundred kilos better than an equivalent Mack Trident towing a quad-dog.
"I don't know how much of that is due to the new body and trailer or how much is due to the new truck, but I know this unit's up to half a tonne lighter than others on the same work," he insists.
We're soon into a traffic stream contending with possibly Australia's most costly and complex roundabout before finally heading north on a new stretch of freeway to Port Kembla and a Cleary Bros concrete plant. The conversation flows easily.
"I like what I do. It's a good job with a reputable company," he says appreciatively before admitting to some surprise when first offered the new combination after just a few years with Cleary Bros. "Seriously, what driver doesn't want to drive a new truck and trailer," he grins. "I wasn't going to say 'No' but I knew the truck would be different in a lot of ways, and there's plenty of people with an opinion about how it looks. Blokes in Kenworths particularly, but none of it worries me because most of them probably know nothing about the truck except that it looks different."
Yet one part of the truck which has attracted plenty of comment are the 'cat's whisker' mirrors on the front of the mudguards. But according to Kieran, "I wouldn't be without them. They are the best things in traffic, especially when we're running up to Sydney. I reckon they're brilliant."
Not quite so brilliant though is the placement of the 'Detroit Assurance' radar unit at the top centre of the windscreen. As we've also found in several stints of a few Cascadia models, the unit's location can occasionally impede view to low hanging branches and the like while Kieran further comments, the driver's side mirror housing can be obstructive in some instances, especially at roundabouts.
Other than that, and a casual assertion that an external toolbox would be handy for keeping grubby odds and sods out of the cab, his contentment and liking for Cascadia are entirely evident. "For me, there's just so much to like about it," he says with blatant regard.
His appreciation is, quite simply, easy to appreciate. Comfort and road manners are excellent and even on the fixed passenger seat, the truck's ride quality is surprisingly kind. The dash and control layout are entirely functional and as far as Kieran's concerned, "I like the fact that everything you need is pretty much at your fingertips. It's really easy to like."
---
VIDEO: 2021 Freightliner Cascadia vs 1982 FLC 120
---
Freightliner Notably high on the list of likes is the truck's turning circle. So good compared to others in the fleet, he smilingly suggests Cascadia is, "… like turning a speed boat compared to the QE2." A slight exaggeration, for sure, but in the typically tight wheel work of truck and dog duties, a sharp turning circle can make a driver's day far less awkward.
However, as the DD13 engine finally hauls the combination up to cruise speed and Kieran engages cruise control, he admits it takes a while for the Freightliner to "get up to speed" even on relatively flat roads. In the next breath though, he eagerly explains, "I never drive it in manual. Don't need to, and besides, who am I to tell it what to do.
"Once it's up to speed, I just put it in cruise and leave it to itself. It's just so easy to let it do the job for you and seriously, you could count on one hand how many times I've put it in manual. It picks the right gear at the right time, and just does it all so smooth and easy."
Moreover, his opinions of Cascadia's standard safety systems, especially adaptive cruise control and 'side guard assist' have become deeply entrenched. "The adaptive cruise is really incredible if you just let the system do what it's designed to do," he emphasises, citing numerous instances where the technology's ability to make a driver's life easier and ultimately safer have been plainly evident. "These days I probably just take it for granted, it's that good."
So, do you think the technology has at one time or another helped avoid a collision, big or small? "Yeah probably, because it makes you aware of exactly what's happening around you."
Even so, Kieran Pearce is also well aware the truck's reputation is that it's comparatively slow to accelerate and slow up hills, notably on the long and demanding climb up Mt Ousley which is a regular route in Cleary Bros' operations.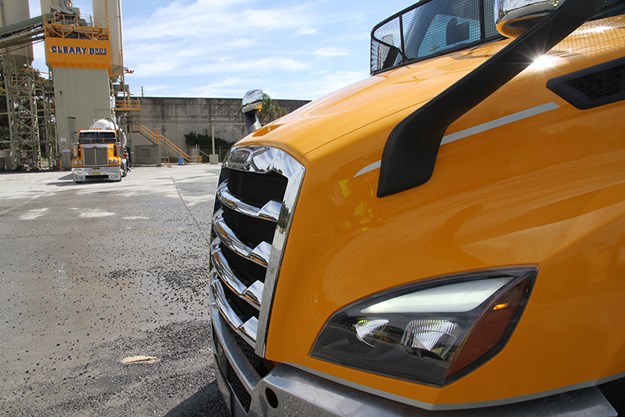 At 505hp, the DD13 is 30hp less than the company's Mack Tridents and on the ascent of Mt Ousley, Kieran asserts the difference is noticeable but also negligible. "If the Macks drop back to 30km/h, then you can be sure that at the same weight, this truck will be about three kilometres an hour slower.
"Like I said, I just leave it in cruise and with a full load it drops back to 6th gear and shifts up when it needs to shift up. Seriously, it's an easy way to drive and at the end of the day, I might be 20 minutes or half an hour behind but every day I'm doing exactly the same number of loads as everyone else doing the same job. And using less fuel while I'm doing it."
Even so, would he prefer more muscle?
"Honestly, it doesn't worry me," Kieran answers abruptly. "If there was more power, it'd be getting used but I wouldn't change the way I drive the truck. Not at all. I'd still let it do its own thing, for sure.
Soon enough, back at the quarry for another load, this time at maximum weight of 57.5 tonnes, it's simply a repeat performance guiding the Freightliner through traffic and once on the highway, into cruise control and simply steer as the truck keeps a set distance from the vehicle in front.
"As it is now, I wouldn't change anything," a definite Kieran Pearce declares.
Photography: Steve Brooks