Southern New South Wales and Victoria-based Chester's Transport has been in the trucking industry for over 30 years moving grain and stockfeed for its clients.
Founded in 1989 by the Chester's family duo of Graeme and Julie they started out with just one truck, a barrel tanker, doing stockfeed work from a local feed mill initially with the help of Graeme's father.
Eventually, Graeme's father transitioned out of the business as he got older, and the husband-and-wife team decided to grow the business further. 
Graeme and Julie saw the opportunity to expand the business. They started by setting up blowers on the trucks and rotary seals on the tipper trailers to enable back loading. Around this time, they were also aware of the benefits of further diversifying the businesses operations. 
"We saw a need at the time to not have all our eggs in the one basket. So, we grew the business to having several blower trucks for the stockfeed as well as tippers to cart fertiliser, lime, and bulk grain," Julie Chester says.
"More recently we have stepped away from the stockfeed and blower truck side of work. This has meant we can focus on our bulk grain work and our clients.
"We do a lot of work at a nearby oil seed factory as well as carting meals, transfer work, gypsum, lime and fertiliser for local farmers."
The business is based on the NSW/Victorian border in Corowa, and currently operates in Victoria, southern NSW with occasional work in central NSW.
The current Chester's fleet is a group of fantastic looking Western Star trucks paired up with trailers by the Goulburn company, Tefco.
"We enjoy having the bigger size cabs that Western Star can provide which gives greater comfort for our drivers. We cannot fault the Tefco tippers set up with BPW axles for their reliability and ability to cope with the Australian conditions," Julie says. 
Being the Western Star fans that they are, Julie says Chester's are keeping a close eye on the brand's new truck line up.
"We are looking forward to the release of the new Western Star X Series to see what this brings to the Australian transport industry," Julie says.
Chester's honours itself on always having a clean fleet of trucks and they say staff are encouraged to ensure their truck and trailers are clean before beginning a new week's work.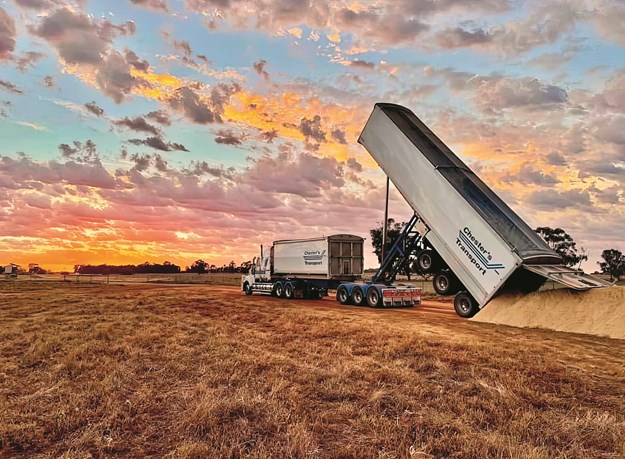 Chester's, like many transport operators in Australia, being a family business prides itself on having a strong set of values, among these are safety and accountability.
"Safety comes first. We have a big focus on safety for our drivers and the general public. We operate under fatigue management, mass management and also maintenance management and this ensures our drivers, and the community are as safe as possible.
"We ensure that our trucks and equipment are well maintained, so we can also operate efficiently providing a reliable service to our customers," Julie says.
Driver shortage
Just like every other company at the moment, Chester's is aware of the many challenges facing the transport industry. First and foremost, for them is the ongoing labour shortage. They have begun using social media as a strategy to attract new talent to the company.
When asked about the underlying factors that might be contributing to a lack of skilled drivers, Julie points to the unfair perceptions of drivers that culminate in fewer young people aspiring to join the industry. 
"We need to recognise the hard work of truck drivers and how important the industry is for Australia in the supply chain. The labour shortage is an ongoing challenge for us. We are using social media as a new way of getting our name out into the industry and hope this will assist with recruitment in the future," Julie says.
"We are enjoying getting our name out through social media and showing the trucking industry our fleet. We have a few drivers who enjoy taking photos of their trucks and this has helped us have a great gallery of photos," says Beth Chester. The results are a stunning set of photos that demonstrate the company's values of hard work and positive company image. 
Julie and Beth both said they believed a driving apprenticeship would be a huge positive for the industry. Such an apprenticeship has been discussed extensively within the industry; Queensland stands as the only state currently to be planning to implement it, however.
"An apprenticeship program would ensure driving career paths are seen as a qualified role, creating status within the community, as well as value and recognition. We are keen to contribute to the next generation of truck drivers, and willing to assist them to start their trucking career," Beth says.
Chester's also points to the large untapped potential that is female workforce participation. 
"We have had a positive experience in hiring females within our workplace. We currently employ one female driver, who has been with us for 10 years.
"Women certainly could assist with the labour shortage, and it has now been proven that women can do this sort of work just as well as men," Julie adds.
As far as what is in store for the future of Chester's Transport, similar to how Graeme's father slowly transitioned out of the family business to allow his son and daughter-in-law to take over, Julie and her husband are currently in the same stage of their careers, and that is getting the business ready for Beth and her partner Ryan to take over and make their own legacy.
Beth's partner, Ryan, has also begun driving for the company so he can get a feel for the industry and eventually transition into a managerial role. 
Photography: Chester's Transport