Sour aftermath to Alexandra event
---
OPINION: Was it opportunity knocks or were officers from Victoria's Highway Patrol simply doing their duty in pulling over trucks on their way home from Alexandra's Truck, Ute & Rod Show on the Queen's Birthday long weekend?
There's something warm and fuzzy about rural truck shows, especially those that raise much-needed funds for charity.
The Alexandra Truck, Ute & Rod Show is one of Victoria's most prominent of such events. The hundreds of vehicles of all shapes and sizes transform the town's streets into a fantastic, colourful atmosphere.
The drivers, their families and friends, plus interested onlookers, flock to Alexandra each year. And don't the local businesses embrace it. Hotels, motels and coffee shops are chock full of happy and contented customers.
It's a big payday for Alexandra, and for the local charities that benefit from events such as these.
The event also gave the public its first view of the Western Star 4800FXB which is being raffled off to raise money for not-for-profit organisation Teen Challenge Victoria, thanks to a partnership between Penske Commercial Vehicles and Larsen's Truck Sales.
Unfortunately, it also appears to be an opportunistic payday for the Victorian Government.
A large number of comments and complaints on the Alexandra Truck, Ute and Rod Show's Facebook page point to the negative side of attending the event.
As show attendees filed out of Alexandra on the Monday morning following the big day on June 10, officers of Victoria's Highway Patrol were waiting along the Maroondah Highway.
When I queried this matter via email with Victoria Police, I received a reply from Sergeant Julie-Ann Newman in the form of a media release which indicated that the Police Heavy Vehicle Unit had discovered seven carnival ride-carrying vehicles where either not roadworthy, unregistered or were displaying incorrect number plates. Two of the trucks were intercepted travelling along the Maroondah Highway.
From information supplied in the media release, most of the seven vehicles had been un-roadworthy for some time. So why wait until the Alexandra event to hand out infringements?
What the media release didn't mention however was that it was not only carnival trucks that were pulled over.
"An awesome show as always," was one comment on the event's Facebook page. "Only to be marred once again by the overzealous arrogant highway patrol lying in wait on both roads out of Alex getting into hardworking truck drivers who had given up days of family time to be a part of this amazing community event only to be fined for blatantly ridiculous revenue raising non safety/fatigue related rubbish."
Another says, "We got a canary for a factory visor that the cop 'didn't like the look of'."
And again: "A full inspection after the show by the most arrogant of police. Told 'not too sure of the sun visor' therefore minor infringement, full roadworthy on a factory visor ... 2 days off work to get cleared."
These were merely a sample of comments posted, although there was praise for the local Alexandra Police.
Afterwards, I spoke with one owner-operator who had a number of trucks at the show, all in showroom condition.
Although saying he didn't get pulled over, he knew of others who did, including his own brother.
"It's real disappointing; it puts a big dampener on the whole weekend for the blokes who got pulled over. There's no need for it," he says.
"They've come for a weekend away, whether it be with family or friends to support the industry and to support the area, and then to get hassled like that is a bit rough."
This is not a one-off occurrence. There were many claims that a similar scenario has happened in previous years, leading to some to say they will consider not attending the Alexandra Truck, Ute and Rod Show next year.
It's hard to blame them, especially when they take time off to support the event and are then targeted for minor offences all in the name of earning brownie points and topping up the Victorian State Government's coffers.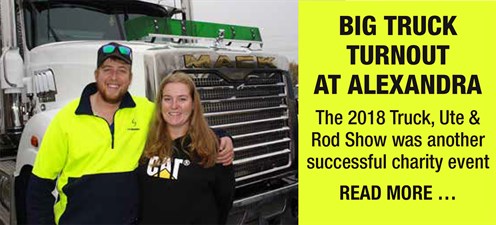 Subscribe to our newsletter
Sign up to receive the Owner Driver e-newsletter, digital magazine and other offers we choose to share with you straight to your inbox
You can also follow our updates by liking us on Facebook. 

Trucks For Hire | Forklifts For Hire | Cranes For Hire | Generators For Hire | Transportable Buildings For Hire