Classic with a capital 'K'
---
The Kenworth Klassic has grown from an offshoot of the annual Clarendon Classic Machinery Rally to a well-attended event in its own right
'If you build it they will come' may be a cheesy movie quote, but Dave 'Chappo ' Chapman feels it's a pretty fitting way to explain the origins of the increasingly popular Kenworth Klassic.
The big difference between Kevin Costner's home build baseball field that incidentally has no planning permits and the Kenworth Klassic is I was happy to be watching some of Australia's best Kenworth's for three days straight. Can't say the same for the Kevin Costner film.
You wander around the Clarendon showgrounds and it's a huge mix of shine, stainless and stories and that's exactly what the boys behind the event had in mind when they first concocted the concept.
Now officially in its fifth year, the Kenworth Klassic may be the brainchild of a group of four children in adults clothing – Mick McCormack, David Chapman, John Turner and Bruce Gunter – but it's a success because of hundreds of supporters, dedicated sponsors and die hard Kenworth fanatics.
Having had received a lot of planning and organising experience from their involvement in the 'Haulin the Hume' project helped light a fire for the vintage and classic truck scene in Australia. The boys approached the Sydney Antique Machinery Club who run the Clarendon Classic Machinery Rally show about putting on the Kenworth Klassic show alongside their yearly event. Half a decade on and now the Kenworth Klassic just keeps growing and growing.
Just for show
This year they had 327 registered Kenworths, up from last year's 267. What makes the Kenworth Klassic different from other shows, aside from the fact it is entirely Kenworths, is that the organisers have remained steadfast in their decision to keep the whole thing judging free.
"We just want the guys to come along; they should just be proud of what they're driving," Bruce remarks. The system works too. There is an atmosphere of mateship that thrives throughout the grounds.
As I wander around snapping a few photos, enjoying trucks with all the modern bells and whistles as well as many that have absolutely no bells and whistles, everyone is up for a chat and a laugh.
The Sunday does see a couple of awards handed out though. Like a true blue Aussie, Bruce can't pass up the opportunity to pull the piss out of a couple of those that turn up. Kel and Blake Lawrence of Lawrence Transport are this year's main targets as they've spent the past 12 months joking with Bruce about the lack of trophies. So Bruce happily produced a 6ft 'Polish My Pipes' award.
Bruce is also quick to thank their major sponsors Gilbert and Roach Huntingwood, Kenworth Australia, Paccar Parts Australia, Parklea Sand & Soil South Windsor, Elite Compliance Consulting, Northwest Trucks Riverstone, Raymar Signs Londonderry and GRS Towing Support. The support from these companies has allowed the Kenworth Klassic to grow each year.
A major motivation behind the show and driving force behind the 'throw some tyre paint on and just come along' attitude is mental health. The organisers of the show realise the importance of mental health within our industry and want this show to be about catching up with mates, forgetting the day-to-day stresses involved in our industry and relaxing. I think it's fair to say there was some pretty tall tales told throughout the weekend as well.
Flow on effect
With the Klassic growing in popularity every year and the Clarendon Classic also growing, the flow on effect for both events is evident. The public who used to come just for the Clarendon show are now packing their sunglasses so they can walk among the rows and rows of stunning Kenworths. What's more, the Kenworth fans are popping over to enjoy the classic vehicles and machinery of the Clarendon Classic.
Kenworth have a strong unbreakable bond with the transport industry in Australia. Born from doing tough jobs in tough conditions with extremely tough trucks and at the Kenworth Klassic you really get a sense of how much the KW badge has embedded itself into our culture.
So thank you very much to Mick, John, Chappo and Bruce, along with the many others involved in running this extremely 'Klassic' show.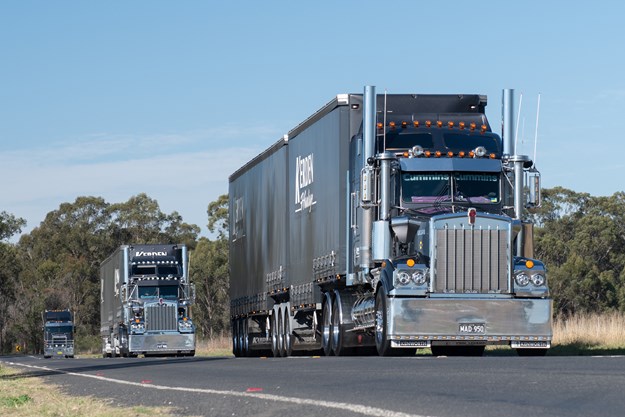 Subscribe to our newsletter
Sign up to receive the Owner Driver e-newsletter, digital magazine and other offers we choose to share with you straight to your inbox
You can also follow our updates by liking us on Facebook. 

Trucks For Hire | Forklifts For Hire | Cranes For Hire | Generators For Hire | Transportable Buildings For Hire