Big river town triumph - Mannum Truck show
---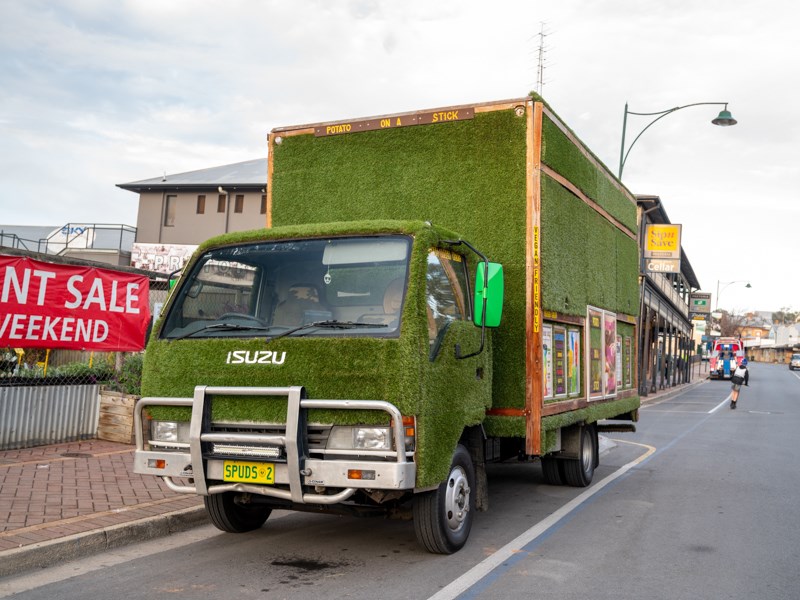 Not exactly sure how the fake grass relates to the ever-scrumptious potato on a stick snack sold by this Isuzu food truck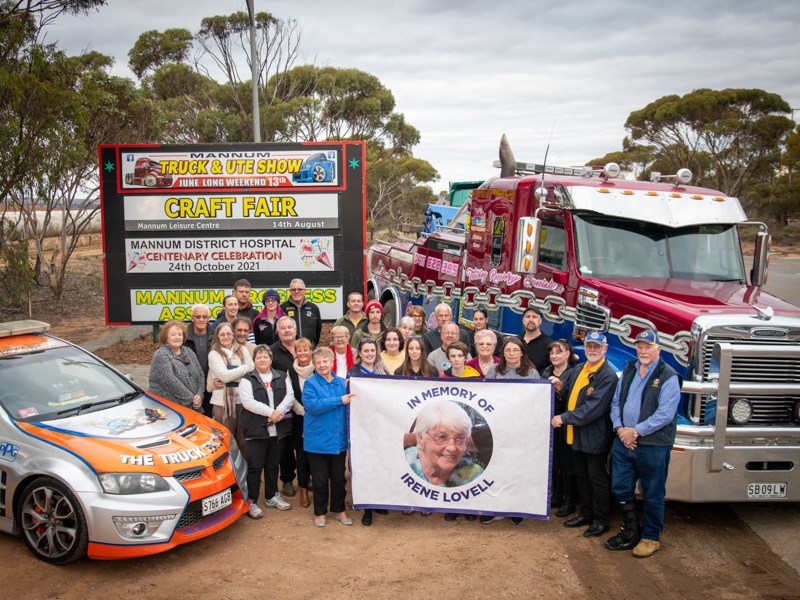 There was a good turnout for the unveiling of the Irene Lovell Memorial Board the night before the show kicked off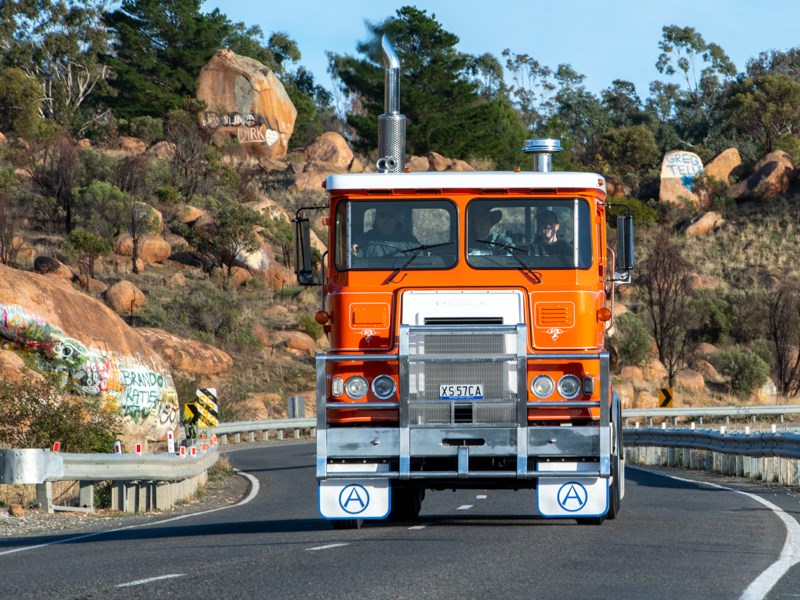 Trucks rolled into town on the Saturday morning, including this immaculate Atkinson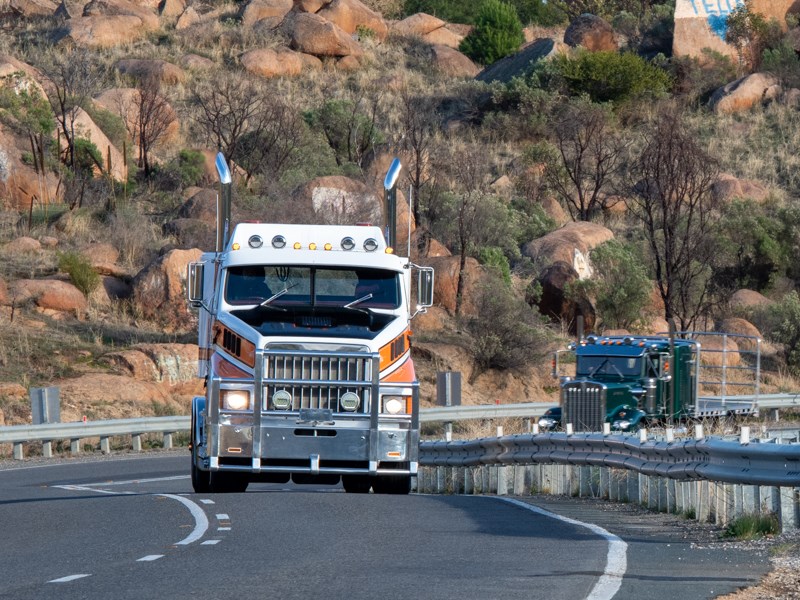 If you look closely you can see the legendary Jacob Kuchel of Kuchel Contracting as he drove the latest restoration project from the workshop to Mannum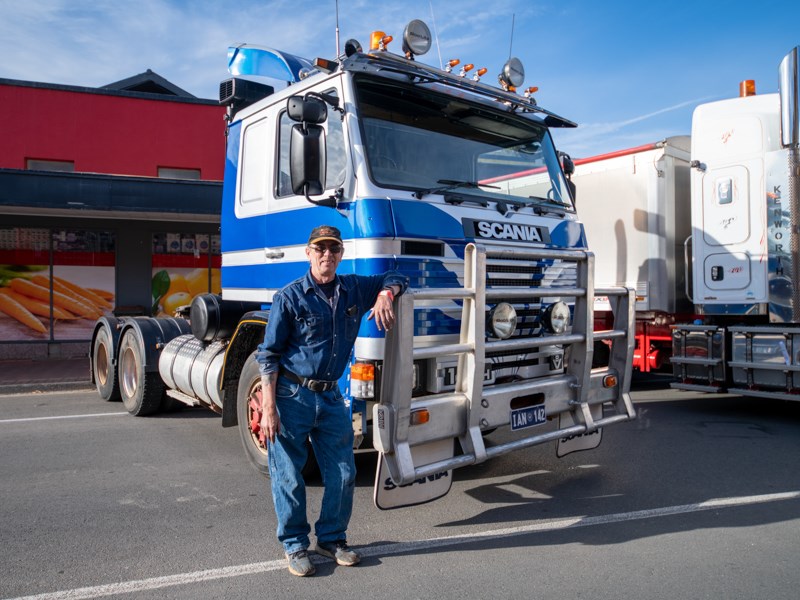 You will be seeing more of this 1986 142H Scania in the future. Ian Bagot from Sellicks Beach is in the process of restoring the old girl to glory and has my number for when the job's done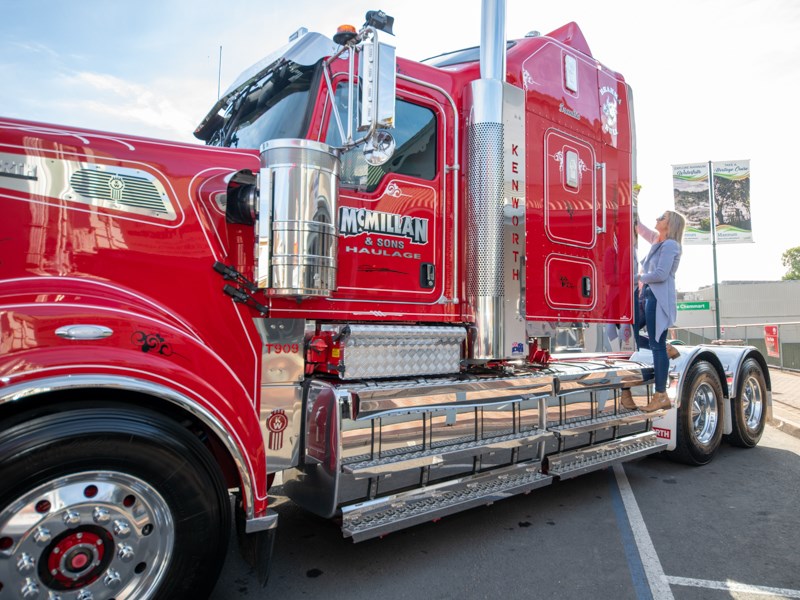 The driver of McMillan & Sons' sharp Kenworth T909 was nowhere to be found, but I caught this enthusiastic helper doing all the hard work, although she was reluctant to take the accolades for the truck's condition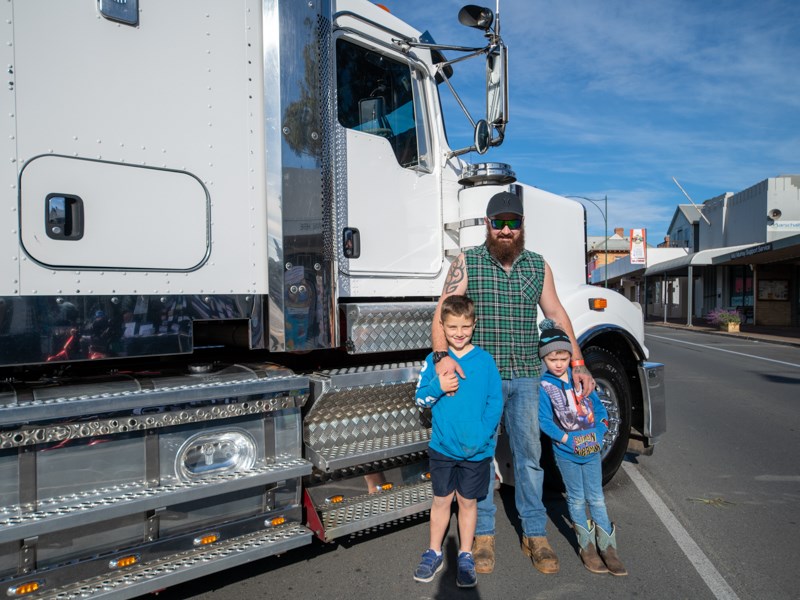 Kane McDonald brought his boys Nate and Chase along in the T909 he drives. He's usually flat out running between Melbourne and Brisbane so enjoyed being able to get out to the Mannum show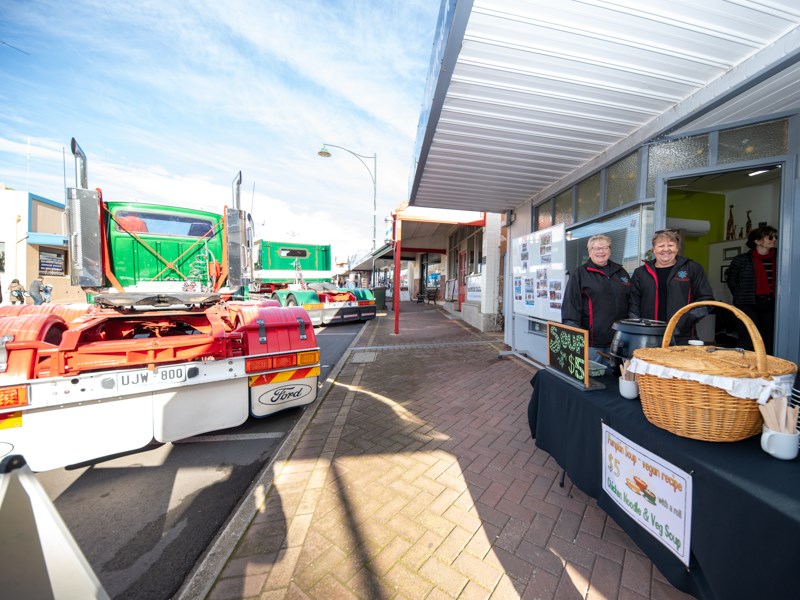 Even if you aren't into trucks or utes, the show was worth turning up for the pumpkin soup, as served by these lovely ladies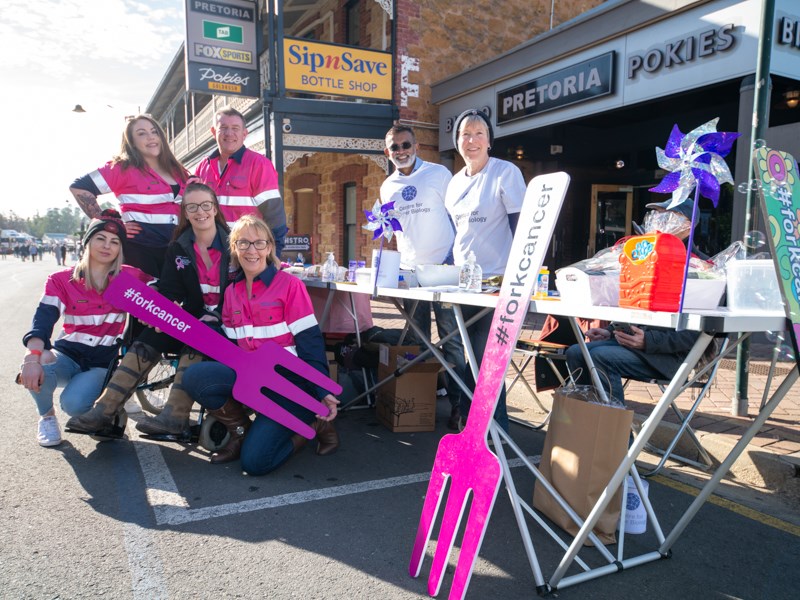 Charity stand: The #Forkcancer team of Teresa Phillips, Jess Omond, Kevin Fuss, Danielle Fuss and Trish Fuss pose alongside a couple of the cancer researchers, Michael Samuel and Jo Woodcock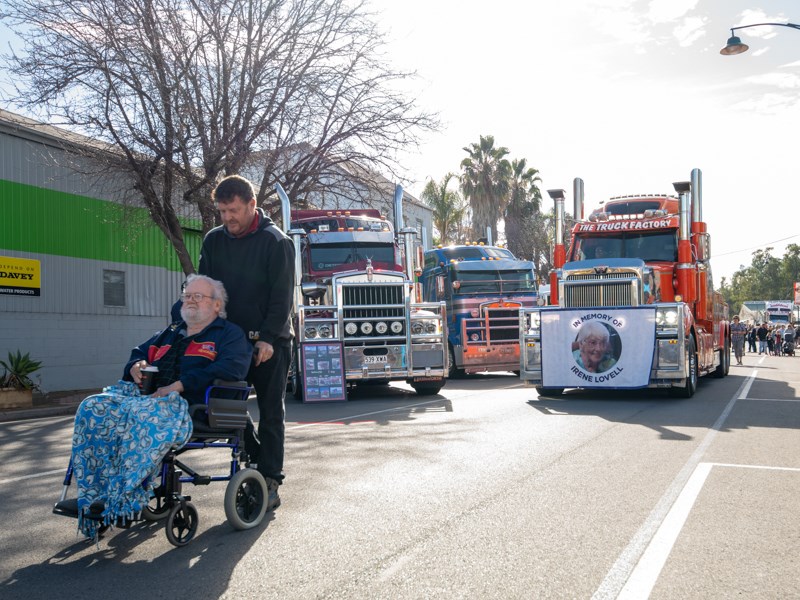 A special one truck convoy carried a banner for Irene Lovell through the main street, led by Irene's husband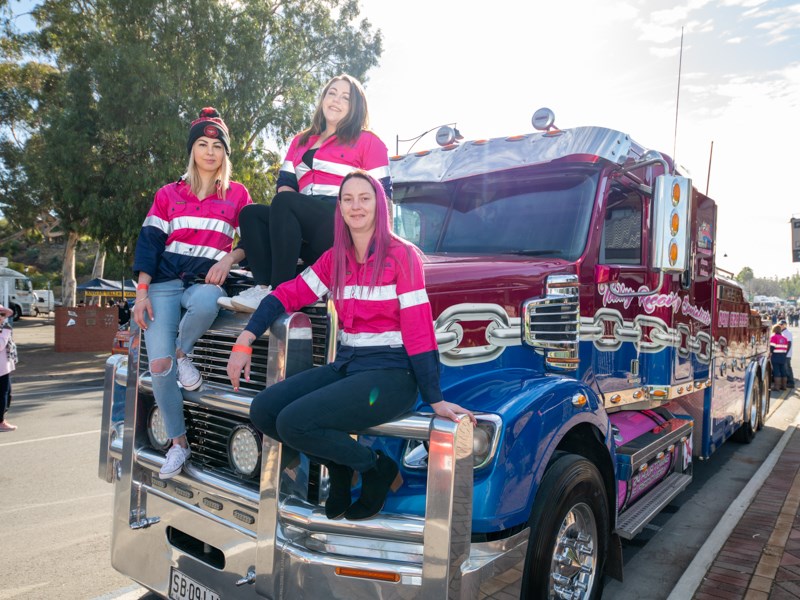 Teresa, Jess and Kate from The Truck Factory in Adelaide had a bit of fun posing for the camera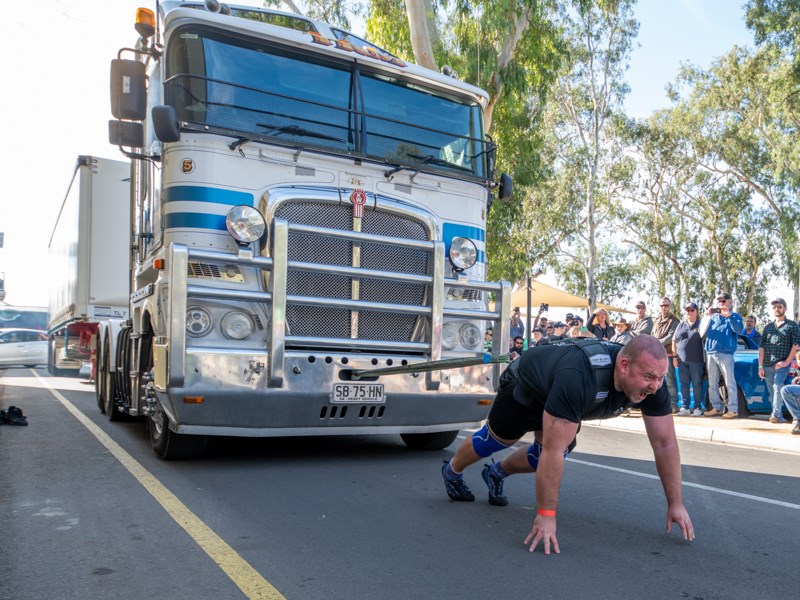 Jordan 'Biggie' Steffens doing what we've all done … screaming at a Kenworth. This time though it's because he chose to pull the bloody thing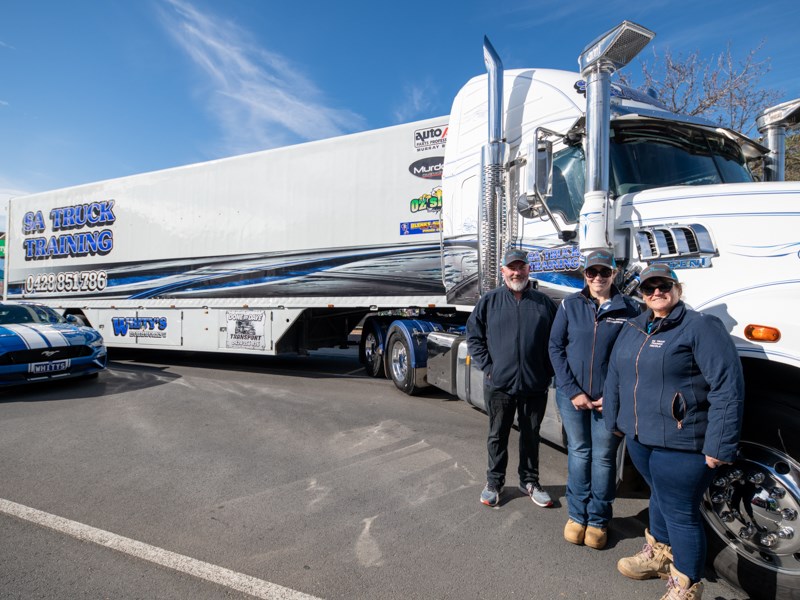 The Murray Bridge-based SA Truck Training team: Catherine (centre) and Nicola Shepperd, with Nicola's partner Kym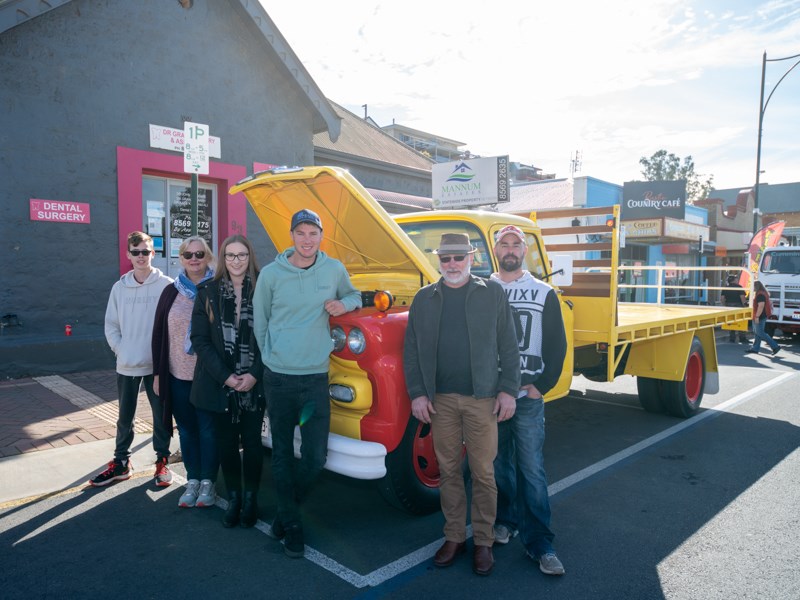 It wasn't all big trucks in the truck section. This lovingly restored 1957 Chev Viking drew plenty of admirers. Kym Habermann (second from the right) owns KADS Truck 'N' Diesel and has been working on this project for a while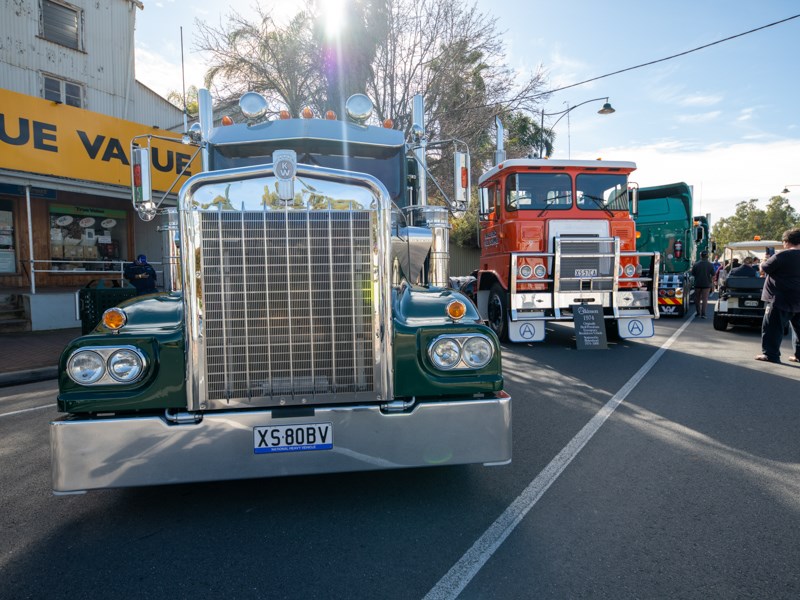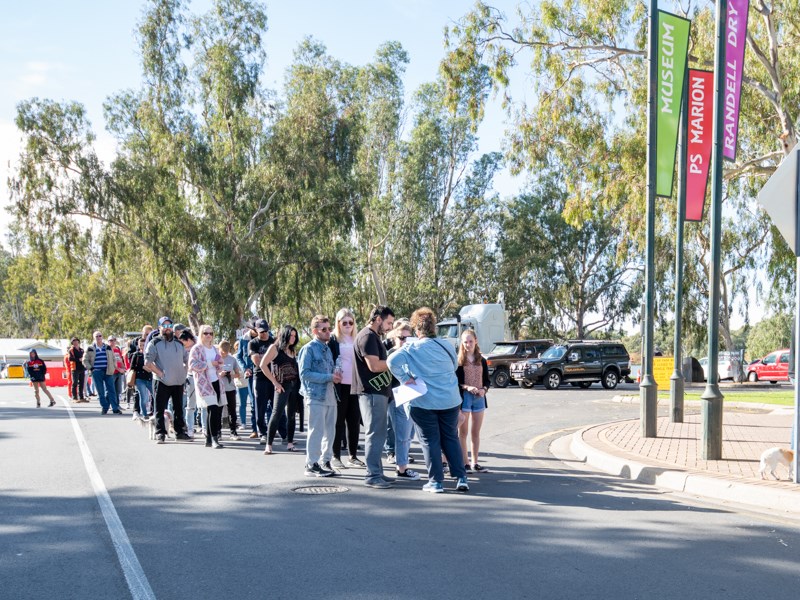 There was a bit of a queue in order to get in and a few small hoops to jump through, but it didn't bother the patrons at all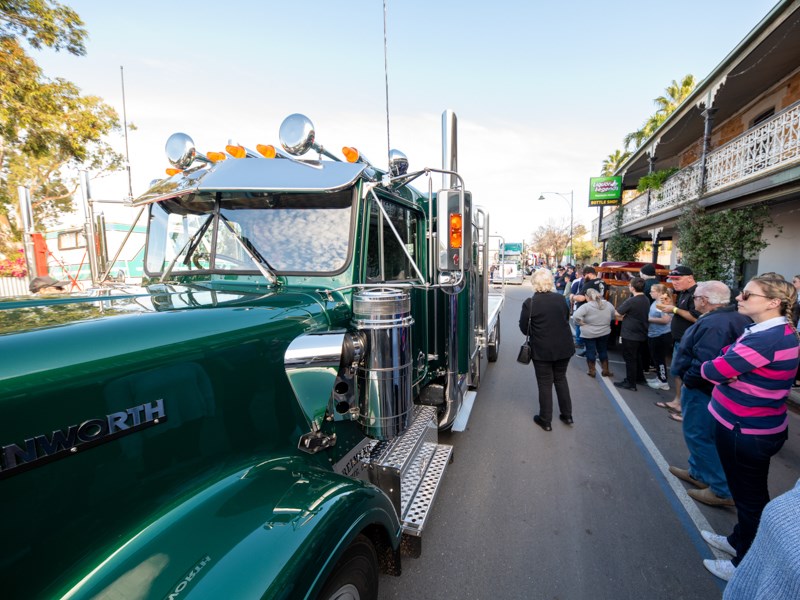 The crowds eagerly awaits Jordan 'Biggie' Steffens' second display of the day with double the trucks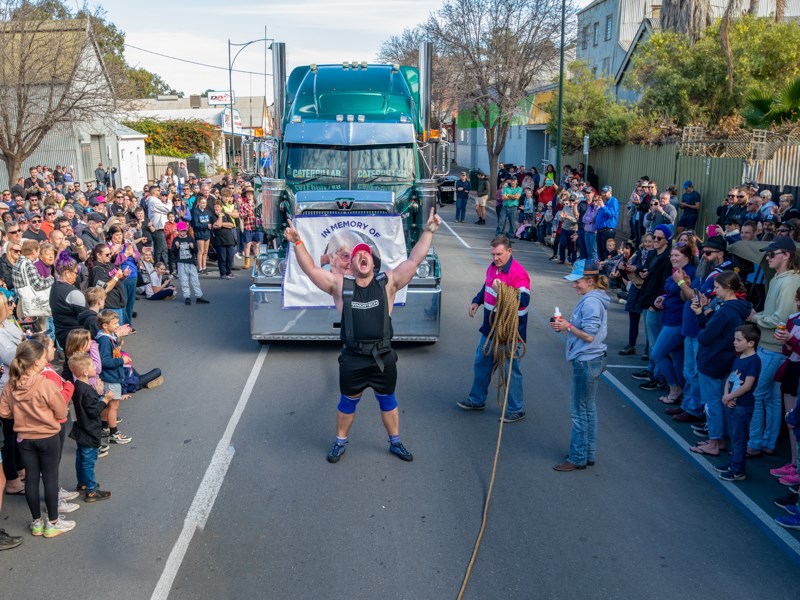 Another successful truck pull for 'Biggie'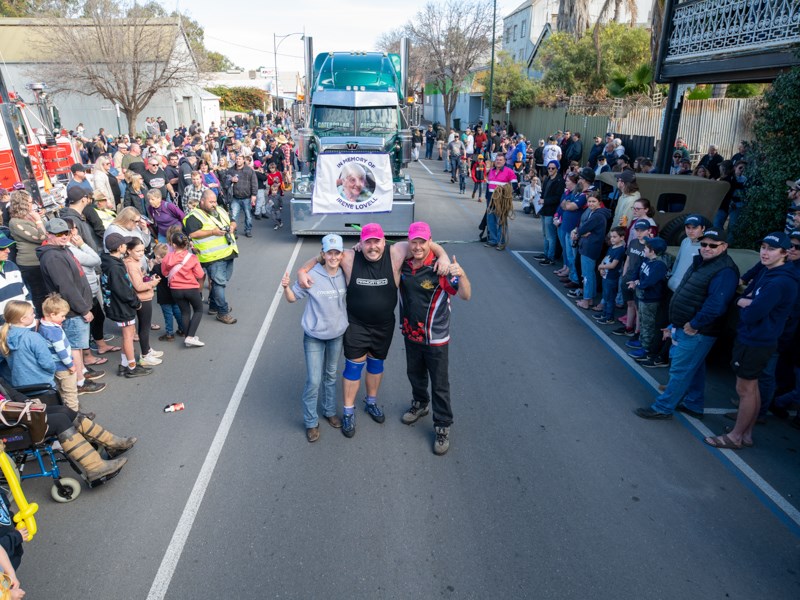 Pulling two prime movers took its toll on 'Biggie' where he had to be propped up by Justin Wenham and his daughter Heidi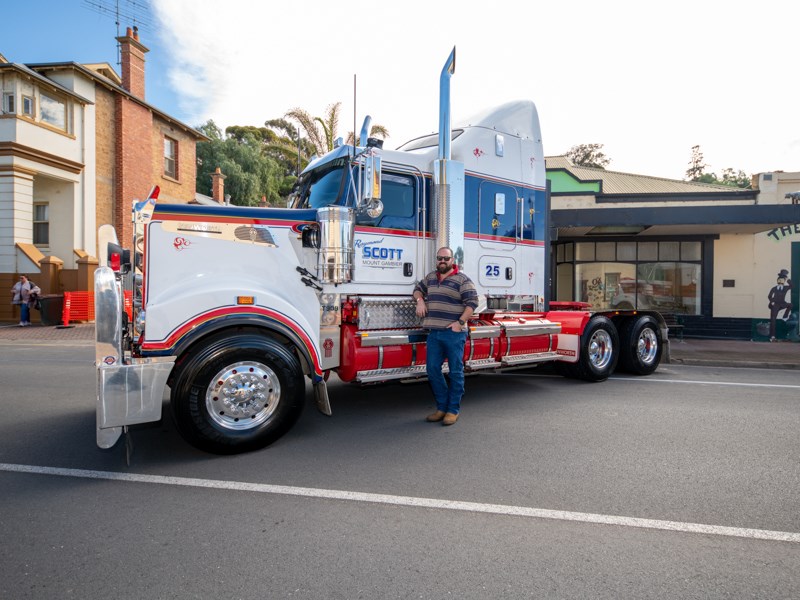 Aaron Mattner was happy to pose with this stunning Kenworth T909 he drives for Ray Scott Transport, but only after he'd removed all the dust from it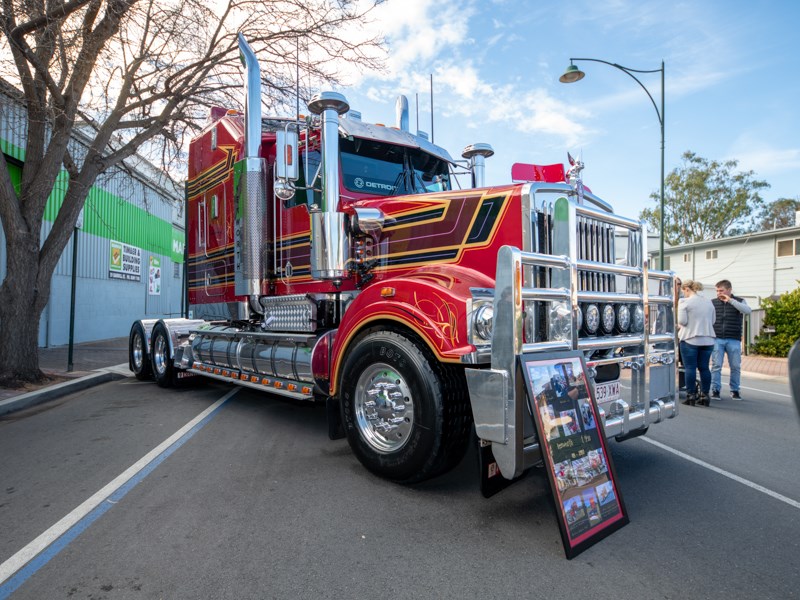 This sparkling 1997 T950 was another show standout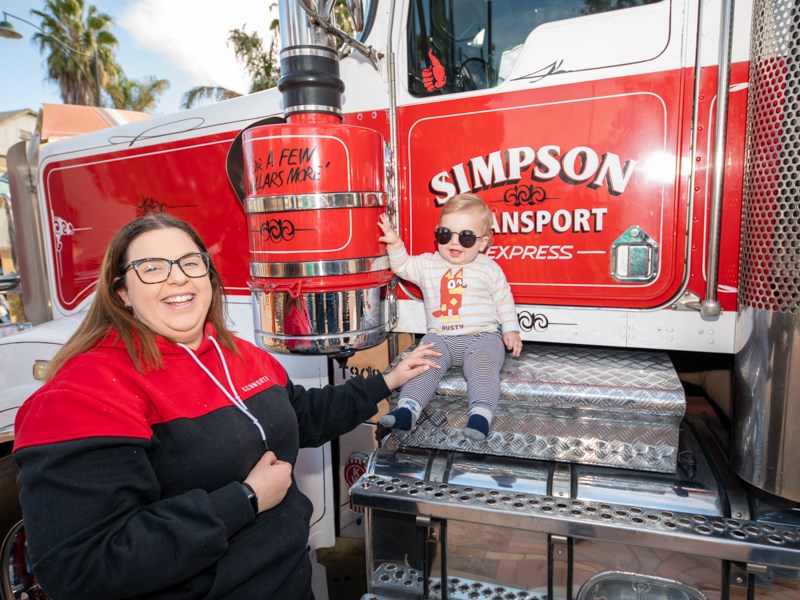 Probably the biggest smile of the day – young Samuel Helps poses for his mum Jessica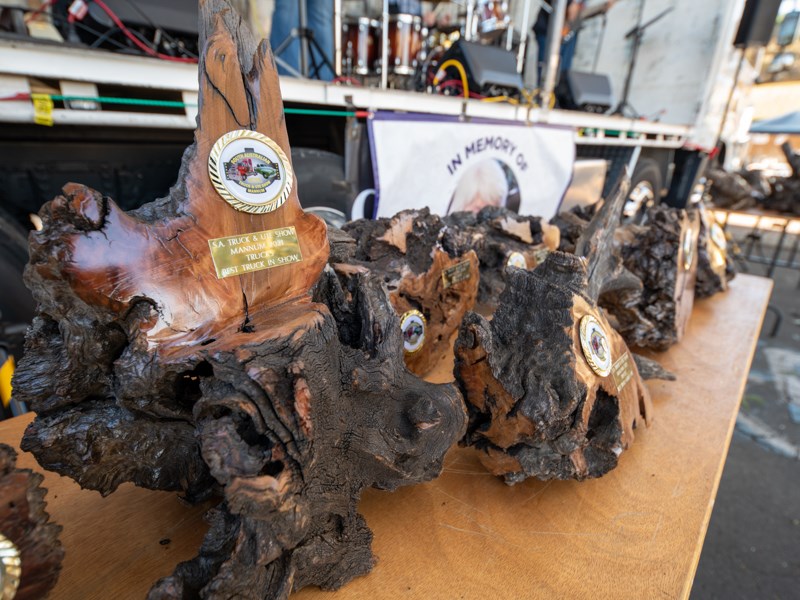 Check out the unique trophies. Seriously cool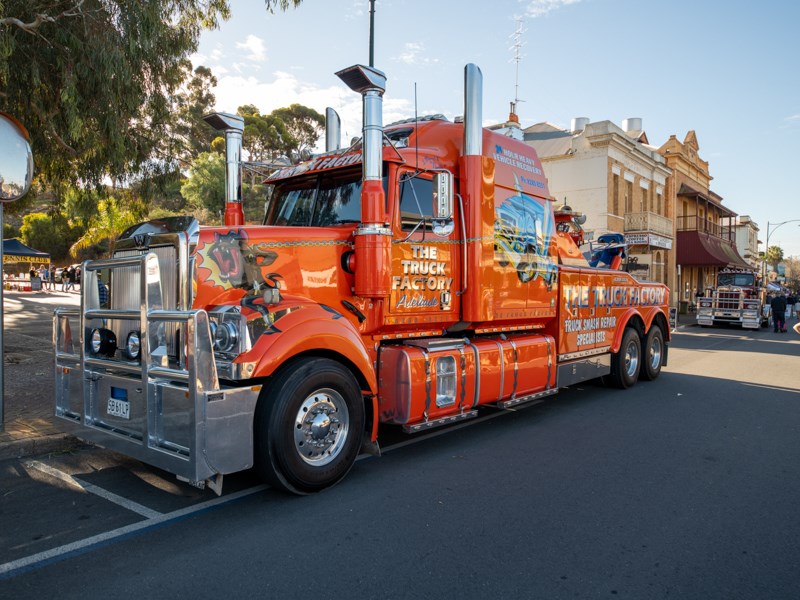 The Truck Factory, one of the show's major sponsors, brought along some eye-catching gear, including this super Western Star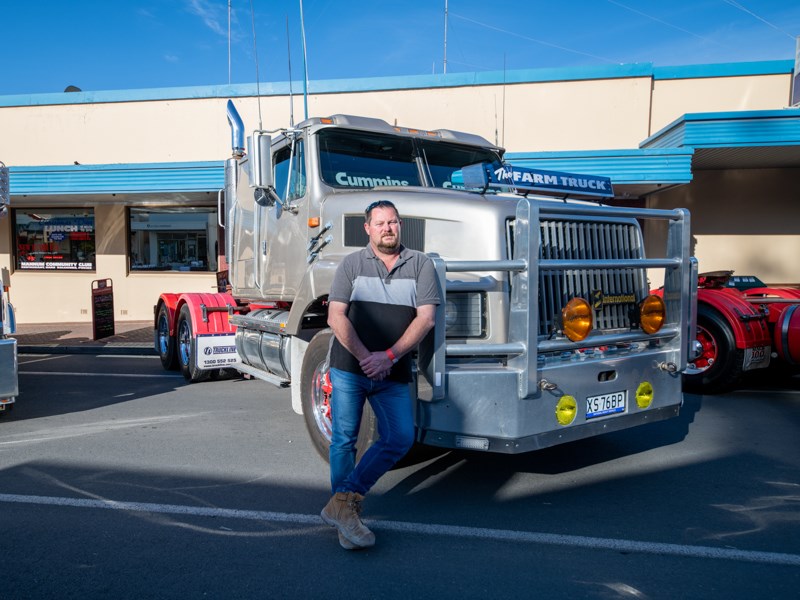 Steve Dittloff rolled into town with his awesome 1996 International. It's a bit of a project truck for Steve, with its name giving a hint of its role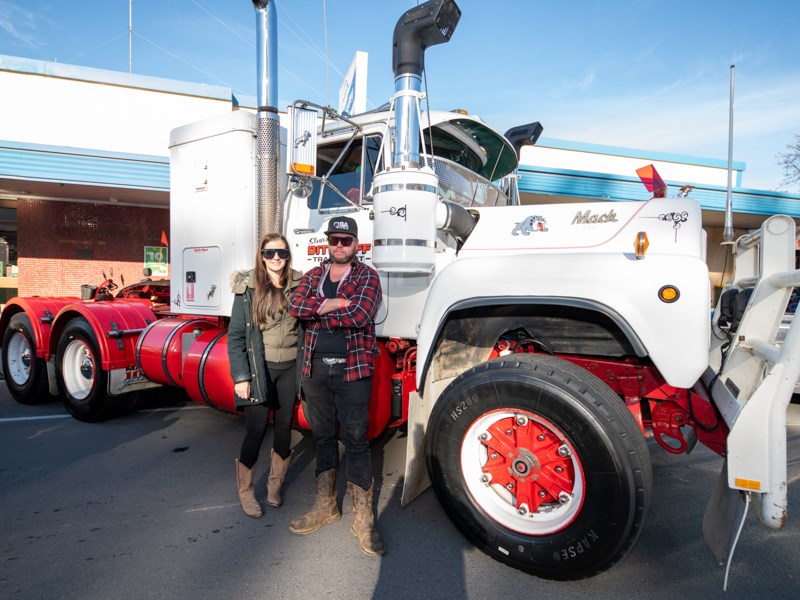 Another of my favourites and a future story to chase. This 1981 R600 still works hard every day on tipper work. Posing nicely with the Mack is owner Stuart Dittloff and partner Mel Pennington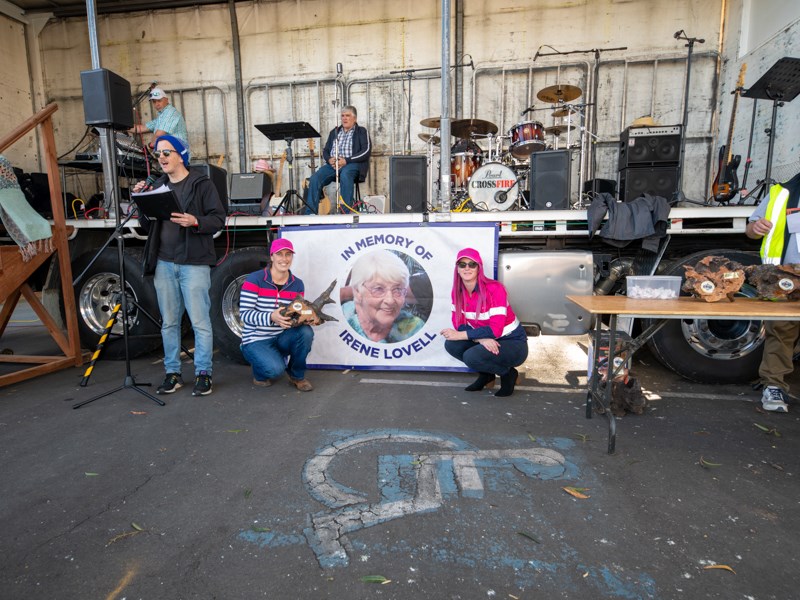 Mel Ware picked up best of the show in the zero to two year-old category. Joining Mel was Kate from Truck Factory, while Neil Warhust (far right) gets ready to announce another trophy winner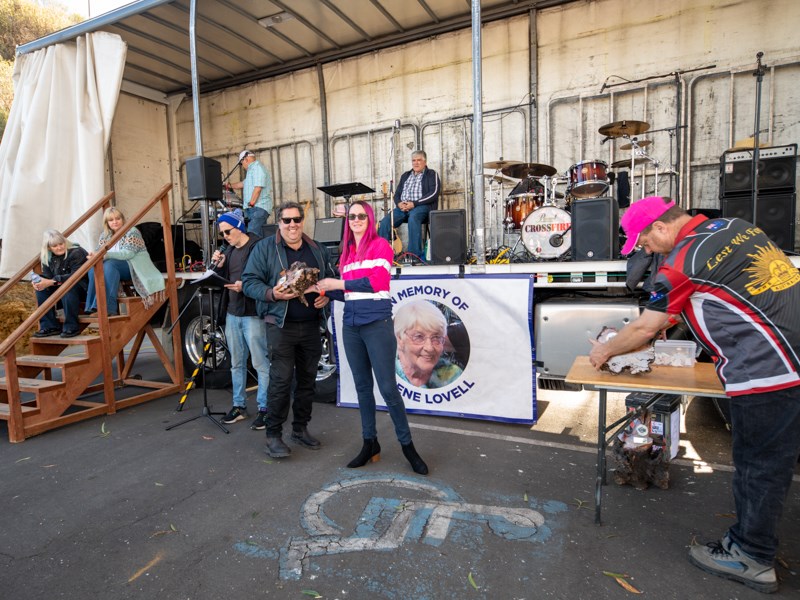 A smiling Peppi Inverno collecting another prize for his 2020 Owner//Driver Truck of the Year Kenworth Legend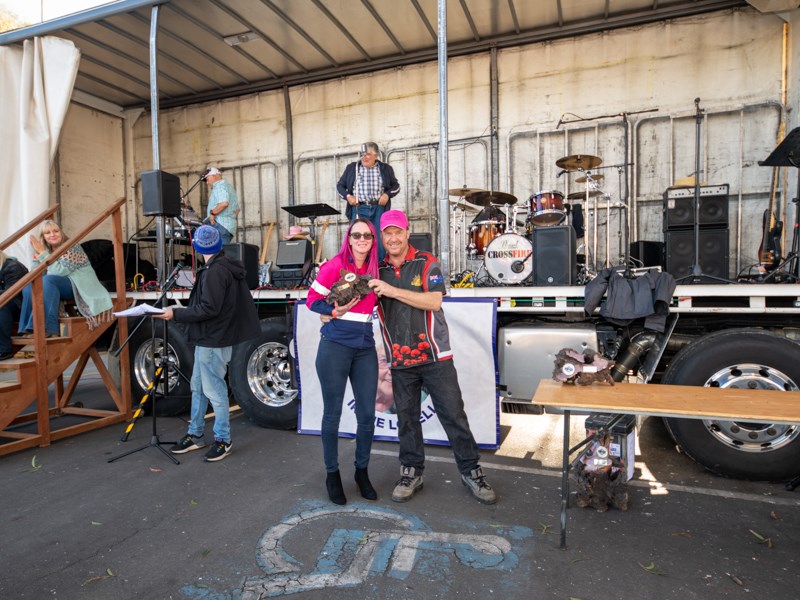 Justin Wenham, who brought his stunning Western Star along, was also among the prize winners

Better known for its boat-building industry, the South Australian town of Mannum snuck under COVID's guard, hosting the SA Truck and Ute Show between lockdowns. And the local community was there in droves to take in the colourful road transport event.
Let's start this story with a bit of honesty. Up until April this year I really had no idea where Mannum was. In fact, I think when someone first mentioned the SA Truck and Ute Show to me I emailed my editor and was spelling it wrong for the majority of our opening emails.
Those who often run the Melbourne to Adelaide track will no doubt have seen the signposts as they near Murray Bridge. However, I'm not a regular on that road, so I needed Google Maps' assistance when it came to planning out my June long weekend expedition.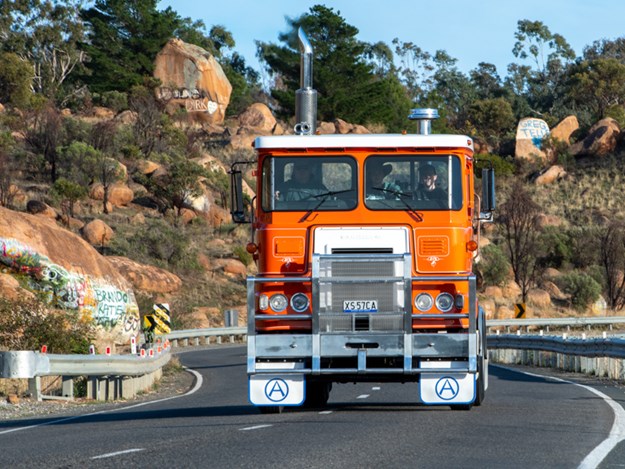 Obviously, I never made it to last year's show as, like nearly everything fun in 2020, the show became another COVID catastrophe victim. This meant that 2021 was my first venture to the historic South Australian riverside town.
Mannum is steeped in history to the degree that it seemed to have more historic buildings and monuments than people when I first rolled in. However, come June 13, the town's main street, side streets and even the great Murray River were abuzz with the arrival of all the entrants for the annual truck and ute show. There was more shiny stuff than a magpie's wet dreams and enough oversized aerials to tune into every country music station in the world.
The selling point that won me over, however, wasn't the calibre of entrants – which was outstanding – it was the overall spirit of the event. It felt like the whole town was out in support and happy to have a chat – a big city style show with a friendly small town atmosphere.
Community spirit
Let's briefly go into the place's background, as it really does need to be acknowledged. Mannum itself isn't exactly a trucking hub of this huge country. In fact, in its heyday, the town was renowned for its boat building industry. However, back in 2011, the Mannum Progress Association was looking at ideas to hold a big event during the winter as a way to bring tourists and locals together, as well as raising a bit of money along the way.
It was Neil Warhurst who tabled the idea of a truck show to the association for consideration. The secretary at the time was the Mannum-famous Irene Lovell.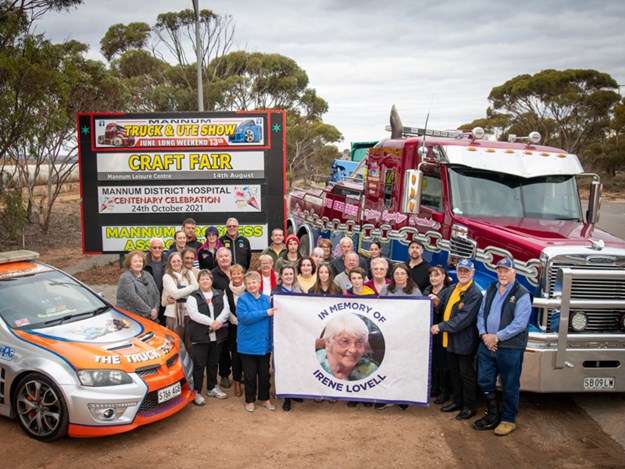 "She was a little dynamo," Neil says during our chat, explaining that Irene may well have been "small in stature" but she was "huge in personality" and was the driving force behind so many of Mannum's community activities. From the football club to the quilter's club, Irene was in it all. After Neil's suggestion, she did a little investigating and, in no time at all, the SA Truck and Ute Show became a reality.
Over the years, the show has raised plenty of money, with the local community getting right behind it and, at its heart, was Irene. Sadly, in 2020, she passed away. This year's show therefore kicked off on June 12 with a special unveiling of the Irene Lovell Community Board. This event board stands proudly at the entrance to Mannum and informs all those entering of the community events coming up. It's a very fitting tribute for a lady who was involved in so many local charities.
Truckin' sunny
As mentioned earlier there was no show in 2020 so 2021 was the first year with Neil filling the metaphorically huge shoes of the late Irene Lovell. I'm sure he was feeling the pressure as well, with very strict COVID regulations to implement, not to mention that, in the days leading up to the show, it appeared the sun had packed up and headed north for winter and the only time the rain stopped was to allow the drizzle to set in.
However, come show day it all turned around. The trucks started rolling in under perfect conditions. Plenty of local trucks were shined up and ready to go as well as quite a few from outside the area as well. The show's reputation even enticed the 2020 Owner//Driver Rig of the Year, Inverno's 900 Legend, to take part.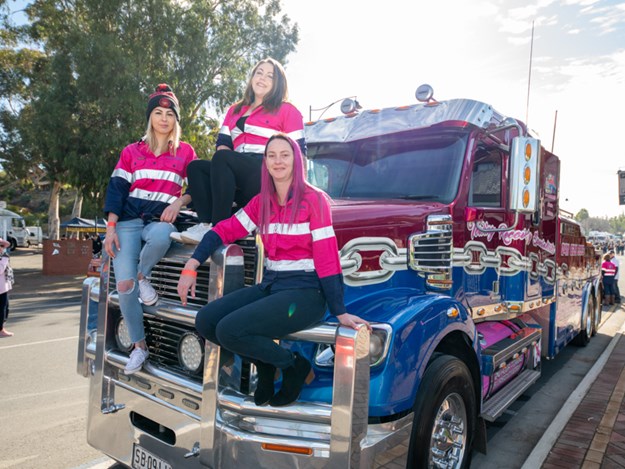 To work with the new COVID regulations it was decided to run the event in two areas. The trucks were consigned to the main street with the utes taking up the riverside area. This allowed organisers to have entry and exit points that could be controlled to ensure the COVID-calculated visitor numbers were adhered to.
There were numerous market stalls spread up and down the main road, peppered between the trucks. One of my favourites was the lovely ladies selling fabulous homemade soup. The weather may have been all sunshine, but the soup was still needed to warm you up.
There was a small hiccup when I worked out that the bouncy castles and face painting was apparently 'just for kids'. I swallowed my pride though and took a little satisfaction in knowing those little people might get the bouncy castle, but I didn't need a chaperone to pop into one of the main street pubs for a hearty lunch.
Muscle power
For a little more entertainment, Jordan 'Biggie' Steffens was on hand to show us all exactly how easy it is to move a truck out of the wash bay with a flat battery. Jordan is one of Australia's premier strongmen and a regular at the Mannum show. He's recently had bicep surgery so decided to warm up with a gentle pull of a K200. With that 10-tonne warm-up behind him he decided to up the ante and hook up two Mahnew Transport Western Stars and drag them down the road. After watching Jordan strain every muscle pulling near 30 tonnes I stopped complaining about lugging my camera around all day.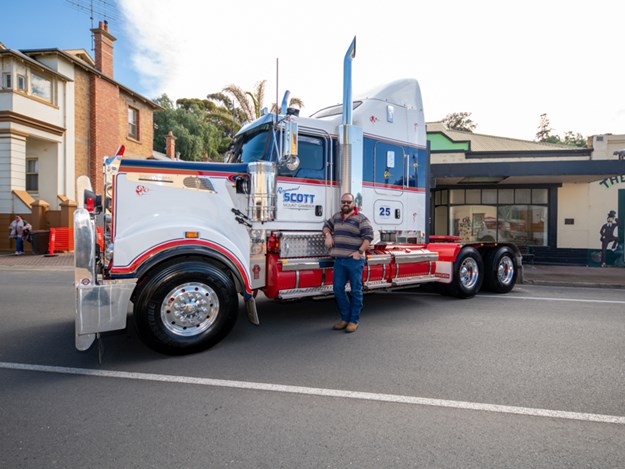 There really wasn't much more you could ask of the Mannum show – it had all the necessities. Stunning big rigs, friendly crowds, pubs, a sausage sizzle, live band, great weather and, most importantly these days, a 'COVID Safe' atmosphere. The day was rounded out with the presentation of some of the coolest truck show trophies I've ever seen. Custom cuts of local timber treated and preserved. I'd love to take a truck one year just to try and win one of those awards.
At the end of the day I must admit I was sad to see it finish. It may not have been the biggest show but there was still over 60 stunning trucks filling the main road. With numbers growing each year and the small country town atmosphere growing as well, it's definitely a must add for the truck show circuit. Thank you Mannum for a very family friendly day out that has ensured I now know exactly where Mannum, South Australia is. Cheers to Neil Warhurst and the entire crew.
Subscribe to our newsletter
Sign up to receive the Owner Driver e-newsletter, digital magazine and other offers we choose to share with you straight to your inbox
You can also follow our updates by liking us on Facebook. 

Trucks For Hire | Forklifts For Hire | Cranes For Hire | Generators For Hire | Transportable Buildings For Hire