Cool rigs of Kentucky shine on
---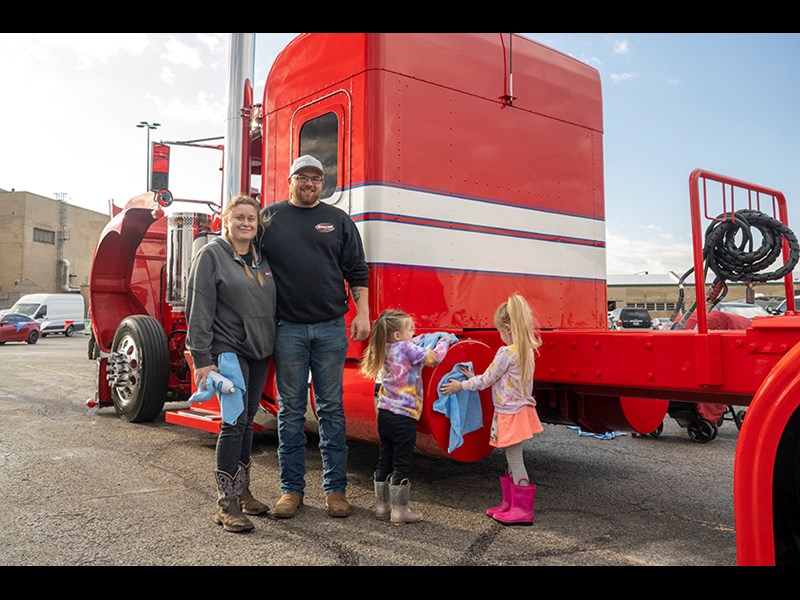 Courtney and Dustin Lopedota didn't leave all the hard work to their girls Karson and Karter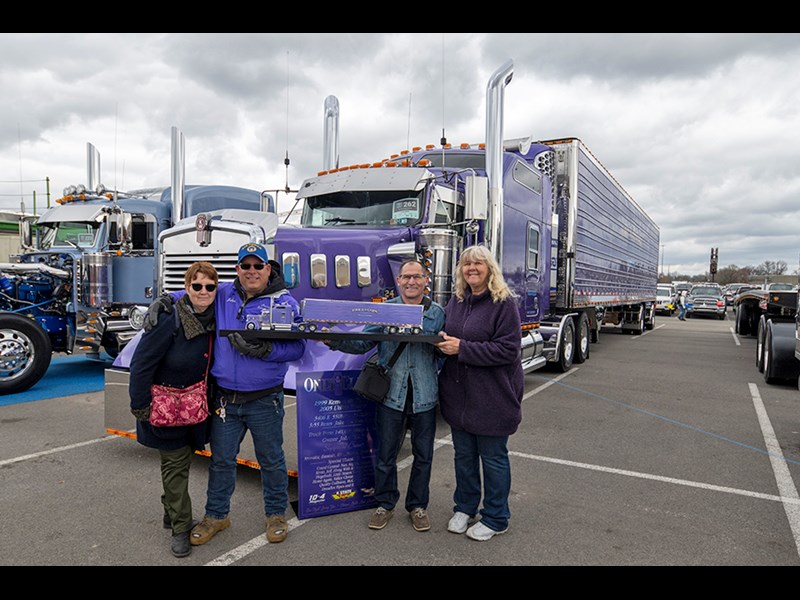 Not only did the Precision Transport team bring their big Kenworth, they brought a mini-me version as well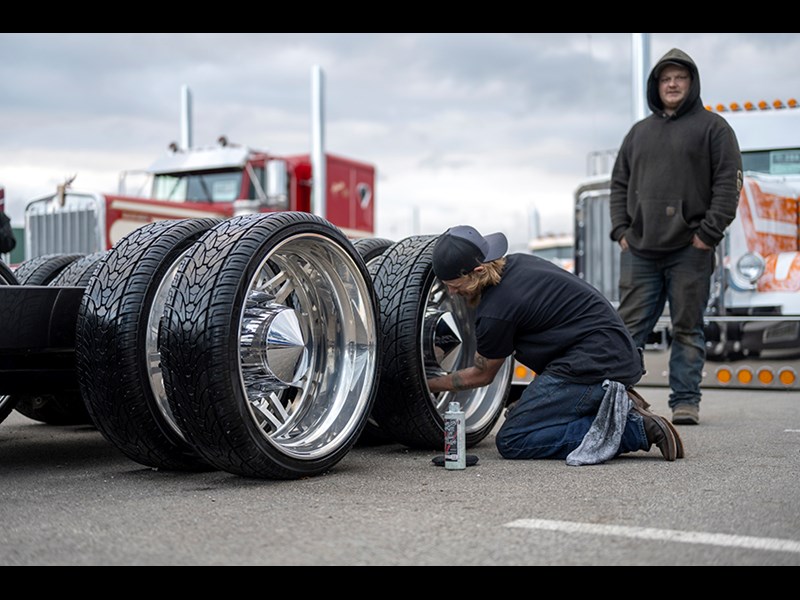 Plenty of guys with their Time2Shine products out getting the last minute shine on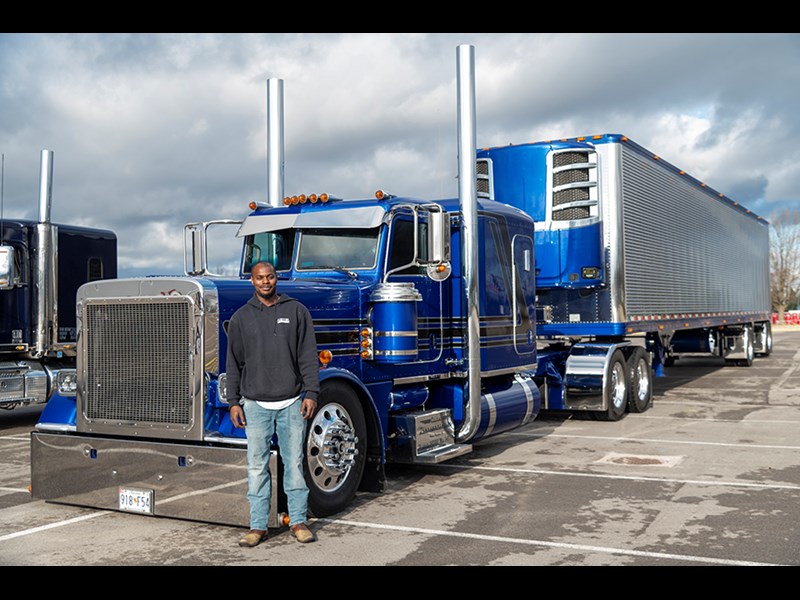 Travis Harmon was the man responsible for the stunning state of Elite Transportation's 2019 315 Peterbilt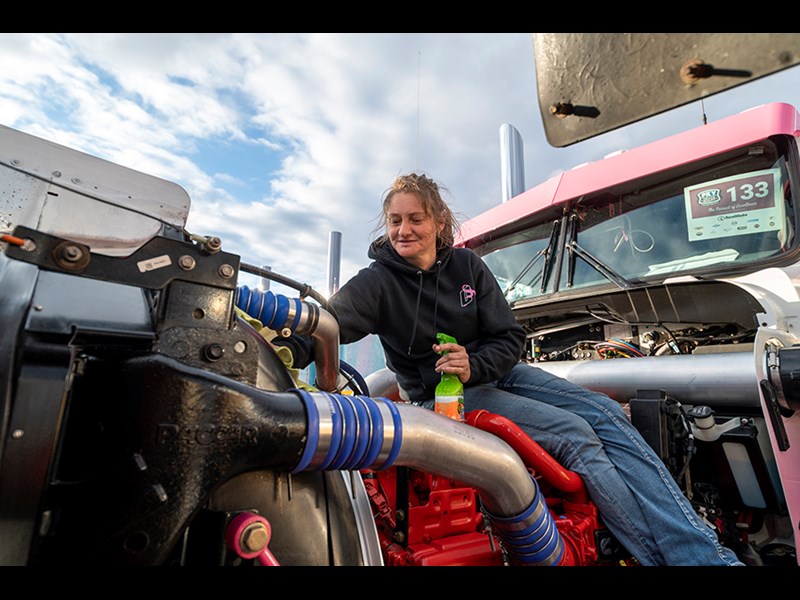 Eva Knelsen featured in OwnerDriver a while ago. This was her first MATS show and her pink Kenworth was a crowd favourite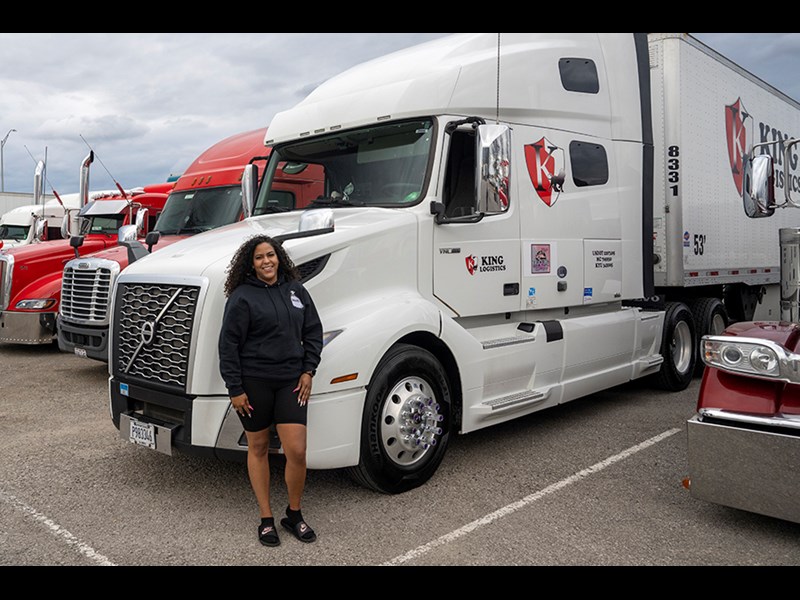 The lovely @TruckingwithAubry is a well known figure over in the States. She's extremely proud of her big, bonneted Volvo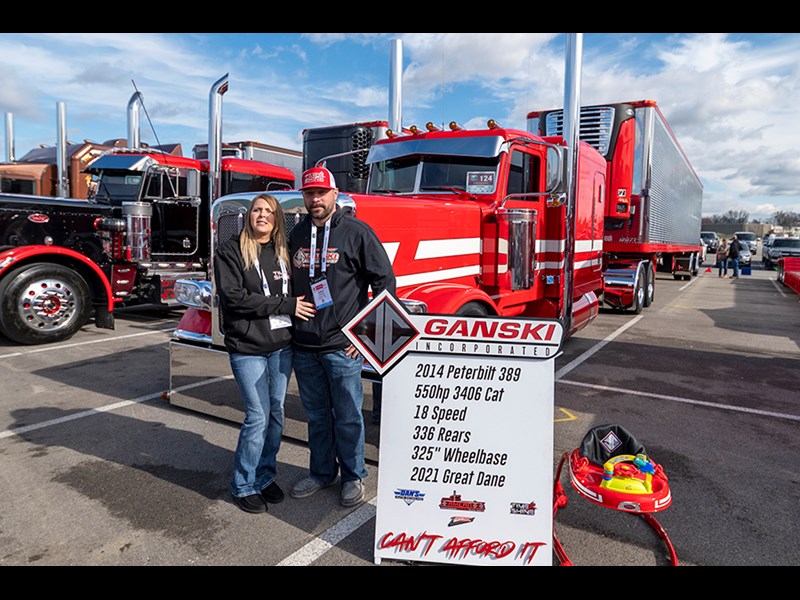 Another of the extremely cool trucks on display and an eventual winner of several top awards is Karla and Jimmy Ganski's 2014 389 Peterbilt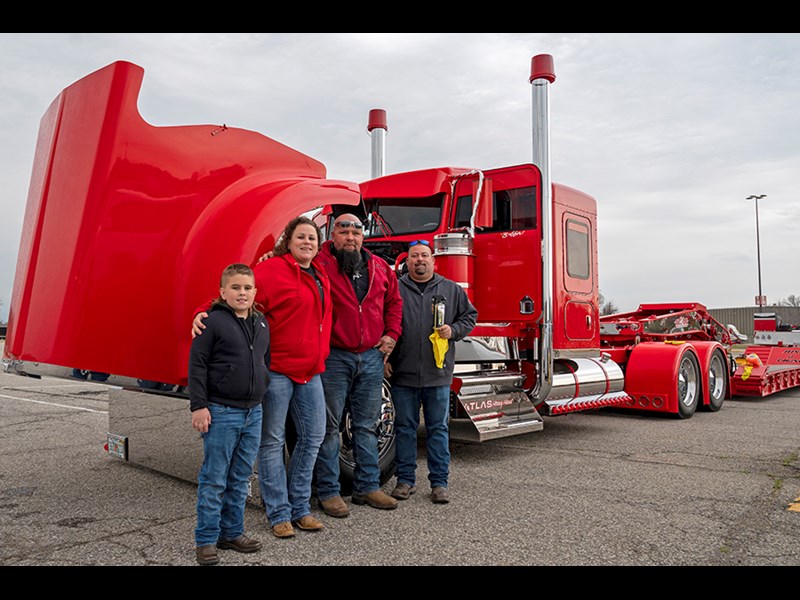 Kolt, Krystal and Bubba Branch with their cleaning assistant Dale Stripling. The family had driven their 1996 W900 from Lakeland, Florida for the show

Bill Rethwisch displayed his 2021 389 Peterbilt and 2021 gas trailer

After a two-year pandemic-enforced absence, the Mid-America Trucking Show returned to belatedly celebrate the 50th running of the huge event in March, inspiring truck owners and drivers to converge on the city of Louisville, Kentucky to show off the shiniest rigs in the land
For those unaware of how it works, the Mid-America Trucking Show is one of the largest trade shows for our industry. While that's going on inside the Kentucky Exposition Centre, there is the PKY Truck Beauty Championship outside in the area that used to house a full baseball stadium.
Around the outside of the entire complex is a four-lane road, 'The Circle of Champions', which allows access to the centre and the various parking pavilions around it. When the MATS circus rolls into town each year those parking lots fill up with an excess of extremely cool trucks and countless truck washing and polishing companies. They're all flat out getting fantastic trucks looking like showroom exhibitions.
On that Monday night, still two days before the event, those carparks were already a hive of activity. I couldn't help it; I broke out the camera and before I knew it I'd filled in a couple of hours just shooting and drooling.
The hardest part of that first night wasn't any fatigue issues, it was climbing back into the wrong side of the car every time I pulled up and jumped out to grab more photos. Once the light faded I was left with no option but to finally go and check in to my motel.
Tuesday morning I was up at sparrow's fart, racing down the stairs and ready to jump in my rental and head off to enjoy a day of what can only be described as trucking nirvana. I raced outside from the motel and, like a Warner Brothers cartoon character, froze in mid stride! Yep it was bloody cold, like 35 degrees. Before you start calling me a big softie, that's 35 degrees Fahrenheit, which is roughly one degree Celsius. Add in a wind chill factor of 'WTF' and I would have felt warmer sunbathing in the Arctic Circle. I was prepared though – a quick trip back up the stairs to get layered up and then back into it.
Polishing passion
Since my exploratory expedition the night before there had been numerous trucks roll in. Not just trucks entering the PKY Championship, but trucks and trailers that were getting rolled inside the Exposition Centre as well.
The polishing teams in the parking lots were swamped. My first stop was to visit the boys at Evans Detailing and Polishing. When it comes to putting the shine on, Evan Steager and his team are the best in the business. Evan even started his own line of polishing products specifically for trucks. Thankfully you can even find his Time2Shine products here in Australia now. Not that I'm looking for endorsements but, just to back up my rundown on Evans Detailing, it should be noted that five of the six Truck of the Show awards this year went to rigs that his crew prepped. I watched in awe as the team hooked in. They end their days looking like underground coal miners. It's kind of funny to watch the transformation.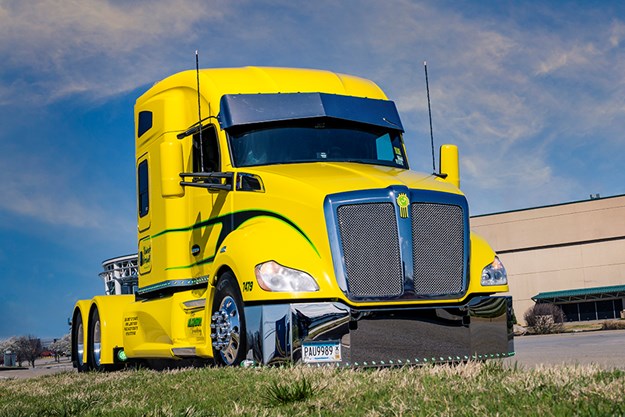 Seeing the attention to detail these guys go to is incredible. The trucks get a full work over in the parking areas before heading over to the staging area. Once they are in the staging area this is where the rules of a US truck show kick in.
Number one rule, no power tools. Any cleaning, polishing and the like must be done by hand only. Rule number two: the owners and drivers have until 8.30am on Thursday to do as much polishing and staging as they like but at 8.30am on Thursday it is officially 'rags down'.
This year was slightly different in that they judged the Light Show on Wednesday night and then put on a public light show on the Thursday. Their judging is as pedantic as their polishing. For lights, if you have one out, basically that's it. They'll measure distances between them to check for uniformity, they'll assess height of all the lights to check they're all the same. They take this very, very seriously.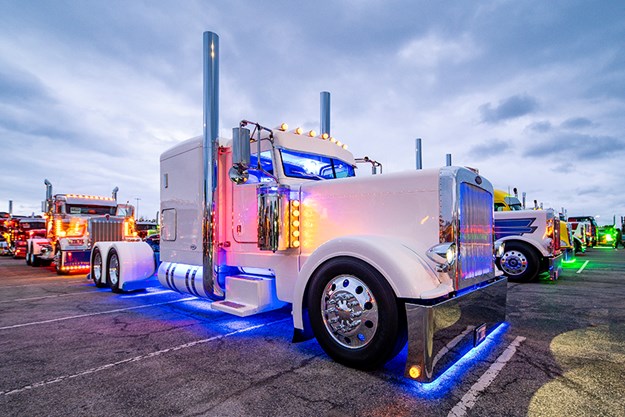 Judging of the other categories is as fussy as the lights. With such an extremely high calibre of entrants it's not surprising, though. Points can be lost if you haven't polished the inside of the rims or tyre shined all the tyres. I don't mean 'all' the tyres, I mean all of the tyres. Inside, outside, even the tread … all the tyres. There were even guys who had their tyre valves lined up with the centre of the painted tyre wording and staged so all the tyres were spun exactly the same with the valves top centre.
I was just flabbergasted by the extent of the drivers' commitment. Flabbergasted, thoroughly impressed and extremely worn out.
Manufacturers' absence
The actual Mid-America Trucking Show opens to the public on Thursday lunchtime – that's when the numbers start rolling in. Because I'm good to you guys and like to provide all the information I can, I walked the entire internal grounds, covering all the lanes and ensuring I went past every stall for a total of 4.57km. That's how far it is.
Useless statistic aside, the show is enormous. However, it was also a little disappointing. None of the major manufacturers were in attendance. Before COVID hit there was speculation the likes of Kenworth and Peterbilt would only be doing alternate years but there was no Kenworth, Peterbilt, Mack, Freightliner or anything. It could be because, like Australia at the moment, there is a huge wait for a new trucks, but who knows? After a three-year hiatus and the fact that it's the 50th show I would have thought the major players would turn up. Even if just for customer relations.
There was still plenty to see, though, from massive trailer exhibits to sleepers as big as our actual prime movers. You could get everything from fantastic tools for cleaning up pet hair in your cab to a book on truckie yoga.
Among all my wandering around I also found Simon from NXT Journey peddling his famous truckie bags. Unfortunately for me it seems the bags were pretty popular with the Americans as he had none left to sell me for my mate over there. In among all those selling their wares the ATHS (American Truck Historical Society) had placed some extremely cool classics throughout the three big exhibition halls.
The MATS Friday night concert is always a popular event as well. This year saw Tony Justice, known for his trucking music, opening for country star Clay Walker. I admit to getting a bit of toe tapping going but refrained from full on line dancing.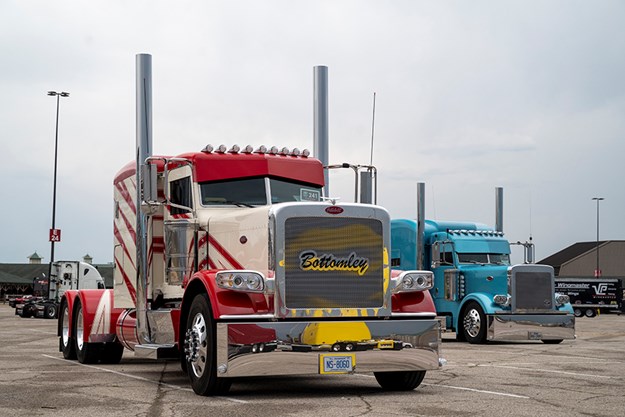 Saturday is the final day and by far the busiest. With thousands through the door I was able to avoid the crowds by joining the hundreds of others that were at the prize giving instead. Again, I cannot reiterate how seriously they take their shows and their trophies over there. There's a big emphasis put on engine bays, as well as interiors, both standard and custom. I really would not like to be a judge.
The show officially wraps up at 4pm on the Saturday and, at 4.01, the crews are already inside dismantling everything. I, on the other hand, was outside trying to arrange shoots with guys that were heading off that night.
The majority of the show trucks were hanging around for the legendary Big Rig Videos convoy on Sunday. This involves doing laps of the exposition centre while Chris from Big Rig Videos works his magic, doing interviews and videos. Make sure you check out OwnerDriver's Facebook page to see the convoy heading off this year.
By lunchtime Sunday you could be forgiven for heading back to the motel to recover from your five days of trucking heaven. On the other hand I lined up several more trucks to photograph as they were just too hard to say no to.
It was near on 9pm when my MATS 2022 finally drew to a close and I packed away my well worked Nikons.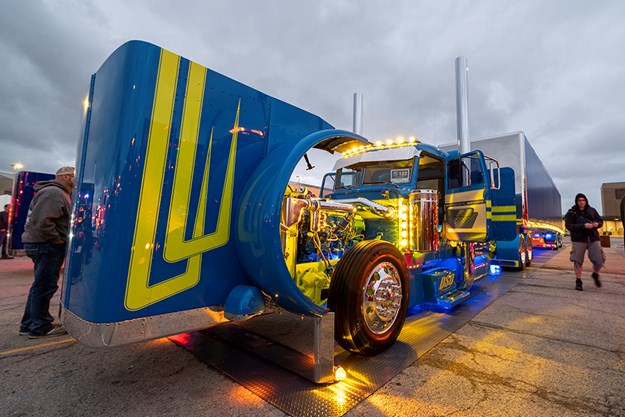 Monday rolls around and at 10am I'm out of the motel and at the airport ready for the circus ride that will eventually see me land back in Brisbane at lunchtime on Wednesday. Once again, I'm thankful for others who were reluctant to fly as it ensured I had a whole row of seats to turn into a bed.
It was great to finally be back travelling and appreciating the working show trucks that make US trucking great. It was great to catch up with some good friends and it was great to wear out the batteries on my Nikons.
---
RELATED ARTICLE: Mid-America Trucking Show 2018 report
---
As a summary, for those contemplating a trip to the States for a truck show, it's a hell of an experience. The costs this year would be at the high end, but by next year I'm sure there will be more competitive flight options. Also, if you travel with mates, you will save on accommodation as well as sharing a rental car – I'd estimate around $3,000 to $3,500.
I would suggest investing in some very comfy shoes as well. I amassed a total of 162,000 steps during my trip. I wouldn't recommend that.
All in all it was a great trip to the 50th Mid-America Trucking Show and I can't wait to see what it rolls out for the 51st show.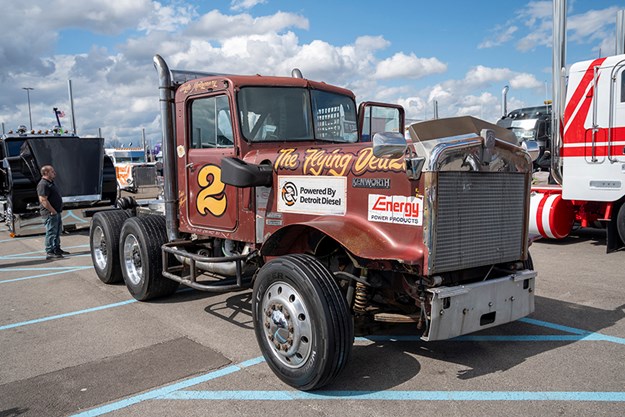 For a full report on the Mid-America Trucking Show, see the May 2022 print edition of OwnerDriver magazine.
Subscribe to our newsletter
Sign up to receive the Owner Driver e-newsletter, digital magazine and other offers we choose to share with you straight to your inbox
You can also follow our updates by liking us on Facebook. 

Trucks For Hire | Forklifts For Hire | Cranes For Hire | Generators For Hire | Transportable Buildings For Hire