Macks aplenty at Western Australia Muster
---
The weekend of May 20–22, 2022 was only the second running of the WA Mack Muster and Truck Show, but trucks and spectators turned out in droves at picturesque Quarry Farms
It was my first time attending the WA Mack Muster and Truck Show and it was fantastic. Considering it is only the second time the show has run, it would easily rate as one of Australia's premier truck shows. I realise that's a big call, however I challenge anyone who tried the amazing steak sandwiches in the potato buns to disagree with me.
Add in the festive feel of the 6,000-plus patrons that attended Sunday's official show day, the laid back vibes of all the truckies and volunteers that spent Saturday setting up and staging trucks, as well as the altruistic attitudes of all those that attended Friday night's Charity Gala dinner and you have the recipe for success.
The first show was back in 2020 and its origin story can be traced back to the customary Australian tradition of 'drinking beer in the backyard'.
It's no surprise then that the director of WA Limestone, Steve Della Bona and the director of CTS Low Loaders, Jason Clatworthy, would come up with the idea for a Western Australia truck show while sharing a couple of cold ones one Saturday night. The fact they both sat in the shadow of their stunning Mack Valueliners kind of explains why the show would single out the bulldog breed for its centrepiece.
What started as a plan to get a few fellow Mack enthusiasts together for a catchup – and a bit of a show and shine – snowballed. You can tell by the state of Steve and Jason's outstanding trucks that these men don't do things by halves – and this was no exception.
A committee was formed and organising began. It was decided that the event would also be used to raise funds for Perth's Harry Perkins Institute of Medical Research, a centre leading the way in investigating some of the biggest health issues affecting us today. When the show ran in 2020 they ended up with 140 trucks, over 3,500 spectators through the gates and around a $100,000 raised. It was an instant success and the decision was made to turn it into a biennial event.
I'm extremely thankful I was able to make it to the show this year and need to acknowledge a couple of people for that. First and foremost is Matt Lawrence. Matt is one of the committee members and along with being the go-to guy for everyone he was also the guy that approached me about using one of my Bicentennial Mack prints for the charity auction. It was only when Matt reached out to me that I really became aware of the WA Mack Muster and Truck Show.
Once I became aware, the bulldog fan in me made it a priority to somehow journey across over 4000km and attend this 'mecca of Mackness'.
That leads me to my second acknowledgement. This time to Gabby Singh and the team at Auswide Transport Solutions (ATS). I regularly undertake relief driving for different companies and Auswide are one of those companies. When I checked to see if any of their paddock runners needed a trip off, not only did they squeeze me in, but they gave me a truck that I could enter in the show.
It has been a long time since I've been able to experience the joy of spending hours polishing and preparing for show.
The efforts of Matt and ATS to allow me to have some 'skin in the game' so to speak was priceless. By Friday my Volvo was spectacular.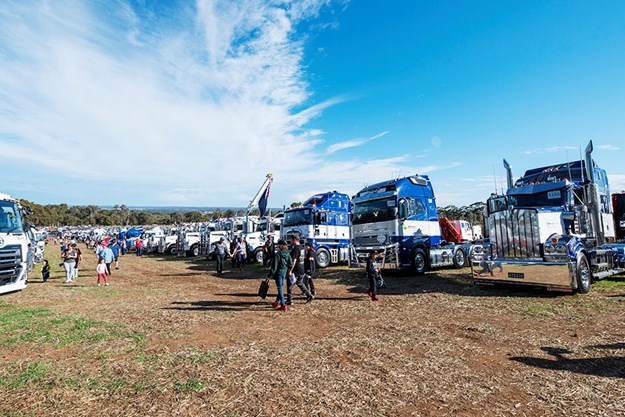 The official truck show takes place on the Sunday with crowds lining up at the gate for a 10am opening. However, the truck show is only a small part of the overall event. The original goal of Steve and Jason was to create a 'muster' event, a community environment that transcends a one-day show.
I was invited, along with a couple of fellow Auswide trucks that had been roped in, to stage up our trucks on the Friday afternoon. There was already plenty of action as other trucks and businesses were setting up. Mack alley was already brimming with bulldogs.
Friday night saw us suited and booted for a fancy gala dinner which was held on location at the stunning Quarry Farms. The 350-seat invitational dinner was there to thank and acknowledge all those involved. Well-known personality, Yogi from Kendall Trucking, MC'd the event that saw speeches from the likes of Tom Chapman, vice president of Mack Trucks Australia.
There was also an interview with the young-at-heart Max Winkless, the man who played a pivotal role in not just getting Volvo trucks set up in Australia but also in the design of the legendary F86.
Everybody was jovial and friendly, and when time came for the charity auction, they were more than generous.
However, it soon became evident that I was a minor league player in a room of major league talent. The munificence in the room left me on the side lines.
There were some quality items donated, a signed Wallabies' Rugby Union jersey going for nearly $2000. There were truck tyres, fuel vouchers, Weber BBQs, even a trip over to Mack's Wacol plant for a guided tour of the factory. That was one I was bidding on but not for long; it raised a fortune as well. I took some solace in the fact the framed Bicentennial Mack print I'd donated raised a whopping $5200. So, although I'd been significantly outbid on all the toys I wanted, I had contributed in a way.
Another great aspect of the show was once our trucks were staged up, we were able to stay on site at the show, meaning we were able to make the most of the gala night's open bar policy and merely stumble to our trucks in the early hours of the morning.
Saturday morning had us waking to the docile tones of Mack E9s rumbling up Quarry Farms driveway. Add in the unmistakable ring of a plethora of Mack air starts and I understood how therapeutic a good weekend away can be. As the sun rose Saturday was spent doing some finishing touches to the shiny bits and admiring all the striking rigs that were rolling in for Sunday's show. A day spent switching between sparkling my XXL Volvo and snapping away at the stunning trucks staging up.
Friday night had been the gala dinner where my shoes had as much shine as my truck, while on Saturday night the committee held a driver's dinner. Here it was more work boots and hoodies as nearly 100 drivers gathered around a custom-built Mack fire pit. A food van had been brought in, feeding fresh hot pizzas to all as beers flowed as freely as the laughter and tall tales. That friendly 'muster' feel flourished in the conditions.
Sunday morning we awoke with the threat of bad weather looming but not a cloud in the sky. Trucks were still rolling in and staging up and by around 9am there was a queue of cars stretched far enough along the main road that even google were directing people around the area to avoid the traffic. The gates opened at 10am and the long line of people swarmed into the event.
Quarry Farms in WA is one of the state's premier wedding venues and several cranky brides had to change their dates as the truck show tied up the whole weekend.
The inaugural show boasted 140 trucks, but this follow-up event exceeded that, reaching 214. The committee did a brilliant job of dispersing the trucks around the venue, meaning freedom to explore all the beautiful rigs without having to shoulder charge anyone out of the way. They also did a great job of catering for the entire family.
There was plenty to entertain the kids, from face painting and immersive art areas to a remote-control model truck arena and Bella the Cow. The sponsors had displays and plenty of stalls, even Bruce from Drake Collectibles had made the journey over. I never had the chance to say 'hello' though, his stall was as busy as you'd expect with his range of diecast trucks on display.
The spread-out nature of the event meant I happily spent the day wandering around, losing complete track of time as I admired all the stunning trucks from throughout Western Australia.
As is the case when things are going so well, 'mother nature' exchanged our beautiful day for gale-force winds and rain.
Thankfully there was enough room at the Mack Doghouse Bar for us to all stay dry while the prizes were handed out. Between the rain and the opening of beer bottles it made it a little hard to hear Yogi announce the winners. Like any good truckie though, he found a way to be heard.
All up, there were over 200 stunning trucks, a jam-packed West OZ Custom Trucks Mack Alley, over 6,000 people through the gates and in excess of $200,000 raised for the Harry Perkins Institute for Medical Research.
I can guarantee one thing – I'll be back in 2024.
For more photos from the WA Mack Muster and Truck Show, see the six-page feature in OwnerDriver's July 2022 edition.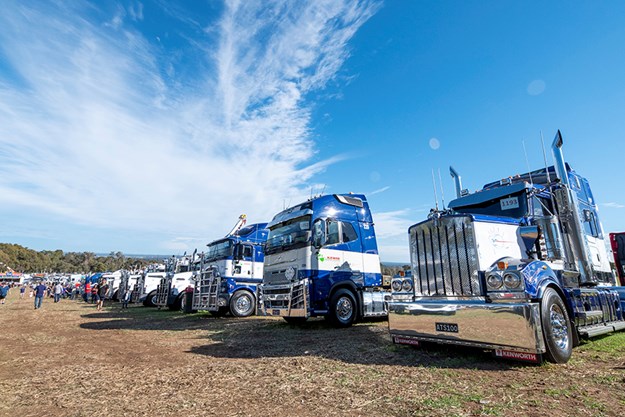 Subscribe to our newsletter
Sign up to receive the Owner Driver e-newsletter, digital magazine and other offers we choose to share with you straight to your inbox
You can also follow our updates by liking us on Facebook. 

Trucks For Hire | Forklifts For Hire | Cranes For Hire | Generators For Hire | Transportable Buildings For Hire