Genuine off-roaders may not be big sellers in the mainstream trucking business, but that doesn't dilute their importance or sometimes critical impact on the lives and livelihoods of people and businesses across the nation. With a heavier carrying capacity than its predecessor and a heap more muscle to go with it, Hino's new GT 1528 4x4 shows a rare ability to be equally capable on long country runs or clawing through the rough stuff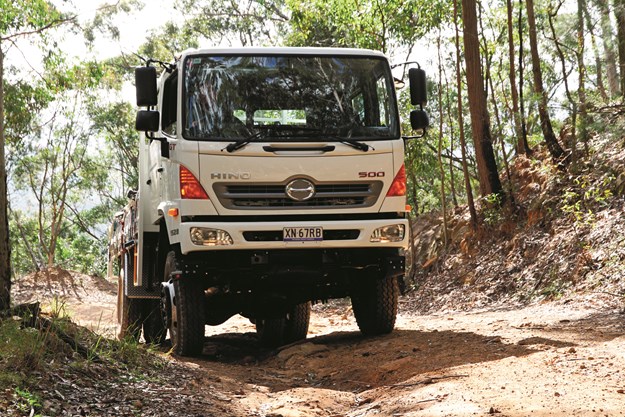 It's more than a year since Hino announced a plan to launch its new 500-series GT 1528 4×4 model in the first half of 2020. Like its single-drive 500-series siblings, Hino emphasised that the new off-roader would be equipped with a wide range of beneficial features. 
Ironically, Hino's plan was announced at the August 2019 Australasian Fire and Emergency Services Authorities Council (AFAC) exhibition. Within a month, the Australian fire season ignited with catastrophic impact.
Years of drought, furnace-like winds and searing temperatures would, however, conspire to ravage much of Australia before the new Hino could lend a hand. In the interim, the superseded GT 1322 model and the vastly upgraded 300-series 4×4 light truck would do their parts with fire and emergency services operations to eventually douse the flames of a brutal six months on the national landscape.
But now, as another summer approaches and weather watchers keep a keen eye on climatic conditions, the effects of drought-breaking winter rains and indicators for higher-than-average summer rainfall are likely to create less fire risk than the scorching conditions of late last year and early 2020.   
Yet, whatever comes, Hino's new GT 1528 off-roader is at least up and running and what's more, it won't be just fire and emergency services being targeted by Hino. This is a truck with undeniable potential for a wide range of roles in mining, agriculture, construction and infrastructure maintenance, and as we found during several days of wildly diverse driving conditions, offers an impressive balance between on-road efficiency and off-road capability. 
While Hino insists the earlier GT 1322 4×4 model was popular with a broad customer base, its successor is substantially more appealing.
For starters, the new GT 1528 runs on a front axle with a 5.5 tonnes rating and a rear axle rated to 10 tonnes, delivering a gross vehicle mass (GVM) capacity of 14.5 tonnes compared to the 13 tonnes of its predecessor. As Hino's manager of product strategy Daniel Petrovski states: "When this GVM is combined with the relatively low tare weight of the GT 1528, it results in a nominal payload of approximately nine tonnes." 
In critical firefighting situations, it simply means more water can be carried. 
To haul the heavier load, outputs of Hino's long-serving J08 six-cylinder engine have been significantly boosted. Peak power has jumped from a relatively modest 215hp (160kW) in the superseded 1322 model to a lively 280hp (209kW) in the 1528, while the increase in torque is similarly substantial, from 637Nm in the previous model to 824Nm in the newcomer. And, typically perhaps, the J08 uses exhaust gas recirculation and a diesel particulate filter to comply with Australia's ADR 80/03 (Euro 5) emissions standard without the need for AdBlue, in addition to a diesel fuel capacity of 200 litres.
Coupled to the engine is the highly intuitive and immensely driver-friendly Allison 2500 fully automatic five-speed overdrive (0.73:1) transmission feeding into a 5.428:1 final drive ratio. 
"Other refinements include a new larger capacity dual-range transfer case to handle the increase in power and torque delivered from the upgraded engine," Hino states.
Like its single-drive counterparts, the new 500-series double-diff derivative is also equipped with Hino's multimedia system, based on a multi-touch digital screen in the centre of the dash, which encompasses a first-class radio, Wi-Fi connectivity and what Hino describes as "the latest version of Bluetooth tethering, which enables enhanced call handling and improved speech-to-text functionality". 
However, arguably the most beneficial feature of the multimedia system is the standard fitment of a reversing camera, which automatically displays on the touchscreen when reverse gear is selected. In tight and difficult environments, its safety and operational value are immense.
Also standard in the off-roader, which comes in both single and crew-cab configurations, are anti-lock brakes, a driver's airbag, heated and electrically adjustable side mirrors, cruise control and a good quality Isri air-suspended driver's seat with an integrated seat belt.  
TAR AND TRACK
Before delving into the on- and off-road performance of the GT 1528, it's only fair to explain that long experience has taught me not to expect too much in the way of ride comfort or road handling finesse from Japanese off-roaders. All too often, the experience on-road and off has been one of jarring bumps and bounces, and trucks with only moderate steering and handling abilities at highway speeds.
The new Hino 1528, however, went a long way to diluting that assessment after an extensive test drive ranging from a demanding day of off-road rambling on fire trails and steep, heavily rutted forestry tracks, to an 800km country run on highways and secondary roads where the truck's fuel efficiency was surprisingly good. 
With a tad more than 3,500km under its belt and loaded to a gross weight of 12.25 tonnes, the seven-seater crew-cab test truck was first pointed into the bush where the introduction of long parabolic leaf springs on the front axle, rather than the multi-leaf packs of the past, did a respectable job of lessening the jolts. Sure, it's not a car quality ride and what four passengers jammed together on the rear bench seat might endure is unknown, but from behind the wheel it was certainly far better than what I've come to expect, helped in large part of course by the Isri seat. 
Similarly, the sure-footed performance of the truck on rough sections of loose rock was particularly pleasing, with no noticeable losses of traction or rock-spitting episodes, due in no small part to a no-spin rear diff. Indeed, the Hino's ability to walk over steep, rocky ledges rather than bounce and bump its way over obstacles was an uncommon pleasure, enhanced by almost no kick-back through the steering. 
It could, of course, be a different story with no load on the back, but in this exercise, it's easy to contend the new Hino sets a class standard for off-road ride and handling. 
Selecting four-wheel-drive mode is as easy as pressing a dash-mounted switch and, likewise, it takes only the flick of a switch to engage low range, but of course, low range cannot be engaged while the truck is moving. 
The great majority of our off-road run was in low range and, with the engine's healthy torque peak spread across a relatively wide band, the Allison auto wasn't forced into constantly swapping gears to keep momentum on the boil. 
At no stage was the powertrain found wanting, even when the truck was purposefully stopped on a particularly steep section of track with the front tyres butted up to a short but blunt rocky step. Without any fuss or apparent strain, the Hino simply pushed its way forward, which, given the weight on its back and the sharpness of the hill, was an undeniably smooth and capable effort. 
In fact, the only distinct negative is one that perhaps goes with the territory of a dedicated off-road vehicle with high ground clearance. Put simply, climbing into the Hino is a distinct challenge for anyone less than lanky. As the stumpy driver of a Kenworth K200 who pulled up beside the Hino at a country fuel depot said with a wide grin: "Bloody hell, I thought it was hard getting in and out of this thing. I reckon you'd need to be a bloody mountain goat climbing in and out of that."
He was, of course, exaggerating a tad, but even so, mounted on 11R22.5 tyres it's certainly a high climb and for anyone short on stature, it's a long lift to the first step and a very long reach to the grab handle on the A-pillar. 
Hino, however, might argue the chequered steel rim on the driver and passenger side wheels is to aid entry and exit, but as anyone who has skinned shins or twisted a foot sliding off such rims with muddy, slippery boots will attest, it's far from ideal. In fact, given that most Japanese people aren't particularly tall, it's definitely an unusual aspect of the truck's design.
Still, it wouldn't be hard to fix. A swinging step below the cab step and a lower grab handle would go a long way to overcoming the issue while still retaining the Hino's ground clearance.
As capable as the GT 1528 was off-road, however, the greatest surprise was its on-road performance. 
With the thought that fire trucks can be called in emergencies to districts far beyond their home turf, it was decided to take the Hino on an extended road run. First through the NSW Hunter Valley before a hard and tortuous haul via Bylong Valley to Bathurst in the central-west, south to Canowindra to fortuitously add 30 bales of hay to the load, then home through Bathurst and Lithgow, up Scenic Hill and across the brutal Bell's Line of Road on a fearfully wet and windy night where the blokes at the Bell weighbridge were either bored or anxiously hopeful that anyone trying to slip across the mountains in such a truck on such a night must be up to no good. Seriously, chaps!
In a nutshell, the truck handled the entire task exceptionally well. Pulling power and tenacity were never in question, steering and road handling were surprisingly good for a truck with a necessarily high centre-of-gravity and, again, ride quality on sealed roads that ranged from downright dreadful to slick highways was easily acceptable. 
The only questionable aspect was the apparent programming of the transmission to kick down a gear whenever the exhaust brake was engaged. In some instances, of course, it was beneficial, but more often than not, a case of overkill when all that was needed was mild retardation for a mild descent. 
Meantime, on such diverse and often demanding road conditions, cruise control was rarely engaged. Equally, there were generally few opportunities to run at 100km/h where the rev counter ticks over at a twitch under 2,100 rpm. 
Yet, despite the significant demands of the day, fuel consumption over the first 500km of the road run was gobsmackingly good at 3.6km/litre, or 10.3 mpg. Without question, the expectation was for a figure far less frugal given the severity of the run. 
All up, the only conclusion is that Hino's GT 1528 4×4 is a totally surprising and surprisingly capable truck whether hauling through the bush or barrelling along the bitumen.