ATA 2015: Trucking Australia recognises top talent at awards night
---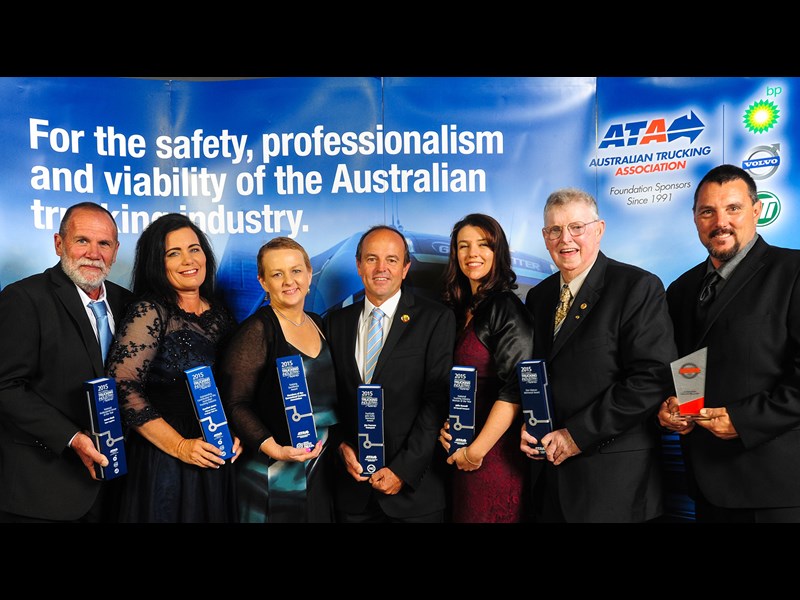 National Trucking Award winners from L-R: Aaron Busk, Heather Jones, Lisa Acret, Jim Pearson, Julie Russell, Paul 'Harro' Harrison, Phil Berger.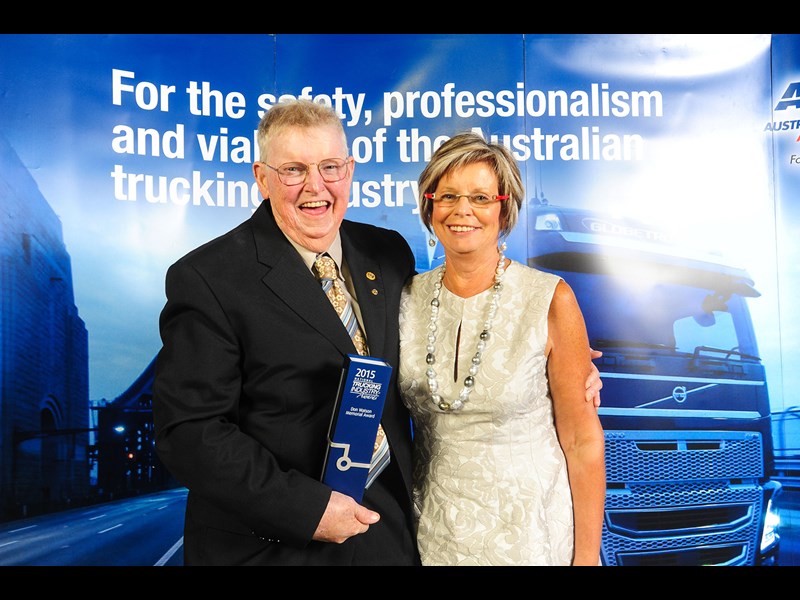 Don Watson Award winner Paul 'Harro' Harrison with ATA Chair Noelene Watson.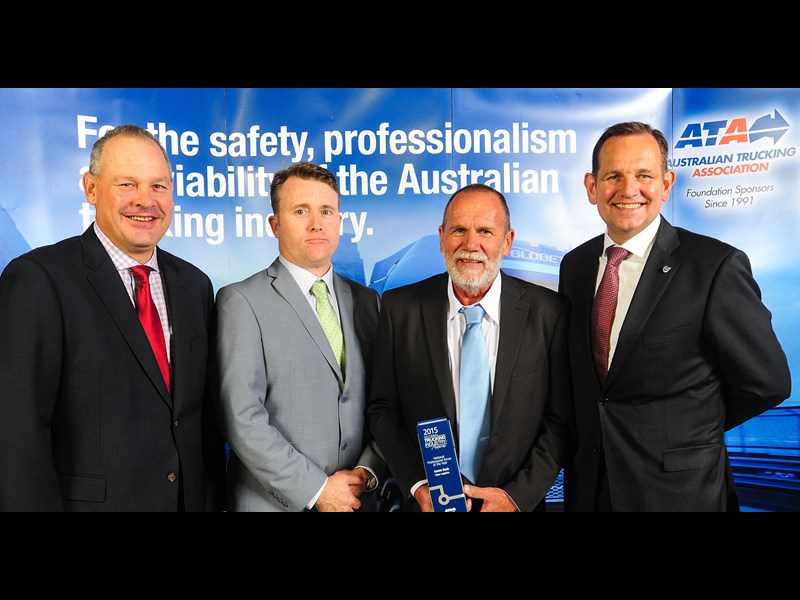 Driver of the Year Award from L-R: Mike Edmonds, NTI; Michael McCarthy, BP; Aaron Busk, Tytec Logistics (winner); Peter Voorhoeve, Volvo.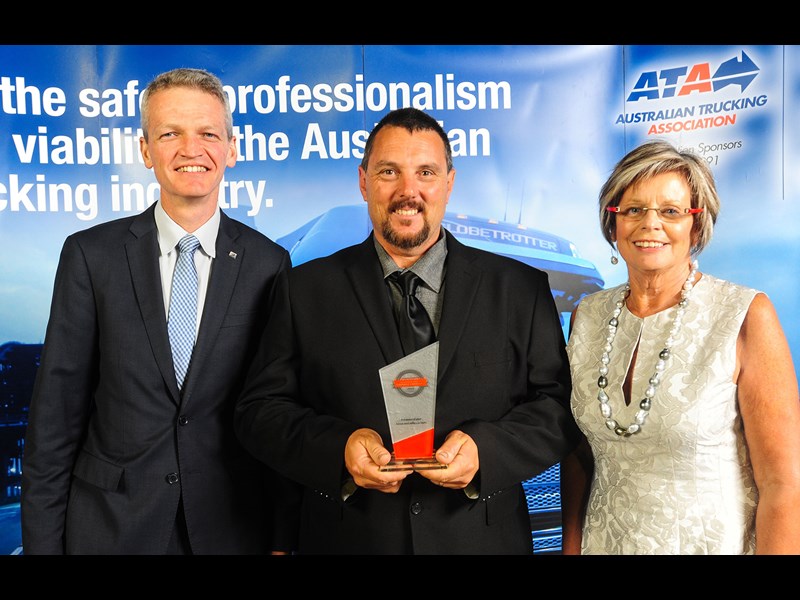 Highway Guardian winner Phil Berger (centre) with Rob Salter, Bridgestone Bandag and ATA Chair Noelene Watson.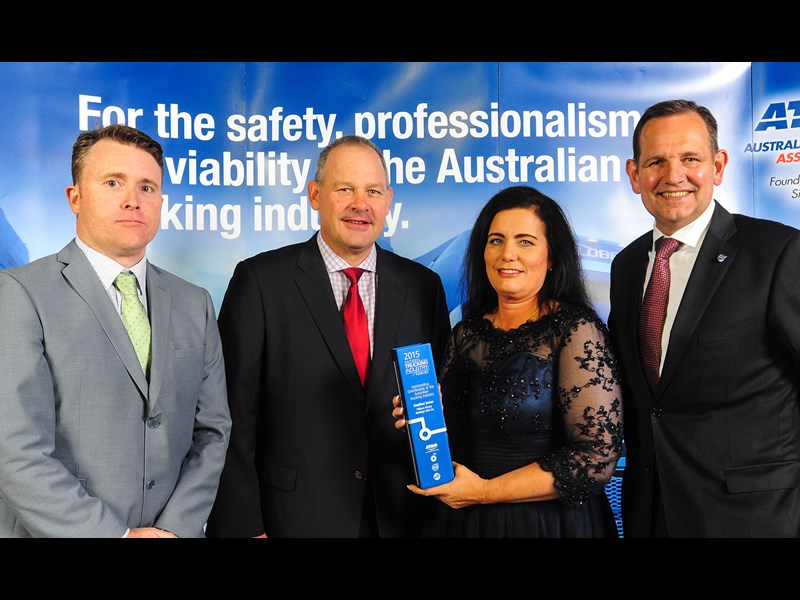 Outstanding Contribution Award winner Heather Jones with (from L-R): Michael McCarthy, BP; Mike Edmonds, NTI; Peter Voorhoeve, Volvo.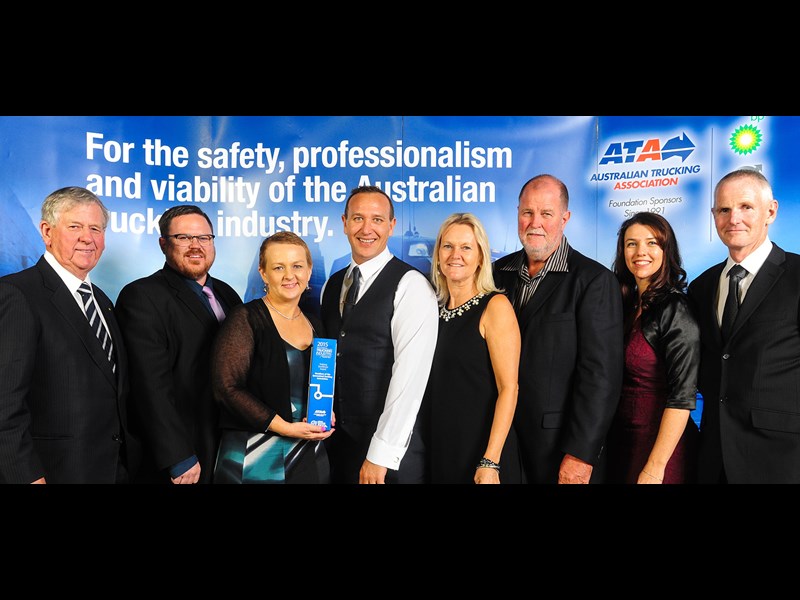 Training Excellence Award winners from L-R: Ross Fraser, Kenny Easter, Lisa Acret, Darren Nolan, Judy Blennerhassett, Les Blennerhassett, Julie Russell, Brendan Tenison-Woods (DECA).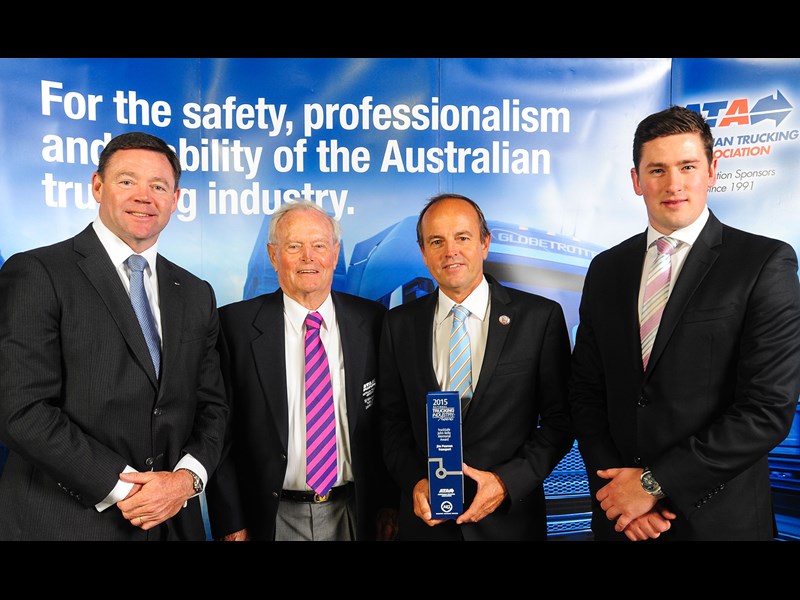 TruckSafe Award: L-R Tim Wedlock, AEI Transport Insurance; Jim Pearson Snr; Jim Pearson; Noel Kelly.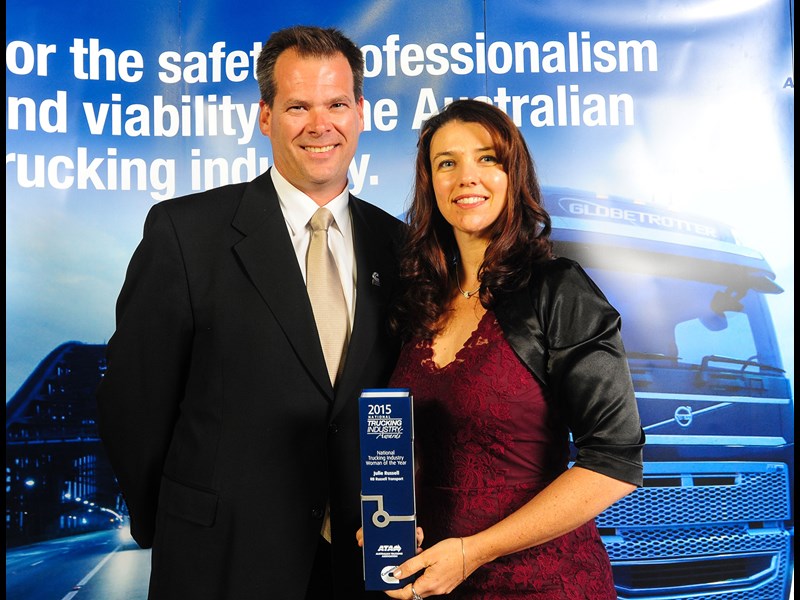 Woman of the Year Award winner Julie Russell from RB Russell Transport with Mike Fowler from Cummins South Pacific.
Truck driver Heather Jones among a list of industry stars recognised for their achievements.
Pioneering truck driver driver Heather Jones is among a number of industry talents recognised at this year's National Trucking Industry Awards.
Jones, who leads Pilbara Heavy Haulage Girls in Western Australia, received the Outstanding Contribution to the Australian Trucking Industry Award at a ceremony held in conjunction with the Trucking Australia event.
Jones plays a leading role in encouraging more women to enter the trucking industry.
She founded Pilbara Heavy Haulage Girls and is the director of Success Transport. She is also an active participant in the WA Logistics Training Council, Transport Women Australia and Transafe WA.
"I've been a professional truck driver for more than 25 years now. I wanted to share this with as many women that I could, and bring them into our beautiful industry," Jones says.
Awards were also handed out to two other truck drivers for their achievements.
Aaron Busk from Tytec Logistics in Queensland took home the prize in recognition of his accident-free 30 year driving career in the trucking industry, his community work with Meals on Wheels and for helping others in need.
"There's been far too many people to list who have guided my career over the years and shown me the right way to do things," Busk says.
It is the second award for Busk, who last year won NatRoad's Professional Driver of the Year gong.
"Aaron is the leading hand and mentor in his work team, providing guidance to new drivers and playing an active role in site safety," the ATA says.
TRUCK DRIVER SAVED CHILD'S LIFE
Truck driver Phil Berger of Kerin Kay Transport become the latest recipient of the Highway Guardian Award, which honours truck drivers who go above and beyond the call of duty to assist those around them during the course of their normal work.
The ATA says Berger was sitting in traffic on a 40-degree day last year when he noticed a lady leave her car with a young boy in tow and sit him under the shade of the tree.
Berger got out of his truck to ask if everything was OK. He found out the child, Cruz, was suffering from severe heatstroke and dehydration, and his mother, Debra, had run out of bottled water in the extreme heat.
Berger moved Cruz and Debra to the comfort of his air-conditioned cab and gave Cruz cold water and grapes to aid his recovery. When the traffic began to move, Berger escorted them back to their car and Cruz was taken directly to hospital.
Cruz spent several days in hospital, with doctors uncertain how he would have fared without the reprieve of the truck cab. Debra managed to get in touch with Berger later on to thank him for coming to her child's aid.
Bridgestone, which sponsors the award, says it is pleased Berger won.
"Phil Berger showed genuine compassion for two complete strangers and his actions helped save a little boy's life," Bridgestone Australia managing director Andrew Moffatt says.
Berger says he is a little overwhelmed by the attention.
"If there's someone in need, I'm always going to pull over. That's just what we do," he says.
"There wouldn't be a trucker I know that wouldn't have done the same thing. I'm sure if my family was in the same situation, there'd be a bloke or lady there to help out.
"I did what anyone would do – it was all about making sure the little fellow was OK."
ATA chair Noelene Watson says truck drivers take pride in the safe delivery of their goods and caring for those who share the road with them.
"That's exactly what Phil has done. By taking the time to notice others in need, and going out of his way to provide assistance, he made a huge difference to a young child and mother in a difficult situation," Watson says.
JULIE RUSSELL LEADS THE WAY
There were four other awards handed out during the ceremony, including for Woman of the Year which went to Julie Russell from RB Russell Transport.
"Wow. I am deeply amazed and humbled to be even nominated for this award, particularly when I've stood shoulder to shoulder with some amazing women," Russell says.
"I do acknowledge that we are in a male dominated industry, but it's also a family industry, and that gives me heart."
Russell manages the support services of her family business and contributes to industry and government groups.
"Julie is dedicated to improving the safety of heavy vehicle drivers, and instigated a program to place stickers such as 'Can you see the driver' and 'My dad drives this truck' on trucks to remind staff at delivery sites to be aware of the truck driver's safety," the ATA says.
"Drivers have reported the stickers have improved their engagement with these workers, and the company believes this cost-minimal program may have saved a life."
Meanwhile, the TruckSafe John Kelly Memorial Award went to Jim Pearson Transport, which tracks its fleet in real-time to manage driver fatigue and ensure compliance, while also providing exceptional facilities for its workers.
"This award is a great honour, and recognises the cultures and many years of development that makes Jim Pearson Transport the company it is today," Jim Pearson says.
'HARRO' RECOGNISED FOR HIS SUPPORT
Paul 'Harro' Harrison was named this year's Don Watson Memorial Award winner for his work in furthering the trucking industry's objectives.
The ATA says Harrison is a familiar industry figure and has attended almost all ATA events held since the association's formation.
"He is a dedicated supporter of Newcastle and Hunter Road Transport Awareness day, which raises funds for the Westpac Rescue Helicopter service. Paul is keen to preserve the transport history of Newcastle and maintains a premises solely devoted to restoring and preserving older vehicles," the group says.
Harrison is the managing director of Newcastle-based Paul Harrison Transport and has been a long-time supporter of the ATA and its predecessor, the Road Transport Forum (RTF).
He says it is an honour to receive the award.
"I've been coming to these events for 25 years, and in all that time I've only missed two. When I started out, we had our first meeting on the road at Hexam," he says.
"I'm just so keen on what the RTF and ATA have done over the years. Without them, we would have been up the creek."
QTA MEMBERS AWARDED
Finally, members of the Queensland Trucking Association (QTA) received the National Training Excellence Award for their involvement in the Queensland Government's GenR8 School to Work Transitions program.
Darren Nolan of Gatton-based Nolan's Transport accepted the award on behalf of the businesses involved.
"In 2014, the GenR8 program has grown to have 50 employers and 21 schools involved, and our employment rate for graduates is over 66 per cent," Nolan says.
"A huge thank you to the QTA for supporting the program and engaging with government to ensure the industry remains viable into the future."
The program participants include Nolan's Transport, Followmont Transport, KS Easter, Frasers Livestock Transport, Lindsay Australia and Wickham Freight Lines.
The ATA says the initiative has helped Queensland high school students gain real-life work experience and job opportunities in the transport and logistics industry.
"Through the program, students undertake 20 days of industry placement and study to gain their Certificate II in Logistics. These businesses have also provided a number of apprenticeship or job offers to graduates of the program," the ATA says.
Subscribe to our newsletter
Sign up to receive the Owner Driver e-newsletter, digital magazine and other offers we choose to share with you straight to your inbox
You can also follow our updates by liking us on Facebook. 

Trucks For Hire | Forklifts For Hire | Cranes For Hire | Generators For Hire | Transportable Buildings For Hire