Trucking pulls together in final bid to delay minimum rates for owner-drivers
---
The RSRT has been flooded with submissions from across the trucking industry with one message: don't introduce minimum rates.
They were told to put their concerns about minimum rates in writing, so that's exactly what Australia's trucking operators have done.
The Road Safety Remuneration Tribunal (RSRT) has been flooded with submissions from across the industry demanding minimum rates not go ahead on April 4.
In a rare show of industry solidarity, owner-drivers and their partners, small fleet operators, representative associations and big-name firms such as Toll and K&S Corporation have all sent a resounding message to the RSRT on its plans to radically overhaul trucking payment methods.
Hundreds of documents have been lodged with the tribunal, with many warning the fallout from the introduction of the Contractor Driver Minimum Payments Road Safety Remuneration Order (RSRO) will be bankrupted owner-drivers and families financially ruined. 
The RSRT is due to examine the submissions before scheduling hearings later this month to determine if minimum hourly and kilometre rates should be delayed until January 1 next year and phased in over three years. 
The tribunal has faced growing calls to delay the scheme in the past month, as more and more owner-drivers and companies using them have become aware of the possible consequences.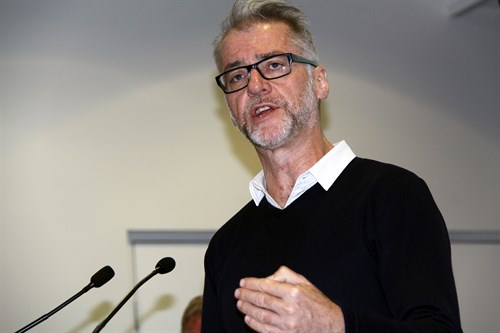 TWU boss Tony Sheldon will support a short delay to minimum rates.
The rising opposition to minimum rates virtually leaves the Transport Workers Union (TWU) as the only vocal supporter of the scheme. While it still wants it to go ahead, it will support rates being delayed until October 1 and the tribunal keeping back-loading in place. 
The words of the South Australian Road Transport Association (SARTA) sums up the concerns raised in most of the submissions lodged with the tribunal.
"The Minimum Rates Order will have a devastating impact on their businesses, with most contractors already being told that they will no longer have work from the commencement of the Order," SARTA executive director Steve Shearer says in the group's submission.
"There is considerable confusion about key details of the Order, including and in particular, how it can be practically applied in the myriad of circumstances in which it will apply.
"There is insufficient time within which to put in place the comprehensive accounting and administrative support needed to comply with the onerous record keeping and rates paid comparison data."
OWNER-DRIVERS FEAR FOR THEIR FUTURES
Owner-driver Mark Reynolds, who operates as MKR Transport, says he has been unable to prepare his business for the impending change because he does not completely understand it.
However, he has been told that the additional paperwork likely to come with the scheme will result in companies choosing not to use owner-drivers.
"The safe bet for all customers will be to avoid using anyone covered by the order at all," Reynolds' submission states.
Owner-driver Milton Lincoln, who operates MJ Lincoln Transport, raises similar concerns about owner-drivers losing work under minimum rates.
He says the new structure will price him out of the market because the rate he will be required to charge will be higher than what large transport firms — which the RSRT's order does not apply to — can offer.
"With the new rates in place, I will not be able to compete. Bigger companies will not hire me due to having to charge the higher rate and if I were to put a quote in for a job at the minimum rate, a bigger company is more than likely to get the job due to being able to charge at a lesser rate," he writes.
"My Business is highly unlikely to survive in the future with the new rates only targeting the owner driver, whereas if the rates were across the board it would make for even competition."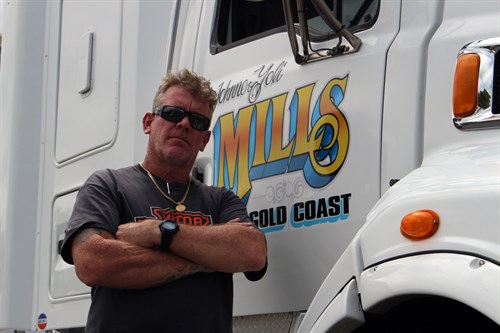 Owner-drivers like Johnno Mills are worried minimum rates will send them broke.
Tracey Bakon, whose family operates Mickellie Transport, has written to the RSRT saying minimum rates will have devastating consequences on the firm and more broadly.
She says customers will not be able to afford to pay the RSRT-mandated rates. 
"If this legislation comes into force, then we will have no option but to close our doors…all you are going to successfully do is outprice owner/drivers out of the market & this is stopping Australian families earning a living," her submission states.
"With this legislation the four families that rely on our business will be out of employment if this is to come into force, we will lose both our homes, our prime mover & 4 trailers will all be repossessed…"
Conversely, some owner-drivers believe the RSRT's rates will lead to companies trying to pay less than what they already do.
Peter Whytcross, who operates in Western Australia, says he currently earns more than what the RSRT has proposed and that large businesses will seize on this to drive rates down.
"If this happens I will no longer be able to trade as the rates I am receiving now are only just viable," he says.
"We would not change our rates as they are the minimum we can charge for a viable business in Port Hedland. We are already struggling against larger companies who are dropping rates significantly."
NO MORE WORK FOR OWNER-DRIVERS, RSRT TOLD
Many small fleet operators who made submissions to the RSRT have echoed the concerns of owner-drivers.
Matthew Want, who runs Wants Transport, says his company has used several owner-drivers over the past five years, but that is at risk of changing.
"This will cease due to the effect this [order] will have on our business and we would be unable to afford the extra costs," Want writes.
"We will not do any extra paperwork as we feel it will be easier for us just to not employ our sub-contractors."
Quinn Transport, which hauls bulk, livestock and general freight, says the RSRT's plan will make it harder to use owner-drivers due to the administrative and financial cost.
"As we see it, it is looking harder and harder for us to engage owner/drivers under the RSRO. We are seriously considering not using up to 10 owner/drivers that we currently use and will do all the work in house," company owner James Quinn writes in his submission.
Small fleet operator CAP Transport says it is informing the owner-drivers it uses that there will be no work under minimum rates.
"Under the current ruling we will be advising 3 contract drivers that we will not be able to provide them with work due to the increased trip costs associated to owner/operator businesses.There for [sic] they will be terminated," the company's owner, Ian Parke, writes.
"The small operator 1 -6 trucks will be dead and buried, not to mention the grief that the members of the families who run these businesses will endure with many going to the wall."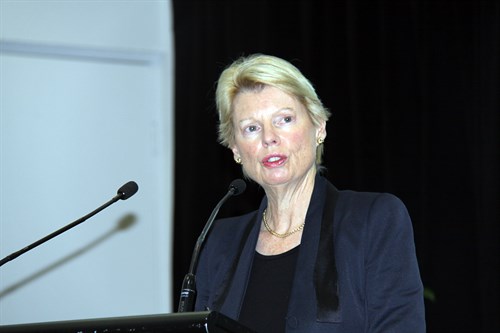 RSRT president Jennifer Acton will decide if minimum rates should be delayed.
Parke is critical of the RSRT's plan to set rates regardless of the type of trip, effectively stopping owner-drivers from back-loading.
While some fleets say they will be able to survive by bringing work in-house, firms that rely heavily on owner-drivers believe they will not be so fortunate.
Metro Freight Lines owner Antonio Cozzolino says he uses 26 owner-drivers.
He says he cannot afford to pay the minimum rates the RSRT will require, claiming they are about 40 per cent higher than what is currently paid.
Cozzolino says the scheme will put him at a disadvantage when competing for work with companies that mostly use employees.
"Any contracts with customers I have will certainly be lost as my fleet of owner/drivers will be not competitive with company driven vehicles," he writes.
"In summing up I will be unable to continue with my business as it will not survive in the future based on the rates in the 2016 RSRO."
TRIBUNAL FACES GROWING OPPOSITION TO MINIMUM RATES
The RSRT has come under intense pressure recently to delay its plans, with even the Federal Government stepping in to request a change to the start date.
Federal employment minister Michaelia Cash and federal transport minister Darren Chester support a delay, with independent senator Glenn Lazarus recently pledging his support to prevent minimum rates from being introduced. 
Australian Small Business Ombudsman Kate Carnell has also got involved with an application in support of delaying the scheme until January 1, 2017. She says the planned April 4 start date "is clearly insufficient".
"When there is a change in the law or regulatory environment, it is appropriate that there is sufficient time for businesses to transition and mitigate potential negative impacts," Carnell says.
"The potential for the original order to negatively impact the income of owner-drivers is a significant change and warrants a transition period that reflects this."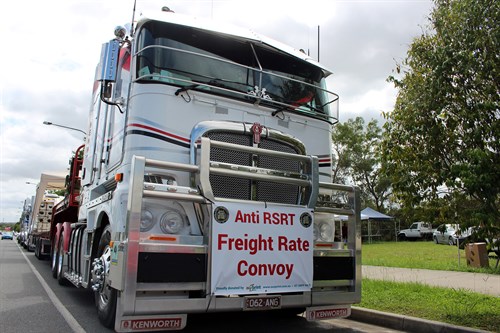 Owner-drivers staged a convoy to protest minimum rates being introduced.
Likewise, Toll wants minimum rates introduced on January 1. In line with the Australian Industry Group (Ai Group), Toll says the rates should be phased in.
It says doing so will allow the trucking industry to adjust.
"This adjustment may come in various forms, including renegotiation of commercial terms with customers, a consequent change in industry expectation as to the cost of road transport services, new terms with contractor drivers and the like," its submission states.
The RSRT will hold a hearing on March 24 to determine if hearings need to take place over Easter from March 26 to 28 on delaying minimum rates.
Individual owner-drivers last week tried to make their thoughts known to the tribunal directly but were often cut off and told to submit their concerns in writing. 
A convoy was held near Brisbane recently to raise awareness about minimum rates and encourage owner-drivers and their supporters to lodge written submissions with the tribunal. 
Subscribe to our newsletter
Sign up to receive the Owner Driver e-newsletter, digital magazine and other offers we choose to share with you straight to your inbox
You can also follow our updates by liking us on Facebook. 

Trucks For Hire | Forklifts For Hire | Cranes For Hire | Generators For Hire | Transportable Buildings For Hire