Legends talk Kenworth, wisdom and a changing industry
---
Usually rated the highlight of the ATA's annual conference, this year's Kenworth Legends Lunch didn't disappoint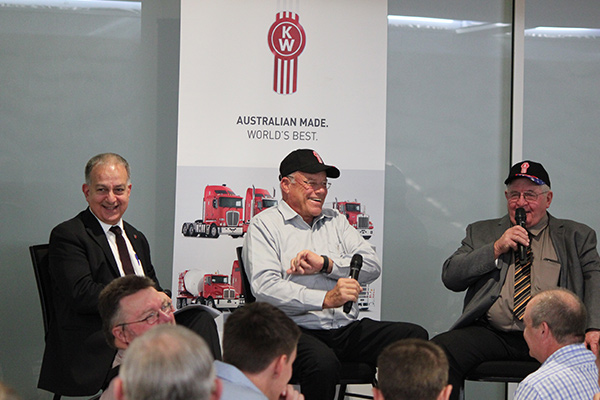 Chris Melham, Phil Russell and Peter Wickham on stage.
Peter Wickham has a simple recommendation for budding trucking entrepreneurs.
"Don't listen to accountants, solicitors or financial advisers," the co-founder of big east coast operator Wickham Freight lines reckons.
"If you've got a gut feeling; if you can buy a truck and make a quid with it, just go and buy it. Don't listen to anybody, because everyone will talk you out of it.
"You don't need an accountant; you can get him at the end of the year just to count out what you've made," concluded the trucking veteran, to a huge round of laughter from the audience.
Mind you, he also said that if you do your dough, at least you've only got yourself to blame.
It was just one of many witty pieces of advice and funny yarns enjoyed by delegates at the Kenworth Legends Lunch, part of the ATA's recent Trucking Australia 2016 conference at the Gold Coast.
The entertainment was provided by this year's Legends, Peter Wickham from Warwick in Queensland and Phil Russell from Russell Transport in Brisbane.
Both Wickham, 74, and Russell, nearly 70, have spent a lifetime in trucks, and their passion for the industry shines through.
The pair shared some earthy experience about both trucking and life in general, on stage with ATA CEO Chris Melham asking the questions.
By the way Wickham's has about 120 Kenworths, and Russell Transport nearly 50.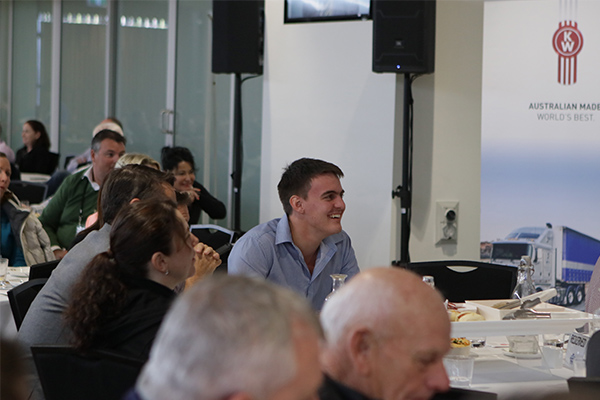 Next generations: Rohan Keogh, Peter Wickham's grandson, and Julie Russell, Phil's daughter, listening to the Legends. (Picture by Marcel Voestermans).
Legend: Peter Wickham
Peter Wickham's trucking roots go back to the short and ill-fated transport career of his grandfather, who owned the first truck in Warwick.
It was an International, circa 1917, and Charlie Wickham decided he would have to get a bit bigger, so off we went to the International dealer in Brisbane 160km away.
Charlie apparently asked the salesman about the new-fangled "pneumatic" tyres that were getting around, but was advised that they were just a passing fad: "Imagine carrying five tonne on air?!" the salesman exclaimed.
So Charlie Wickham returned to Warwick and within 12 months was out of business, because he had the only trucks in town still with solid tyres.
Peter Wickham recalled that his father "hated trucks", but that his late brother, Angus, was mad about them from a very young age. "I liked bulldozers," he says.
The pair worked together in logging with an old Leyland Hippo boasting a Mack back end, before the 1962 credit squeeze saw them growing potatoes on their father's small dairy farm, carting the spuds to Brisbane in an old Austin, "a terrible truck".
"That's how we started getting trucks, to cart our own produce," Wickham says. Wickham Farms is still a big potato producer, carting them to the capitals daily in its own trucks.
Fast forward to the late 1990s and Wickham says "probably the main thing that lifted the company" was getting a contract with the Queensland Big W distribution centre in Warwick, requiring the purchase of 30-odd trucks.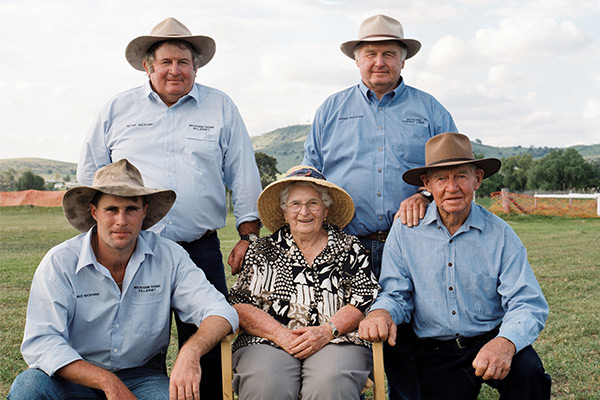 Flashback to the 90s: Peter and Angus Wickham (rear) with their parents Merv and Francie, and Peter's son Bruce.
Deep trucking roots
Wickham has never considered giving the game away.
"I never ever thought about stopping," he says. "It was always about what I could do to go."
"I really still like seeing the trucks go up and down the road.
"You see the workshop, you see the blokes working, you talk with them, it's a great feeling for me to see all that happen, and happen as good as you can do it."
Wickham recalls the operating environment was easier in the early days, when you simply got in the truck, filled it up with fuel "and went and done the job and got paid for it.
If you didn't want to do it for the price you didn't do it.
"Now you go to get a job, you've got to have a folder that thick … (holds thumb and forefinger 10cm apart).
"You might have pretty trucks running up and down the road and it all looks good but behind-the-scenes it's pretty hard. I'm not saying the compliance is wrong; your safety stuff and all that is really good, but it all comes at a cost, somebody must pay."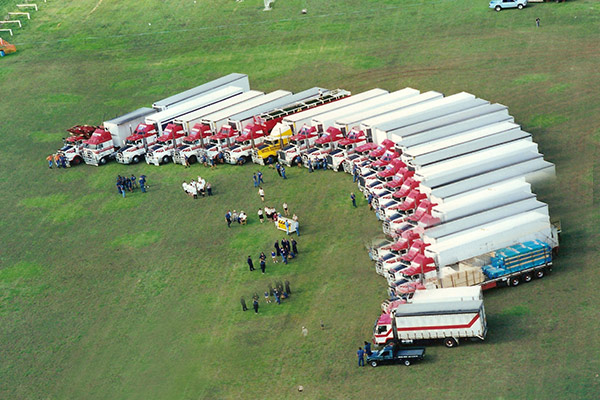 Wickham's fleet in 1997.
As for the key to maintaining company reputation: "I think the secret is to have family in the business," Wickham reckons.
"You can pay a bloke all the money you like, but he won't do the job like you'll do it, and he won't put in the extra hours.
"You have got to have family or young ones in the business, because they like their reputation to be right, they like to do things right, and you have to set a high standard yourself … because that filters down the line.
"It's the example you set from the top, and only the owner of the business can set that example.
"I don't know how these big companies run with managers everywhere … It's family that knows what's going on and it's their money that is being spent."
MC Chris Melham asks if a trucking business has to grow to survive.
"I just go back to the old saying of Jack Hurley," answers Wickham, referring to the company's long-standing Kenworth supplier, Brown and Hurley. "He said 'there's only one way to coast, and that's downhill,' and I'll never forget it.
"The minute you think everything is easy, and you're just going to ride the horse out of town, that's it."
While we're at it, what does Wickham think of Kenworths?
"Well actually the trucks we buy today are alright.
"The trucks have always been alright, we just had a really bad stint there with some motors, which you all know about … They're good trucks, there's no doubt about that."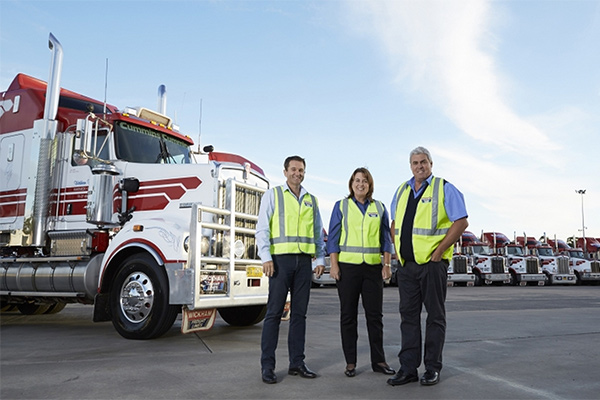 Wickham Freight Lines prime movers, in trucks and people: Peter's son-in-law Darren Eather (left), daughter Donna Keogh and son-in-law Graham Keogh.
Wickham's wisdoms
What does Wickham rate as his greatest personal achievement?
"I've got a son and three daughters and the whole lot of them are involved in the family (business)," he says.
"I've got one of the oldest grandsons here, I'm just trying to talk him into doing something … I don't know whether we've done much for the transport business, but we've certainly done a lot for Brown and Hurley – we've bought about 200 trucks!"
Wickham says a genuine passion for the trucking industry and ability to "cop the knocks" is essential to success in transport: "For a businessman to say 'I'm going to buy trucks and run trucks' –  he won't last long."
Yet more nuggets of wisdom emerged as the lunch continued.
For example: "You know the best time to do anything? Right now.
"There's an opportunity out there right now for somebody."
Wickham believes those opportunities apply to young people "more than I have ever seen". They can rise from novice to manager in five years.
That gets onto a song that Peter Wickham wrote and sang himself at the end of the lunch. Its chorus highlights his positive attitude towards young people, and his humble origins in the bush.
"The young ones of this world today, they're as good as they've ever been," the song goes.
"But I don't think they'll ever see the changes that we've seen."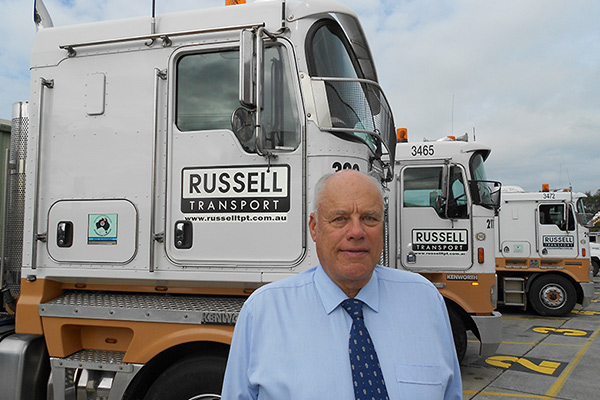 Legend: Phil Russell
Phil Russell began working for his father, Roy – who started out with a single truck carting motor spirit in 1925 – as an apprentice in the workshop.
Phil took over the business in 1970 at the ripe of old age of 24, and stepped back last year, with son Ken and daughter Julie running the diversified operation, its constant over the years being heavy haulage.
Russell now enjoys travelling around Australia in a motor home.
He had a false start in road touring over a decade ago when told he didn't have a balanced life.
"So I went out and bought a motor home," Russell recalls. "It cost a lot of money – I thought 'throw a lot of money at a problem and it will go away'. It didn't go away.
"I asked the doctor who reckoned I was going to hit the wall if I kept going: 'Can you tell me what it's like just before you hit the wall', so I could take it on a bit longer."
Like Wickham, Russell also nominated having family involved in the business as his best personal achievement.
Russell also started as an apprentice in the workshop and later went to university while working part-time; and Julie has degrees in psychology and business management.
"I was happy to leave school at Year 10 … but the new generation, they've really got to go to university," Russell reckons.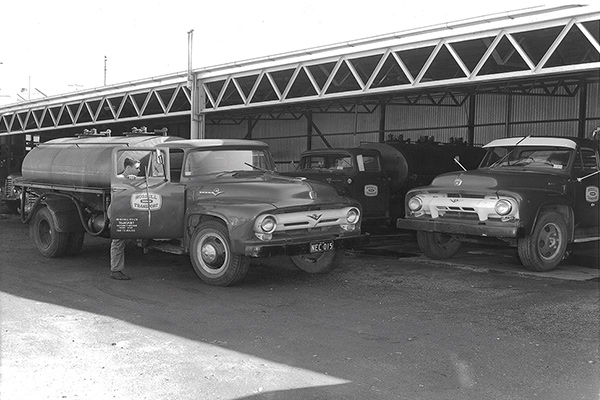 A young Phil Russell with a petrol V8 Ford in 1964.
Kenworth man
Russell bought his first Kenworth in 1972, a K125 which cost $31,000.
Early on he figured you've got to spend money to save money.
"And to do that, yeah sure we probably had to pay 31 grand for a Kenworth when we could have bought a truck for $18,000, a different model, but whole of life is what I've always aimed at, and consequently it's probably cost us more.
"Maybe we haven't put as much money in the bank, but the fleet has done well.
"There are still plenty of trailers that we bought back in the 70s and 80s that are still out there working every day.
"Okay, they might have new axles but it's a great investment when you can write it off over 30 years."
The Kenworth product "has always been able to perform for us, and if there has been an issue it's been amicably resolved".
Russell was generous with other pearls of wisdom on business strategy.
"You need to reinvent yourself," he advises.
"You get opportunities to go onto a project and once that's finished you've got to find something else to keep you going.
"If you're not growing you're going to be going the other way.
"Marking time is only a very short-term strategy; you've got to keep looking for opportunities to grow your business."
Russell reckons there is more access to decision-makers in the bureaucracy these days.
"To actually see the heavy vehicle regulator here fielding questions is like a breath of fresh air, considering where it was 40 years ago."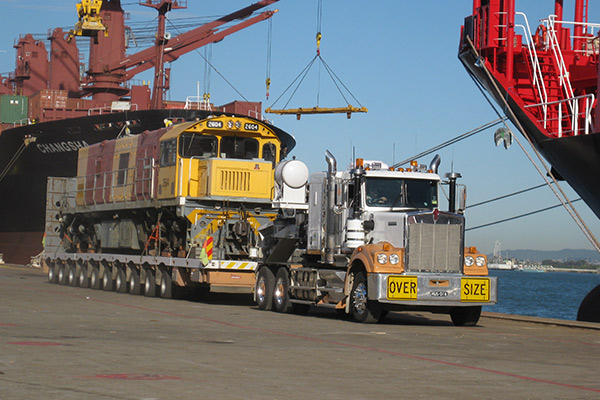 A Russell Transport Kenworth pulling a locomotive at Brisbane port.
Subscribe to our newsletter
Sign up to receive the Owner Driver e-newsletter, digital magazine and other offers we choose to share with you straight to your inbox
You can also follow our updates by liking us on Facebook. 

Trucks For Hire | Forklifts For Hire | Cranes For Hire | Generators For Hire | Transportable Buildings For Hire