'B-doubles are the thing that killed us'
---
With no time for the hassle of B-double work, this second-generation owner-driver is still behind the wheel of an award-winning 1998 International Transtar with great family sentimental value
Not many truckies get to operate the same truck their father drove. Chris Penfold is one of those.
And with his 1998 International Transtar's win in the Best Owner-Driver category at this year's Penrith Working Truck Show in NSW, it's needless to say he is extremely proud of his hard-working steed.
But, while the 500hp Transtar 4700 is B-double rated, Chris says he hardly ever uses that rating. Chris is a single-trailer man.
"I've always had the opinion that B-doubles are the thing that killed us, really," he laments.
"If you've got the job to do it, especially running west across to Adelaide or Perth, or if you're running right up north and you've got the freight for it coming back, by all means.
"But 90 per cent of the work I do is single. A B-double is a pain in the arse for me, unhooking, re-hooking, watching where you go, all your limits, all the bullshit.
"You're running 12 extra tyres and six extra brakes; you're getting 4-500,000 kilometres out of a rebuild as opposed to six, eight, a million kilometres out of it; and then you're down on fuel.
"You're pulling the guts out of the truck, you're wearing the truck out. There's so much more you have to factor in cost-wise with a B-double – I think that you're pulling that front trailer around for free."
Chris also has strong views on the recent remuneration debate.
He says he tries to achieve about $2.50 a kilometre for his truck and trailer with himself as the driver – and that's both ways, or at least to where he's picking up the next load. He shakes his head at the ridiculous undercutting and backload rates that are going on.
"Whatever gets thrown at me, I put a price on it. If I win it, I win it – if I don't, I don't," Chris says philosophically. "If I don't win that job and someone takes it off me, best of British luck to them.
"I own the gear, so I'm not compelled to be out every night of the week to pay a truck off."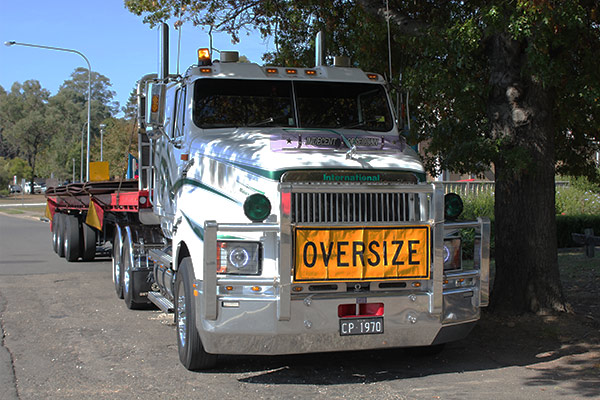 Stylish worker: Chris Penfold's Transtar.
Chris saves a lot of money by doing "90 per cent" of the truck's maintenance with his 16-year-old son Hayden, including bearings, brake linings and tyre rotations: "He's been my grease monkey since he was about six years old, and my spanner man."
Hayden is an apprentice diesel mechanic in the pair's home region of Newcastle, and Chris reckons becoming an owner driver "is all he wants to do" one day.
Hayden, who is shaping up as the third generation of Penfolds to drive the International, was driving around Australia in trucks with Chris as a toddler, and his two older sisters also enjoyed plenty of road trips with their dad when they were younger.
Read more about Chris Penfold, his son Hayden, and their award-winning Transtar in the next issue of Owner//Driver. Subscribe here.
Subscribe to our newsletter
Sign up to receive the Owner Driver e-newsletter, digital magazine and other offers we choose to share with you straight to your inbox
You can also follow our updates by liking us on Facebook. 

Trucks For Hire | Forklifts For Hire | Cranes For Hire | Generators For Hire | Transportable Buildings For Hire