What the industry needs
---
From the comfort of his business-class seat 30,000 feet in the air, highly-paid consultant Martin Fysh-Monger pines for a transport industry devoid of owner-drivers and dominated by large, efficient fleets. Is he just dreaming?
I often, given the nature of my business, fly from city to city to oversee certain business deals; or even from time to time take part in certain delicate negotiations.
Such is the life of a highly-paid industry consultant.
However, it's become a favourite habit of mine to gaze down upon the city from the business class end of the plane and ponder progress over a frosty glass of bubbles. I must confess it's become a little indulgence.
Time marches on. Gone are the days when you could cop a feel of a hostie's pert derrière as she totters past and be rewarded with a good natured and sometimes coquettish giggle. No, try that in this day and age and you'll be pinned to the seat by the ice-cold death stare of an angry she-bear. Some things change for the better, others do not.
But from on high I always delight in seeing the multitude of trucks gliding down the highways. Mere dots, links in a vast transport chain that crisscrosses the land. While I may lament the passing of time in some areas, others I take great delight in.
Transport in this country is riddled with inefficiencies. And it is the responsibility of captains of industry such as I to work through this muddle and provide the sort of cost-effective and streamlined service that our economy requires to grow and thrive.
The great unwashed are, of course, a vital part of our labourforce, however, it's no mean feat to convince these people that we know what is good for them in the long run. There seems to be a rather Lemming-like quality to many small operators in the transport industry. The idea that you can just go and buy a truck and that society somehow owes you a living is a recurring one that I see often.
The demise of the RSRT was an interesting case in point. Owner-drivers fighting for the right to go broke due to their own bad business decisions. It was quite fascinating.
Clearly the supply chain as a whole is better served by large companies that have the efficiencies of scale to deliver safe on-time service rather than a rag-tag army of one-truck operators up to their eyeballs in debt! I heard of one fellow for example that spent another 50K on top of the purchase price of the truck on custom paint and shiny things. How is that an intelligent business decision?
These people clearly think they are entitled to business success by virtue of the outlay they've made. It's a business not a lifestyle! There will, of course, always be need for small operators in niche areas, specialist transport that requires equipment and skills not usually found in large fleets.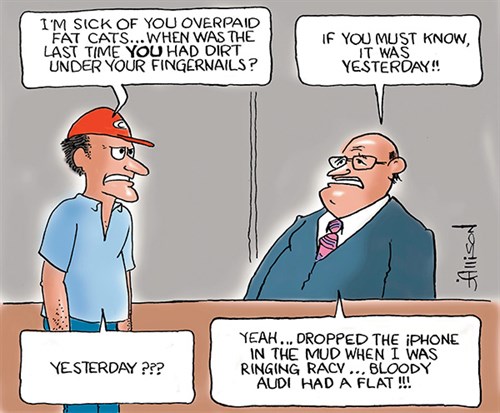 But the future will be best served by large integrated fleets that embrace technology and pursue efficiency.
I like to think of it this way. If I owned a milk bar and a supermarket opened next door I would be faced with a number of decisions to make. I could slowly go broke while complaining loudly that there is a supermarket next door. Or I could change my business model and offer something that the supermarket does not. It's rather simple; it's called free-market capitalism.
Unfortunately, many small operators don't adopt this approach. Instead they complain loudly and go broke; all the time moaning about the big players in transport. The funny thing is once the dust has settled they nearly always end up driving for one of the big companies that they detest so much.
The future, however, holds many exciting possibilities. Automation will make it so much easier for trucks to be driven and will also make it easier to get labour skilled up quickly. And every part of the supply chain will be quantifiable.
Sorting out the human factor, though, will no doubt present more of a challenge. Though I'm sure there will be few loopholes we can exploit. I quite often offer my services to facilitate EBA negotiations for example. I've been doing this long enough now to be able to identify certain personality types when it comes to work force representatives.
The most common one is the self-important blow hard who likes to bluff and bluster. I generally find that this type is easy to baffle with numbers and they usually end up making a fool of themselves. The other is the eager-to-please type which makes my job all too easy. They want the boss to think they're a good person. It's like shooting fish in a barrel.
But occasionally I'll come across a hard nut. When this happens I try and schedule negotiations from mid-morning. As lunch time approaches I'll have hot food brought into the kitchenette so the smell can waft through the meeting room.
This is the time to haggle over the most important parts of the agreement as the poor sods squirm with hunger into the early afternoon. Nine times out of 10 their grumbling stomachs will drive them to agree to most things eventually. They just have to be led to believe they've had a win somewhere. Aah, the thrill of the chase!
I could go on, however my plane is now descending and the she-bear is giving me that death stare that indicates I need to stow my laptop. 
Subscribe to our newsletter
Sign up to receive the Owner Driver e-newsletter, digital magazine and other offers we choose to share with you straight to your inbox
You can also follow our updates by liking us on Facebook. 

Trucks For Hire | Forklifts For Hire | Cranes For Hire | Generators For Hire | Transportable Buildings For Hire