De-stress Express hits the highways
---
A rebuilt '78 International TranStar has taken its truckie owner across to what is considered in the industry as the 'dark side' – the world of the grey nomad
Let's be honest here, we all have an automatic tension increase when someone talks about caravans, motorhomes, grey nomads or just 'that time of the year again.' We also must admit though, seeing this amazing country and all its sights are on our must-do list.
The idea of pulling up to watch a stunning sunset and enjoy a cold beverage in a remote quiet place, away from the hustle and bustle of the city life, the constant stream of technology or the annoying neighbours is extremely appealing. So how do you accomplish that if you don't want to buy a four-wheel drive and do 87km/h everywhere except on overtaking lanes?
Well, Tony and Anne Kuchel have come up with the answer. Not only that, but in their 1978 International TranStar they've nailed it, reinforced it and added a high gloss finish to the whole idea of motor-homing.
Tony is the man behind the wheel of this stunningly transformed International Transtar. For those of you lucky enough to be from South Australia's stunning Barossa Valley, the Kuchel name will be extremely familiar.
Kuchel Contractors has a huge depot just off the Sturt Highway in the centre of the Barossa. Inside the depot you will first notice the iconic red, white and blue Western Stars the company has become known. However, you can also grab a truck or trailer load of a variety of landscaping supplies. There's also a public licensed weighbridge on site and, most importantly, there is an amazing workshop where a team of extremely dedicated and skilled people are turning out some extremely cool rebuilds. A case in point – Tony's TranStar motor home.
Born and bred in the Barossa, Tony has been knee-deep in the family business for as long as he can remember. His dad Max began Kuchel Contractors in 1950 with a KB6 International tipper, hauling whatever he could to pay the bills. The work ethic Tony learned from his father had him itching to leave school and start getting his hands dirty as soon as he could. "Dad told me I can't leave school till I get an apprenticeship," Tony recalls. "So I rode my bike into town and got one."
At that time his pushbike got him as far as the local panel beating shop where he completed his apprenticeship. His downtime at that stage was filled up working with his dad.
Eventually that work schedule was reversed and Tony was driving fulltime for Kuchel Contractors, as well as doing paint and panel work in his own downtime. Evenings and weekends were spent doing odd jobs for people including the local International dealership that the Kuchels regularly frequented.
"I'd bring one home in the weekend, work on it for a few weeks, take it back and they'd give me another one," Tony explains. "A bit of extra pocket money. I was young; I just worked all the time."
International domination
Kuchel Contractors' formative years saw it carting anything, anywhere they could. The company's versatility and adaptability kept the wheels turning. However, there wasn't a lot of diversity in the fleet with the International brand dominating the yard as it did in much of Australia during that period.
The Internationals were an obvious choice for the work Kuchel was doing, not just because there was a local dealer just up the road but because they were a tough hard-working truck. Kuchels were able to set them up how they needed them as well.
Tony informs me that back in those days when you ordered a truck, "all you got was the cab and chassis, not even mudguards. Anything else you wanted you had to organise." So fitting up and painting became an in-house operation. Working on the Internationals, as well as driving them, was where Tony's love for the brand flourished. Even now, 40 years after he got behind the wheel of a brand new 1978 Transtar, Tony confesses, "it's still my favourite truck to drive, ahead of the Kenworths and 'Stars."
He also admits that unlike the luxury that is his Transtar now, the new one in 1978 came only as a day cab. "Everything was day cab then; if you went away you just slept across the seats."
Tony spent a lot of time with his 4200 Transtar in the late 1970s and early '80s. Even after he took over the manager's role when his dad retired he continued to lead the race for kilometres covered.
As the years evolved so did the structure of the company. One change was the demise of the International brand within the fleet and the rise of the similarly staunch Western Star bonnet.
Another change was the business model the company changed to, from just a transport company to a landscape product supplier, and to a workshop and restoration specialist. All this evolved as Tony adapted to the changing market as well as the introduction of more of the Kuchel clan.
Tony and Anne's three kids have all become an integral part of the family business and its success. All three have brought a different and yet extremely useful skillset to the team.
Like their dad, they mastered their own specialties. Jacob is a qualified diesel mechanic, having done his apprenticeship at the local Western Star dealership. He then moved to the fitout side and was setting up all the new Stars for delivery.
Jordan is the bright spark of the trio (sorry, 'sparky' is what I meant to say). Jordan's apprenticeship was in the auto electrical side of the workshop.
For those worried that with Tony on the road or in the office, the painting side of the family skill list was vacant. That's where daughter Kendall steps in. If you check out the fantastic airbrush work on the doors of the camper, you will see she hasn't just followed in her dad's footsteps, she has overtaken him when it comes to the creative side.
Perfect substitute
With the company in extremely capable hands, the keys to the big comfy office seat were handed over to Jacob recently as Tony began looking at semi-retirement.
Tony had always wanted to restore the original 1978 International that he had. Unfortunately, after a great deal of hunting, he discovered it had been wrecked. Instead he found an identical one. Although it too was a wreck, it was perfect for a restoration. The truck had only just been deregistered and retired in the mid-2000s, showing just how tough the old Inters were.
The truck was purchased and taken back to Kuchel's workshop where the restoration took place. All three kids had a hand in the job as well as Tony.
The camper body is also a Kuchel build. Originally it had been built to sit behind the Kuchel C600 Ford which was used when the team went to shows or for promotional outings. It was remodelled and moved after Tony's proposal to Anne of "just a sleeper bunk behind the C600" about 12 years ago was met with a firm "Ummm, no!"
The idea was to make the setup completely self-sufficient. Although the intention was always to use it to travel the country visiting family, friends and customers, Tony wanted something where he wasn't reliant on campgrounds. He openly jokes, "I don't like caravanners". His truckie roots may play a role in that.
The interior is equipped with a fully fitted kitchen, bathroom and laundry, double bed as well as reclining sofa and 30 inch TV. Both the driver and passenger seats swivel around to a table right behind as well.
Powered by extra batteries as well as its own generator and large water supply, there's not a lot missing. You will even find a couple of pushbikes stowed away in among all Tony's cleaning and polishing gear.
Under the hood is a rebuilt Detroit Series 71, as fitted back in 1978, although it looks a lot tidier than it would have back then.
Tony also wanted to stick with an original 15-speed gearbox, although the downside is Anne that isn't asking for her turn behind the wheel. "She doesn't like that thing sticking out of the floor," he jokes. "I'll get her into it one day; it's good fun."
The final addition to this impressive setup is the name 'De-stress Express' added to the upper side of the body.
Anne is still assisting with some office stuff regularly via email, and Tony will forever be involved in Kuchel Contracting. However, the idea of the motor home was to allow them both to get away for a few weeks at a time, to get to vintage shows and catch up with old friends, and to do all the things retirement affords.
Being able to do it in your favourite truck, with a setup that most 4-star hotels can't match is a bonus.
As a life- long truckie, Tony admits, "this is the enjoyment side of trucking without the business stress, hence the name De-stress Express."
After viewing the Kuchel's mobile holiday apartment, I've already started saving for my retirement.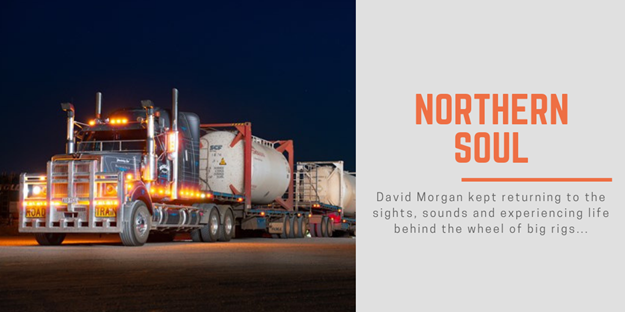 Subscribe to our newsletter
Sign up to receive the Owner Driver e-newsletter, digital magazine and other offers we choose to share with you straight to your inbox
You can also follow our updates by liking us on Facebook. 

Trucks For Hire | Forklifts For Hire | Cranes For Hire | Generators For Hire | Transportable Buildings For Hire