Michael Bof cements his future
---
Michael Bof, or 'Boffy' as he's known by his mates, has graduated from concreter to hauling cement around Melbourne in his own Kenworth T358
Have you ever thought about a world without concrete? Romans were using concrete as early as 300BC, but let's jump forward to 2018. In the city you can't look out a window without seeing it in one form or another. Concrete is a mainstay of the construction industry and without it we wouldn't have the wonderful cities we live in.
Victoria-based Michael 'Boffy' Bof has been involved with the stuff for most of his working life, starting out as a concreter at 15 years of age.
It's tough work for a young bloke especially on his back, so Michael decided to get out of that game at 21 because of a bad back and started driving little tippers.
After he stopped concreting he still wanted to maintain his fitness but couldn't jog due to his back injury so he started cycling. He joined the Italo-Australian Cycling Club.
There he competed in quite a few club events and a number of road races like Bendigo-Charlton and Melbourne-Benalla. The time and effort required to reach a high level in that sport is huge and, because he had to work most Saturdays when most of the races were on, it limited his ability to compete.
Eventually family commitments saw him put the bicycle away and, at the same time, he discovered that motorcycles were a much easier way to get about on two wheels.
Now he can be seen quite often on his black 2007 Night Train 90ci Harley Davidson or his KTM 450 EXC to keep up with his son Aaron on his Honda CRF150.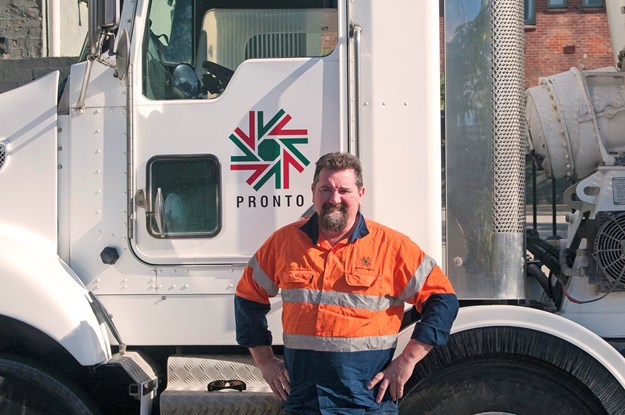 Cement ready
At 23, Michael got to drive his first concrete truck for Pioneer Concrete. After 12 months he was given the opportunity to drive a cement tanker for the same group delivering to various concrete plants around Melbourne. After three-and-a-half years while still working for Pioneer, he bought his own truck, becoming an owner-driver.
He later moved to Pronto Concrete, a division of the family-owned Barrow Group which started out way back in 1946. Michael has spent the last 15 years with Pronto, and is currently on his third truck while working for the business.
His current steed is a 2011 Kenworth T358 which he has owned for two-and-a-half years. It was already set up as a concrete truck when he bought it.
The T358 is a twin steer, has air-bag suspension, and a 320hp Cummins engine. It can carry around seven cubic metres of concrete, which is about two-and-a-half cubic metres more than a single steer, meaning he is paid more per delivery.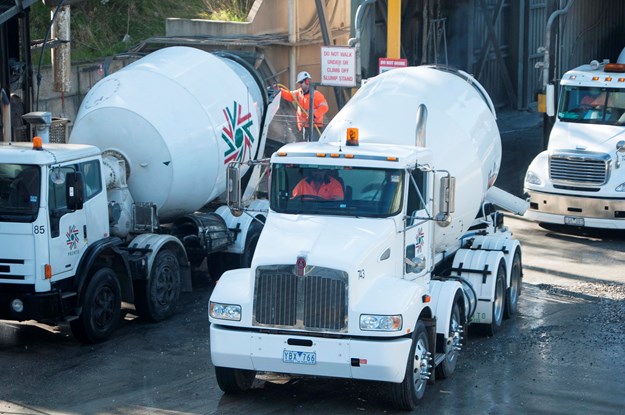 There are three basic types of concrete that he carries: high-strength concrete, standard driveway concrete, and standard house slab concrete. The last two are basically the same. The high-strength concrete used in high-rise construction is 40MPa (megapascal). MPa is the metric unit for compressive pressure or stress. It's equal to 5800psi.
The loading process for the concrete starts by Michael making sure his 200-litre water tank is full. This is to ensure the concrete arrives with the correct slump.
Slump is the 'wetness' of the concrete and is measured by how much a pre-determined amount of concrete collapses when it is placed on the ground.
Michael then drives under the loading hopper where the cement and aggregate is loaded into his truck's barrel.
The correct mix is determined by a control room. The information about what type of concrete he is being loaded with and where it is being delivered to is sent directly to a terminal inside his truck.

Thirsty concrete
There is quite a bit of water used at the loading hopper station; this is to wash cement dust off the truck and ensure the correct slump. The slump is measured by a slump gauge or by eye.
Part of Michael's job is to ensure that the correct slump is attained – and maintained – until it reaches the job site.
"One of the hardest parts of the job is to ensure the slump is correct; driving is the easy part," Michael says. This area requires a hard hat and hearing protection.
---
---
The load he had on this particular day was a 40Mpa low-shrinkage 80 slump concrete for a high-rise construction in Collingwood. This job seems to have an insatiable thirst for concrete; there seem to be concrete trucks everywhere.
Michael has been directed to a side street in Collingwood to wait his turn to deliver the concrete. After 30 minutes of waiting he will be paid waiting time, but this is not ideal. However, it can be part of the job.
Eventually he gets the nod to come around to where the concrete pump is waiting for his concrete. Michael backs his truck up to the pump, and jumps out with his cordless remote control to begin the process of discharging the concrete.
Michael keeps a close eye on the proceedings while discharging the concrete. He must make sure the slump is still correct, and must ensure that no air enters the pump as it can cause concrete to spray over the operators at the other end of the pump. Apparently you're not very popular when that happens!
Once that job is finished, it's back to the plant to be reloaded and off to your next job.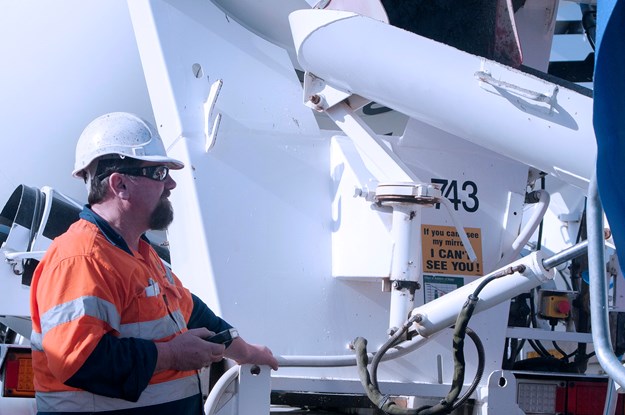 Michael's spare time is rather precious to him as the request for concrete is six days a week. Concrete is also weather dependent, as there is very little demand for it when it's raining.
When Michael is not delivering concrete, his company is not making money! On those days, he tries to do some general vehicle maintenance like greasing it and any minor repairs that he can.
As an owner-driver, anything that he can't do costs him money, which means less profit for him.
At the end of the day, however, he loves the work and is in no hurry to do anything else.
See more on Michael 'Boffy' Bof and his Kenworth T358 in the September 2018 edition of Owner//Driver.
Subscribe to our newsletter
Sign up to receive the Owner Driver e-newsletter, digital magazine and other offers we choose to share with you straight to your inbox
You can also follow our updates by liking us on Facebook. 

Trucks For Hire | Forklifts For Hire | Cranes For Hire | Generators For Hire | Transportable Buildings For Hire