Log haulers' pride
---
Father and son Dave and Luke Blackwood, who can trace their family's history in Victorian logging back to the 1890s, are keen on presenting their rigs in show condition. David McKenzie catches up with the Blackwoods at Traralgon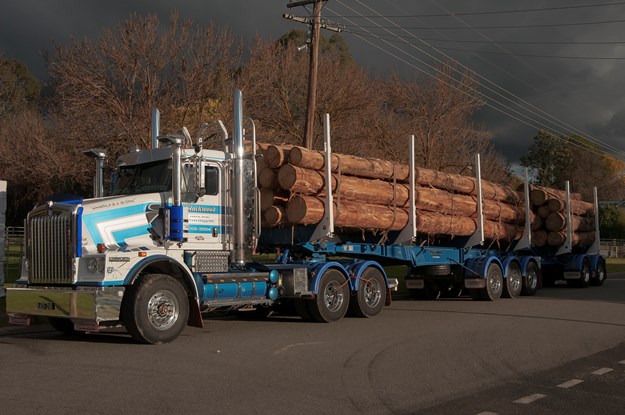 Dave Blackwood and his Luke from Traralgon in Victoria know a fair bit about hauling logs. It's been part of the family history for more than a century. They also know now to get their best out of their respective Kenworth trucks, and want them looking the goods as well, especially when the Alexandra Truck, Ute and Rod Show comes around.
The Blackwood's association with logging can be traced back to the late 1890s when Luke's great great grandfather Hamilton Blackwood began work as a bullock team driver, snigging logs in the Narbethong area. Following the Black Friday fires in 1939, he became a sawmill builder in the Noojee/Tanjil Bren area.
Hamilton passed away in the late 1960s, outliving son Cyril who was killed while unloading logs from his truck at Ferguson's sawmill, Euroa in 1952. According to Dave, Cyril pulled the chocks, ran around to the "safe" side of the truck but a "short" (log) rolled off backwards off the top and struck him.
Dave's father Norm started a logging business in 1948 with a K5 International when he was 24 years old. Dave was one of his 12 children, the oldest, Gary going into partnership with Norm from 1973 until 2003. Gary Blackwood is now a Member of Parliament, representing the electorate of Narracan since 2006.
Two of Dave's brothers also became involved in the industry. Chris Blackwood owned Blackwood Engineering, building log trailers, while Mick Blackwood owns Blackwoods Readymixed and Garden Supplies in Warragul, operating over 20 trucks.
Dave himself owns four trucks in partnership with his wife Lisa, operating under the banner of D.N. & L.J. Blackwood. He enjoys keeping his rigs looking good to the point where, in 2013, he took out two awards, including Best Log Truck and under three years old, at the Alexandra Truck, Ute and Rod Show with his 2012 Kenworth T659. Dave still owns that T659 and brought it back to Alexandra last year.
Dave has attended the Alexandra event for 17 years while son Luke has been their six years as an owner-driver of Blackwood Haulage.
In 2017, Luke took out the award for Best Log Truck over two years old with his only truck, a 2014 Kenworth T659. He returned last year to win again in the same category.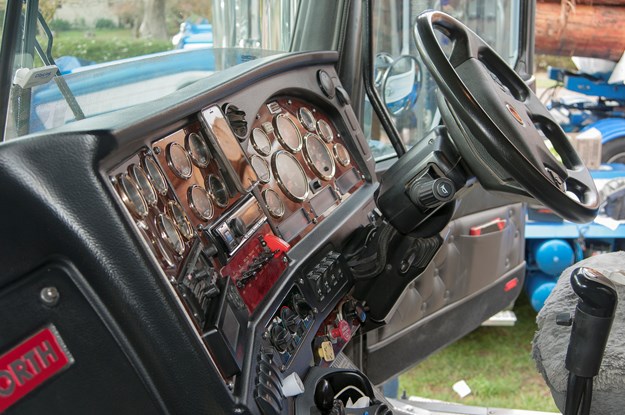 Clean machines
For Dave and Luke, getting their trucks in showroom condition is a lengthy task. "The whole process starts about three weekends prior to the show," Luke says.
First off, they set about polishing all the "shiny" bits starting with the rims, then they move on to the fuel tanks of Dave's truck (Luke's are painted) and slowly progress from there until it's all sparkling.
The paintwork is the next item on the agenda and there is a fair bit to get through. Not only does the bodywork get the polish treatment, the pins that keep the logs on the trailer are actually painted white again because they cop a bit of a pounding during the year. Mud guards that look shabby are also replaced.
The cabin interior is not left out during this initial cleaning phase either with a lot of attention cleaning the carpet to the head lining and absolutely everything in-between. "We also do light cleans during the week to minimise last minute efforts," Luke explains.
The idea is that if they put in the hard yards early there will be a lot less effort required on the day of the show.
"One thing that makes the job easier is being set up well at home with good pressure washers," he explains.
According to Luke, another advantage of doing all this prep work early is they can then relax and enjoy the show themselves.
"The hardest part about cleaning is having the motivation to get up early on a Saturday morning, looking at how dirty the truck really is then knowing that when you drive out the gate on Monday morning it will be filthy again in the not too distant future," Luke continues. He does, however, admit there is a certain amount of satisfaction and pride that comes from looking at your shiny truck.
For the Alexandra show, Dave and Luke leave home early on the Friday afternoon for the three and a half hour trip from Traralgon. They are rather lucky as they know a local farmer who has a property about six kilometres outside Alexandra where they can park and give their trucks another good clean prior to Sunday's truck judging. There they have access to water and electricity for the pressure washers.
However, when they arrived last year the rain was rather heavy and consistent, making the trucks look like they had not been cleaned at all. But Dave and Luke refused to be put off.
Not long after arriving they were straight to work on final cleaning preparations.
"The rain is good because the soap and bleach solution doesn't dry on the truck," Luke says. "The bleach is applied with a spray bottle and is primarily used on the trailers to get all the really bad road grime and sap off."
He adds that on a dry day, if the bleach dries on the paint it can ruin it, hence they are happy to don the raincoats as it makes their job quicker.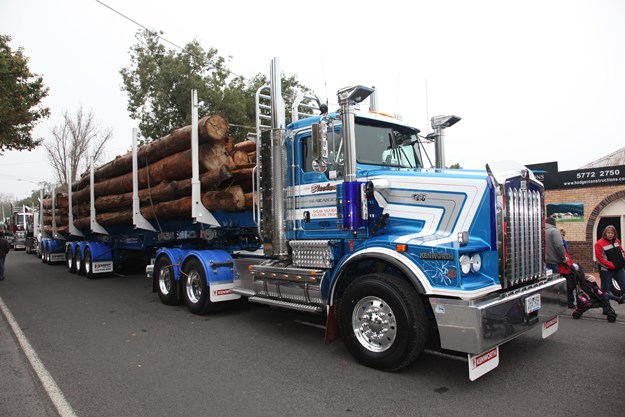 Muddy boots
Saturday dawned and the rain had ceased. With no rain forecast for the weekend, it was time to polish the exterior. Then it was time for the interior, including spray polishing with clean rags of all the hard surfaces in the cab like the dash, door trims, switches and gauges. Luke admits it places them in some uncomfortable positions – and they don't want to drag any mud into the cab. To make life easier, they putting cardboard down on the steps to avoid the impact of dirty boots.
By lunchtime on Saturday the vast majority of the work was done. They drove their trucks in to town on the Saturday afternoon, parking near the VicForests display. An appropriate spot for the two log trucks.
Just to put be sure, Dave and Luke take buckets and two 50 metre hoses with them to clean any dirt, dust or mud that collects on their trucks on the short journey to Alexandra. A bit of tyre black and a quick polish on Sunday to remove any dew that collects overnight, then it's time to enjoy the fruits of their labour.
Luke points out that Alexandra is the only show they attend and they love supporting the industry and the town. Then it's back to work in the T659 which he says has done 600,000 kilometres or 13,000 hours which he believes represents one million highway kilometres.
"Their average speed is probably no more than 60km/h," he adds.
With the T659, Luke can carry around 43 tonnes of logs. He says, between himself and Dave, they haul around 110,000 tonnes per year out of Powell Town and Toolangi in Victoria.
It can be dirty work, but their respective trucks are certain to be looking their best for the 2019 Alexandra Truck, Ute and Rod Show, held on the Queen's Birthday long weekend.
Subscribe to our newsletter
Sign up to receive the Owner Driver e-newsletter, digital magazine and other offers we choose to share with you straight to your inbox
You can also follow our updates by liking us on Facebook. 

Trucks For Hire | Forklifts For Hire | Cranes For Hire | Generators For Hire | Transportable Buildings For Hire