Taking a chance on trucking
---
What started out as a casual driving job 12 years ago led Bruce Steuart to taking on the ownership of a small fleet in rural Victoria.
Bruce Steuart didn't really plan on being a truck driver. He grew up on his parent's dairy farm in Yea, Victoria and by age 13 was driving an old J Model Bedford around the paddocks, hauling feed. He left school when he was old enough and started a carpentry apprenticeship that he never got to finish.
However, he went to work for Dick Peters in Thornton who owned a quarry and a Readymix plant. He spent three or four years there and was taught to drive several different vehicles. Dick had front end loaders, bulldozers, excavators and tip trucks.
"None of the vehicles in the quarry had brakes," Bruce says.
Dick Peters eventually realised that Bruce was a good driver and let him drive the Readymix truck as well.
Bruce was then offered a job with the State Electricity Commission in Morwell in its open cut coal mine. He started at the bottom driving dozers and the like. "It paid huge money," Bruce recalls.
Bruce spent 10 years there and was driving the coal dredge before he took a voluntary redundancy and came back home to the farm.
Not long after returning to Yea, Bruce bought a T2670 International and a stock crate and ran the business from the family farm. He was well accepted by the local stock agents and they kept him busy for about six years with that rig.
Bruce started with Upper Goulburn Freight Lines (UGFL) working occasionally for a mate who owned it at the time, delivering groceries or beer and eventually started leaving his truck in the UGFL yard. Bruce's mate sold the business to someone who Bruce says "was paying others to do work he should have done himself". The business started to lose contracts and was faced with closure.
Bruce and his wife Alison did some soul searching and decided to buy the business outright and never looked back. Together they have operated as UGFL for the last 18 of its 30 years
Bruce credits Alison with keeping the business running. "Alison does all the bookwork, pays the bills and looks after all the accounts," he says. "Without her it wouldn't exist."
Nowadays, Bruce has a small fleet – three semis, three medium rigids and six trailers to choose from. His latest truck is a Kenworth T409 SAR, but it is not the sentimental favourite. That title belongs to his Kenworth T401s. He purchased that truck in 2002 brand new from Graham Thomson in Shepparton. The T401 has clocked up two million kilometres and still has its original gearbox and diffs. It's had one engine rebuild and two sets of brake linings over that time.
Bruce says the key to the truck's longevity is to "keep the maintenance up". The truck has nonetheless had a couple of breakdowns over the years, but nothing major.
Bruce enlisted his son John to help keep up with the work. John, who had spent eight years driving for UGFL, was at the wheel when the only major accident the company has had occurred. John was driving an LTL Louisville through the town of Flowerdale at 3am when he tried to avoid a tree across the road. The truck and trailer rolled and were written off, but as luck would have it John escaped with only minor injuries.
This accident resulted in Bruce having to buy another truck and trailer to meet his obligations. Within a week he had a T401 Kenworth and Top Start trailer in his fleet, both of which he still has today.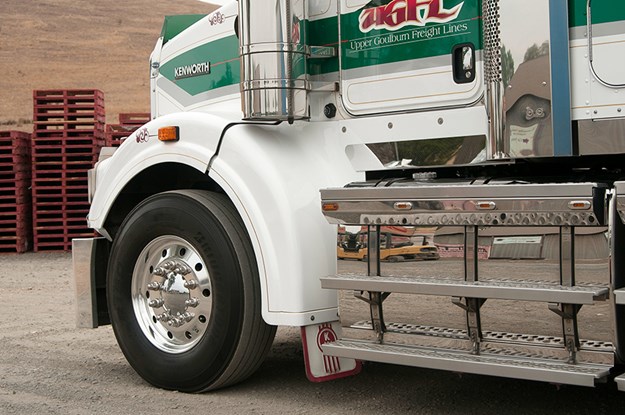 John eventually moved back to Bordertown in South Australia so his family could be closer to his wife's parents. However, Bruce has another son Anthony who also lives in Bordertown, running a meatworks there, but he helps his father out during holidays.
Tragically, Bruce's youngest son Matthew was killed in a truck crash in September 2000. He had only just turned 14. Matthew was on his way from Bordertown to live with Bruce when the accident happened.
Following John's move to Bordertown, Bruce needed another driver. He admits the first one he tried wasn't much chop, but then Dean Spinks came along and has been with him now for about five years.
Most of Bruce's work comes from the local supermarkets with one truck going to Metcash in Laverton for groceries, dairy freezer, alcohol, or Epping market for fruit and vegetables five days a week. He still looks after stock agents transporting farm gates, fencing wire and steel posts. Cherry season starts in November and goes through to January and Bruce carts cherries from Yarck to Epping market or the airport. Not only does he have to cart the cherries he has to pick up the lids and boxes which come from Bayswater and Wandin.
If that's not enough, Bruce also carts bricks from Austral Bricks in Wollert for Hedger Constructions and Mitre 10. He uses his drop deck trailer to take the bricks and his four-wheel drive forklift to wherever on the building site they are needed.
Bruce is very community minded and is on the committee of Alexandra Events who run the annual Alexandra Truck, Ute and Rod Show and the Alexandra Rodeo. Bruce's slider side trailer has been used as the main stage for both of those events for the last 18 years and he has been a judge at the truck show for nearly as long.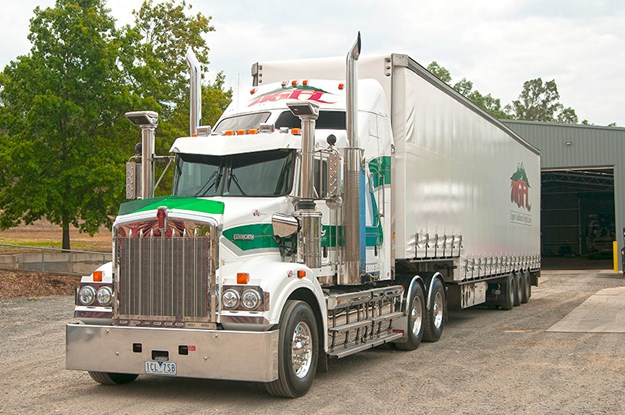 For the 2019 Alexandra Truck, Ute & Rod Show on June 9, Bruce is going to take a back seat. His sons and their families will be attending the event he wants some quality time with them while enjoying the show. As Bruce says, "My grandkids want to see Pop's truck and Pop with the truck."
Read the full story on Bruce Steuart and Upper Goulburn Freight Lines in the April 2019 edition of Owner//Driver.
Subscribe to our newsletter
Sign up to receive the Owner Driver e-newsletter, digital magazine and other offers we choose to share with you straight to your inbox
You can also follow our updates by liking us on Facebook. 

Trucks For Hire | Forklifts For Hire | Cranes For Hire | Generators For Hire | Transportable Buildings For Hire