Working Class Mack
---
A platinum-selling iconic rock album and a 'gold bulldog' prime mover has proved to be a winning combination for Rotary Australia has it aims to offer relief for drought-stricken farmers
It's a match made in heaven – Australian rock legend Jimmy Barnes and a truck brand with a reputation for being as tough as nails.
Barnes already had a connection with Mack Trucks Australia, supplying a pared-back version of his hit song 'Working Class Man' for the Mack Trucks video 'Driving Australia Forward'.
But this new collaboration was something else; a charity-raising project to help drought stricken farmers in the worst affected areas of Queensland, New South Wales and Victoria.
And the centrepiece of this project? A brand new Mack Super-Liner, custom painted to match the cover of his 1985 solo album, For The Working Class Man.
All profits raised from the truck, which is currently being auctioned off through Pickles, will be handed to Rotary Australia which will then allocate the funds to those areas most in need.
The spray painted artwork, which Barnes oversaw, is undoubtedly the main attraction for this collector's item 'Working Class Mack'.
However, on the technical side, the Super-Liner earns 'gold bulldog' status with its all-Mack driveline. The 16-litre Mack MP10 engine is hooked up to a Mack mDrive 12-speed automated manual transmission. The 130 tonne triple roadtrain-rated Super-Liner also boasts a 58-inch High-Rise sleeper.
Other generous parties came on board, including King Bars who donated a Special King 4 post bar with front underrun protection. Haultech Engineering supplied the IcePack ES sleeper cab air conditioner, Jost donated the turntable and Hella adding the driving lights.
The finished truck was unveiled at Mack's production facility in the western Brisbane suburb of Wacol on May 10 where it was all smiles for Barnes, Mack Trucks Australia vice president Dean Bestwick and Terry Daley from Rotary Australia.
Barnes was handed the keys as he took the Super-Liner for a spin around the Mack facility's perimeter, with Bestwick riding shotgun.
"This is the ultimate boy's toy," Barnes laughs. "I've had apartments smaller than this."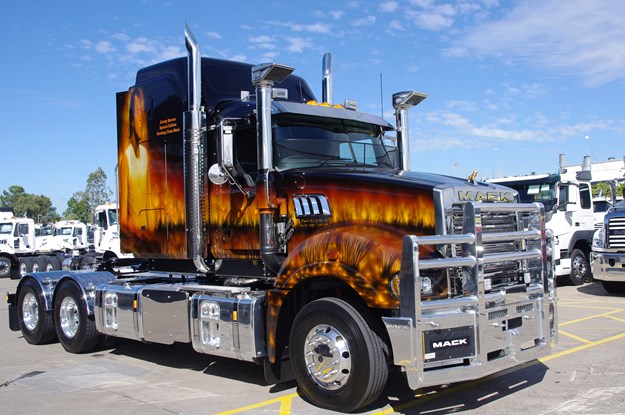 Hitching a ride
Recalling the early days of his band Cold Chisel and his first insight into long distance trucking, he says there were times when he couldn't afford a hire car, or a plane flight.
"I literally used to hitchhike interstate to go on tour with Cold Chisel. I spent many a night in these trucks, keeping drivers company and just being told great stories about life on the road, even before I'd experienced it myself," he says.
"The backbone of this country is transport, and for them [Mack] to put their hands up and genuinely want to do something to help the farmers and do what they do best, which is building these amazing machines, and then get it out through Rotary, I think the follow through and the care the company has put into it is incredible.
Admiring the new Super-Liner at Wacol, Barnes says to be part of the project was very special for him.
"I think it looks amazing. 'Working Class Mack'; you can't ask for any better than that.
Referring to the departure of car manufacturers, notably Holden and Ford, Barnes laments the loss of Australia's manufacturing icons in recent years.
"They've all moved offshore, and Mack's still 100 percent built here.
"I think they're amazing and I'd like to support them, and they're supporting our communities with so many jobs and then they're supporting farmers at the same time. You can't really ask more than that from a company."
Barnes believes farmers have the toughest job in the world, even tougher in recent years with droughts seemingly becoming more frequent – and lasting longer.
"To add to the problems that the drought brought along to the farmers, on top of that it put a lot of people out of business. It's ruined families and we need to dig deep and support our farmers and support the rural communities, because we're all in this together.
"It doesn't just affect farmers, the knock-on effect affects everybody. It affects your prices in the supermarket, it affects everything.
"So the more we can do to help our farmers, the better we'll all be."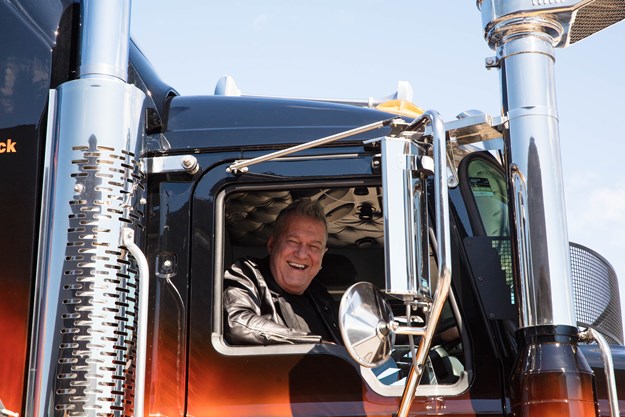 Rotary connection
As well as his Rotary membership, Terry Daley's day job is working for Volvo Commercial Vehicles in Rockhampton, picking up and delivering new Macks, Volvos and UD trucks. He has seen the effects of the drought, followed by devastating floods, first hand.
Daley tells Owner//Driver that NSW has been in drought for four years, while Queensland is starting year eight.
"One fellow had just off a cattle property north of Julia Creek, and he says he feels so ashamed that he couldn't look after his cattle. He lost about 6,000 head," Daley says.
"Then you've got the floods up north – Julia Creek, Cloncurry – and they reckon there's 520,000 to 600,000 head of cattle gone.
"They've lost all their genetics they have bred for 30 years."
Dean Bestwick believes Barnes's iconic 1985 album still resonates with farming communities today, and that truck buyers and farmers have much in common.
"Our buyers predominantly within the transport industry are very similar to the guys on the land," he says.
"I think they'll be more proud of the fact that they're supporting the drought relief as opposed to, 'Hey, I've got a Jimmy Barnes truck!'.
"The Jimmy Barnes truck will be something for them to feel proud about internally to drive around in."
Bestwick recalls the decades old saying that Australia's economy grew off sheep's back.
"Well the sheep doesn't have anything to eat at the moment, because of the drought and particularly in NSW and south-western Queensland.
"So it's up to us to see if can do a little bit for the community that's supported us for so many years."
Bestwick says the collaboration between Mack, Barnes and Rotary has been one of excellence.
"The distribution of the funds through Rotary can only mean great things for us.
"So we're very excited, and we appreciate Jimmy's effort in getting on board."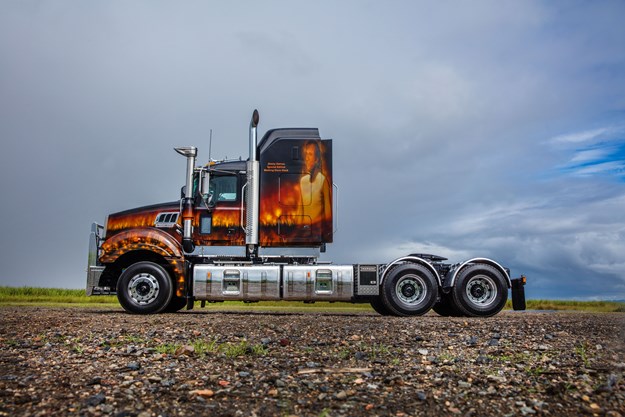 Subscribe to our newsletter
Sign up to receive the Owner Driver e-newsletter, digital magazine and other offers we choose to share with you straight to your inbox
You can also follow our updates by liking us on Facebook. 

Trucks For Hire | Forklifts For Hire | Cranes For Hire | Generators For Hire | Transportable Buildings For Hire