Fruit of their efforts
---
Frank and Christine Commisso have been through the tough times, but their hard work has paid off for the family, resulting in the addition of a stunning Kenworth T909 and the Valvoline Truck of the Month recognition for July.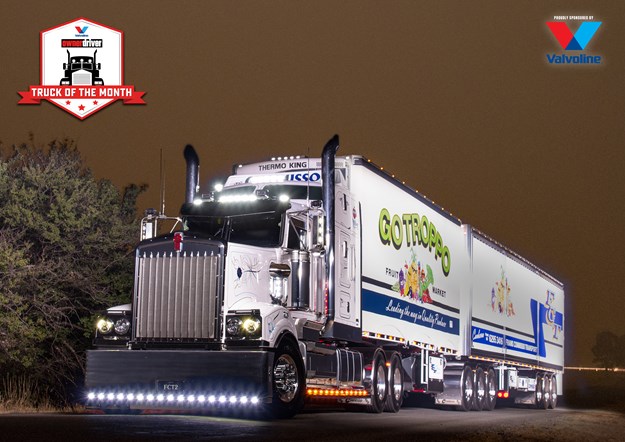 "Good things come to those who wait" is one of those throwaway lines parents normally use when they are not allowed to swear at their kids for continually asking for some annoying new toy. The original line was "all things come to those who wait", which seems as redundant as the line "it'll be in the last place you look" (of course it will, why would you keep looking after you've found it?). Anyway, I digress. Nowadays the more appropriate line is "good things come to those who get off their arse and earn it".
Never has this been personified better than with the simply stunning Kenworth T909 of Frank Commisso Transport. The company's flagship truck, a 26 metre-long Viagra pill, is a detailed work of art and the result of generations of slog.
I seriously had to go back to my motel room after interviewing Frank and his two sons, Marcus and Joel, for a nanna nap. Just hearing the effort they have put in to grow the transport and their fruit company, Go Troppo, wore me out.
This story runs second really to the photos you have all been perving at and it is kind of about the big T909, but more importantly this story is about passion and work ethic – two elements that just emanate out of the Commisso family.
Passion is an attribute of vital importance to our industry and on so many levels. "Find a job you love and you'll never work a day in your life" – that is passion. Every day when you cruise the road and see gleaming rigs, that is passion. Tooting the horn when you see a kid on the roadside doing the arm thing, that is passion. Standing in a cool room while a smiling Italian man asks if you'd like an apple. You decline, he insists, you decline, he strongly insists, you accept , you then realise "my god, that's a fantastic apple". The smiling Italian man laughs because he knows how good the apple is. That is passion.
That is also Frank Commisso, the man knows his fruit and vegies. I don't mean just that he knows pumpkins and string beans are fruit not vegetables, or that he knows what the hell an oca or romanesco is (for the record oca is like a yam and romanesco is like broccoli partnered with that alien from Predator). Frank knows it all and has a passion for all things produce. That includes not just getting good quality or range. It also includes the transportation of said produce. 
Family support
Along with trucks and produce, another passion high on Frank's agenda is family. Alongside Frank and very much at the forefront of his two companies are Christine, Frank's lovely (and I would say very tolerant) wife, Joel (Frank's youngest son) and Marcus, the eldest son and the man that designed and pilots the big T909.
Before we start discussing the rolling porn that is the Kenworth T909 I'll try and give you a brief overview of the Commisso's road to success.
Frank, growing up in a closely-knit Italian family, got into produce because of his father. Originally Frank's dad had been in construction but when that business wound up his dad found himself owning a fresh produce store. Every day after school Frank would help in the store.
"I used to wag school on a Monday as well go to Sydney with dad and pick up the produce," Frank admits. His dad was running an old four-ton single axle Dodge back in those days. These trips were the highlight for Frank, mixing his growing passions, produce and trucks.
His father sold the shop before Frank hit his teenage years but by then had picked up work at one of Iannelli's produce stores. Frank worked before and after school, stocking shelves and learning the ropes. By the time he was 17 he was logging more hours working than at school.
He quickly went for his car licence and started doing deliveries as well as coming in to unload the big trucks. This work fuelled his passion for produce as he soaked in all the knowledge he could.
However, his passion for trucks was fuelled by Iannelli's legendary 'Night Stalker' Kenworth and their other impressive trucks that he would unload at the markets.
Frank left school as soon as he was allowed and worked fulltime at Iannelli's. At the age of 19 he had his truck licence with an eye on the bigger rigs. I am completely sure that Frank waited until he was legally licensed before he started doing deliveries around the Canberra area. I am also completely sure that when he was travelling with the other drivers to Sydney for loads that he was there only as an offsider and entertainment for the drivers. However once he was fully licenced he hit the road like he had been doing it for years (wink wink!).
Frank spent four years as a fulltime driver, engaging in his trucking passion. All the time though his goal was to have his own fruit shop. In order to do that he came off the road and leased one of Iannelli's outlets. This went well until the Iannellis hit tough times and the shop closed. Unfortunately, this left Frank with a huge debt and a few tough decisions to make.
This sort of life changing event can quickly derail a person. However, Frank and his new wife Christine were following their passion – there was no stopping them. Frank found a way and bought his own fruit shop within the Fyshwick Markets. They closed the old shop down and gave it a complete makeover, reopening as Go Troppo. If this were a Hollywood film we would be at the part where Frank and Christine get rewarded for all their hard work with patrons lined up to buy from the enthusiastic passionate young couple and the money would roll in. Nope, it's not that kind of movie.
The competitiveness of the industry, with almost more undercutting than the transport industry, meant Go Troppo struggled. But Frank continued to stock only the best quality, in the best condition and with a professional display. Luckily, Frank had a strong wholesale clientele which helped keep the shop, Frank's passion, afloat.
After about 12 months, however, even Frank began to waiver. Then the strangest coincidence happened. "I'd just spoken to my wife and my brothers," Frank recalls. "They said they would support me if I lost everything. Then it was like a light came out of the sky, and all of a sudden the business turned." 
Flagship Kenny
It was this pivotal point that changed everything for the Commisso family. The store grew, another store was added, the turnover in the stores grew, the wholesale customer list grew and with that so did the transport needs. Getting the product delivered from the farmers and major markets on time became paramount. In order to ensure the best service, Frank Commisso Transport was formed and the first flagship Kenworth was adorned with the FCT name.
While Frank had his local delivery trucks, 1998 saw the arrival of their first 'big rig' – a brand new Kenworth T600. Frank's history with the Iannellis meant it was always going to be a Kenworth and the FCT T600 was a piece of work. With its single trailer in tow, it set about picking up only the best produce from around New South Wales and Victoria for all the Go Troppo customers.
Since that first truck, there has been an anniversary model Anteater and then a classic K104 in the Commisso ranks. From the K104 it was a big jump up into the company's K200 'Fat Cab' which is still in service, though the T909 bears the majority of the load these days.
So that is a condensed version of where the company comes from and a short explanation behind Frank's passion for produce.
Let us jump to passions number two and three: trucks and family. Frank met Christine back when he (wasn't) driving trucks without a licence. So Christine has been a part of the team since day one. Every day of the week you will find her running the office side of things and keeping everything in check. With a staff of around 35 and a dozen delivery trucks, that's a pretty hectic workload.
Frank and Christine's sons have both inherited the family passion for produce and trucks. However, as if by design, the boys seem to favour one slightly more than the other.
Joel Commisso carries the produce as his main passion. By the age of 10 he was already working behind the counter at the family's store. Before he had even finished school he was running one of the stores completely. Sure, he has the trucking in his blood as well, but it is the business, the customers and the sales that drives Joel the most. A proud Frank even joked: "When he was born he came right out saying, okay, so how can we make some money here?"
Joel has always seemed at ease with that side of the business and with guidance from both his mum and dad, he has really shone. When Go Troppo eventually sold out of the customer stores and went on to focus on wholesale and distribution alone, Joel moved into that side of the business. 
Skill level
His older brother Marcus found that trucking was his dominant passion and has been getting amongst it since he was a toddler. Rumours from a reliable smiling Italian source told me he was essentially driving a forklift before he could even spell forklift.
It comes as no surprise to learn that Marcus gained his licence as soon as he came of age. The only person rocked by this was the man who took Marcus for his licence as he seemed extremely shocked at his skill level. Obviously, like his father, he would not have been driving trucks before licensed. Nope, he was just a natural.
Marcus spent a couple of years on the road, filling that diesel desire, before coming off the highway and spending a few years helping to manage and organise the distribution side of the business. Looking after up to 400 deliveries a day, six days a week when you have not even celebrated your 21st birthday, is no mean feat. Eventually, however, the call of the road became too much and Marcus decided to get back behind the wheel. Now we finally reach the part of the 'movie' where tissues may be called for. Take that whichever way you like but it is time to discuss the big T909.
The company's K200 had been doing a stellar job, both in performance and in advertising the company. The whole family are firm believers in the positive effects of appearance and professionalism. Frank exclaims the benefits when he says, "The 'wow' factor when you pull up to load on a farm or at the markets is great."
He knows that memory stays with people and all of a sudden they want their produce getting loaded onto an FCT truck. It was perhaps, as a bit of a carrot to get Marcus back behind the wheel that the family decided to build the T909. Only this time Frank was stepping back. "This truck was all Marcus, he thought it out, he designed it … it's all him," Frank says admiringly.
So where do you start? Well, as Marcus emphatically states: "This truck is built to work; it looks good, that's us, but it is built to work." 
Blinged up
The truck rolled off the Melbourne production line as a bare minimum. It was sent straight to Kyzer Kustoms in Shepparton where the job sheet was bigger than the 909's turning circle.
"We chose to send it to Kyzer because, like us, they're a small family business," Marcus tells me. He also wanted to ensure the finishing and attention to detail was as important to them as it was to him. Kyzer nailed it perfectly, even down to such details as wrapping the air cleaners in the same grade stainless as the tanks to ensure it all matched. To match the shine of the stainless, Super Chromes were fitted to the entire setup as well.
There is absolutely no chance of missing this truck at night as Kyzer fitted over 400 lights to the entire unit. The trailer setup also got its share of bling with extras like low mount guards to match the truck and more shine than a brand-new bitumen tanker. So yes, the entire package looks like a display unit that's never turned a wheel. But I reiterate, this truck is a working truck.
Coupled behind it, and as previously mentioned, just as shiny as the truck is a brand-new Freighter chilled tautliner A-trailer and refrigerated Maxi-Cube B-trailer. Again a lot of thought went into this setup.
With Go Troppo supplying all areas of the produce market, the tautliner makes loading the likes of potatoes and onions a lot easier – those pallets are very rarely within the Chep dimensions. The B-trailer is a sideloading trailer which allows the Commissos greater flexibility when loading and unloading. The big T909 runs five to six days a week between Canberra and Sydney. So yes it works, hard, as do the entire Go Troppo team.
The work ethic and willingness to put in the time has seen Frank and the team grow from a young fella unloading trucks at 3am in the morning to one of the ACT's leading fresh produce distributers. "Good things come to those that get off their arse and earn it" – that's the line remember.
While success is the by-product of hard work, sometimes the power of passion is a harder thing to quantify, harder to put on a score card too. However if you wander around the Go Troppo depot and see the pride taken in all aspects of their work, then you can begin to comprehend the power of passion.
The T909 racks up plenty of kilometres each week yet Marcus and the team always find the time to ensure it looks like a prize-winning show truck. The same can be said for all the company's delivery trucks.
That pride also extends to the Go Troppo produces, with the team's passion for quality ensuring only the best gets delivered. Don't forget, I tried one of those apples, so I'm speaking from experience.
Time to wrap up now and I don't want to 'beet' around the bush so I will try and avoid using any corny puns, but 'lettuce' all 'celery-brate' the success of hard work and passion.
Puns aside, Frank Commisso Transport's T909 really is 'mint'. 
Subscribe to our newsletter
Sign up to receive the Owner Driver e-newsletter, digital magazine and other offers we choose to share with you straight to your inbox
You can also follow our updates by liking us on Facebook. 

Trucks For Hire | Forklifts For Hire | Cranes For Hire | Generators For Hire | Transportable Buildings For Hire