Scania shines
---
American truck or European truck? It's a tough question with an answer dependant on many factors, from stark facts and figures to powerful personal preferences, and everything in between. However, for Perth-based Warners Transport & Distribution, the most powerful preference comes from the facts and figures that continue to give Scania a distinct edge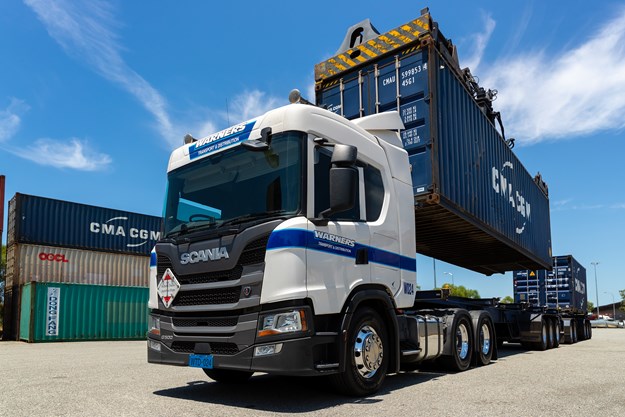 Like so many family transport businesses in every part of the country, Warners Transport & Distribution in the Perth industrial suburb of Forrestfield, grew from humble beginnings on the back of hard work mixed with ample loads of self-belief.
Typically, it was an inauspicious start for Len Warner and wife Denise. The mid-90s saw Australia finally breaking through 'the recession we had to have', and also saw Len put life as an interstate owner-driver behind him as the couple developed a small local distribution and storage business with a modest line-up of second-hand rigid trucks. 
In time, opportunities would arise to expand the company's horizons and there was no shortage of willingness to diversify into other transport fields, including long distance runs into Western Australia's burgeoning north and beyond. 
Yet as Fate can sometimes cruelly decree, Len didn't live to see the company grow to its current standing as a significant player in Perth's container haulage, logistics and warehousing operations, as well as moving loads into regions much further afield. His legacy, however, is well and truly entrenched.
In fact, in the hands of twin sons Paul and Shane, Warners Transport & Distribution has evolved over the past two decades far beyond the small local distribution and storage company started by their parents. 
"It is still very much a family business," says operations manager, Geoff Underdown who has been with the company since its earliest days, and now part of the family himself. 
With Paul and Shane out attending to other commitments, it's Geoff who explains there are essentially three elements to the business: port logistics, specialising in container haulage to and from the Fremantle port and Kewdale railheads; a modern warehousing, storage and distribution centre in Forrestfield; and last but by no means least, a road freight fleet operating on the confident premise 'we can get anything, anywhere.'
More than 40 employees, a fleet of more than 20 trucks and at least 60 pieces of trailing gear today reflect a company capable of many tasks, yet built firmly on the transport and distribution foundation formed by Len and Denise. 
In many ways, the choice of trucks highlights the diversification and growth of the operation over the past 25 years or so, Geoff remarks. 
One of Warner's first prime movers, for example, was a second-hand Scania 112 cab-over from the mid-80s. "It was a good old bus," he commented, "bought for work around the wharf but also some of the later regional work that started to develop, particularly with projects in the east of the state." 
From around 1998 onwards, however, growth in the warehousing and container haulage sides of the business pushed the need for more trucks. In container haulage specifically, Geoff said the addition of side-loading trailers created a new dimension for the business and in turn, even greater need for prime movers. 
The original second-hand Scania was subsequently joined by a few other used trucks of various make until a batch of Sterlings bought between 2004 and 2005 became the company's first new prime movers. 
A few years later, the first new Scanias – two R580 models – were added to facilitate the company's early use of 'pocket roadtrain' doubles in local container haulage, followed by a low-profile P420 6x2 prime mover bought for side-loader work. 
Around 2008 though, large scale projects in WA's remote Pilbara region presented significant opportunities and Warners was obviously keen to further expand the company's regional portfolio. 
However, the general consensus was that consistently hauling roadtrain loads into the north-west required trucks with proven credentials in the big end of the business, and accordingly, a substantially larger investment in new trucks. 
This time, Kenworth and Western Star were the somewhat obvious choices, with Geoff explaining, "Between 2010 and '12, about five or six of each brand were bought."
It wasn't all roses, though. "Like a lot of people, we had a bad run with Cummins EGR engines," he said with a hint of derision. Nor was Cat a particularly positive engine option. "Cat's departure from the engine business didn't do anyone any favours either, but we could at least retrofit the Cats." 
Meanwhile, by 2014 the company was watching closely as the north-west work started to wane. The fleet then numbered about 30 trucks with almost half committed to northern runs. Consequently, with few positive signs of improvement, it was decided to consolidate back to the wharf, storage and container operations which had continued to develop.
"Some of the trucks we'd been running north-west were moved into the local fleet, others were sold off," Geoff explained. "We were still doing north-west work but just not as much of it. 
"For us, consolidation was the right move at the right time."
American trucks still dominated, he added, "Mainly Kenworth because we still needed the bigger spec and the bigger bunks for running north." 
CONTINENTAL SHIFT
Meantime, while Scania already had a modest presence and reasonable reputation with the company, a new G480 day cab model hauling a pocket roadtrain combination on container work was the start of a notably deeper regard for the Swedish brand from around 2017. 
Rated for gross weights to 75 tonnes, the G480 was handling the job comfortably but according to Geoff Underdown, the stand-out attraction was fuel efficiency. "Day in and day out, it was giving us 2.4 km/litre (6.8 mpg) as a pocket roadtrain.
"We weren't getting anywhere near that with the other gear on much the same sort of work. I know they're a different spec but even so, the fuel saving was incredible."
In fact, such has been the company's satisfaction with the G480, Geoff agrees it was inevitable that Scania's new generation models would be a firm factor in the company's future, particularly after he was invited to sample the new range at a drive event on the tracks of the Australian Automotive Research Centre (AARC) near Anglesea in Victoria.
Indeed, the future didn't take long to appear in the form of three 'new generation' Euro 6 G500 models added to the company's container haulage operation. Rated at 90 tonnes and working as pocket roadtrains, the G500s are consistently returning between 2.3 and 2.4 km/litre, Geoff confirms. 
"They're sensational on fuel," he emphasises, "and a perfect fit for this work."
Reiterating the vast difference in specification and likewise, the technological chasm between trucks at least 10 years distant in age, it is nonetheless an adamant Geoff Underdown who relates an average fuel figure around 1.6 km/litre (4.52 mpg) for a Kenworth K104 powered by a 550 hp C15 Cat on much the same work. 
"They're way behind on fuel, no matter how you look at it," he states.
Geoff further insists that constant analysis of fuel consumption through the on-board fuel monitoring function highlights the value of the 'Scania Driver Support' feature in encouraging drivers to simply drive better and more economically. 
Still, he agrees an inherent preference for American gear among some drivers is not easily swayed. "Our general policy is 'one driver, one truck' but that doesn't always suit what we do. Even so, some just don't want to know anything different but more often than not, we find that once they get to drive the Scanias, most attitudes start to change. Sometimes, very quickly," he smiles. 
Similarly, he cites Scania's driver training as a valuable asset in achieving the best from the driver and the truck, quickly adding that the multi-stage retarder has led to a significant increase in brake life.
Yet while fuel economy and importantly, a high level of standard safety features are the main attractions, overall comfort, easy access in and out of the cab, and reasonable service costs are also high on the list of likes according to Geoff Underdown. "And the local dealership is close by and on the ball," he asserts.
Quiet for a moment, Geoff insists, "For our local work, the G500 is a no-brainer. Honestly, the Scanias have been fantastic and they're the preferred choice without any shadow of doubt." Indeed, as we spoke in Warner's Forrestfield office, he said a new P360 4x2 prime mover was being considered specifically for the job of hauling two empty 40 foot containers. 
Moreover, the Swedish breed may eventually find its way into the company's longer distance operations despite the trial of an R620 model which recorded fuel consumption "no better or worse" than existing Kenworth and Western Star runners. 
"But the demo went into one of the worst weeks of weather we'd seen in WA for a very long time, so it might not have been a good example," he explained. 
Meantime, brands continue to vary across the company's three divisions. In warehousing, it's mainly rigids while on regional projects to the north-west and beyond, two Kenworths and a Western Star reliably endure. The container division, however, retains a mixed prime mover fleet of four Scanias (the G480 and three G500s), the same number of Kenworth K104s, a couple of Western Stars and a lone Hino FS.
Free of commitments for a short time, Shane Warner joined the discussion and didn't shy from expressing the view, "Staying up with technology is a key at all levels of the transport and logistics chain, internally and externally."
Asked if the latest Scanias were therefore the truck of the future for Warners Transport and Distribution, his response was immediate: "It takes time to replace all the trucks in a business like this. It also takes plenty of money and you have to get the best out of the trucks you have while they're still viable."
Then, quiet for a few moments, he concluded, "But going on what we've found so far, over the next five years or so, the prime mover fleet will be Scania. For sure!" 
Subscribe to our newsletter
Sign up to receive the Owner Driver e-newsletter, digital magazine and other offers we choose to share with you straight to your inbox
You can also follow our updates by liking us on Facebook. 

Trucks For Hire | Forklifts For Hire | Cranes For Hire | Generators For Hire | Transportable Buildings For Hire