Family feedback drives Legend
---
For any operator of a small fleet, buying a brand new truck is a big investment, especially so when it's a limited edition Kenworth Legend 900. But for Gippsland couple Peppi and Danielle Inverno, it was a venture that has solidified the family unit.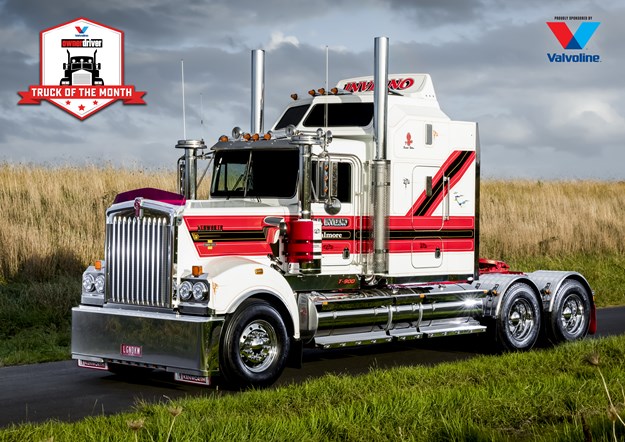 Peppi and Danielle Inverno, husband and wife owners of transport business G&D Inverno, never intended on buying another truck, especially a brand new Kenworth. Besides, they already had four Kenworths in their small fleet and adding another was never part of the equation. That is until Peppi called in at the Hallam Truck Centre in Melbourne on the way home to Gippsland after an interstate run in 2017.
As fate would have it, Kenworth was about to release a limited edition Legend 900. To entice interest, the Hallam Truck Centre had a display model, 'Legend 1', on show and Peppi got talking to Kenworth sales consultant Danny O'Hara.
Peppi later arrived home, seeming somewhat sheepish. Danielle sensed something was amiss.
"I was in the kitchen cooking and he came in and said 'hello' and never said anything else. And I thought, 'well, I think something doesn't seem right here'," Danielle recalls.
"I said, 'what's going on? Is everything all right?' He never answered me at first, and then he said, 'I think I've bought a truck'.
"I said, what do you mean you've bought a truck? And he said, 'well, I think I bought a truck'.
It's best to say that Danielle's colourful response to the surprising news cannot be reprinted on these pages. To put it simply, she wasn't impressed – at first anyway.
So while the 900 Legend number 1 was eventually to end up on display at the Kenworth Dealer Hall of Fame in Alice Springs, number 220 (out of 257 of the limited release) became the newest member of the G&D Inverno fleet. Not only that, but it also became part of the Inverno family, with Danielle now admitting that buying the truck was "the best thing we ever did".
"The reason I say that is, I think it's a hard life for trucking families. And it's a hard life especially for the kids when their dad's away all week.
"Their dads don't get a chance to see them growing up, they miss birthdays, they miss school events, and they missing a lot of special things going on their life."
Danielle explains that the new truck has actually created a special bond between Peppi and the couple's two sons, Jeremy, 17 and Christopher, 13. In fact, apart from Peppi's decision to buy the Legend 900 in the first place, any input into anything whatsoever about the truck is put to a family vote.
"We've all had an equal say in what happened, and not one thing happened to it until all four of us agreed," Danielle explains.
"So when it came to building it, when it came to designing it, our kids, even though they're as young as they are, they had as much say in how it looked. And through that it created a real closeness." 
After Hallam Truck Centre had placed its keen customer orders for the limited edition Legend 900 in one crazy July day in 2017, including the one containing Peppi's signature, an invitation arrived from Paccar Australia for the Inverno family, giving them the opportunity to tour its Bayswater facility. More importantly, it gave the Inverno family its first look at their new truck as it made its way along the production line.
The Legend was then to front up at Hallam for detailing, but not before Peppi, a qualified auto electrician, drove it home to hook up roof lights, central locking as well as wiring up the fridge and TV. It was a move that also made certain of one thing: Peppi was adamant that, apart from himself, no one else was climbing in behind the wheel of his new steed. Even passengers must toe the line – no dirty boots are permitted in the Legend's cab.
Peppi later drove the Legend 900 to Hallam for painting and signwriting. Arrangements were also made for the addition of stainless steel through RC Metalcraft in Albury, while Kentweld Bullbars at Sunshine West supplied the stunning bull bar.
With its stainless steel wrapped tanks, wrapped bumper, chrome dipped rims and extra grill bars, the Inverno's Legend 900 is an eye-catching piece of machinery, thanks to the input from all family members.
Danielle added a feminine touch to the truck's double bunks, such as colour coded satin sheets, plus custom made blankets ordered from the US, each with the Kenworth logo and the words "Inverno 220". It's a classy home away from home, especially for any family member who wants to tag along and grab the top bunk. 
Business beginnings
Maintaining the truck's brand new look is a labour of love for Jeremy and Chris although you'd be forgiven for thinking that the Legend 900 is the only truck lining up in the G&D Inverno fleet. A T401, 404ST, T408 SAR and a T601 are the other Kenworths making up the numbers.
The 23 year-old 601 was actually the first truck to kick off the G&D Inverno business. Both Peppi and Danielle had grown up in trucking families and it was Peppi's father, Phillip Inverno, who was the 601's previous owner. It was a truck that Peppi was well familiar with. 
Together with Peppi's uncles Jack and Quinto Inverno, Phillip had started in the trucking industry in 1967.
"I did my auto electrical apprenticeship and then worked on trucks in the family business," Peppi explains.
"I drove the T601 from new when I was working for him, then after I got married it was the first truck that Danielle and I bought together.
"We've always had Kenworths and we've built up a relationship with Kenworth. It's just the reliability of the product." 
Jeremy, a year 12 student, is keen on following his parents in the trucking industry. Currently undertaking automotive mechanical studies at school, he's fastidious in keeping the truck spotless and gleaming condition.
"I'm very fascinated in keeping them very well presented," Jeremy says. "They never leave here without their tyre shine on. It's got to be full shine.
Chris helps out with the polishing, but has also become a dab hand at tyre changing duties.
"It was hard at first, but once you do it a few times it gets easier," Chris says. "Dad obviously helps me a fair bit."
With the boys' attention to detail, it was inevitable that the Legend 900 would become a regular at local truck shows, most notably Tooradin and Alexandra. In February this year it picked up the Truck of the Show award at the Berwick Truck & Wheels Expo.
At the show presentation, Danielle said the judges were not only impressed how sparkling the truck was outside and inside, but also underneath. It had the cleanest diffs in town.
"Jeremy quite often gets underneath with a scrubbing brush," she says. "Afterwards a couple of the other competitors came past, laid on the ground and had a look.
"We enjoy going along to truck shows, but we do it more for the kids because of the work they do here at home and the way they present them and work on them." 
Virus impact
The family had planned to attend the Alexandra Truck, Ute and Rod Show in June, but the COVID-19 pandemic put a stop to that. It also had some impact on G&D Inverno's business.
"Some areas it's busier and some areas it's quiet," Peppi explains. "You've just got to roll with the punches I guess. No one's got a crystal ball that they can see in the future."
The Inverno fleet mostly runs general freight between Melbourne and Adelaide, with the occasional trip to Sydney. While the older Kenworths haul single trailers, the Legend 900 sits up front of a couple of B-double tautliners. And it's become somewhat of a celebrity truck, with photos appearing regularly on social media sites.
"Wherever I go there's people with cameras just taking pictures off the side of the road, and a lot of these photos appear on Facebook," Peppi says.
"I look at them and think 'geez, I didn't even see this guy', and I was driving up the Hume Freeway at 100km/h."
"We quite often know where Peppi is because we get pictures of it while he's away," Danielle adds.
While it has the appearance of a show truck, the Legend 900 is an everyday worker, clocking up more than 210,000 kilometres with its Cummins X15 engine and Roadranger 18-speed 'box. It's also the centre of conversation around the family table when Peppi delivers it home each Friday afternoon.
"The boys say to us this is the one truck that will never leave our family as they helped build this," Danielle says. "It will be with us forever." 
Subscribe to our newsletter
Sign up to receive the Owner Driver e-newsletter, digital magazine and other offers we choose to share with you straight to your inbox
You can also follow our updates by liking us on Facebook. 

Trucks For Hire | Forklifts For Hire | Cranes For Hire | Generators For Hire | Transportable Buildings For Hire