Classic cab-over
---
Michael Vella of NSW Freightlines, a big fan of the heritage trucks, has two of the best classic Kenworths going around, including an identifiable cab-over from his diesel mechanic days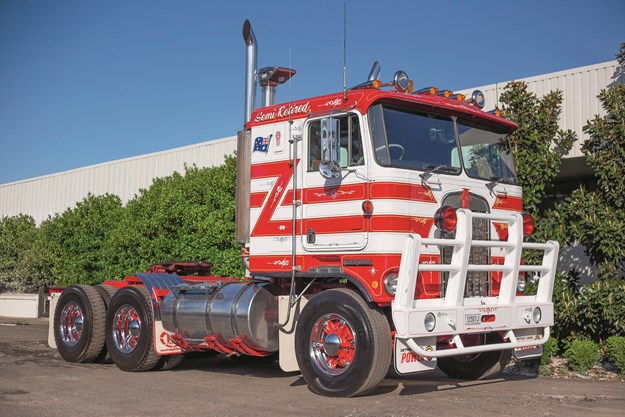 I have, in the past, had the pleasure of viewing and photographing some splendidly fantastic, big budget truck restorations. Projects years in the making, with quite literally hundreds of thousands of dollars spent to bring a classic truck back to a representation of its former self.
It's always a pleasure to see and appreciate the skill, craftsmanship and love that is put into every nut and bolt.
The restoration of old trucks is, to a degree, a personal expression. A vision realised of what the owner wants the truck to be. For some it's an open cheque book, no holds barred, full re-incarnation of an original truck. Some choose to customise and re-model, to their own individual taste.
For Michael Vella, boss of NSW Freightlines, his restoration journeys take on a slightly different direction.
Michael believes some of the charm these older trucks hold is found in the details of their final presentation and condition. Michael wants his trucks to retain their working-class character, warts and all.
When I first contacted Michael, he quickly pointed out: "My trucks are not big budget fancy builds" – a statement I believe he thought would deter my enthusiasm to create this feature. Not so.
While his trucks are treated to fresh paint and mechanical repairs to bring them up to roadworthy condition, Michael resists the temptation to go with a full-scale rebirth, instead preferring to leave some areas of the trucks in their original, blue collar condition.
With a few projects on the boil, Michael took the time to show us his latest re-build, which he says is not quite finished yet (are they ever really finished, Michael?), a 1978 K123 CR Kenworth cab-over, and his 1984 W925 Kenworth, which he has had for around four years now. 
The W-models story starts in Melbourne, where the truck was dutifully put into service for Eastoes Transport, an iconic Australian transport company founded by Les Eastoe in the late 1950s, operating from Moorabbin in Melbourne's southern suburbs.
Originally a day-cab, short wheel-base truck, the W-model then went to work for Leitch Heavy Haulage, where it was stretched in the chassis and had a sleeper fitted.
According to Michael's memory, he believes the W-model then went on to carting containers for a time.
Originally fitted with a Cummins engine, Michael explains how it now comes to have a 3406 Caterpillar engine on board.
"The owner at the time had imported a Peterbilt truck, which they spent a good deal of time and money refurbishing. Unfortunately, when it came to registering the Peterbilt, it didn't comply with the necessary emission ADRs of the day. This led to the removal of the 3406 engine in favour of a C-15 Caterpillar engine.
"Consequently, the 3406 was shelved. A little later the original Cummins engine fitted to the W-model got a bit rattly, so it was tossed aside with the 3406 bolted into its place," Michael says.
Over time the original 15-speed gearbox was replaced with an 18-speed overdrive 'box and, to add some pliability to the ride and reduce chiropractor appointments, the suspension has been upgraded to an Air-Glide 100 set-up.
"I purchased the truck around four years ago and drove it home from Melbourne," Michael continues.
"I'm surprised it made it back, I didn't even know it had chrome rims until I washed it; it was real mess."
Now that it has been restored, Michael gives it a run every couple of weeks with a load bound for somewhere in regional NSW. 
"It's my therapy. I jump in it, turn off from the day-to-day running of a transport fleet and switch off for a bit. I just love driving it." 
INSTANT RECOGNITION
The equally chequered history of the K123 CR begins with its purchase by Brambles in 1978. Somewhere after that time the truck went to Tippings in the NSW town of Lithgow.
Eventually, the warm winters of Australia's north beckoned and the truck made its way to work within a mine operation in the Northern Territory, towing a water trailer.
After being pensioned off from water carting duties in favour of a truck with air conditioning, the cab-over sat idle in the Territory for a few years before being purchased by a bloke in Newcastle who wanted it for a parts truck.
As often happens, the truck sat idle in Newcastle for years with nothing being done with it before coming to Michael's attention a year or so ago.
Michael spotted the truck and instantly recognised it as a truck he used to work on during his years as a mechanic at Detroit Diesel Services in Chipping Norton, Sydney. The personal association and history with the truck led him to jump in his W-model with float trailer in tow and head to Newcastle to secure the purchase.
Positioned securely in Michael's workshop, it was another six months before any progress began on the truck's resurrection. 
"It really was a derelict truck at this stage," Michael says.
Following on from delays securing panels for yet another of his restoration projects, Michael decided to use the time to start rubbing back the K123. Like an archaeologist digging through layers of time to unravel its long forgotten history, Michael and friends rubbed back many layers and decades of paint schemes before landing upon the original Brambles orange, as he explains. "Crikey, there was a lot of rubbing back."
It was at this point that Michael decided that, as they'd come this far, they may as well go back to bare metal, which they did. By this point enthusiasm in the cab-over project had blossomed. The K123 had now taken precedence over the other project.  
ORIGINAL DETROIT
Various mechanical work had to be done to the old truck; Hendrickson suspension bushes were renewed and jobs like re-connecting the Horton engine fan, which had been locked on to cope with the heat of carting water at low speeds around a hot NT mine site, were carried out.
The original 6V92, two-stroke Detroit Diesel engine and 15-speed direct transmission remain in place, as per the truck's original specifications.
The interior is an area where Michael wants to direct some more attention as the hand of time, UV rays and fatigue have really set in on some of the fixtures. So much so that Michael says: "When I loaded the truck onto the float in Newcastle it had a hood lining in it; by the time I arrived back in Sydney it had all but disintegrated and fallen to the floor."
Michael enlisted the help of a friend to paint the cabin, while he painted the chassis himself.
"I like my trucks to look the way they do; I like them to look like they have done some work," he says.
"The classic truck scene is really big at the moment, it's great to see these old trucks being restored, maintaining the history. The clubs run regular events and it's not uncommon to see a small Bedford truck owner chatting with the owner of a big Mack.
"Everyone's equal, just a bunch of enthusiasts keeping our trucking history alive. I love that," he enthuses.
For Michael, it's all about retaining the trucks' working class, blue collar heritage. The trucks he is the current custodian of, undeniably look great, not the biggest or the best, just honest as the day is long. Workhorses standing testament to the ideology of sometimes less is more. 
Subscribe to our newsletter
Sign up to receive the Owner Driver e-newsletter, digital magazine and other offers we choose to share with you straight to your inbox
You can also follow our updates by liking us on Facebook. 

Trucks For Hire | Forklifts For Hire | Cranes For Hire | Generators For Hire | Transportable Buildings For Hire