Alarm over truck driver health report
---
Monash study reveals disturbing health problems emerging from Australia's most demanding occupation
The first major survey of truck driver health reveals shocking problems in Australia's most common job for men, with over 80 per cent of drivers overweight or obese, one in five suffering from severe psychological distress, over 70 per cent living with chronic pain and almost a third with multiple chronic health conditions.
The survey of almost 1,400 drivers is part of a three-year study by Monash University and outlines that poor health is not only bad for drivers – it is also linked to an increase in the chances of crashes and near-misses.
The findings of the study were featured on the February 4 edition of the ABC TV's 7.30 Report.
The study has shown that risk factors because of the job include: "long working hours, sedentary roles, poor nutrition, social isolation, shift work, time pressure, low levels of job control, and fatigue". It points to a need for urgent reform to address and prevent poor mental and physical health among drivers who are under supply chain pressures.
Other key findings include:
Truck drivers work long hours and this is linked to their poor physical and mental health. Half of those surveyed work 41-60 hours per week and 37.5 per cent working over 60 hours per week
13 per cent of drivers reported having a crash in the past year with over 70 per cent stating they had a near miss on average once per week. Having three or more chronic conditions nearly doubles the odds of experiencing a crash
Over a third of drivers have a diagnosed back problem, double that of the average Australian male, and over a quarter have high blood pressure
Almost a third reported being diagnosed with three or more of the health conditions listed, compared to 7.8 per cent of the general population
One in two drivers reported some level of psychological distress. The proportion of truck drivers under 35 with severe psychological distress was almost double that of the average for Australian males for that age bracket.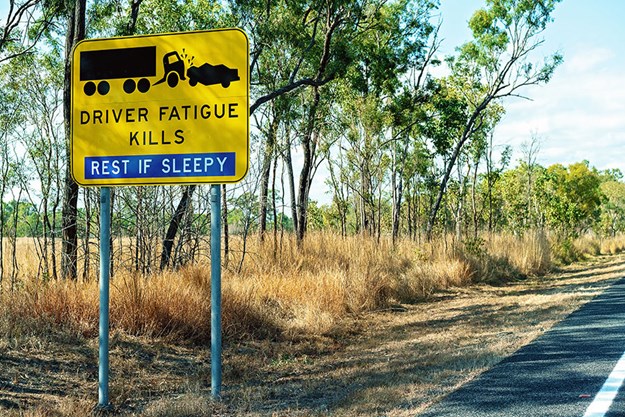 Nick McIntosh, assistant national secretary of the Transport Workers Union (TWU), which was involved in the study along with Linfox and the Centre for WHS, says the study should put pressure on the Federal Government to address problems in road transport which are linked to driver health.
"This study is utterly shocking in revealing for the first time how poor the health of our drivers is. Drivers are living with chronic pain, obesity, mental health problems, high blood pressure and back problems. It is bad enough that these poor health outcomes affect so many workers and their families but evidence linking them to truck crashes and near misses shows that the entire community is affected by the problems.
"It is vital we improve the health of drivers, given that trucking is Australia's most common job, employing one in every 33 men, or 200,000 drivers. We want to see this made a priority by the Federal Government and for the entire supply chain examined with a view to regulating the industry," McIntosh adds.
"The economics at the top of our industry is creating the dynamics which result in poor health for drivers at the bottom of the supply chain and high death rates of drivers and other road users.
"The financial squeeze by major retailers, manufacturers and oil companies which continually demand lower cost contracts from transport operators, results in an industry continually under pressure and subsisting on tight margins. This is the reason for the long hours, the stress and the injuries that drivers experience.
"Now that the evidence is abundantly clear just how badly this impacts drivers, we urge the Federal Government to act," McIntosh says.
---
RELATED ARTICLE: Report finds truckies less likely to seek mental help
---
A second report recently released involves in-depth interviews with drivers describing their health conditions.
"Just last week, I had a driver say that he nearly pulled the wheel on the truck to head straight into a tree, because it was just crap; it was too overwhelming for him," said one driver. "And he's breaking down crying on the phone."
"Myself and my ex-wife separated … because I was away so much. So that's probably one time where I lost everything," says another.
"My son's been looking for my guidance and my love I suppose and it hasn't been there because I've been too busy driving trucks and, you know, fighting my own battles," another driver explains.
Steering Healthy Minds, a project aimed at training transport workers to support colleagues with mental health problems, is being rolled out nationally.
Supported by the TWU, the program involves encouraging work colleagues to discuss mental health issues or concerns and giving them the information and support they need.
Subscribe to our newsletter
Sign up to receive the Owner Driver e-newsletter, digital magazine and other offers we choose to share with you straight to your inbox
You can also follow our updates by liking us on Facebook. 

Trucks For Hire | Forklifts For Hire | Cranes For Hire | Generators For Hire | Transportable Buildings For Hire