Highlanders on right track with Kenworth fleet
---
From an early age Luke Sheridan just wanted to drive trucks. Now, with his other half Jacinta, the couple operate their own transport company out of the NSW Southern Highlands
As many born into rural farm life observe throughout their formative years, the trials and tribulations of a farmer's existence can easily deter younger generations from pursuing the same path.
For Luke Sheridan, the farmer's life on the land didn't appeal to him, so an apprenticeship as a carpenter/builder was embarked upon. While the building game provided income and security, Luke still seemed to have an itch to be scratched. Deep down, Luke admits that he just always wanted to drive trucks.
Perhaps driving around farms and gazing upon the big trucks passing through his New South Wales rural hometown of Coolah lit a fire in his vocational soul that could not easily be extinguished – by hammers, chisels and a tool belt.
Leaving the building game behind, and pivoting into the direction of his ambitions, Luke took on a job as a labourer and then truck driver for a Roads and Transport Authority (RTA) bridge crew in Bathurst, while his wife Jacinta was attending university in the same town.
When an employment opportunity for Jacinta arose in Tahmoor, the Sheridans looked at a tiny point on a map, showing the small rural location about an hour or so, south-west of Sydney, and decided to pack their bags to move to a place they had never been, and give it a go.
With Jacinta employed, all that was left was for Luke to find a job, a task which would, for a time force him to take a step backwards from his driving ambitions and return to the building game. This lasted for around 12 months with Luke eventually realising that he still hated this line of work.
To readjust his path, Luke took on a job driving concrete agitators for a large concrete company, which in a fortunate stroke of serendipity would eventually become a company he would have a long standing, ongoing business relationship with, sometime later in the evolution of Southern Star Transport.
The agitator driving role eventually morphed into a batching and managerial role to which Luke was not comfortable: "It was not where I wanted to be, I just wanted to drive."
Moving on from there, Luke moved into driving concrete powder tankers for Pioneer Concrete, a job with such irregular hours that he confesses: "The hours broke me in six months.
"We just had our first kid and I thought that working these hours was a mug's game, so I returned to the agi work, but I still wasn't happy," Luke explains. 
Leaky Louisville
It would seem that the Sheridans were at a crossroads and a resolution was, unknowingly to them, just around the corner. It was just a matter of taking the right turn.
"We had gotten a little money together and I had been looking around a bit, considering the owner-driver route, but I quickly realised that no one was going to even talk to you if you didn't already have a truck," Luke says.
"So, through a friend, I was put onto a truck for sale, a Ford LTL 9000 Louisville, with a 444-Cummins engine and a 15-speed overdrive gearbox."
It was 1999; the Sheridans promptly bought the truck, a flat-top trailer and became owner-drivers. "It was quite buggered," Luke recalls. "But that truck got us going.
"It had little in the way of comfort, leaked inside when it rained and prompted you to wear Ugg boots to drive in the winter, but it got the job done."
Ultimately, the LTL would prove to be a good earner as Southern Star's first truck, which according to Luke, had two million kilometres on it when they took ownership. During the subsequent three years that they had the truck, Luke says all they had to do to it, apart from routine maintenance, was replace a turbo and water pump. However, the start for Southern Star Transport proved to be a little rocky.
With the optimism of youth and lashings of naivety, Luke says he thought was going to set the world on fire carting bricks around Sydney. He was new to the job, and they were offering good dollars, a solid full-time contract and hourly pay. The world was at his feet, or so he thought.
Riding high in his big new truck, flat-top trailer and side-mounted Moffett Mounty forklift, Luke kicked off with excitement in his inaugural owner-driver role, a role that would last all of two days.
"On the second day I was given a load of bricks to deliver to a back street somewhere in Earlwood. I was a boy from the bush and had little driving experience around the city in a semi-trailer.
"I drove to the delivery site, which was on a hill and I set about unloading the forklift which quickly became jammed solid in its frame – it wouldn't go in and wouldn't come out due to the uneven incline.
"I ended up having to reverse the trailer down the hill with the forklift hanging out from the side of the trailer suspended precariously over parked cars, until I could find some flat ground on which to unload it.
"I then ended up breaking up three or four packs of bricks which I had to re-stack for delivery. I rang the company, told them this wasn't for me, went home, removed the forklift and frame and placed them up for sale," Luke laughs. 
Beer backloads
After the false start on the brick job, he secured some work subcontracting to Deegan's Transport in Goulburn. Luke has a lot of praise for Kim Deegan, who gave him a go and showed him the ropes. "I was green as green and knew nothing," he confesses.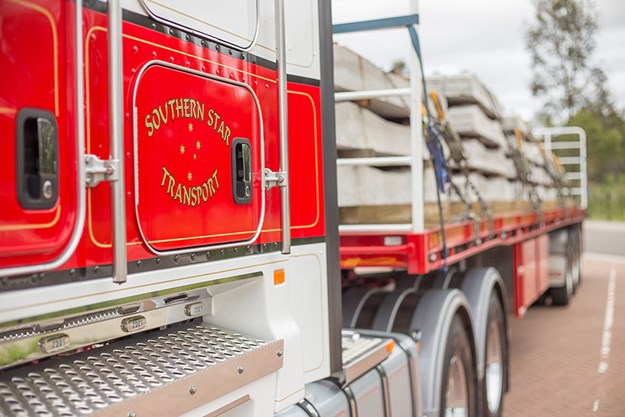 The early days for Southern Star Transport were spent accommodating a wool boom with Luke and his trusty Louisville carting the baled fleece into the Yennora wool stores in Sydney, and backloading beer from the Tooheys' factory in Lidcombe.
The work was hard, loading and tarping bales, but to Luke it seemed greatly preferable to the brick work.
"We would load the wool in Goulburn and drive to Sydney and unload. That unloading could take up to six-hours, then, when we would go around to load the beer for the run back, it could take just as long to load there.
"It was taking anything up to 20 hours to do a return run from Goulburn to Sydney."
Luke started carting bagged cement products into Sydney from Maldon, around the 2000 Olympics era, which saw steady demand for these products. Unbeknown to them at the time this work would eventually see Southern Star Transport running two semi-trailers consistently for many years. As demand ebbed and flowed the work fluctuated a bit but is still being done today by Southern Star Transport with its 10-wheeler DAF rigid.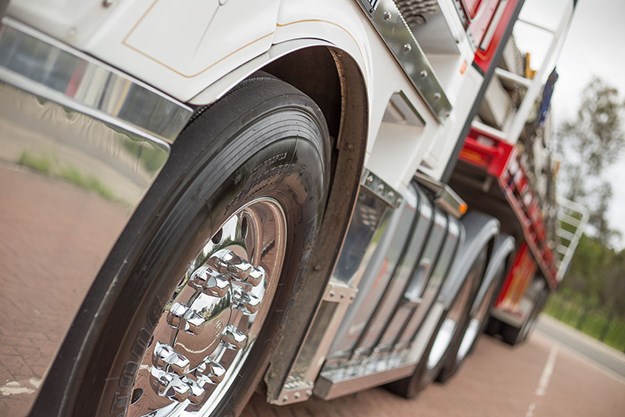 It's interesting to observe how seemingly insignificant interactions over time can be so pivotally instrumental in the evolution of transport businesses. While carrying out those Goulburn to Sydney runs for Deegan's, Luke would regularly drive past the Australian Rail Track Corporation (ARTC) yard in the town and look wistfully at the easily packed and loaded rail sleepers awaiting transport.
"After busting my backside loading, unloading and tarping wool bales, I would think to myself, ah, they look easy!"
One particular day, armed with nothing more than a little bit of pluck and the courage of his convictions, Luke went in and enquired about work carting the sleepers.
He was directed to the person responsible for the job and secured the work. This ultimately led to a long and continuous working relationship with ARTC and, subsequently, additional companies affiliated with the rail network.
Currently, Southern Star Transport operates a small fleet of five Kenworth trucks and trailers, the aforementioned DAF 10-wheeler and an older Kenworth K104 as a spare.
A large portion of the company's workload among other commitments such as hay cartage is made up of rail-related infrastructure movements around eastern Australia, all of which has stemmed from that bold walk into the ARTC yard in Goulburn years ago.
"We are quite involved in transporting concrete sleepers for ARTC these days and have participated in many railway sleeper upgrades, replacing timber sleepers with the concrete alternatives. This work often yields two-way loading opportunities," Luke explains.
"When the railway was upgraded from Taree to Brisbane we would load timber from Bathurst for Brisbane then drive down to Grafton where the old timbers sleepers from the coast line were stockpiled. We would then backload them to Sydney for use by landscape yards and the like.
"Over a four-year period on that job we carted half a million sleepers out of Grafton to Sydney, loading up to 10 to 12 trucks a day. It was full-on."
Luke says Southern Star Transport is a highly service-based company, with the Sheridans priding themselves on solving their clients' transport movement requirements with a single phone call.
"We have a really good working relationship with our clients; we work towards meeting their transport needs," he says. 
Weekends off
To add to the company's versatility, Southern Star Transport has its own telehandlers and loading equipment which it provides to access sites for loading and unloading sleepers. This removes the need to secure a third party operator and work around timing issues or restrictions that a third party may bring.
Luke says this equipment also comes in handy as some of the rail side sleeper movements are not time critical, giving him a pool of work to draw from should there be a few quiet days.
"All of our drivers are certified for rail side work and are a reliable crew of long serving employees. A lot of their workload is interstate, which they carry out predominantly from Monday to Friday, giving them weekends off.
"We always try to avoid committing our drivers to interstate locations for Monday mornings so they don't have to leave on Sundays," he adds.
Luke says Southern Star Transport has a great team of drivers, with many of them being long-serving employees.
"The drivers have played an invaluable role in the success of our company. Southern Star could not operate without good drivers. We appreciate all they do to help keep the show on the road."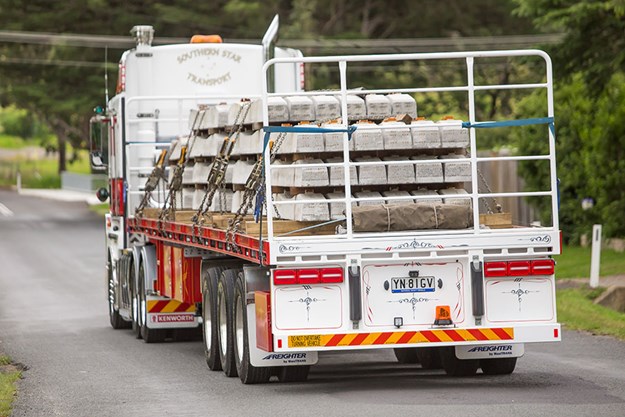 As with most owner-drivers and small transport fleet operators, there is often that irreplaceable employee who works long, hard hours tirelessly in the background. Wives and partners are more often than not the backbone of these types of businesses.
Luke says Southern Star Transport is no different.
"I have a 50/50 working relationship with my wife Jacinta. She is in the office 40 to 50 hours a week handling all aspects of our operation from admin, invoicing, making sure everyone gets paid to compliance.
"Jacinta has her own clients, which she looks after exclusively, and we bounce all of our business decisions off each other.
"Jacinta is more than capable of running the entire business if I can manage to sneak a couple of weeks off during the year. Without her, there would be no Southern Star Transport in its current form," he says.
Happy with their current work structure, Luke and Jacinta, while open to new opportunities, are quietly content with the business at its current size.
As Luke explains: "We have a really good customer base who are understanding and loyal. We are well placed and have the ability to service these customers, and service them well."
Subscribe to our newsletter
Sign up to receive the Owner Driver e-newsletter, digital magazine and other offers we choose to share with you straight to your inbox
You can also follow our updates by liking us on Facebook. 

Trucks For Hire | Forklifts For Hire | Cranes For Hire | Generators For Hire | Transportable Buildings For Hire