Tough Kenworth T658 gets Jon Kelly treatment
---
When it comes to having the grunt to pull a big load, the Kenworth T658 was the only choice for Brenda and John O'Brien in their road works business up in the gulf country of North Queensland. But getting their 'Beer Money' wasn't an easy road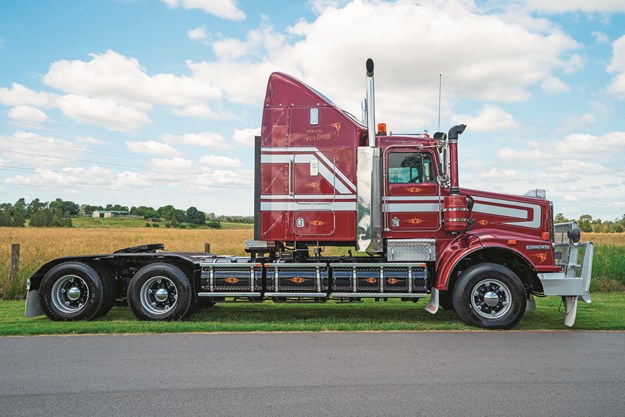 Looking for the right truck to fit your needs is tough enough but for the O'Brien family, their search was made all the more difficult by the tyranny of distance.  Based in Normanton, Queensland, near the Gulf of Carpentaria, the O'Brien's remit was simple enough: find a truck tough enough to pull a set of side-tippers and make it look schmick to promote the business. Oh, and it had to be done and delivered in a timeframe measured in days, not weeks or months. Simple, right?
Enter Jon Kelly, known for his hit TV show MegaTruckers, who is no stranger to turning out a top- looking truck on short notice, but when Brenda called him up on an ex-Curley Cattle Truck T658 he had for sale, even he knew it would be a tough test. We can imagine the conversation, the sharp inhalation of breath on both sides when talk turned to timeframes, but what you see here is the final product of those long distance phone calls in this stunning Kenworth.
"When I first contacted him on the phone we had deadlines to meet for a tender and I was just pushing him the whole time," Brenda says.
"I just needed the truck registered so we could put it into a tender and I don't know if he got sick of me, but I just kept pushing him. Sometimes I reckon I could have reached through the phone and choked him but it was definitely worth the wait because we ended up with Beer Money!"
"She was tough on me," Kelly smiles.
"She wanted to make sure the truck was perfect and we did a good job, and I said 'Brenda I haven't done a shit truck yet, so you can trust I'll do it right'."
JON KELLY WHO?
The fact that Brenda was dealing with someone more than 2,000km away on a truck that was a big investment for her business wasn't her only worry, so with a tight deadline in mind she started to do her research on the bloke who was going to build her truck.
"I'm talking to this guy and I can honestly say I didn't have a clue who Jon Kelly was when we started negotiations," Brenda laughs.
"I have a daughter who is 25-years-old and a son who is 19 and they were telling me who Jon Kelly was and about HHA and MegaTruckers, and I can honestly say I've never seen an episode, and never knew about him.
"My kids sat me down and we watched an episode of MegaTruckers and I said 'Jon Kelly doesn't come across like that on the phone, I guess it's a TV program so he has to act a bit'.
---
 We sat down with Jon Kelly to talk about his return, read here.
---
"You'd see him go off about stuff going wrong and my daughter looked at me and said 'who does that remind you of' and I'm like 'yeah ok', I don't put up with a lot of shit either."
This fact wasn't lost on Kelly either who knows that you're only as good as your last build in this game and was keen to deliver a truck that would hopefully surpass the O'Brien's expectations.
"It's one thing to sell to a customer who just walks into the yard and buys a bland truck, but for someone to entrust you with a couple of hundred thousand dollars and put their faith in you delivering the goods, is another thing completely," says Kelly.
"Like, this is Brenda and John's first heavy truck so it's a bit of gamble for them. It's not just selling them a truck, it's about helping them take a gamble in the industry and I don't think we've just delivered the product they wanted, we've delivered a showpiece."
NEW TRUCK, NEW DIRECTION
"We're from a road works background and mainly had graders and water trucks over the years and we just wanted to diversify a bit and not have as many graders in the fleet and go into the side- tippers," says Brenda.
"This truck is an all-new thing for us. We've been around graders for 30 years. My partner, John, is a final trim operator and a lot of people want him to do their roads.
"My father had trucks for 40 years so that's how we got into the road works business. I used to wag school and go out in the trucks with him. He's helped us out as we are all in the same industry, he's 75-years-old and he still has trucks and gives us a bit of a hand as well."
The 2010 Kenworth T658 you see here is a 140-tonne rated truck that did its service not too far from its new home with the O'Briens in Normanton but previously sported the white and green livery of Curley Cattle Transport in Cloncurry, Queensland; a colour combo that Brenda wasn't a fan of.
"Our son-in-law actually found the truck for sale at Heavy Haulage Australia for us," Brenda says.
"Curleys are from up in our area so I guess a lot of people know they have really good spec. trucks and that sort of thing, so we knew it'd be a good truck to start with."
Kelly's responsibility was to spruce up the T658 and put his stamp on it, and that meant a full colour change, stripes and of course a name for the truck.
"Brenda wasn't impressed with the Curley colours and she has a LandCruiser ute in Toyota's 'Merlot Red' so I sent her a picture of a Renkie's T909 I did in a similar colour and she loved it," says Kelly.
"I told Brenda that I wanted some artistic license with the truck, with colour of the stripes, etc. The Curley stripes are a cool design so we kept the stripes but just changed the colour of them and added some other touches."
It's usually about this time in any artistic endeavor where 'creative differences' start to emerge and the build of 'Beer Money' was no different.
"He called me and said he had a peachy colour for the pinstripes on the truck and I nearly hit the roof," says Brenda.
"I wondered how the hell that would look with the Merlot Red of the rest of it but it came out really well."
One thing they did agree on was that the truck needed a name, but coming up with a suitable handle was left to Brenda and John.  John O'Brien is a big fan of country singer Kip Moore, so with his favourite song being 'Beer Money' the choice was easy.
LONG ROAD NORTH
Getting 'Beer Money' from Brisbane to Normanton was a challenge but Kelly luckily was able to accommodate the O'Briens in this also.
"Brenda was a bit nervous to come down to Brisbane to pick it up and she's been an awesome client and allowed us to do this truck the way we wanted so I try and go that extra mile and help people out. So we took this truck up to Townsville and met her and the rest of her family there," says Kelly.
"My partner John and I are as happy as anything with it. I mean Jon Kelly hooked up all the hydraulics and also delivered it up to Townsville, which was a big thing for us," says Brenda.
"My John drove it back from Townsville, and he's been operating graders for over 30 years so the truck is new thing for him, but I don't know if he'll get to drive it too much because we work for local council and they're wanting him to do what he does best and get back on a grader."
The truck has caused a stir in its new home of Normanton, with the whole town following the build of 'Beer Money' and just as eager as the O'Briens to see the truck in the metal.
"The whole town is talking about it and we are just 100 per cent happy with how it turned out. Jon Kelly kept saying he wouldn't let us down and that he'd deliver us a really good truck and he delivered on that promise," says Brenda.
"We just want Jon Kelly to come up to the outback as the whole town has Jon Kelly stories and most of them probably have never met him before."
Second chances to ride again are rare in this world, so to see this ex-Curley's T658 get its mojo back and traverse its old stomping ground in a flash new suit is a pretty good deal for a little beer money, something we're sure Kelly and Brenda and John will agree with too.
Subscribe to our newsletter
Sign up to receive the Owner Driver e-newsletter, digital magazine and other offers we choose to share with you straight to your inbox
You can also follow our updates by liking us on Facebook. 

Trucks For Hire | Forklifts For Hire | Cranes For Hire | Generators For Hire | Transportable Buildings For Hire