Restoration blues - Bob Miller's 1964 B-model Mack
---
With decades in the transport industry behind him, Bob Miller turned his attention to a couple of reminders of his working past, a '55 Dodge and a '64 B-model Mack, returning the iconic models to their former glories.
Seemingly insignificant chapters in one's life can, unknowingly at that particular juncture, leave a lasting imprint on your soul. A road trip holiday, a significant birthday celebration or even something as mundane as weekends tinkering in the shed. These are all the little things that make us who we are, these fragments of time get tattooed firmly on our minds as real as if they happened yesterday.
It stands to reason that the more time we spend experiencing these chapters, the more vivid the tattoo.
For those of us that call the open road our workplace, the memories are etched deeply. Different loads, roadhouses, loading facilities and the people that we shared them with, remembered fondly, albeit, sometimes through 'rose-coloured glasses'. Let's face it, time spent on the road in trucks can easily, in some cases, outweigh the time spent at home with wives, partners and spouses.
One constant throughout these years for some, can be the truck. Hours upon hours spent together, learning each other's quirks and personalities, forming a bond based on mutual respect and dependability.
As time passes on, for some the opportunity to reunite with an old truck, many years moved on can prove irresistible, much like catching up with an old mate sharing tales of old over a beer or two, the urge can be intoxicating.
For Bob Miller, it would seem the desire of catching up with that old truck and treating it to a few sessions at the salon to spruce it up again has bitten him – not once but twice.
In a quiet residential street (occasionally disturbed by a Mack air start) in the lower Blue Mountains, west of Sydney, Bob Miller has two of the trucks that have shared space in his life.
Yet to be fully restored is Bob's first truck he bought in partnership with his mate Warren King.
The 1955 Dodge was purchased by the pair in 1970 and worked as an interstate car carrier, for Commonwealth Car Freighters in Enfield, NSW.
As a rigid truck, Bob and Warren ran mainly Sydney to Brisbane with two cars on the top of a frame and one on the trays deck below. Eventually the truck was stretched out a further six feet to allow it to accommodate two on top and two below.
Originally the truck had a Dodge 'Kew', side-valve, six-cylinder engine in it, which Bob says was prone to overheating. Warren, a mechanic, and Bob promptly removed the old side-valve, replacing it with a 225 cubic inch Chrysler Valiant engine which, according to Bob, were readily available at the time and produced more power than the trucks original engine.
Bob recalls completing one-way trips to Brisbane in a laborious 24 hours, a time which seems somewhat incomprehensible in these days of 600-plus horsepower and cruise control, although he did admit on one occasion the run took a week due to persistent breakdowns.
"We would take new cars up north and sometimes return with bagged potatoes or smashed cars for the NRMA. These wrecks were a good backload; we were paid as much to bring one wreck back as we were paid to take three new cars up," Bob recalls.
"We had two 44-gallon drums attached to the truck which permitted us to complete the trip without fuelling up."
Pushing luck a little too far one day saw the upper deck frame work pack it in halfway to Brisbane, buckling under the overburden of a Land Rover Warren had loaded on the upper deck. According to Bob, this ultimately ended the car carrying business.
The Dodge was shortened up again after that and converted into a tipper for a time before being put out to pasture at Bob's parents place in Katoomba in 1973. There it sat until five years ago when Bob brought it back to his home where he has been chipping away at the restoration ever since.
Now what about the Mack you say? Well, for the rest of the story we must revert back some years to 1974 again.
Parked up
Following the retirement of the Dodge, Bob went to work driving for others before eventually buying the '64 B-model Mack in 1974 to once again return to owner-driver life. The union of Bob and that Mack saw the two working on interstate transport, firstly for Halls Van Lines in Milperra, then later Vaughan Transport. Over a two-year period, many miles were covered and a strong bond formed.
In 1976 Bob sold the B-model to his former business partner Warren who worked the truck on coal carting duties around the Lithgow area for some years. Tired and battle weary, the old B-model was eventually parked in Warren's shed at Mt Victoria sometime in the mid-1980s … and there it stayed.
Warren, who had a penchant for restoring old machinery himself, was mid-way through the resurrection of a traction engine at his Mt Victoria property in 2005, but he would not see its completion. Sadly, he passed away before the job was finished.
In true Aussie style, Bob and some of his mates completed the traction engine project in Warren's honour.
During those long hours in Warren's shed completing the traction engine restoration, Bob's old Mack was looking on sitting idly in the background in a somewhat less than pristine condition. At the completion of the traction engine project – and at a time when Warren's sister was eventually ready to sell some of his old equipment – Bob asked if he could have first offer on the old B-model.
A deal was done and Bob found himself back in possession of his old Mack in around 2007.
Born again
For the next three-years, Bob and his son James (who also owns a classic Flintstone Mack) gradually brought the old truck back to her former splendour.
As Bob tells it, all of the truck's springs were broken and had to be replaced. Carrolls Springs fabricated new springs and all of the brakes were overhauled by the father and son team at Bob's home. Apart from the springs, brakes and some universal joints, the restoration was mostly cosmetic. Bob did point out that after all those years working on the coal; the black dust had gotten into literally every corner and crevice of the truck.
The engine and driveline remain untouched, although Bob does admit that like many who enjoy their first coffee of the morning to get the day started, the old B-model's engine takes hers with a splash of Aerostart.
The truck features a Mack Thermodyne engine producing 160hp. This power is stirred and distributed to the diff by a Mack 18-speed Quadruplex twin-stick transmission. No fancy AMTs here.
Using a makeshift spray booth set up in his back yard, the make-up was re-applied to paint the old Mack back to her original, sky-blue hue to complete the job.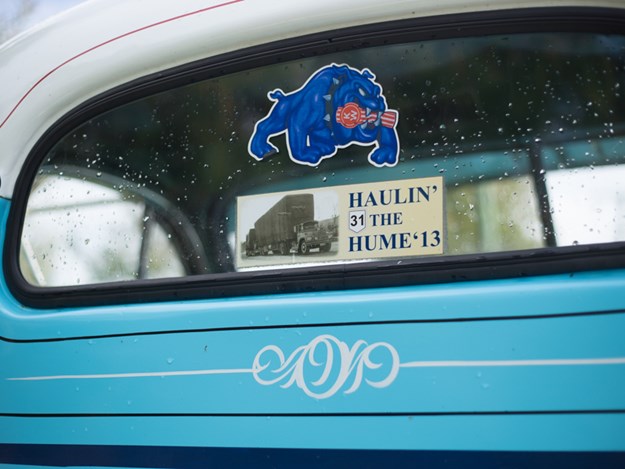 Before the world went to hell in a handcart (COVID-19), Bob was a regular at truck shows and the Haulin' the Hume truck rally which he sorely misses.
"It's been a quiet 18-months or so," Bob laments. "With all the cancellations of truck events the old truck hasn't been out much."
Occupying the need to get behind the wheel these days, Bob can be found driving the local school bus twice a day, and of course there's always something to do on the old Dodge parked out the back.
One thing is for sure, driving that school bus these days must be a lot easier than running the highway in the old B-model. I'd even wager a bet that the school bus doesn't have twin gear sticks to contend with, just excitable school kids. I'm not sure which would prove the most troublesome? I'll let you decide.
Subscribe to our newsletter
Sign up to receive the Owner Driver e-newsletter, digital magazine and other offers we choose to share with you straight to your inbox
You can also follow our updates by liking us on Facebook. 

Trucks For Hire | Forklifts For Hire | Cranes For Hire | Generators For Hire | Transportable Buildings For Hire