Well-schooled Scania - Truck of the Month
---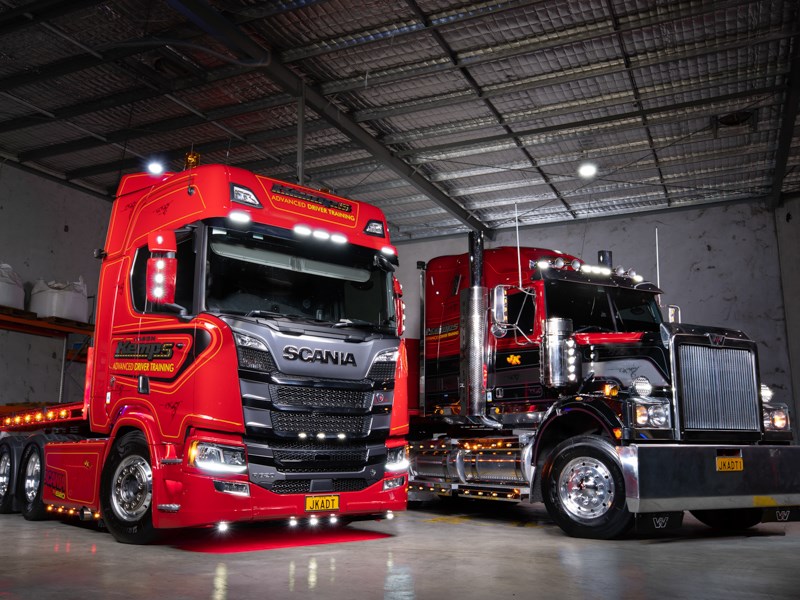 Scania and Western Star: The two immaculate workhorses of the fleet covering manual and auto options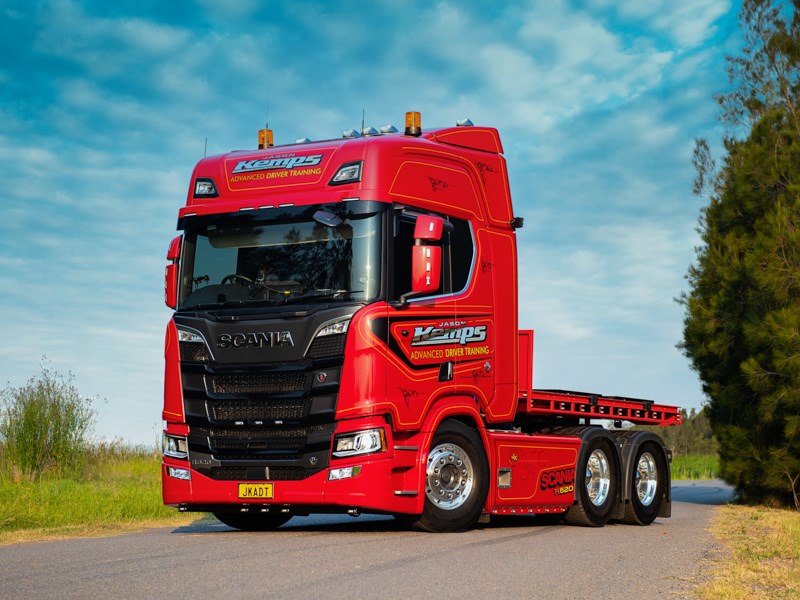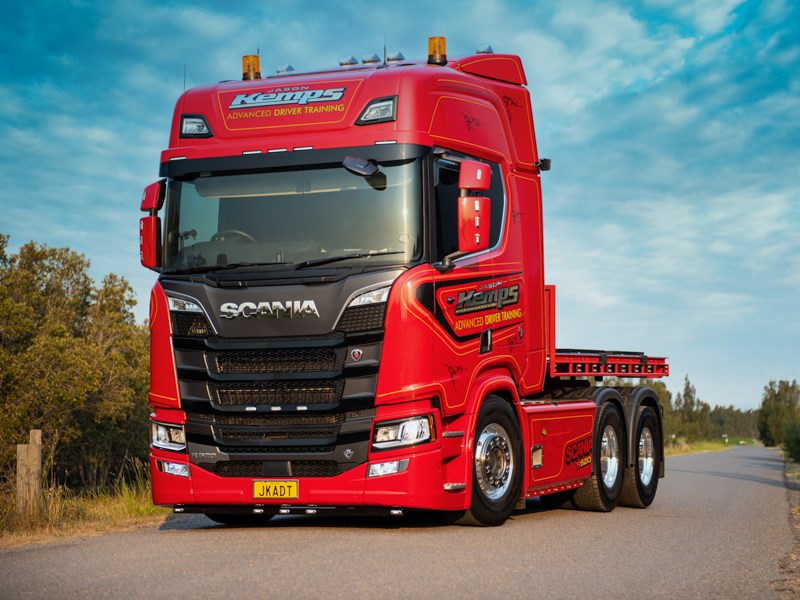 Jason has taken the Euro look to a new level with his Scania R620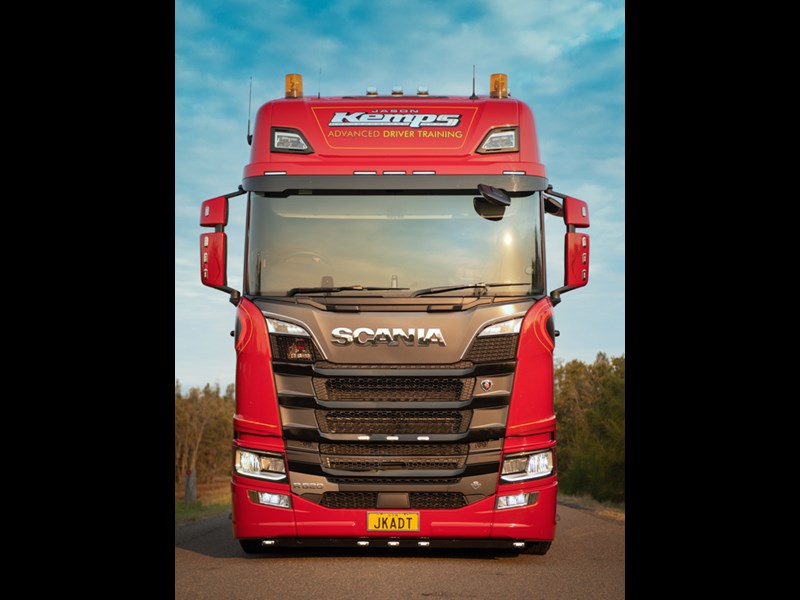 The big V8 boasts some serious low-end grunt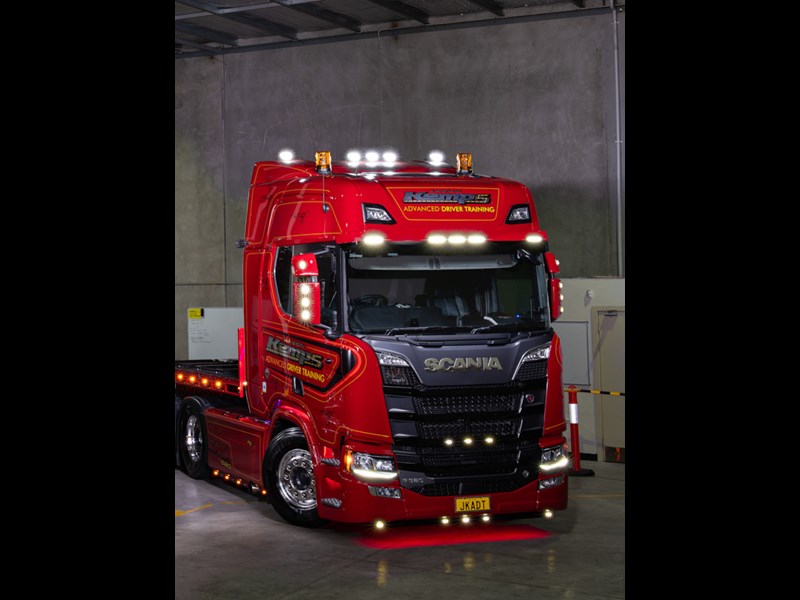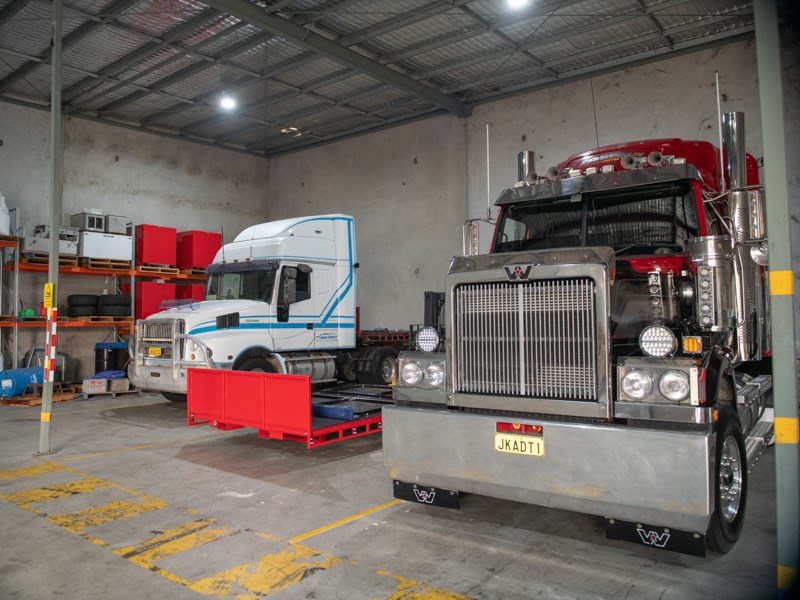 The old Iveco PowerStar is there as a reminder of the "old school" ways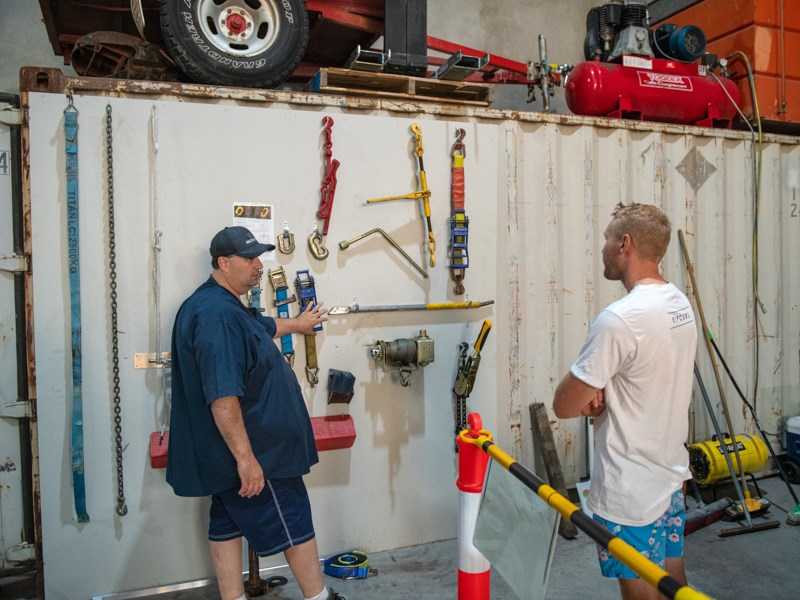 Jason Kemp goes through all the info with a trainee before getting behind the wheel. Giving a full lesson in load restraints and safe loading is all part and parcel of the training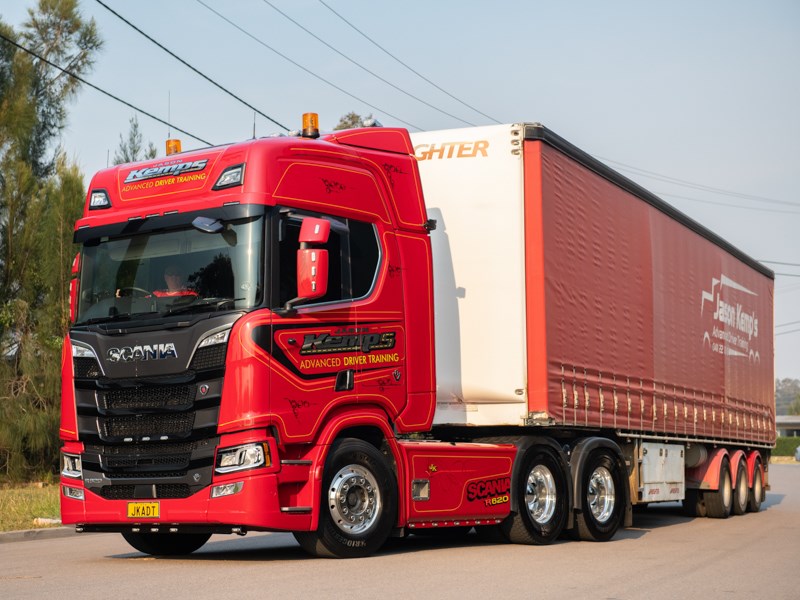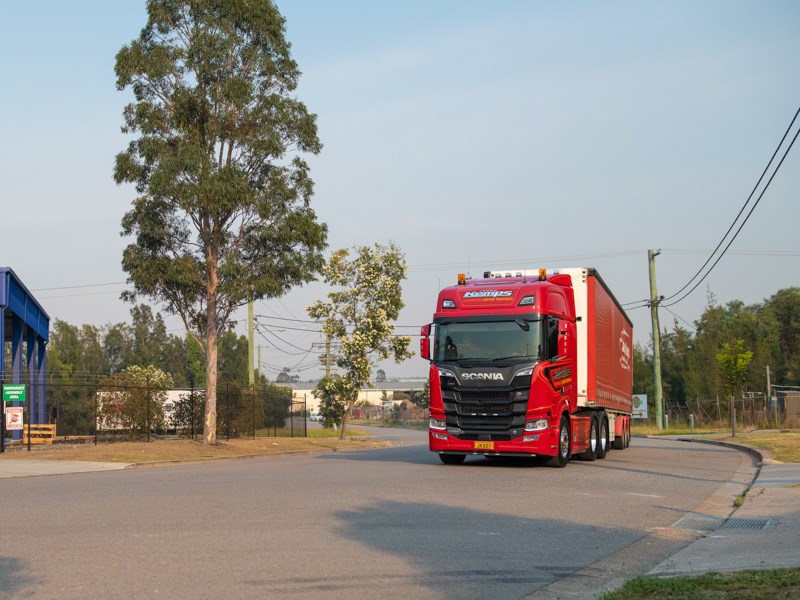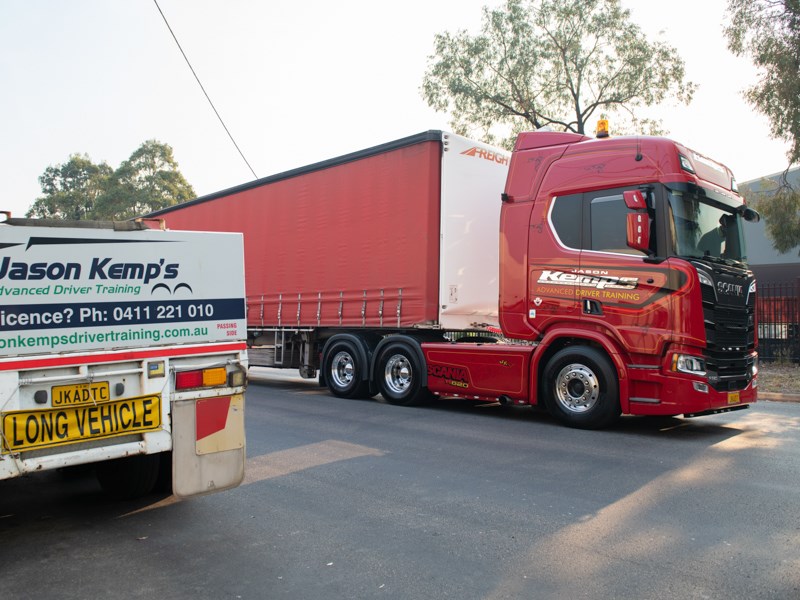 HC and MC are covered, dropping the A-trailer and using the B-trailer for HC work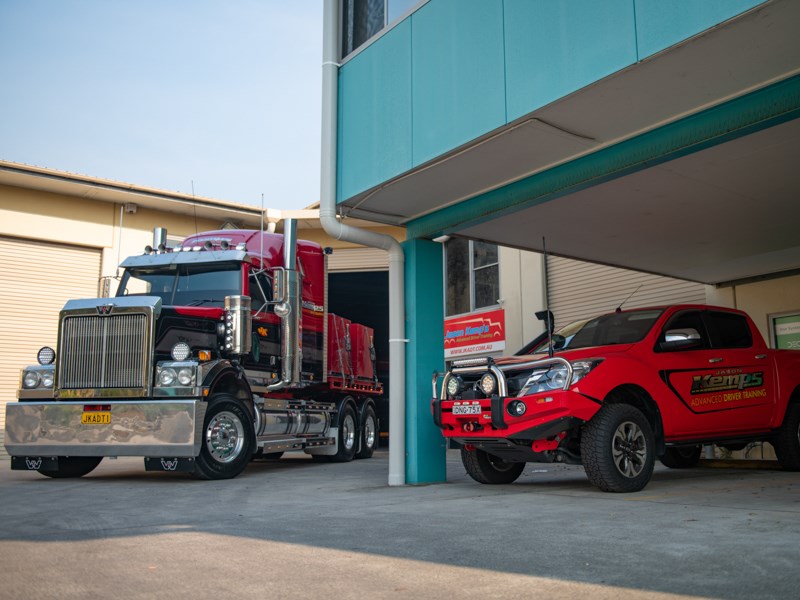 Appearance is everything for Jason. As a truck lover himself it's not just about the business looking professional, it's also about looking good. Mission accomplished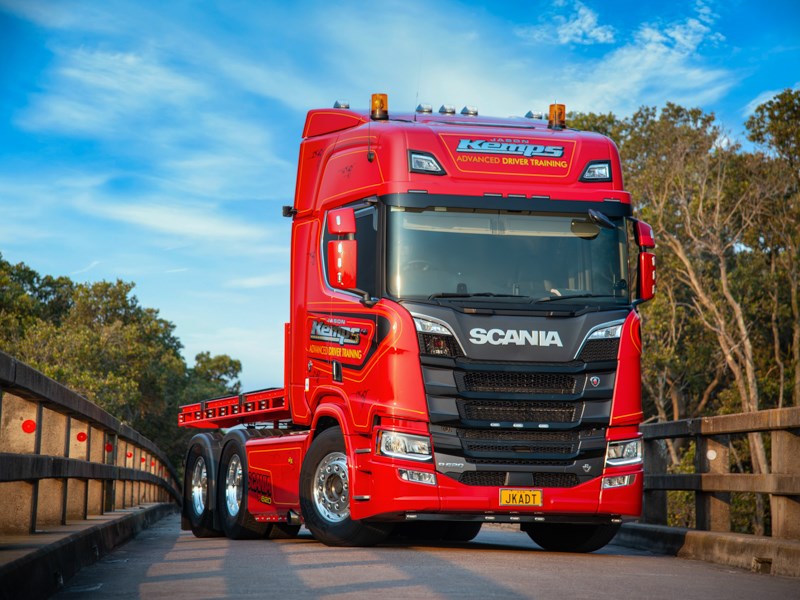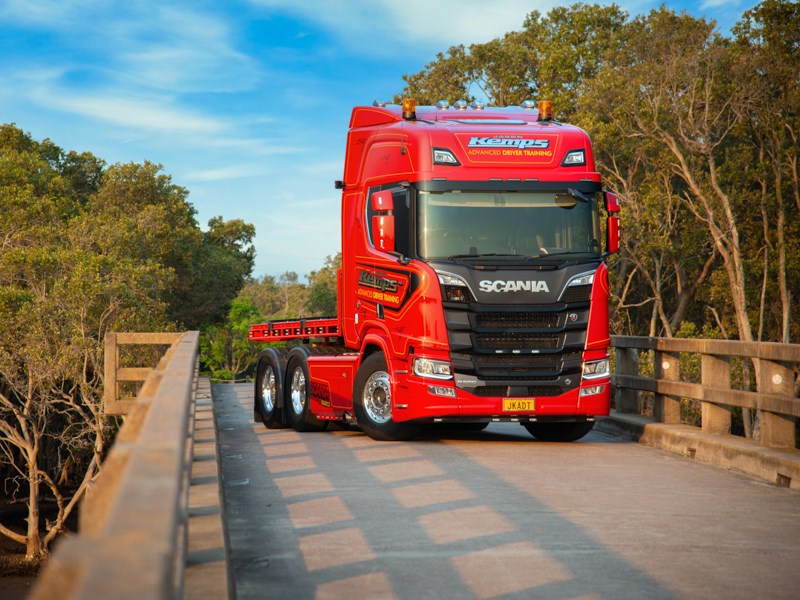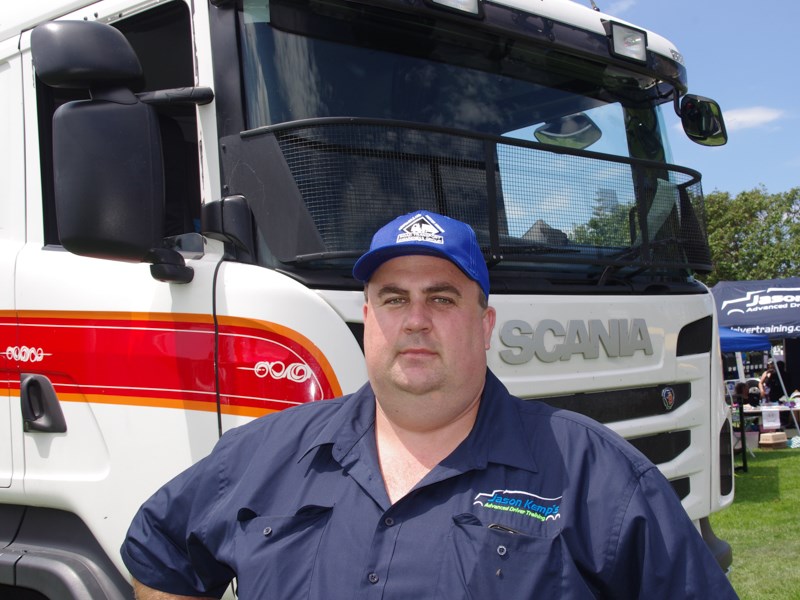 Early days: Jason and his first Scania, a 2010 Scania R480, on show at the 2015 Newcastle and Hunter Road Safety Awareness Day. Photo by Greg Bush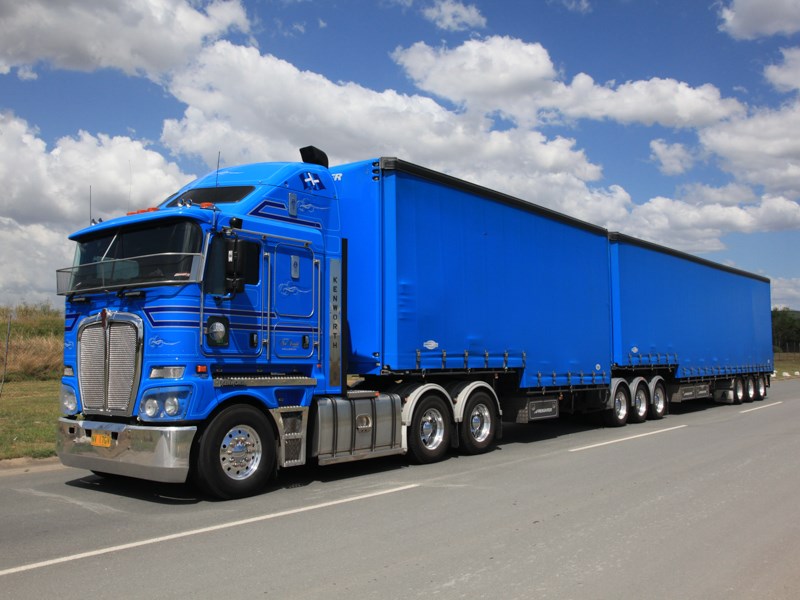 Before launching his Advanced Driver Training business, Jason drove interstate, including doing B-double runs in this Kenworth K200 for George MacDonald & Sons. Photo by Peter Schlenk

With more transport companies opting for auto 'boxes, driver-trainer Jason Kemp added a big Scania R620 to his business. But, Jason remains a firm believer in the "old school" ways
"Those who can, do. Those who can't, teach." I love this quote; it's a great way to wind up teachers, right after pointing out all the holidays they get. It's also a pretty good way to break the ice on this month's victim of my camera and questions – Jason from Jason Kemp's Advanced Driver Training. But does the quote hold up at all when sitting down with Jason? Nope, not in the slightest! There's very little Jason can't do but I still wanted to wind him up with a little dig.
Jason had the last laugh though as I learnt he's a mechanic, an auto-electrician, an experienced driver in everything from tow trucks to road trains, and a highly qualified driving instructor. Hell, the best I could come up with to find flaws was that the cup of tea he made was a bit on the weak side.
To top all of that off he has managed to build arguably one of the coolest new series Scanias in Australia. Thankfully it wasn't his tea making skills I was in Beresfield, New South Wales for though. It was the R620 Scania. What a beast of a truck!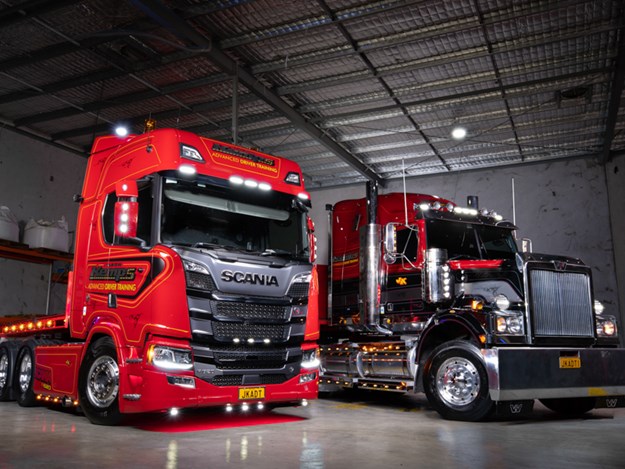 As usual I do like to introduce you all to the people behind the truck first, sometimes to the detriment of the actual truck itself. However, today I want to start with just a few lines about the truck itself. It seriously is a beast, with a 16 litre V8 engine it performs like a beast.
Admittedly it doesn't really sound too brutish though. The throaty V8 rumble that would normally warm the cockles of a truckie's heart has been toned down and muffled. Inside you can very clearly hear yourself think (thankfully for me there wasn't much to listen to).
But the fact is, sitting in the obscenely comfy driver's seat I could have heard myself think. I would surmise the big R620 V8 sounds more like a beast sitting quietly in the corner of the library reading literature about the effects of carbon monoxide on native trees than the old style V8s that sounded like a mechanical Barry White song. However, the Scania definitely still performs as per its credentials. The V8 is putting out over 3200ft-lb of torque, and the lovely green band on the tacho showing its ideal range is from 950-1400rpm. That's some serious low-end grunt.
Cosmetically Jason's Scania has taken European style, mixed in some bold colouring, a few lights, some Aussie flare and a few more lights and hit it all out of the park. Then it's added a few more lights just for good measure. While prevalent in New Zealand, Jason's had the side skirts added to his rig and boy does it set it off. Add in nice shiny offsets and Jason's managed to take a truck designed with productivity and efficiency in mind and actually make it look good. We all know that's no easy task.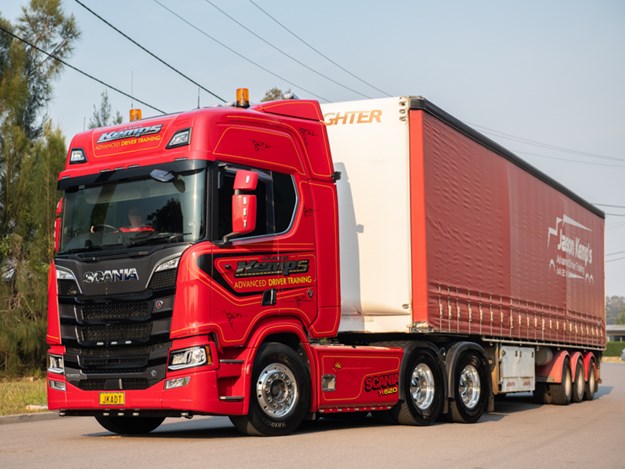 When it comes to driving or learning to drive, Scania tops the tables when it comes to interior design and functionality. These new series Scania are another level; you hardly have to move your hands off the steering wheel to reach anything. You can get adjust the gear selector and retarder from the stalk that's right there. So easy!
To take it one step further, although the media system is adjustable from the steering wheel, Jason also had them fit a European stereo. Why you may ask? Well, the European stereos have the volume dial on the right-hand side, so even less reaching around for the driver.
There are a few other customised options inside this beast as well – like the double bunk. No, the lessons aren't that long. It's more for the multipurpose setup of the big R620. While it was bought to assist the rapidly increasing numbers of people chasing an automatic licence, Jason still uses it himself when helping out mates or getting involved in events like the charity hay runs. As I mentioned at the start, he may be a trainer but Jason Kemp isn't a teacher that fits into my rather amusing opening quote.
Diesel Dreams
Jason's history in the transport industry runs far deeper than sitting in the passenger seat of one of his training vehicles. "Mum's got a photo at home, me at 17 months sitting in the middle of a freshly greased turntable, black as the ace of spades," Jason laughs. "That was my first injection of diesel."
He recalls spending his school days staring out the window daydreaming of trucks and diggers. "My teacher used to tell me I won't get a job staring out the window. Turns out she was wrong".
When he did focus his attention indoors his schoolbooks were more likely filled up with drawings of trucks and construction equipment than essays on the motivating influences of Shakespeare or Van Gogh.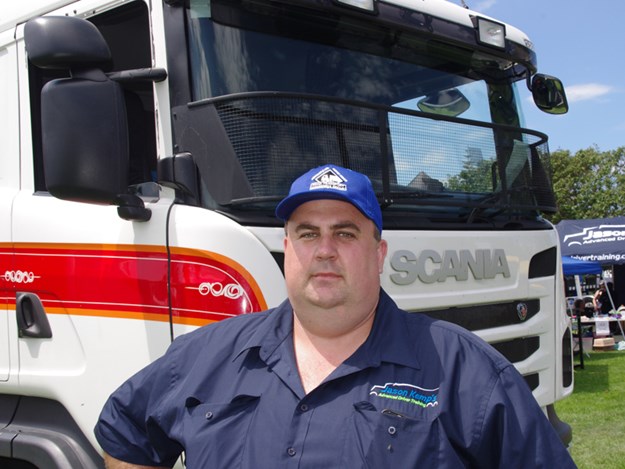 When it came time to leave school Jason's grandparents actually insisted he get a trade first. "In those days you chose a primary and a secondary trade," Jason recalls. "So my primary was diesel mechanic and secondary was auto electrical."
As it still is, the apprenticeship is a long process that will never make you rich so as a way of making extra cash Jason found a job working for a local towing company. As he advanced his licence, his trucks also advanced, moving from a six-wheel Holden one tonner up into the company's bigger tilt trays.
Seems the call of the open road was a little too much for Jason. Like a good boy he did finish his apprenticeships, but no sooner was he qualified than he downed tools and went fulltime as a towie.
With an HC license under his belt and having progressed through the tow truck ranks, he then made the move to a fulltime truck driver.
"I started with Mark Collins Transport down in Minto running interstate," Jason says. "I was driving a little FLB112 Freightliner, one of those they called 'business class', with a parcel shelf to sleep on."
While at Mark Collins Transport Jason gained his MC licence and this allowed him to move into more B-double work. The road became Jason's life, covering pretty much all the east coast and inland for several companies before he first ventured into the world of the owner-driver. "I just got sick of working for others and decided to have a go myself," he recalls. So Jason purchased a Sterling and started as a subbie.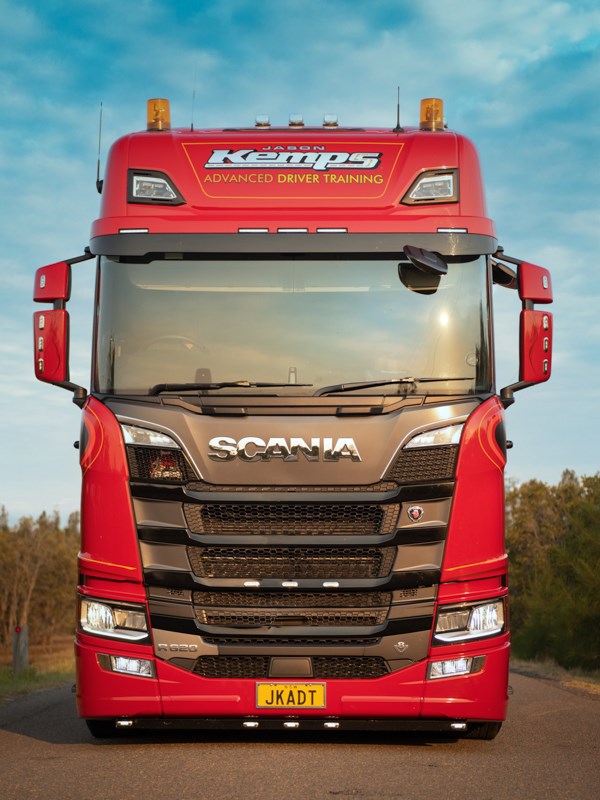 It's here that his mechanical and electrical background came to the fore as he was able to undertake the majority of his own maintenance. Jason ran his own truck for several years but eventually the cutthroat nature of the business saw him sell up and go back to the more relaxed nature of a company driver.
Then 2013 he turned tail and tried something different, opening Jason Kemps Advanced Driver Training. "I had a stupid idea I'd come in and change the world," Jason admits. "I'm still trying."
To me it seems like a very strange move; trucking is often a very solitary job so the idea of choosing to always have someone in the truck with you just seems out of place. Not for Jason though. "I always enjoyed meeting people, helping people and teaching people so why not get paid for it?"
One of his first training trucks was a 2001 Iveco PowerStar, which ironically Jason had driven brand new when he worked for Prendergast Transport. Jason came into the training system as it was going through some big changes. He recalls buying the PowerStar off another trainer who at the time told him, "run a mile, mate". Be it blind optimism or maybe stupidity but Jason didn't listen, and he went ahead with his plans.
After a couple of years the numbers of clients wanting to get their automatic licence had rapidly increased and it forced Jason to start looking at options for an automatic/synchro truck. Enter an old friend of Jason's, Greg Harris. Greg was selling up a lot of his equipment and had a couple of Scanias still to go. One was going to New Zealand and Greg insisted Jason take the other one – a 2010 R480. It also allowed Jason to reassess the outward perception of driver-trainer vehicles.
"There's a thing about old white trucks with old white blocks and I wanted to get away from that old image." So with the arrival of the Scania Jason moved away from the white PowerStar with a blue strip and relaunched it with the stunning red colour. Technically it's Mazda velocity red with a little extra. That little bit extra will come back to bite them later, so I'll stick with calling it stunning red for now.
For the next few years Jason got by using the Scania and when needed, the old PowerStar. The business expanded and he got his first B-double set. Business wise they were going well. What was helping Jason was the fact that he is a truck driver teaching others how to drive. What was hindering Jason though was the fact he's a truck driver, wanting to teach others how to be a truck driver. As convoluted as that sounds, it was a real eye opener for Jason.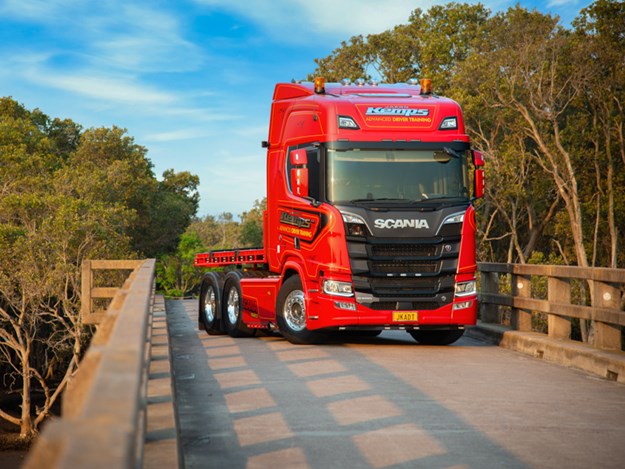 "In NSW in order to be a driving instructor you must have held that licence for a minimum of three years," Jason tells me. That doesn't mean you actually have to have ever used it, just held it. The politics of the driver trainer industry would give me days' worth of articles if I had the time to get into it.
Jason's issues were stemming from the fact that he is only allowed to teach to a certain criteria. Like me and thousands of others, we grew up in an almost unofficial apprenticeship system. Learning everything from respect on the road, going down the hill one gear lower than you went up, pulling up and helping old mate change his tyre, assess access before you go in, the truckie wave … all that kind of thing. For an old school truckie it's hard not to try and teach that. Seriously they are not actually allowed to teach students how to change a tyre.
So as hamstrung as he is with the rules set out for driving instructors, Jason persevered. As he puts it, "Drivers should be confident, not just competent."
In 2016 the PowerStar ended up getting demoted and with the demand for Roadranger licenses resurging, Jason bought himself a 4800 Western Star. It was a perfect combination for a training establishment. The Western Star/Scania combo meant whatever you needed, Kemp's Advanced Driver Training could provide.
All was good until 2017 when disaster struck. Jason and his partner were involved in an accident while driving the Scania home from a charity day down south. To this day Jason can only remember parts of the accident and even his time in hospital but he does recall talking to a policewoman who happened to be one of the first on the scene, off duty at the time. She later told Jason she assumed she'd be getting a call to come file a fatal accident report for the coroner.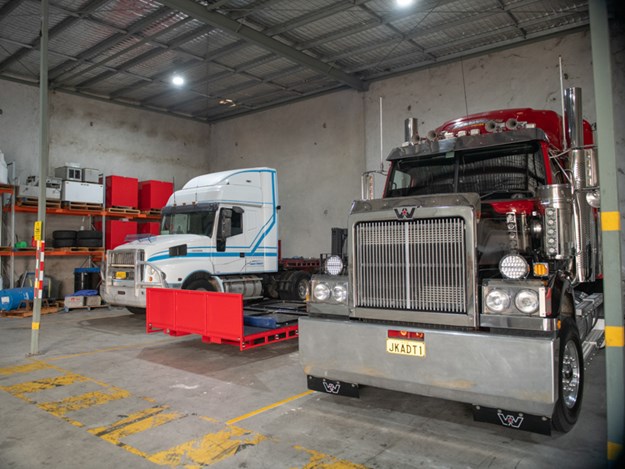 A major reason behind the fact Jason is still with us now is the fact that the incident occurred in the Scania. It resulted in a hell of a lot of rehabilitation, but no life altering injuries. The truck was barrel rolled twice apparently, the resulting images back up the fact that Scania has frequently been awarded the world's safest cab.
Once he was back on his feet Jason set about finding the old Scania's replacement. While his immediate instinct was for another Scania, Jason also believes in thoroughly investigating all avenues and he did. In the end though he admits none could hold a candle to the Scania proposal. It was a big call for a man who learnt his trade in the foot flat '80s and '90s. When he was running the coast as a carded-up member of the Kenworth club he recalls, "They used to call me UFO, unidentified flying object".
Jason has done the super trucker thing, he loves the trucking life, so it's no easy feat to win him over with a European tig. But the Scania ticked all the boxes – performance, safety, service, longevity and price. I'm sure the fact he was still alive thanks to a Scania may have played a role as well.
So with the help of the local Scania dealer Jason ordered a new R620. Now comes the painting bit (remember I said it would come back to bite them). When Jason and his painter Brad Keighran did the first Scania it was done with Mazda Velocity Red. But it was also done while drinking Wild Turkeys and Bundaberg Rum. So the recipe for the paint, flake, pearl and maybe even alcohol was never documented. PPG even attempted a spectrum analysis with no success. In the end the new Scania was in a BJAS Red, that's a Brad and Jason alcoholic special. Whatever they worked out worked.
User Friendly
He had the truck setup from day dot with an airbag front end, as well as super singles fitted. The tank covers may look factory fitted but in actual fact were designed and built by the geniuses at SLS Customs. There were no practical bonuses to this other than the fact that it looks good. "I'm a wanker, I like a good-looking truck," Jason laughingly admits.
As much as Jason is an old school truckie he is blown away by the technology in the new series Scania against even his previous Scania. "The user friendliness of the tech is better, you can check oil levels, brake and clutch wear … everything," Jason says, adding in though that his old school tendencies still see him popping the grill and checking by hand each work day.
Another feature of the new Scania is the clutch on demand that Jason specced the truck with. This allows the user to either drive the truck as a two-pedal automatic or as a traditional three-pedal automatic. Whilst it has its advantages for control the vehicle in tricky conditions, the main reason Jason did this is he is finding a lot of the younger clients these days have grown up with automatic cars and absolutely no clutch.
"Throw them in an automatic Kenworth and they'll just stall it," he proclaims. It's sad that that's the new age, but it's true. Jason's background as a truckie though means he has an inbuilt desire to teach and foster future truck drivers, not just steerers.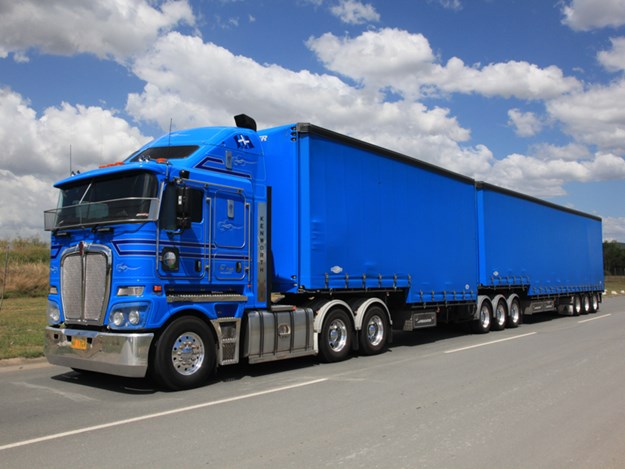 "I still teach old school," Jason admits. "That's why the old PowerStar is still there in the corner to teach the old school stuff. It's why my 40-footer still has spider rims on it. So I can explain to these guys about that stuff." Jason points out to his clients that just because they have the licence they won't be going into the pride of the fleet, they'll most likely be going into the old shitter and working their way up. He wants them to be able to handle the old school stuff as well. Who knew a clutch would be considered old school?
As much as I applaud his attempts to bring the traditional ways back into a training industry that seems intent on just enforcing the bare minimum, it would still be hard for his clients to envision old school while sitting in one of the coolest, most sophisticated trucks on the road. Full credit to Jason for his approach though.
Those who can, do. Those who can't, teach. Well after a couple of hours chatting with Jason, and even sitting in on one of his load restraint classes, I've learnt Jason can do and still chooses to teach.
If you're lucky enough to learn from Jason then you'll also be learning in arguably one of Australia's coolest driver training vehicles.
Subscribe to our newsletter
Sign up to receive the Owner Driver e-newsletter, digital magazine and other offers we choose to share with you straight to your inbox
You can also follow our updates by liking us on Facebook. 

Trucks For Hire | Forklifts For Hire | Cranes For Hire | Generators For Hire | Transportable Buildings For Hire