When Stars align - TOTM 2007 Western Star 4900
---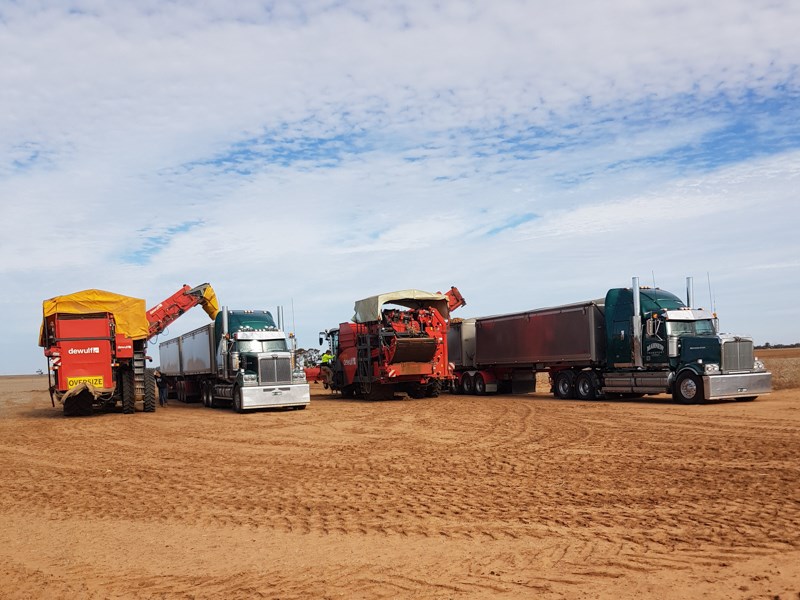 The two Stars shining while working the fields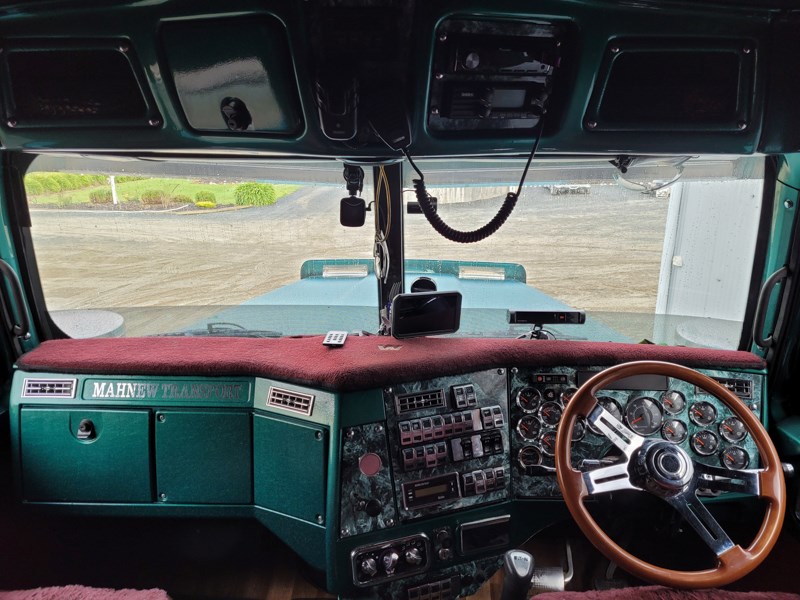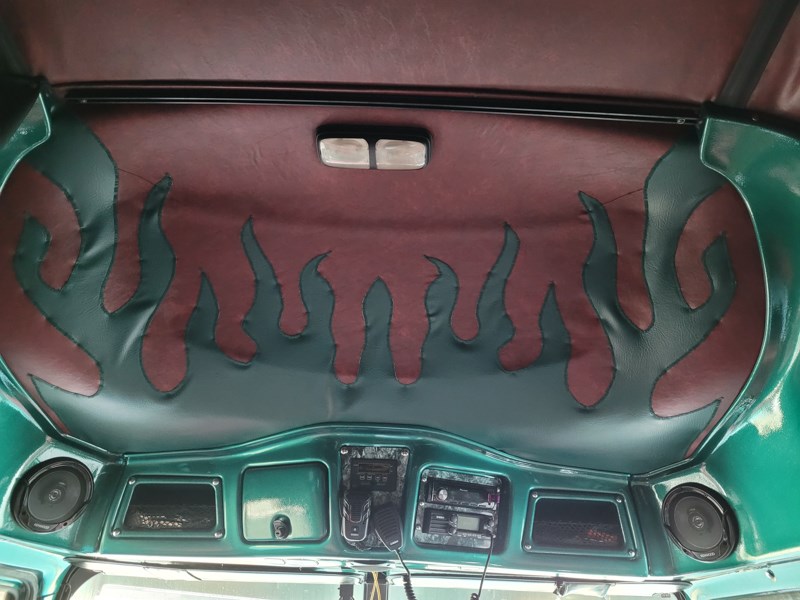 Justin's Cat-powered 2007 Star features a highly customised interior, done in house by Justin and Mel. He carried the same creativity over to Mel's new model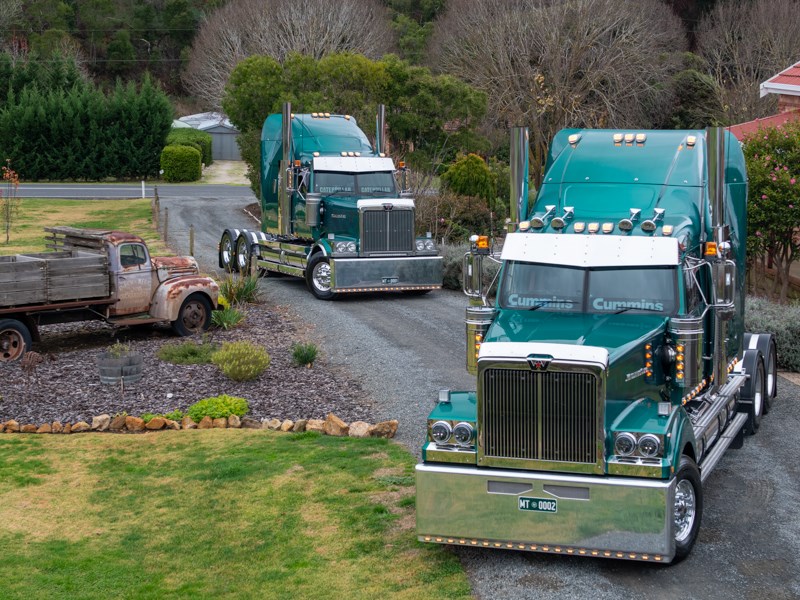 The new Western Star up front of Justin's 2007 model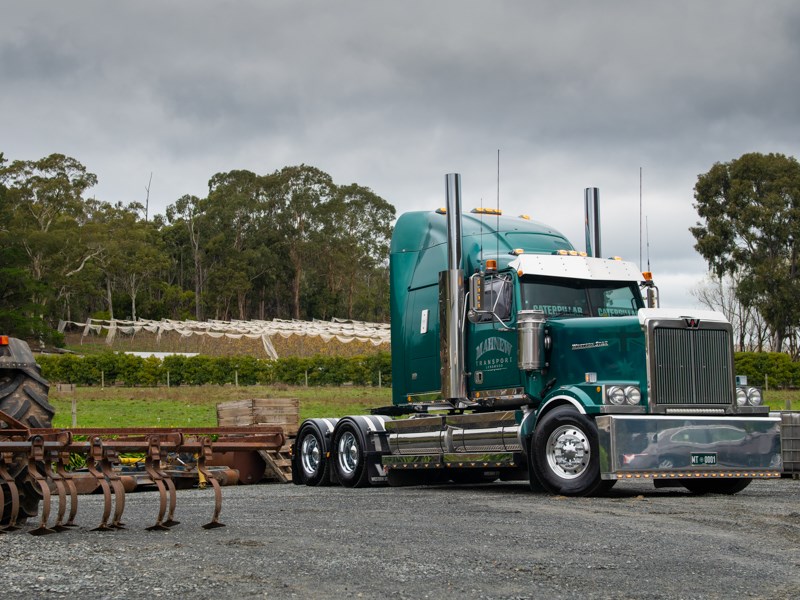 Justin's Western Star, right at home in South Australian wine-growing regions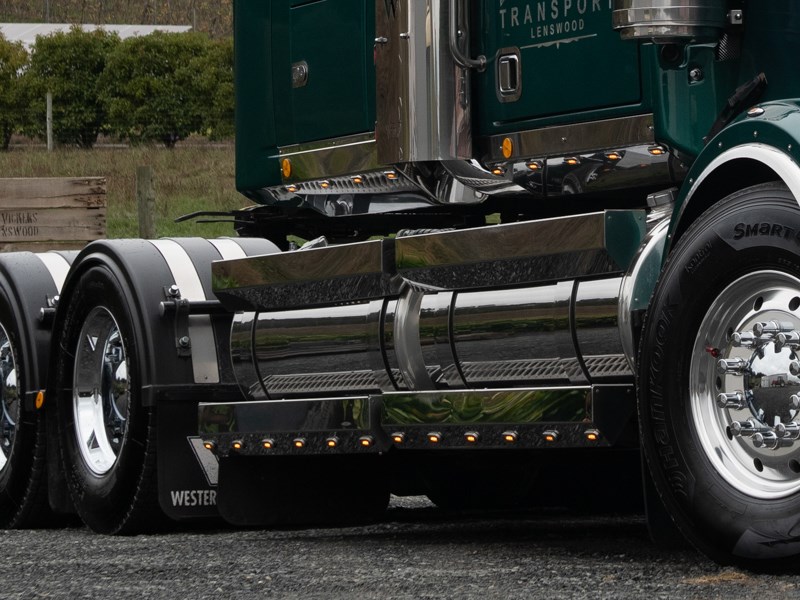 Justin made sure his truck has wrapped tanks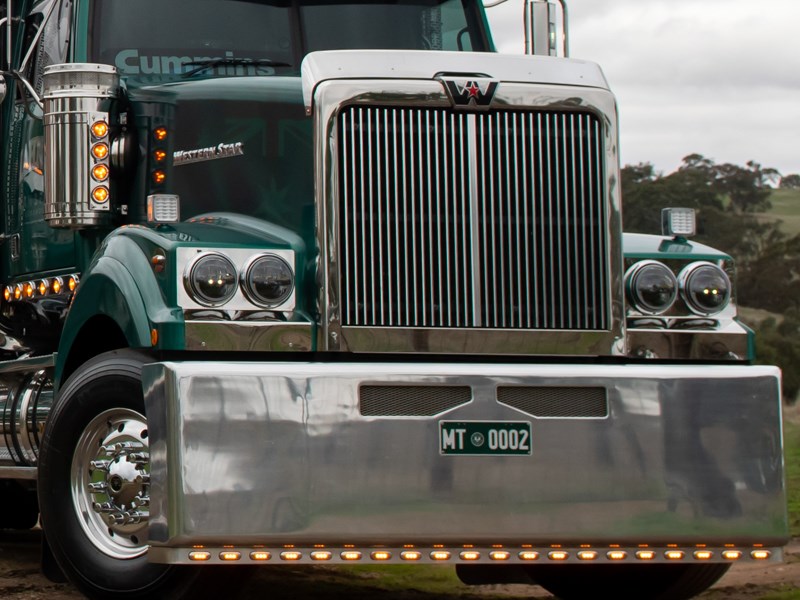 Chris Barron Engineering added a striking custom bar for the new Western Star 4900, in the style of Justin's well-travelled truck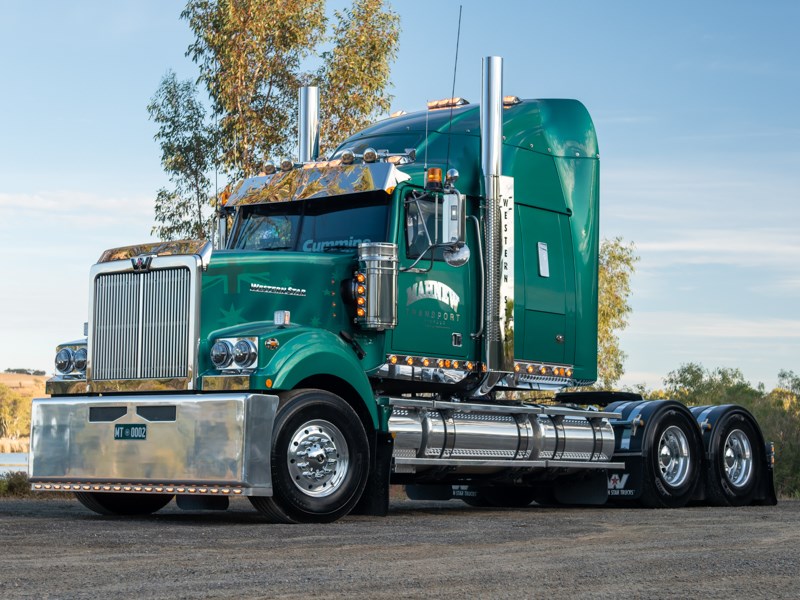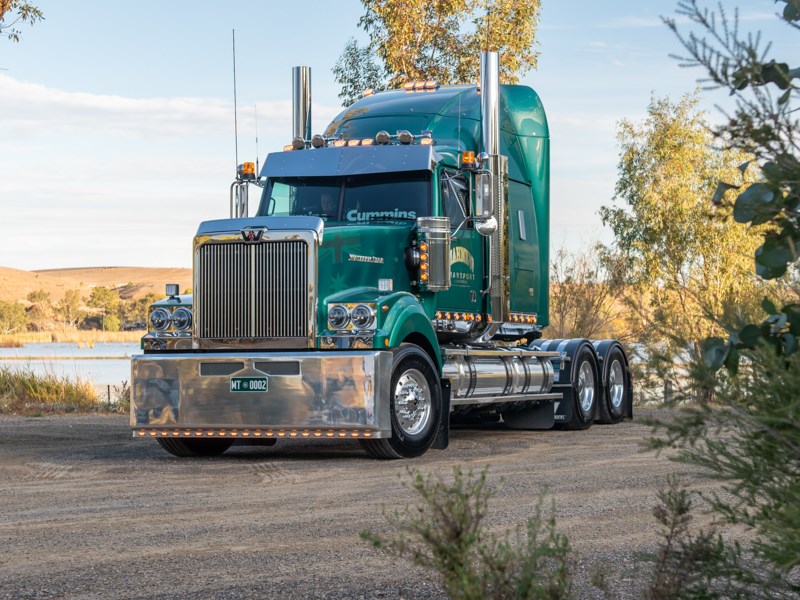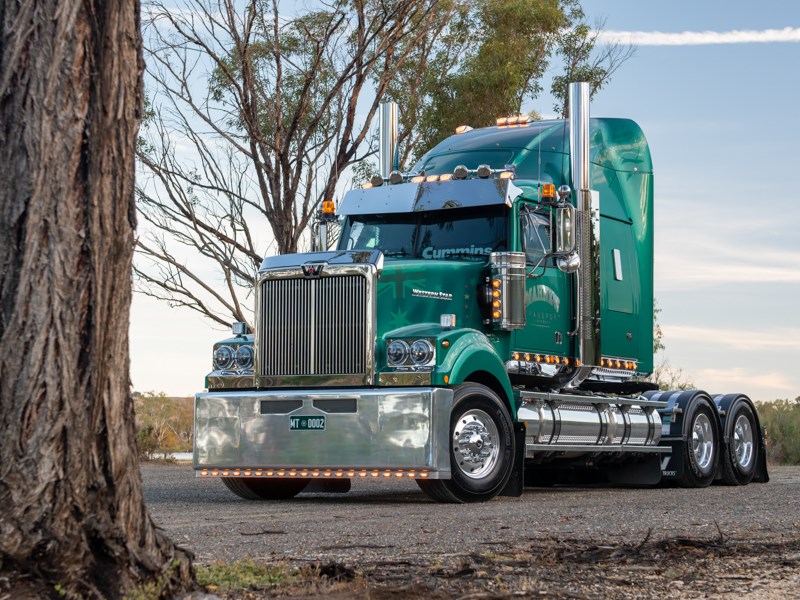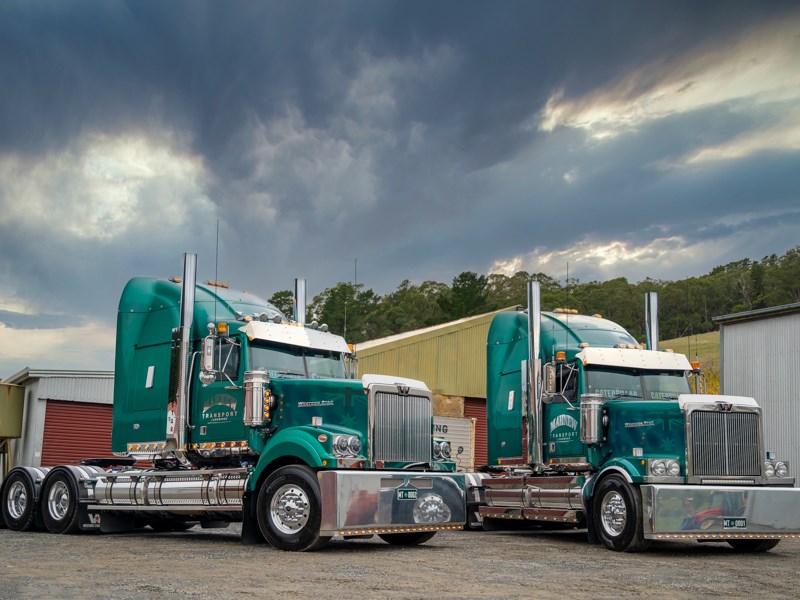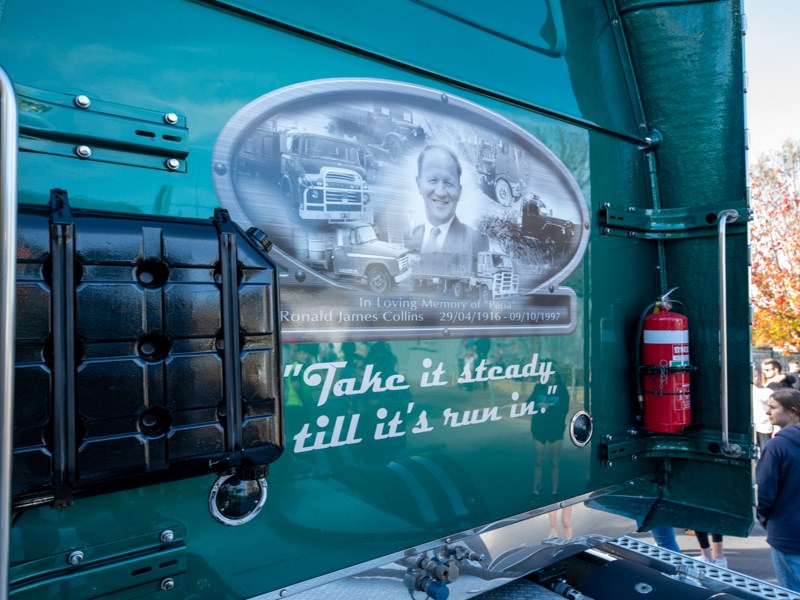 The Mahnew Transport 2007 Western Star carries a special tribute to Justin's grandfather Ronald Collins, the man who started his love of transport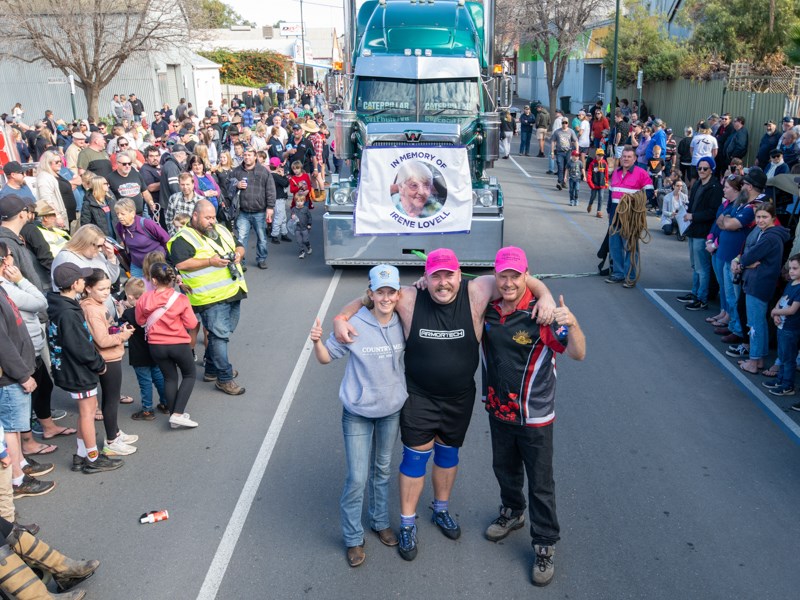 It was difficult to slow Justin down long enough for photos, but I did manage to catch him with his daughter Heidi as they celebrated strongman Troy Conley-Magnusson's feat of pulling both Mahnew Western Stars at this year's SA Truck Show in Mannum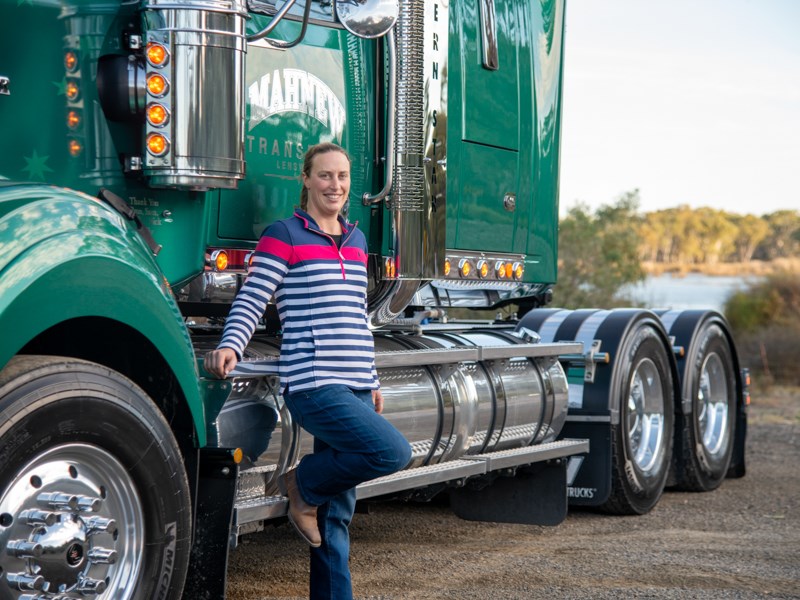 I convinced Mel to pose with the new Western Star. Young Mel is a great role model for woman in trucking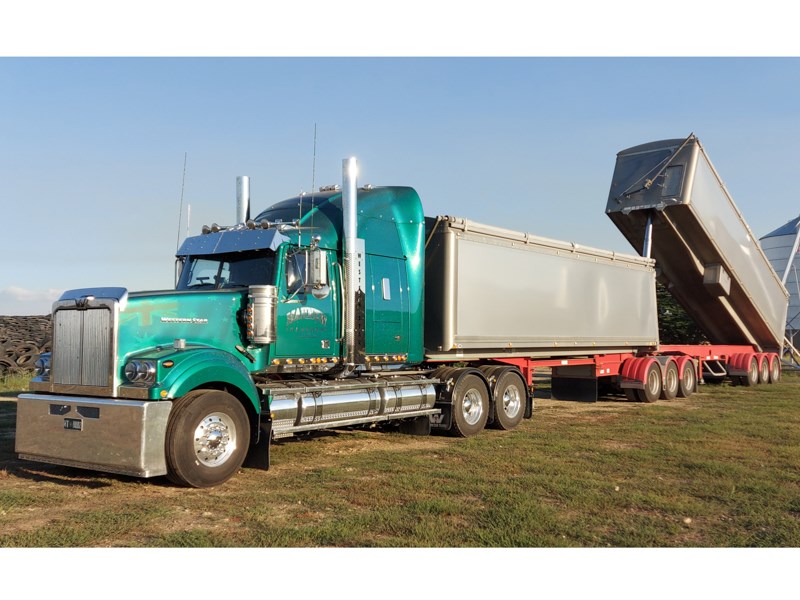 The 2021 model Western Star in tipper action

Like good wine, South Australian owner-operator Justin Wenham's 2007 Western Star appeared to be getting better with age, although it's now been overshadowed by the arrival of a stunning, brand new spruced-up 4900 model, with young driver Mel Ware the beneficiary
Often with my long-winded stories I tend to focus on a single protagonist, nine times out of 10 it's the owner of the featured truck, or the driver, or the owner-driver. For this story though it really feels like I'm writing one of those big budget Marvel ensemble movies as there are so many main characters.
The lead character is Justin Wenham, owner of Mahnew Transport, which is based in Lenswood, South Australia, although I'm sure he thinks he'd look good in tights and a cape. However, this isn't a superhero movie; it is unequivocally a family story with a bucketload of 'Star' power (sorry, couldn't resist that pun). In fact, Justin really shares top billing with the other cast members, notably his number one driver and unofficial little sister Mel Ware, his extremely tolerant wife Bronwyn and their capable and friendly kids Heidi, Sam and Nick.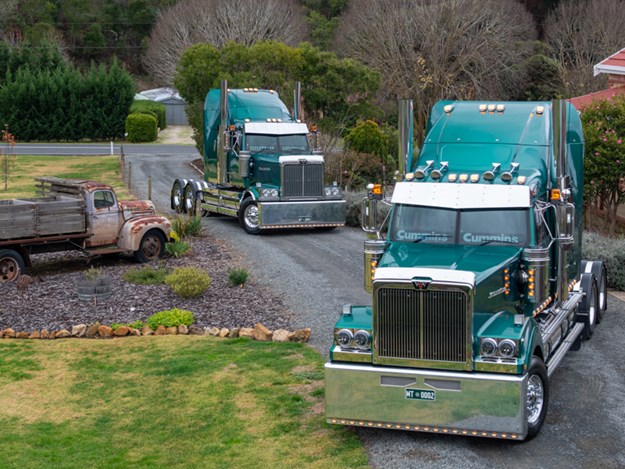 Mahnew Transport is a family company, built by the family, run by the family, operated by family members and supported by family members. Not all of those involved were born into the family as you will learn, but once the heads of the table Justin and Bron Wenham accept you in, you are family.
I was lucky enough to be invited into the Wenham family home in Lenswood, South Australia recently to enjoy some lunch and a chat. I spent a couple of hours learning how a Victorian farm boy with a fondness for tinkering with machinery ended up becoming a qualified plumber before running an orchard and eventually a successful two-truck owner-operator business.
I learnt a lot in those two hours, a lot of stuff I can't repeat either. I did get to know the family very well and realised what a tight knit friendly bunch they are. I met all the cast I listed at the start and another cast member that I believe warranted special recognition. This young lady is another old family friend that's become part of the Wenham furniture and is easily the quietest member of the cast, Polly Mason. Polly doesn't drive the trucks, she doesn't organise the trucks, in fact Polly is a teacher and qualified accountant. She is also an extended member of the Wenham family and has been there since she was a kid. This quietly spoken young lady can often be found elbows deep in water or grease, cleaning or helping maintain the Mahnew Western Stars. What's the reason she gets special mention at the head of the story though? Polly makes the best sausage rolls I've had since I shifted from New Zealand to Australia. Sure, this has no bearing on the story but our lunchtime interview was just exponentially enhanced buy the cooking of young Polly. Thank you very much.
Show regulars
Onto the subject at hand and the man with a million stories to tell – Justin Wenham. I stumbled across Justin in my endeavours to organise a story on this year's fantastic SA Truck and Ute Show in Mannum. Justin has always been heavily involved in the community event.
When I tracked him down to learn more about the show I found not only was he involved, but his two trucks were regular 'Stars' of the show. I've always been a fan of the big bonneted Western Star brand and when I laid eyes on the Mahnew Transport rigs I needed to know more. Take a look for yourself; they are immaculate.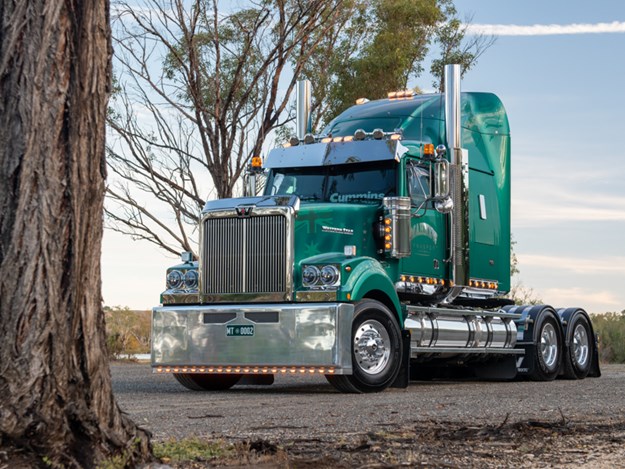 Although Justin grew up on a farm in Victoria he has a strong family history in the transport industry. His grandfather Ronald Collins was one of the pioneering Adelaide to Sydney truckies.
Diesel was in Justin's blood from an early age. It took a while to seep out though. After school he became a qualified plumber. Once he finished his apprenticeship Justin left Victoria and moved back to his grandfather's backyard in South Australia. That's when Justin met Bronwyn.
Bron was working on her family orchard and, as Justin put it, "She put a collar and leash on me, and I stayed". I'm sure if Bron knew then what she knows now she might have used one of those shock collars. At the time Justin was making use of his plumber's skills by working at his cousin's earthmoving business, doing machinery work with septic tanks and the like. At the same time Justin admits he still had his eye on the trucks. "I just love my trucks."
When Bron and Justin took over running Bron's family farm it gave Justin the opportunity to indulge that diesel desire that we are all guilty of getting.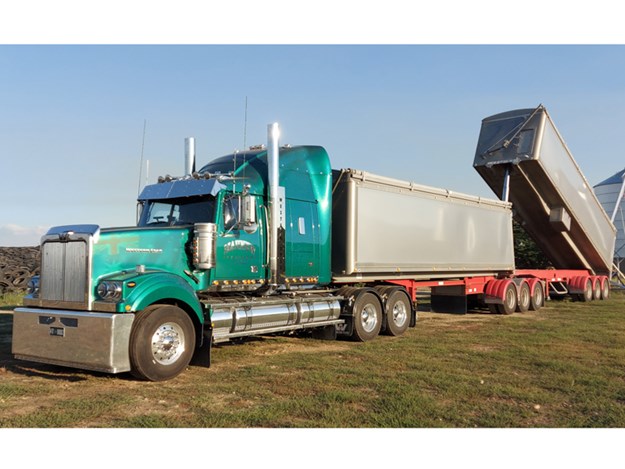 Weekday work on the orchard was broken up with relief driving work for a local transport company. Eventually it became a standard Friday night ritual for Justin to be jumping in a truck and running hanging meat into Melbourne. The powerful pull of the open road meant it didn't take long before Justin was wanting more and more 'relief' work.
Next thing you know Justin is doing two weeks on, two weeks off for another well known South Australian name, Kuchel Contractors. Those that know Kuchels will be aware they are another firm follower of the Western Star badge and Justin was loving the Star he was sharing. The truck was definitely a lot nicer than the loads though. "We were carting chicken offal and chicken feathers," Justin recalls with a grin. "We had no mates 'cause of the smell.
"The law enforcement officers didn't like us 'cause of the smell," Justin smiles, adding that it often led to a little fun. "I used to tell them I was carting out of the morgue." On one occasion a young officer didn't accept that and wanted to inspect the load. It led to the older officers having a great laugh and Justin leaving that weigh station with a little more added to his load, courtesy of the young officer's lunch.
Project truck
The relief driving soon turned into a fulltime gig for Justin. He stopped sharing a Star and had his own Kuchel Star to pilot, and love and care for fulltime. While Justin had been indulging his diesel bug his extended family had increased after 17-year-old Mel Ware, an old family friend, had turned up at the orchid looking for work. Justin took her under his wing and by the time he was fulltime driving Mel was basically running the orchard. Mel was also, some may say a 'younger classier Justin'. Anything he could do she would do. When Justin was home with the company truck it would be him and Mel out there washing or working on it.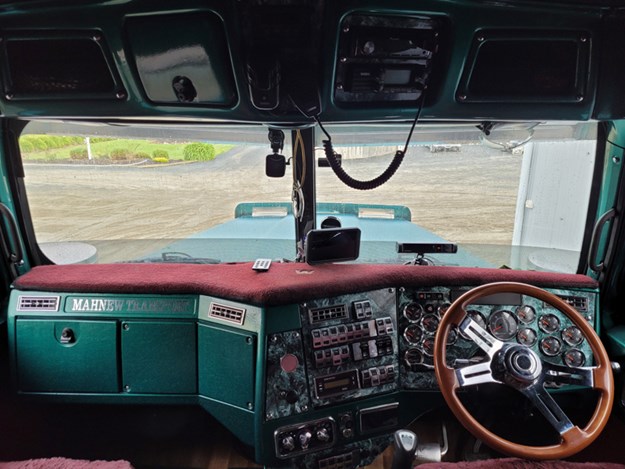 Pretty soon driving someone else's truck wasn't enough for Justin and he decided he wanted to buy his own project to do up and tinker around with. Growing up on the farm, doing the earthmoving, even a bit of auto electrical training, mixed in with the 'MacGyver-ness' needed on a family orchard meant 'tinkering around' was a professional hobby for Justin, and Mel was right there to soak it all in as well. After broaching the idea to the business manager, Bron, Justin and Mel headed down to Adelaide to find a project truck.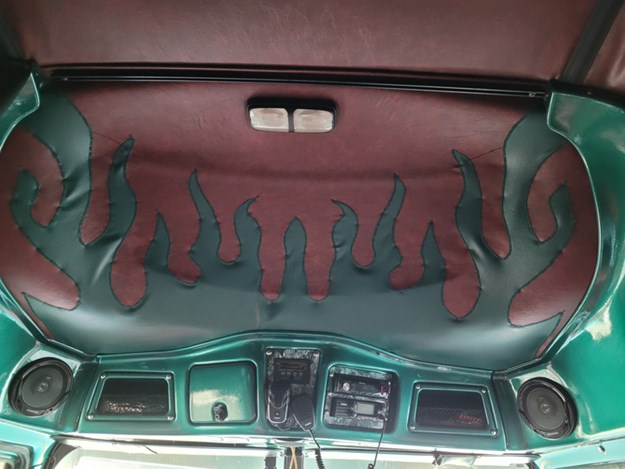 This was early in 2016 and the target for Justin was a Kenworth T600 with a Series 60 Detroit He'd never ever driven one, but that's what he wanted. However, what he got was a 2007 4900 Western Star with a C15 and 900,000km under its belt. It also had a small issue with the right-hand mirror stemming from the fact the truck had laid down on it somewhere out near Broken Hill. The big Star had been pulling road trains outback and had ended up laying on its side with a couple of trailers of hanging meat behind it. From there it was gathering dust in The Truck Factory's' Adelaide yard.
After another consultation with the business manager the choice was made. A deal was arranged where the truck would get a fresh lick of paint and road-worthied at the Truck Factory. It took several weeks and both Justin and Mel spent a fair bit of time working on the Star themselves. "Tinkering around", as Justin loves to say. Fitting guards, front bar, cleaning up the interior, generally taking a hands-on approach to the resurrection of the big girl. Afterwards, the truck got painted the stunning Toyota Starlet green, just like Justin's ute.
Finally, after weeks of work the big green Western Star was driven back home to Lenswood and ready for its first official job, escorting Justin's daughter Heidi to her year seven formal.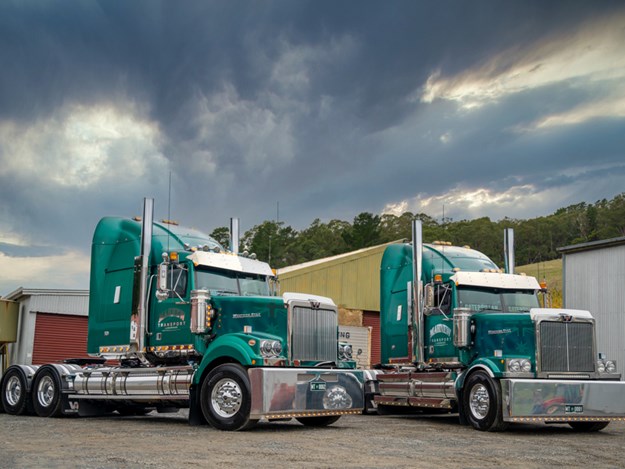 From there Justin had arranged to start subcontracting to a local transport company. His Western Star would be on the road as often as possible and when it wasn't it would be in his shed where he and Mel would be adding and modifying it even more.
When the wine season kicked in the truck would be flat out carting local grapes. Soon Mel started her trucking career as well, driving their farm truck, a 1987 112-metre Scania carting grapes as well for local boutique wineries.
The diesel bug had bitten Mel fairly early. For Mel's 21st birthday her parents paid for her semi licence; all that time with Justin made her extra keen to get out there driving.
That time on the road would come about when Justin moved his truck from doing local work to contracting to Harrold Services, going from flat top, tautliner work (where he was annoying Bron at home every night) to B-double tipper work.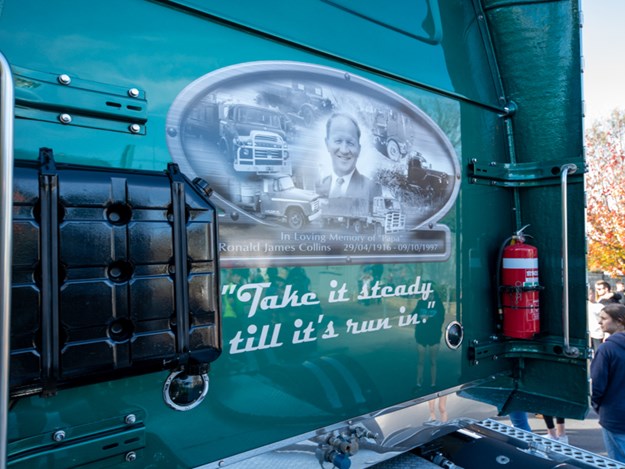 Working for Harrold Services, who run an impressive fleet of their own trucks carting bulk products from farm to factory and everywhere else, meant Justin was racking up the kilometres a lot quicker now. Mel would take every opportunity to jump in the passenger seat and learn the ropes firsthand. Justin would even hand the keys over every now and then. Pretty sure that stopped when Mel's gear changes started getting smoother than Justin's, but he'll deny that.
In 2019 the opportunity arose for Mahnew transport to double in size. A second Western Star was added to the fleet and Mel was sent off to work for another farm, carting product solely to, from and for that farm. Mel was in heaven with her first truck. Here she was, a petite lady that could hold her own in any pub or workshop, with a 2007 Western Star Constellation that had more pulling power than a D10 dozer, steering road trains into Adelaide at maximum weight.
"I loved my Star, it had 620hp and I wasn't afraid to use it; no pussy footing around," states Mel, although her favourite memories are catching Justin on the hills. "Best feeling ever, going past Justin with my thumb up and a huge cheeky grin."
Mel's Western Star was worked equally as hard as Justin's, maybe even harder due to Mel's work ethic. When the work at the farm finished, Justin was invited to put the second Star to work for Pat and Amanda Harrold at Harrold Services as well and he jumped at the chance. He was finding his time with Harrold's to be very helpful. "Pat's a very smart man, he knows what he's doing and has a great business mind," Justin attests.
Justin's respect for Pat Harrold and his knowledge of transport was growing as he learnt more and more. "You're never too old to learn," attests Justin – and he was doing that.
Secret Star
With the two Western Stars flat out, and Mel's rig looking at needing a bit of a rebuild, Justin took the time to investigate the advantages of purchasing a new truck instead. Plenty of thorough investigating, followed by a consultation with business manager Bron, then a meeting with the team at Wakefield trucks in Adelaide and a brand new 2021 Western Star 4900 with 58-inch bunk was ordered.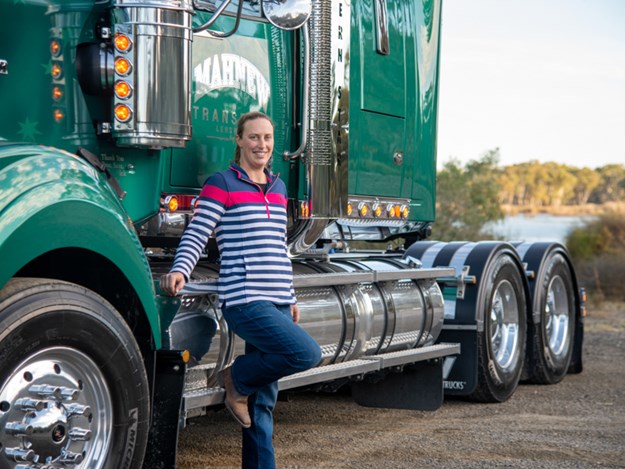 The tricky part of this order was the decision to keep it a secret from Mel. It would be Mahnew Transport's first ever brand-new truck but in Justin's mind there was never any doubt it would be going to Mel. Yes, it had a lot to do with the fact Mel had earned it, the way she drove and maintained her 14 year-old working Western Star was beyond reproach. It was also due to the fact, as Justin says, "When I die they need to dig a big hole 'cause my truck's coming with me". Justin's Star, just shy of 2 million kilometres, wasn't going to get demoted.
So the new one was ordered, and every measure was taken to ensure Mel had no idea. "I remember when it was in getting a wheel alignment and I knew Mel was heading through that area," Justin recalls. "I rung them and said, 'do not move that truck, leave it in the shed'.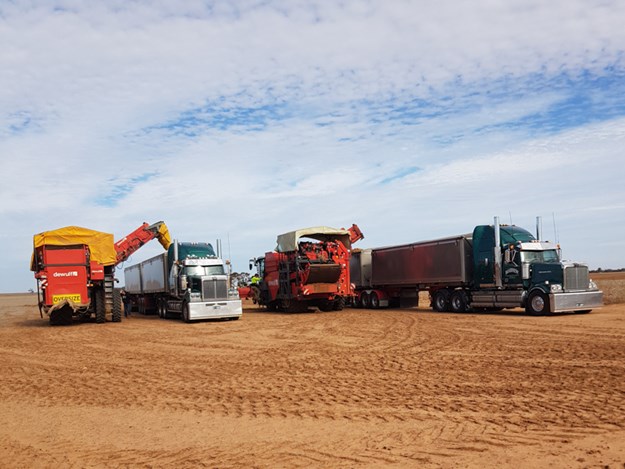 "I watched the tracker and when she was through I rang them back to say, 'OK, go go go'." Bron recalls similar close calls as she would often be in town picking up or delivering parts for the new truck and suddenly aware of how close Mel was to spotting her.
As with his Western Star, Justin was heavily involved in 'tinkering' around with the new one. Organising the likes of the wrapped dash, getting 8-inch stacks brought down from Sydney, even arranging for the team at Chris Barron Engineering to custom build the front bar as a mirror image of Justin's own bar. It was going to be a top notch Mahnew Transport Star.
Mel's no fool though and although she wasn't aware there was a new one on the way, she was aware something was up. "I kept telling Justin about issues with the truck, especially the fact it needed a tune – it was desperately in need," Mel says. "In the end I was getting pissed off and just figured, 'well fine, I've done my bit, if you're not going to listen and it blows up … tough'."
Key handover
When the day finally arrived for handover Justin had arranged for Mel to be back in town and, along with Justin's family and Mel's family, the team from Wakefield Trucks rolled through the stunning South Australian landscape and pulled up in front of Mel to hand her the keys. I'm sure you can all picture it now, it's that part of the story where the heroine gets her moment of glory, an emotional time where years of toil and trouble are rewarded. A young strong woman thriving in a male dominated industry feeling vindicated for her work ethic with the pleasure of hundreds of thousands of dollars' worth of state-of-the-art Western Star quality. It's a situation where even the hardiest truckie struggles to find the words to portray their gratitude.
Gulping back the emotion, Mel said, "I'm going to miss my white one". I'm sure she meant, "OMG, thank you" or maybe she really meant, "So you're sick of me passing you Justin, you bought a new truck to avoid it."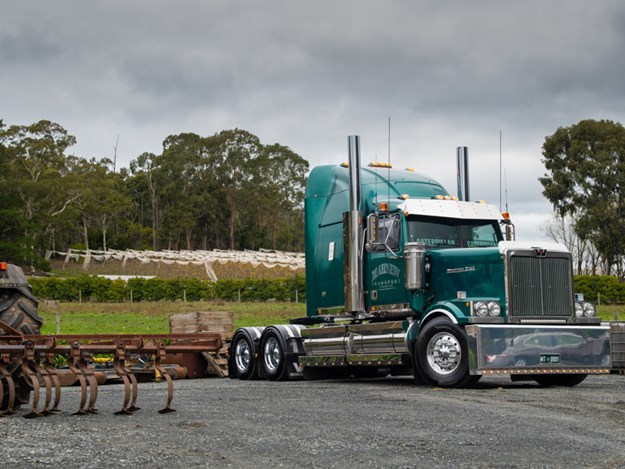 Responses aside, Mel loved her new Western Star. That very afternoon the inverter, microwave and other features were transferred from the old to the new and by the next morning the big Star was off earning its keep.
Since the handover Mel has racked up nearly 70,000 kilometres in the new Wester Star and is loving it. The truck turns heads everywhere it goes, those heads turning even harder when the door opens and out pops little Mel. While female drivers are increasing in numbers, in the bulk tipping arena Mel is still a rarity, but it's a job she encourages more woman to get into. Sure, changing tyres on the side of the road is never easy, backing into some locations can be a chore, but it is a job Mel loves and doing it in the comfort and spaciousness of her new Western Star is just icing on the cake for her.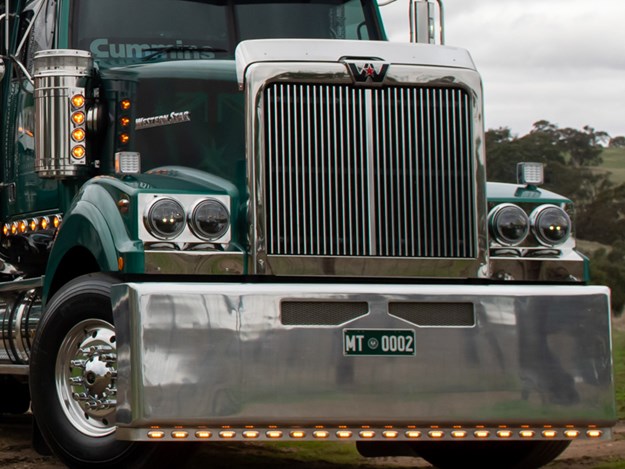 This has been an exceptionally long-winded waffle from me but after my time with the Wenham family I had to do them justice – from the hard work behind the scenes with Polly and Bron, Sam, Heidi and Nick, to the time put on the road and into the trucks by Justin and Mel.
I'm sure I will be back for a sequel to this family story. As daughter Heidi made it perfectly clear, she wants to follow in the footsteps of you Mel. Bring it on!
Subscribe to our newsletter
Sign up to receive the Owner Driver e-newsletter, digital magazine and other offers we choose to share with you straight to your inbox
You can also follow our updates by liking us on Facebook. 

Trucks For Hire | Forklifts For Hire | Cranes For Hire | Generators For Hire | Transportable Buildings For Hire