Weigh station errors generating revenue windfall
---
LEGAL OPINION: The authorities can issue costly penalties to heavy vehicle drivers who are simply trying to do the right thing when entering and exiting weighbridges
Weighbridges are a contentious issue in Australian road transport folklore. Most states and territories have scaled back static weighbridges and focused on mobile enforcement instead.
However, in New South Wales, weigh bridges, or Heavy Vehicle Safety Stations (HVSS), have expanded over the years and now operate around the clock.
The two main ones, of course, are at Mt White and Marulan. They capture heavy vehicle traffic heading in and out of Sydney from the two main arterial routes, with traffic from the ACT and South Australia being funnelled towards Marulan also.
Heavy vehicle traffic heading west over the Blue Mountains and north up the New England Highway have the Mt Victoria and Kankool HVSS to contend with. These two weighbridges are ironically named, with the safety station somewhat at odds with the fact that long-loaded vehicles are required to do a U-turn across a busy highway to enter or leave the weighbridge.
This creates a risk to other road users that appears to conflict with the purpose of the weighbridges. Perhaps the risk-assessment documents got lost in the mail?
Expensive indecision
Moving back to Mt White and Marulan again, they have weigh-in motion technology installed, which purports to assess heavy vehicles while driving across a pad en-route to the actual weigh station. Once you go over this pad, an electronic direction arrow will either direct you back onto the highway or into the actual HVSS for further inspection.
We have been contacted by several drivers who have told us that this arrow can be confusing, especially if multiple heavy vehicles are driving over the pads simultaneously. When this occurs, the directional indicator can flicker, seemingly undecided in which way to direct you. This moment of indecision could cost you $691, with no avenue of review.
This is where dashcams and similar technology comes to the fore, and it is crucial to save that footage if this situation occurs. It may just be your saviour if you are issued a fine.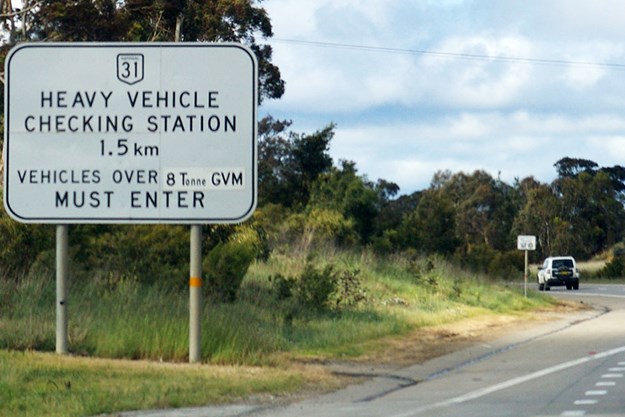 Speaking of weighbridge avoidance in general, there are Safety-T-Cam gantries situated on the highway adjacent to both of these HVSS, and they are never turned off.
This means if you drive past an HVSS, inadvertently or otherwise, you will be issued with a $691 penalty notice. This seems to occur even if the HVSS is closed or cordoned off for roadworks.
We believe these Safe-T-Cam gantries are not authorised for that purpose and urge anyone issued with such a penalty to contact us for advice on what to do next.
If you do happen to miss the entrance to an HVSS, for any reason, do not stop and reverse back! The consequences for doing this are enormous. You will face multiple charges that could result in a prison sentence and a three-year disqualification and, at the very least, a hefty fine and demerit points.
If you try to do the right thing by driving halfway 'round the world to return to the HVSS, you will still cop a penalty notice for missing it the first time. This is wrong. The authorities should not be penalising drivers who do the right thing.
When you enter these HVSS, being weighed is often the least of your problems. Your work diary, permits, load restraint and various other factors are scrutinised, and it is often with a sigh of relief when you are waved off to continue your journey.
The courts near these two weighbridges are busy with heavy vehicle cases.
However, there is an elephant in the room. The Supreme Court in NSW handed down a vital decision some years ago. This decision relates to the signage leading up to and directing you into these weighbridges. It relates to all weigh bridges around the country but is especially significant to Marulan for several reasons.
If you receive a fine or court attendance notice for any reason, it is worth the cost of a phone call to get some free initial advice on what to do if this occurs to you.
Speed limiter compliance
To touch briefly on another issue now, another widespread prosecution we field enquiries about is the offence of failing to comply with a compliance notice regarding speed limiters. These notices are issued to the registered heavy vehicle operator and are often not dealt with because they are left sitting on some accountant's desk.
It is essential that business owners keep these contact details current, as prosecutions can occur in your absence if you are not aware.
When these notices are issued, you are only given 14 or 21 days to comply with the issued date. We believe this is an unreasonable timeframe, with the added delays of COVID-19 adding to this.
Heavy vehicle workshops and service facilities with the technology to undertake this work are scarce and invariably heavily booked in advance.
If you are issued with one of these notices, or a court attendance notice for noncompliance, contact Highway Advocates 24/7 for free initial advice.
*Adam Cockayne is the legal practitioner director of Highway Advocates and is a lawyer with 25 years' experience in criminal and administrative law. Robert Bell, a former truck driver, and current law undergraduate and practising paralegal, is the CEO and a director of Highway Advocates. Contact Highway Advocates on robert.bell@highwayadvocates.com.au or phone 0491263602.
Subscribe to our newsletter
Sign up to receive the Owner Driver e-newsletter, digital magazine and other offers we choose to share with you straight to your inbox
You can also follow our updates by liking us on Facebook. 

Trucks For Hire | Forklifts For Hire | Cranes For Hire | Generators For Hire | Transportable Buildings For Hire