T909 stands out with flying colours
---
DECEMBER TRUCK OF THE MONTH: Two dreams have come true for 'Rusty', the owner of Flying Horse Transport – relocating to Australia and becoming the proud owner of a spruced-up brilliant orange 2019 Kenworth T909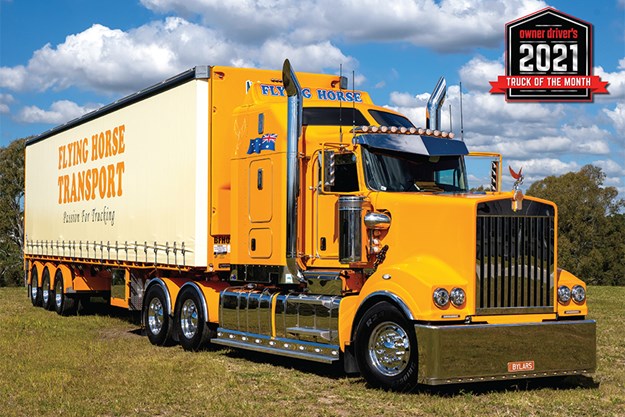 In a country dominated by cricket, rugby league and Aussie Rules, I start this story with a quote from one of the all-time greatest real footy (soccer) players, Pelé. In one quote Pelé managed to sum up completely the journey to success of Flying Horse Transport and in particular the man behind the bright orange truck you see before you: "Success is no accident. It is hard work, perseverance, learning, studying, sacrifice and, most of all, love of what you are doing."
That one quote sums up Rasdeep Singh Bajwa, who is better known as Rusty and is the man behind Flying Horse Transport.
I best clarify something here. Rusty is the driving force behind Flying Horse Transport's amazing orange T909. Notice how I was very specific? That's because Rusty is the first to point out the success of the company itself is down to so many other people, not just him. He makes it abundantly clear he is merely one of the several successful pillars of the company.
Rusty is not even trying to earn brownie points when he dobs in his wife Rajbir Kaur as the major force behind his success.
"She is the main person in this. She stands with me in all my ups and downs," Rusty says.
So, how did this young Indian family man with a lifetime passion for trucks end up here, with arguably one of the most custom, colourful Kenworths in Australia? Allow me to elaborate.
Rusty was born and raised in Punjab in the northern part of India. Punjab is a state of around 50,000 square kilometres with a population of around 27 million. Just to put that into perspective, that would be like the population of Australia, around 25 million people, all camping in Tasmania which has a land mass of around 65,000 square kilometres. Think about that. Imagine how frustrating the grey nomads would be on those roads.
But, back to Rusty. Like so many of us truck nuts, he grew up with diesel in his veins.
"I was crazy for trucks, ever since I was a kid," he admits.
"My uncle had about 50 trucks, mainly rigids to start with, then eventually into semis."
The main workhorse of his uncle's fleet was the legendary Tata.
"Tata is the top-of-the-line in India; like Kenworth is to Australia, Tata is over there," Rusty explains. It's worth pointing out that the company behind Tata also owns Jaguar and Land Rover.
"When the trucks would come to my village I would jump in for a ride," smiles Rusty. His huge grin is one we can all relate to – I remember doing the same thing when my uncle would pass through town in his truck.
Rusty's passion for trucks grew tenfold when access to the internet allowed him to literally view a world of trucks. His voice resorts to that of an excited kid as he recalls seeing the big Canadian rigs for the first time. I could easily relate, memories of seeing my first road train was the metaphorical fuel on my truck passion fire. 
Hard study
Rusty came to Australia with his family in 2007. Having grown up working on farms, the skills he learnt in India saw him easily employed in the same area here.
After getting settled, he took the opportunity to begin studying. When I listen to Rusty recall his early years in Australia it definitely makes me feel a little unmotivated. Lazy might be more appropriate for me but unmotivated sounds more professional. For while my early 20s were spent enjoying my fair share of alcohol induced celebrations (mine and probably yours actually), Rusty was busy working and studying.
Rusty studied automotive engineering for a couple years, followed by a business management diploma. All this while working as a taxi driver for another of his uncles. However, with all this on his schedule, Rusty never lost his passion for trucks and, as soon as he got his HR licence, he found local work and his trucking career began.
By now it was 2010. Rusty was 22 and he stepped into a local body truck for Total Logistics Solutions (TLS) in Melbourne. Not only was the job a step into the industry he loved but it would also give him the nickname that would stay with him to this day.
"I was an HR driver at TLS. I remember Adam, the local dispatcher there. I'd spell my name Rasdeep and he said 'Rusty?' I said, 'Yeah, just call me Rusty'," he laughingly tells me. From there it just stuck.
Rusty spent a couple of years driving heavy rigids, eventually progressing through the ranks and doing a year or so on the semis before moving onto B-doubles. His apprenticeship over the years saw him experience every aspect of the industry – freezer work, pallet work, flattops, multi-drops, local, interstate … you name it, he had a go.
"When I got into the semis I was introduced to the Roadranger 'boxes, mainly with Kenworths," Rusty recalls. It was those Kenworth experiences that seeded the inspiration for owning his own T909. However, that idea never really took off until 2014.
"My dream was an Orange nine-O with a single trailer," he adds. Lucky for him he has not just a supportive but also very smart wife in Rajbir.
"She said to me: 'OK, if that's what you want, how about you start with a rigid?'"
That's exactly what Rusty did. He bought a little rigid truck; operating it himself for all of three months. It seems, when you are crazy for trucks and have been driving all the big gear, it is very hard to go backwards.
Rusty put a driver in the rigid and found himself buying his first semi, a cab-over Freightliner.
"I still sit down sometimes and ask myself why I did that," Rusty jokingly tells me. He admits he did not have a lot of luck with that truck and, less than a year later, he sold it and went back on the road as a company driver.
Volvo detour
Right about here I'd like to flip back to that quote right at the start. The truth is I simply wanted to highlight the "hard work, perseverance, learning" part of it. Rusty's self-admission that he's "crazy for trucks" meant his dream of owning his own trucks never died and owning his flagship Kenworth was as strong as ever. He still had his rigid and had in fact been asked by the company he was contracted to if he could put on another rigid. While all this was going on Rusty was back on the road, driving semis as a company driver.
After a couple of years another friend, Amrit, one of the men behind Auswide Transport Solutions, offered him some tow operator work. Here was the prime opportunity to get his big nine-O9, right? Nope, with a family to provide for, the outlay for his showpiece just wasn't justified. Rusty's business brain was firstly focussed on building a successful transport business. The showpiece truck would have to wait. Instead, the first semi to re-join Flying Horse Transport in 2017 was a Volvo.
Following the purchase of the Volvo, Flying Horse Transport really took off (pun absolutely intended). In case you are wondering where the company name originates, well, there are a couple of really cool parts to that.
Firstly, back in India, the term 'horse' is a slang for a tractor unit. Secondly, in another example of Rusty's trucking passion, one day, long before he had his first truck and when he was driving a taxi along one of Melbourne's motorways, he was dwarfed on either side by two B-double units doing warp factor 12.
"My passenger was a bit frightened and exclaimed that they were just flying along," Rusty recalls. That line formed a flying horse image and, before he even had a truck, he had his company name.
Since that first semi in 2017, the business has steadily grown. It now sits at 11 trucks, including the rigids, 13 B-double sets as well as two fulltime subcontractors. By the time Flying Horse Transport had grown to 10 trucks, it got Rusty thinking about his childhood dream. Actually, it became more of a childhood, adolescent and Gen Y dream for Rusty.
"When I got the 10 trucks and I saw the 10 were there to feed my family and to feed the rest I would get the 909 and get it special," Rusty says. And so it began.
Ever since the first Flying Horse Volvo, Rusty has always pimped his trucks out. With his passion for the industry and his love of trucks it was always just a given. All his trucks have added bling, extra lights and more shine than any factory-built truck. He also equips out the interior as well to allow his drivers to have all the creature comforts – souped up stereos, microwaves, television, fridges … all that stuff is included to make his drivers comfortable.
"Everything has changed, my work is depending on them. They have to eat well, eat healthy, be rested," Rusty explains. The trucks' setup also goes as far as extra training in load restraint and fatigue management when he brings on new drivers. His emphasis on skilled and informed drivers pairs up well with the top-of-the-line gear he gives them to pilot.
With that much effort put into the fleet trucks and drivers, it was a given that the flagship was always going to be something really special.
Orange crush
Rusty's long-time vision had been a bright orange T909. The choice of Kenworth was a given for Rusty. With several already in his fleet, their worth had already been proven. Matched with the iconic aura that hangs over the T909 mantle, it's about as obvious a choice as it would be picking Stephen Hawking for you pub quiz team.
Nick Gesovski, Rusty's local Kenworth salesman, was used to doing up a T909 quote for him. Rusty had bought several Kenworths already and, each time he would also get a quote from Nick for the 909. But it would always result in Rusty shaking his head and having a little mumble under his breath about, "Ah, it's too expensive". This time, though, Nick received no shake of the head, no reluctant mumbling. In fact, on Rusty's birthday, he was given the go-ahead by his finance manager and called Nick to say, "Let's do it!"
The choice of colour for the 2019 model is another reflection of Rusty's deep appreciation for his culture.
"I love my culture, I love the Aussie culture, I love trucks," he says. The Kenworth supplied the Aussie culture and Rusty's Indian culture was covered with the colour choice. Orange is the most dominant colour of all in India; in the Indian flag it stands for courage and sacrifice. The vibrant orange paintjob was performed inhouse at Paccar's Bayswater facility. From there, the standard T909 was sent off for a four-month makeover at the home of cool – Thorpe Custom Trucks.
"Leon Thorpe and Lee Thorpe, they helped me a lot," Rusty says.
"They see the craziness in me – Leon is a crazy guy himself with the trucks."
With a bit of influence from the Thorpe boys, Rusty had a pretty good Idea of what he wanted to do and what he wanted to add. First and foremost was a crazy sound system. The truck has been pumped up with amps and subwoofers and could happily entertain a small- to medium-sized music festival. The interior is far from original, starting with the seats, which were removed and sent away for customisation. The aluminium floor was fitted and orange effects added to everything from the dash to the cabinetry.
Exterior-wise, I'd love to list it all but it would turn this into a three-day read. Twin stacks were mounted to the truck even though the actual exhaust still runs underneath. If you spotted how clean the inside of the monster stacks are, that's the reason.
Thorpe Custom Trucks built a one-piece grab handle-mirror arm setup that looks amazing cool. Honestly, from front to back there is so much customisation, you really need to spend a bit of time looking at the images just to appreciate the work and creativity that has gone into this truck.
It didn't leave Thorpe's workshop fully finished, though. Don't get me wrong, it wasn't half-done either but actually a plan by Rusty. Right from the start there was a long list of extra additions and alterations he was planning on making.
"I wanted to have other little things I could add cause then it feels like a new truck every time I do something different," he adds. It works, too. Every time I get the pleasure of catching up with him there's something new for him to show me. Which makes me feel like I should be shooting the truck again … and again.
While the big Kenworth was getting its makeup put on, Rusty had Justin and the team at Vawdrey Trailers hard at work as well. Not just matching a nice new B-double set to the Kenworth's colour scheme – he'd also commissioned the revamp of a second-hand Vawdrey tautliner to go behind the big girl. Luke from Anytime Curtains played a huge role in revamping the old trailer with new curtains, lights, guards – the whole 10 yards.
The end result rolled out in early November 2019 and damn near broke the internet. Rusty's lifelong dream had been reached and it was amazing. Rusty has huge admiration for all those involved and makes sure that credit goes where credit is due. He does admit, however, that he'd rather have a gear stick the 909 but, as a fleet owner, he also knows he won't always be in the truck so needs it to be able to be used by other drivers.
"The next one I'll have a gearstick in though," Rusty cheekily remarks, out of his lovely wife's earshot of course.
"My passion is my profession; I love what I do," is one of the quotes that stands out from my time with Rusty. Ironically, it's something he doesn't even need to say. That passion is obvious from the state of all his trucks, to the standard he holds his employees to. He is a true truck nut, even the fact we conducted this interview on a Friday night when he was holding a barbecue for his team and helping clean the trucks just shows his passion for the industry. It is a passion that is rampant throughout Flying Horse Transport.
It's this passion, along with the hard work, perseverance, constant learning and sacrifice that has ensured the success of Rusty and his team. Well done guys!
Subscribe to our newsletter
Sign up to receive the Owner Driver e-newsletter, digital magazine and other offers we choose to share with you straight to your inbox
You can also follow our updates by liking us on Facebook. 

Trucks For Hire | Forklifts For Hire | Cranes For Hire | Generators For Hire | Transportable Buildings For Hire