Complexity in NSW Fines Act
---
OPINION: Truck drivers can ill afford to lose a week's wages for making a seemingly insignificant error
With one year finishing and another beginning, most of us take this time to reflect on the previous 12 months. And what a year it was, with COVID bringing the county to a virtual standstill. Luckily, the road transport industry kept the home fires burning in a manner of speaking.
COVID brought many challenges to the way we do things, and drivers and operators were forced to adapt to procedures and legislation piled on top of an already bulging list. We have been contacted by hundreds of drivers, all with stories of massive penalties handed out by police across multiple jurisdictions. Victoria leads the charge, with VicPol handing out $5,425 infringement notices with apparent gusto.
Other states are not far behind and we are currently representing clients all across Australia who have elected to take these penalty notices to court.
These fines should have never been issued under the particular circumstances in our opinion and it remains to be seen if the courts are of the same opinion. This brings us to another takeout for the year gone by and it relates to fines in general.
All states and territories have different procedures for electing penalty/infringement notices, and most are relatively simple to navigate provided you have the required information. Revenue NSW, for instance, issues all camera-related fines in NSW. It allows you to fill some details on its website to court elect. However, what it does not tell you on the website is that extremely strict time limits apply on electing fines in NSW.
In general terms, once your penalty notices reach penalty reminder stage, you have lost your chance to elect. The Fines Act in NSW is complex and is no mean feat to interpret. In short, you have until your penalty reaches the reminder stage to elect. Different time limits apply to fines already partly or fully paid. Once you do either of those two things, you have a further 90 days to take it to court. I bet most of you reading this did not know you could do that.
Fog line fine
Segueing now to another camera/fine issue, Highway Advocates Pty Ltd represented a client just recently in an NSW District Court appeal. It all started with our client receiving a penalty notice for: 'Class B/C motor vehicle in Safe -T-Cam zone on/over solid edge line'.
At the time, $1,393 and four demerits. To put that in perspective, a week's wages for many and a third of your three-year demerit point total. All for drifting over the fog line – something most of us do without giving it a second thought. And why would we? A majority of heavy vehicles on the road today have multiple points of articulation, plus road design and construction leaves many with little choice or alternative.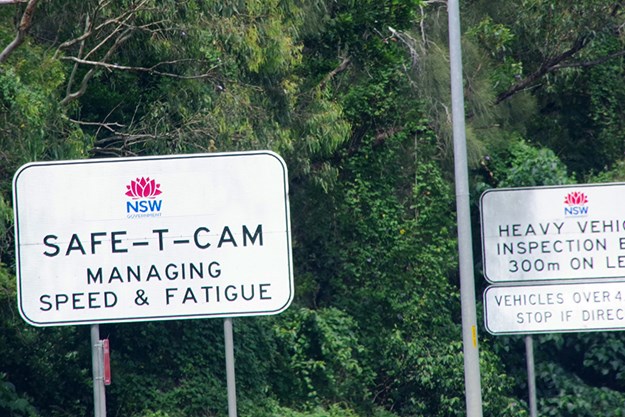 So, what makes this particular penalty notice offence so excessive? Some would say manifestly so.
Lawyers, or those aspiring to be one, are taught all about statutory interpretation in university, with context and purpose, literal, purposive and the mischief rule all part of that mix. Of course, most of you will not need to rack up a huge HECS debt to work this one out. The legislators, in their combined wisdom, have created this particular penalty notice offence to punish naughty truck drivers for attempting to avoid a Safe-T- Cam. Anyone who does that in reality would be really flying in the literal sense as that would appear to be the only way you could get over the Armco railings and steel gantries.
And do not even try and start a truck stop conversation around what actually constitutes a 'Safe-T-Cam zone'. We know the answer because we know what you need to know. You will not find the answer in the road rules, the Heavy Vehicle National Law (HVNL) or the Road Transport Act NSW. So where is it?
---
RELATED ARTICLE: NSW prosecutor costs beyond reason
---
Back to the feature story now and our client ends up with a date at the local court. A fair bit of research later and we refused to enter a plea to the charge as constructed on the penalty notice. Why? Because it does not exist in legislation, at least not as provided.
All offences in NSW have a law part code, which is a number you will see on penalty notices. This allows you to search for the offence particulars on the NSW Judicial Commission website. A search for the applicable offence brings up Road Rule NSW r150. All good except for one thing. 'Class B/C Safe-T- Cam zone' is not captured or defined in the road rules. Therefore, the offence as constructed in the penalty notice cannot be prosecuted in court.
Courts can only deal with legislation as provided and we believe this is the first nail in the coffin for this despised offence.
It took the NSW District Court to deal with it under law and our client walked away with no conviction, no fine and no demerit points. A fine end (almost) to our first year of operation.
Remember, do not pay that fine until you talk to us at Highway Advocates Pty Ltd. And do not procrastinate either as the legal maxim 'Audi alteram partem – no man shall be condemned unheard' appears to have fallen on deaf ears.

*ROBERT BELL, a former truck driver and current law undergraduate and practising paralegal, is the CEO and a director of Highway Advocates Pty Ltd. Contact Highway Advocates Pty Ltd on robert.bell@highwayadvocates.com.au
or phone 0491 263 602.
Subscribe to our newsletter
Sign up to receive the Owner Driver e-newsletter, digital magazine and other offers we choose to share with you straight to your inbox
You can also follow our updates by liking us on Facebook. 

Trucks For Hire | Forklifts For Hire | Cranes For Hire | Generators For Hire | Transportable Buildings For Hire