Winning over The Joker — Kenworth T950
---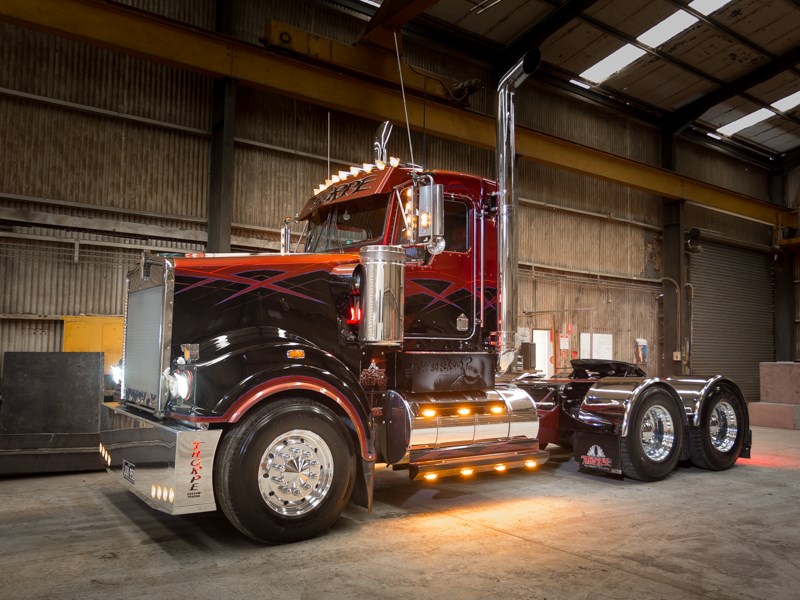 The Kenworth T950, better known as The Joker, takes refuge from the constant rain in an Unanderra, NSW shed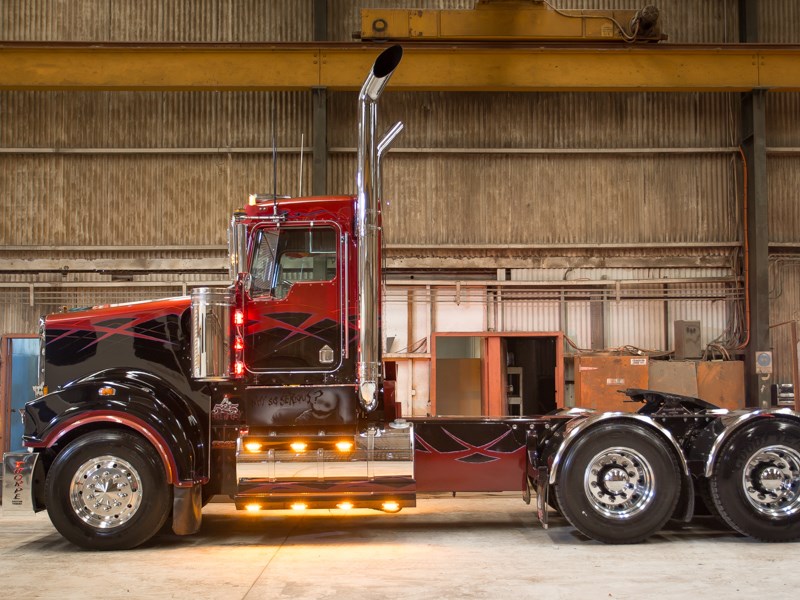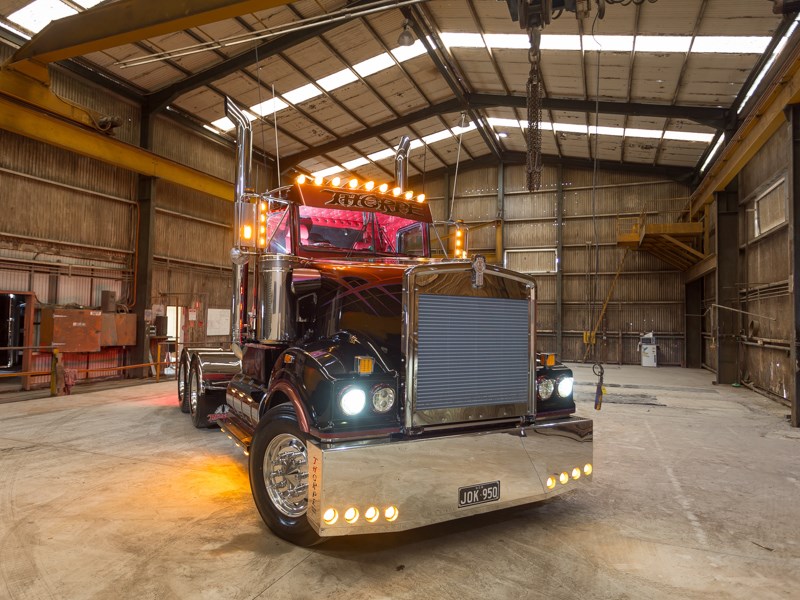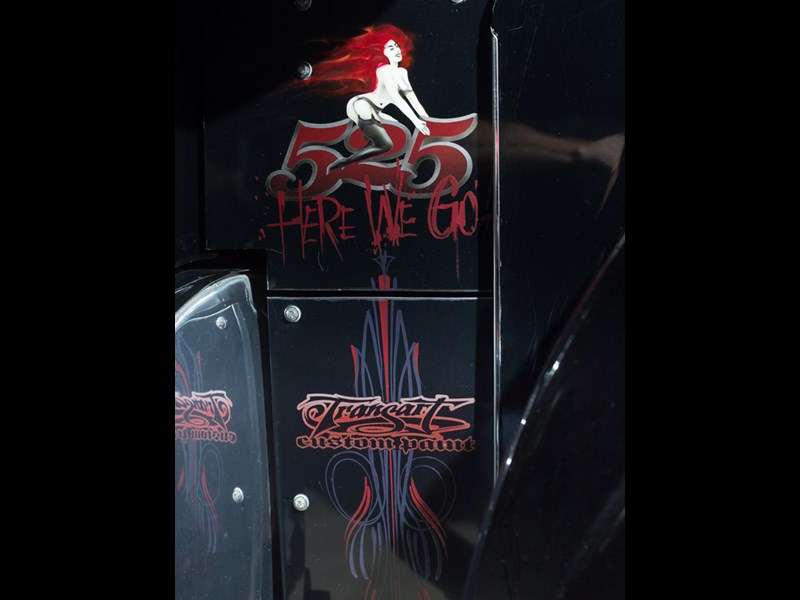 Transart in Bendigo took on the paint job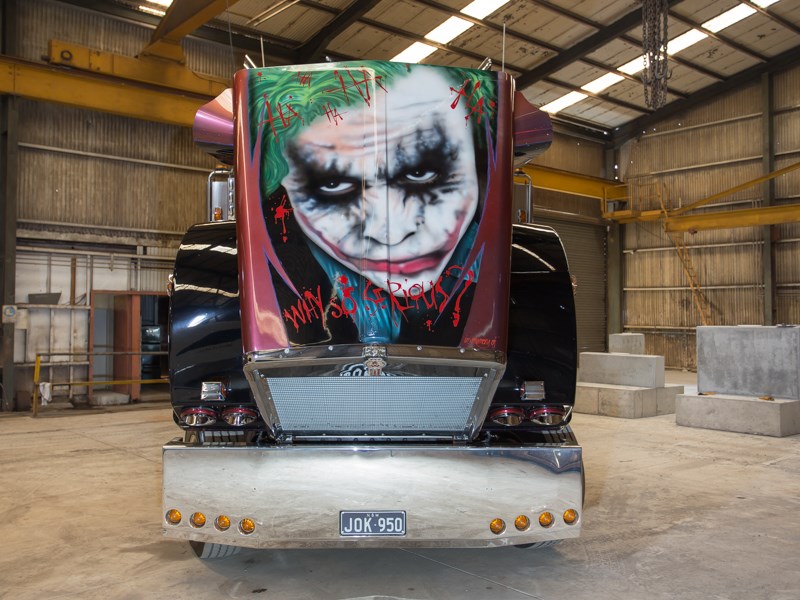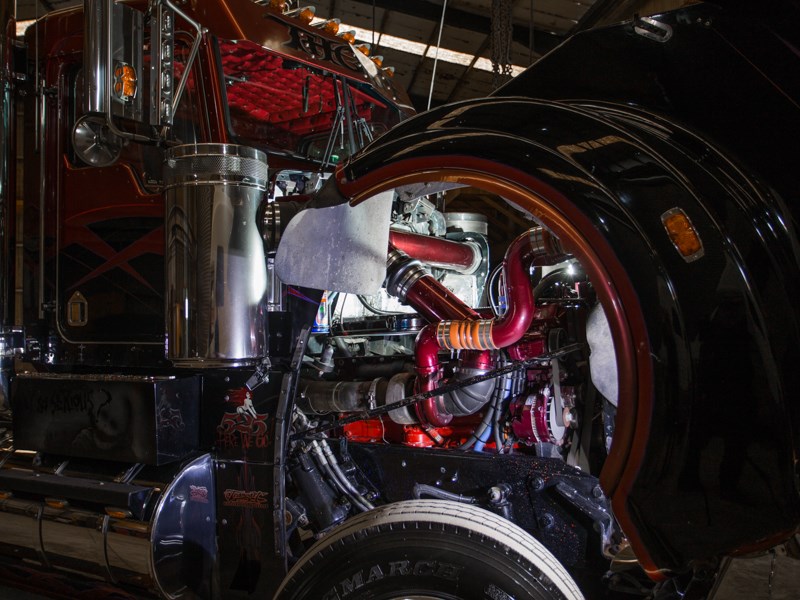 A 620hp Cummins Signature superseded The Joker's previous Cummins N14 'red head' engine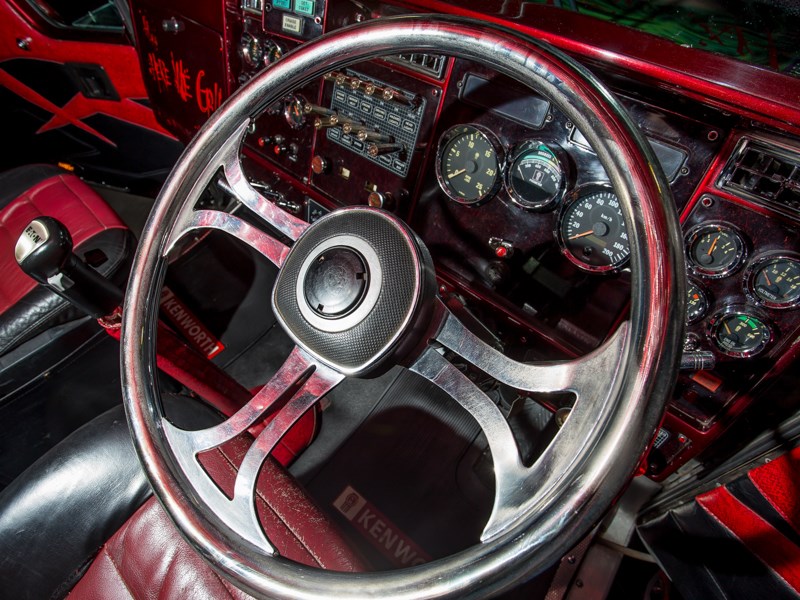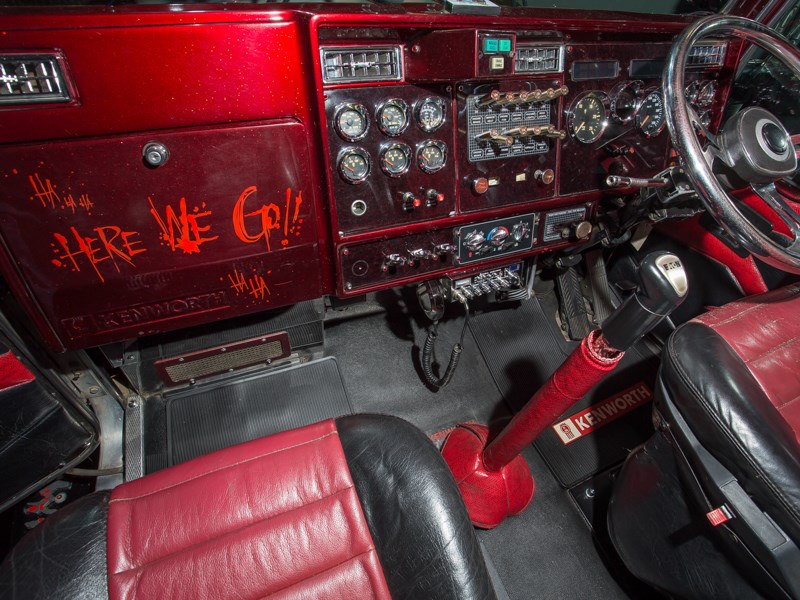 The Batmobile's equal: A view from behind the wheel of the T950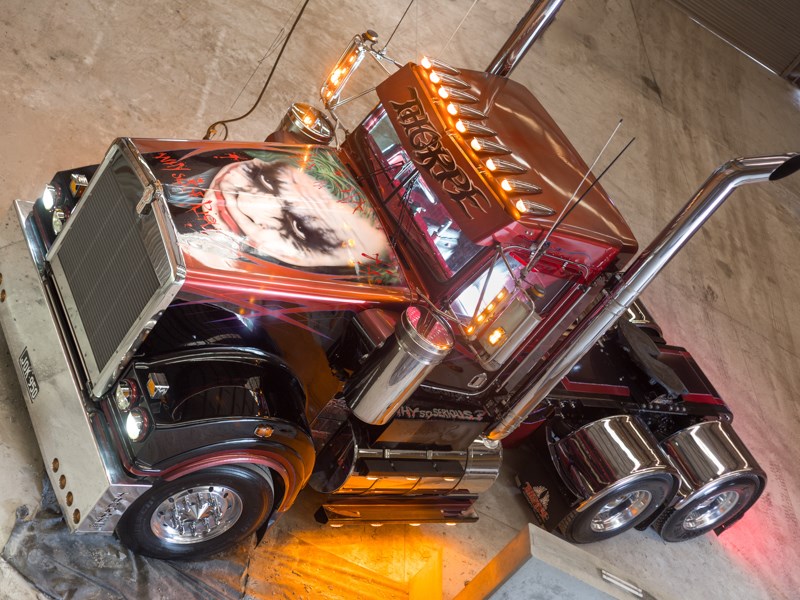 The Joker is a menacing piece of work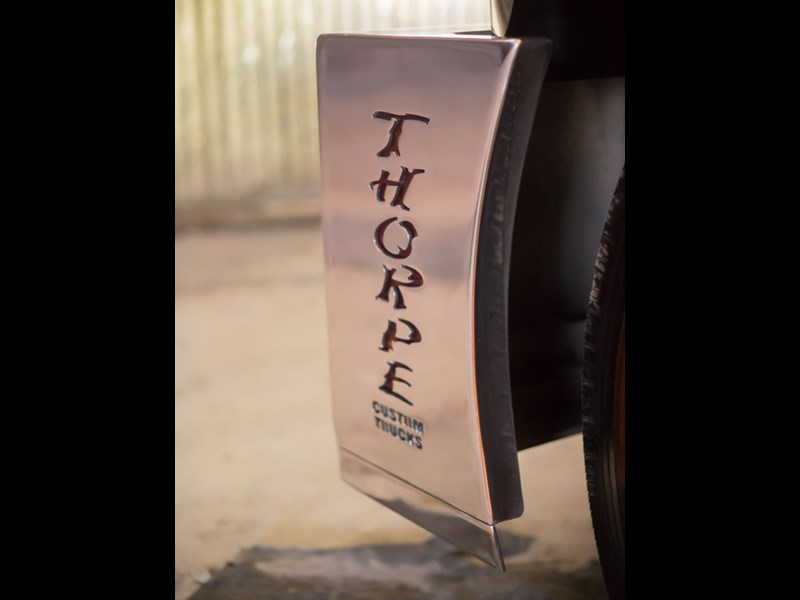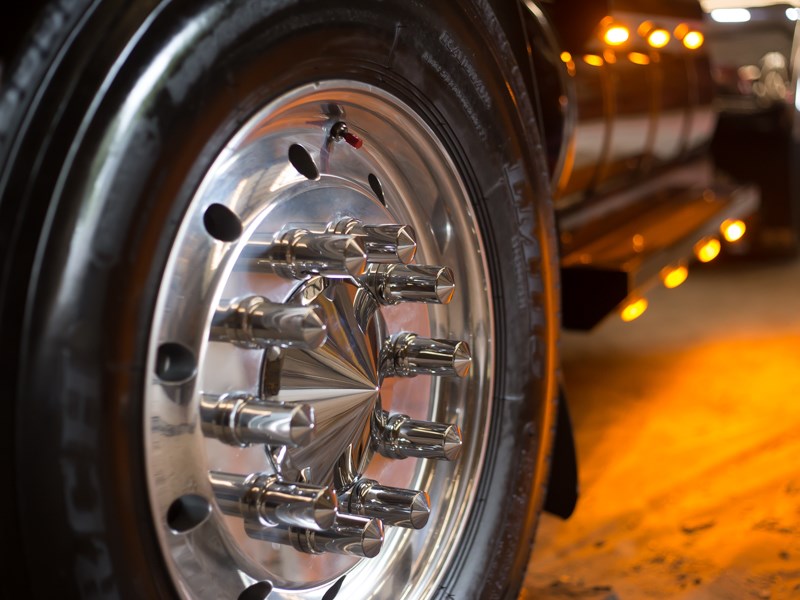 Alloy wheels of course!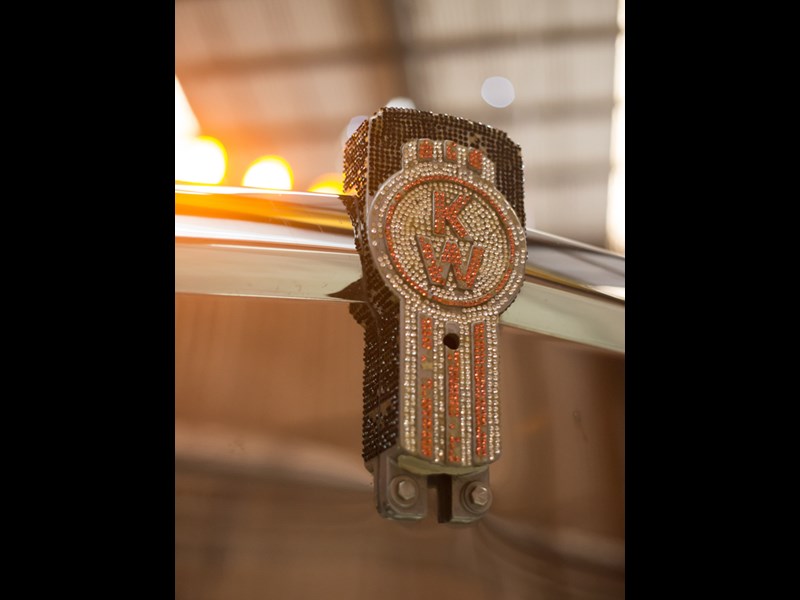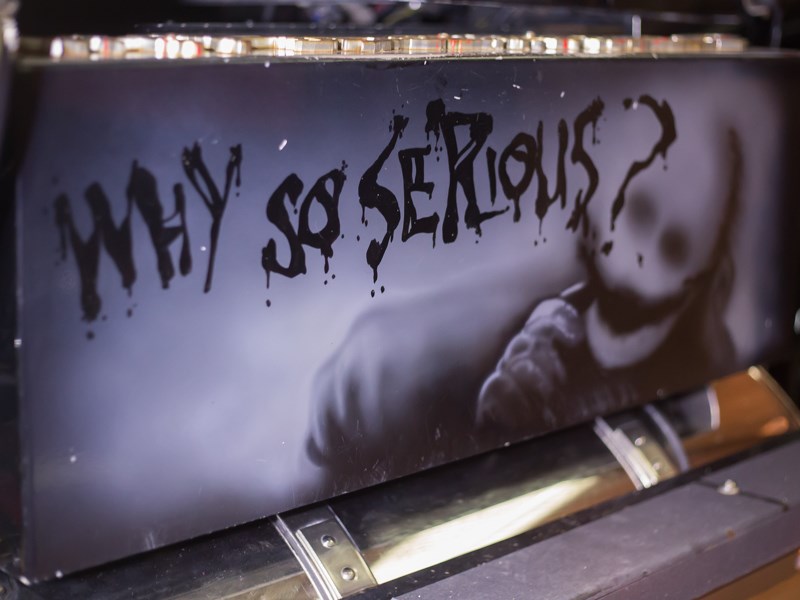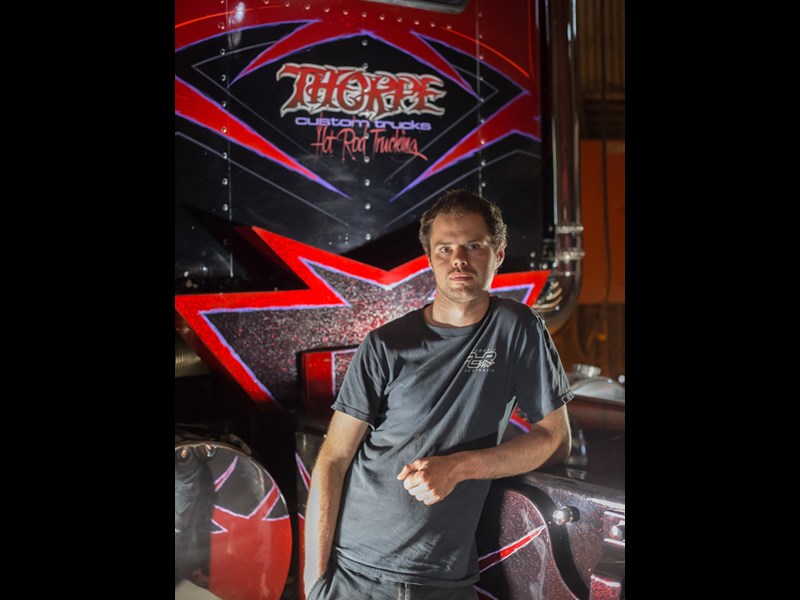 Jared Payne had is eye on The Joker long before he bought it

Before COVID, The Joker had been one of the most recognisable exhibits around the truck show circuit. But now the customised Kenworth T950 is in the hands of Jared Payne, a young man who has a thing for eye-catching gear who plans to take Batman's nemesis on the road again
To a wide-eyed young fella at the Castlemaine Truck Show, the sight of an immaculately presented and customised T950 Kenworth lit a fire inside. A burning desire that unbeknown to him at the time, would one day be quenched by a high-stake barter. That truck was 'The Joker'.
The Joker will be well known to those custom truck aficionados who frequent the truck show circuit or just follow the scene on social media. Hailing from the Thorpe Custom Truck stable, the company is well known for its one-of-a-kind individual personalisation flair which includes also includes works of art as Lenny's Pride, Life's A Circus, Black-Out, The Green Mile, The Ring Master and many more customised creations.
The Joker, with its Batman Dark Knight movie-themed artwork paying homage to Heath Ledger's character on the bonnet, stunned show-goers at the 2009 Alexandra Truck, Ute and Rod show to take out the coveted Truck of the Show award. However, it wasn't always airbrushed paint, shiny aluminium and cruisy truck show appearances for the T950. This truck has some working heritage as well.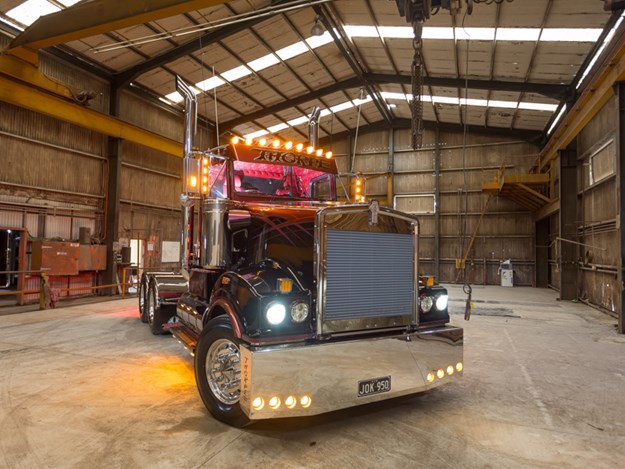 I've had the history of this truck explained to me by the current owner to the best of his knowledge along with some of my own research, so hopefully it is chronologically correct.
A far cry from its current life of semi-retirement, the chequered history of this T950 would see it start out as a truck and dog tipper combination before finding its way into the hands of Thorpe Custom Trucks. It was here that the working-class truck would eventually morph into something quite different.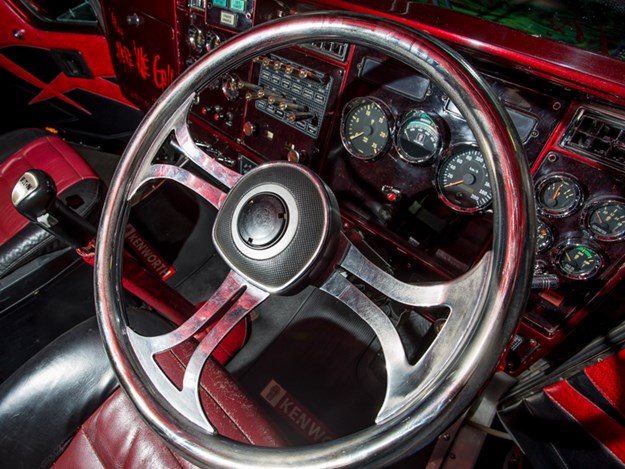 The chassis length didn't lend itself well to the general on-road freight task it was slated to be tasked with, particularly B-double work, so it was shortened to a length more suitable to that of a prime mover.
Working closely in collaboration with Transart in Bendigo, the working-class heritage of the truck was airbrushed and sprayed away under layers of carefully applied paint by the auto artists. The dash, chassis, engine and body work were all treated to the burgundy and red hues the truck still sports today. The fully customised interior with contrasting black and red colours blends comfortably with the Dark Knight themed truck featuring an uncanny likeness to Heath Ledger's Joker character.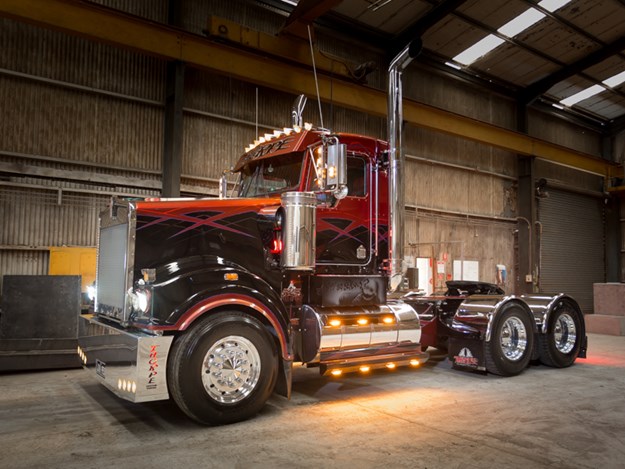 Originally fitted with a Cummins N14 'red head' engine, the truck is now powered by a Cummins Signature engine rated at 620hp driving through an 18-speed Eaton manual transmission. The engine exhales its waste gases via 7-inch straight through pipes offering a rumbling symphony to behold.
A front Texas Bar, quad polished aluminium fuel tanks, bullet roof lights, off-set front alloy wheels and stainless steel Lelox rear guards combine with little touches like the diamanté encrusted Kenworth bug on the bonnet and 'why-so-serious' air brushed battery covers to make sure this truck is a one-of-a-kind example.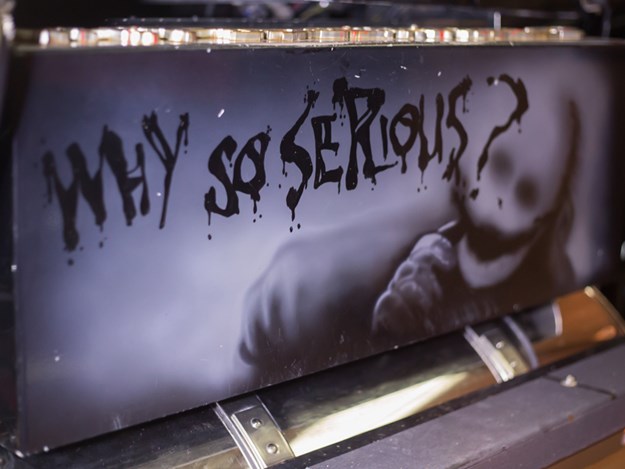 The truck was worked by Thorpe for some time on general freight and container transport tasks, as well as attending all the best truck shows to promote the custom truck business.
It would seem a life of logging was in the truck's destiny. It was eventually sold by Thorpe and shipped off to 'Van Diemen's Land' (otherwise known as Tasmania) like a common convict. The crime must have been minor as the sentence to the island colony was short lived and the truck was soon back on the big island under the ownership of Clearwater Logging & Transport in Colac, Victoria.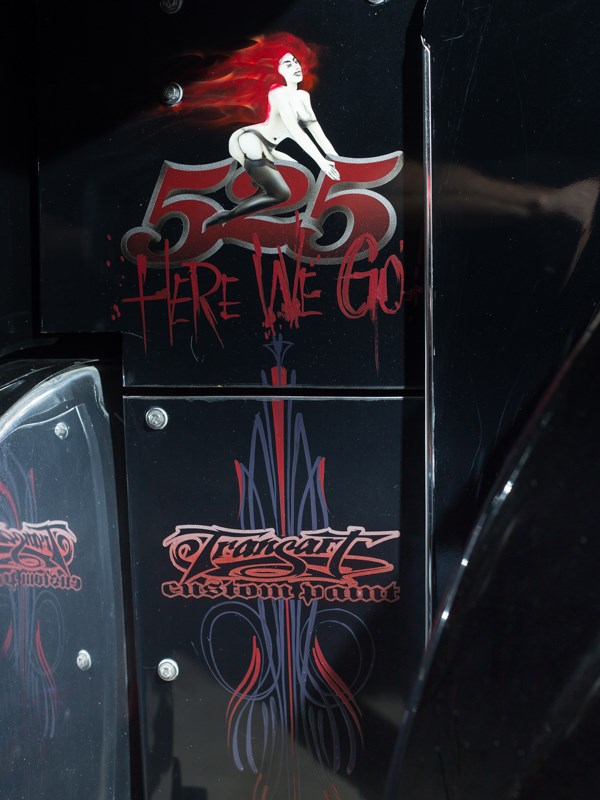 After a period of time The Joker was once again put up for sale, which brings the story to the truck's current owner Jared Payne, the wide-eyed young bloke from the Castlemaine Truck Show who had been wooed by The Joker's charm and character.
Now 22 years old and a mechanic by trade, Jared, based in the NSW Illawarra district, spotted The Joker listed for sale and immediately remembered his longing for the truck spurred on by admiring it at the truck show some years earlier. The truck had a serious price tag attached to it and it would take some lateral thinking to get the truck into young Jared's hands.
"I saw the ad with the truck listed for sale and I had wanted that truck from the first time I had seen it but thought that I would never be able have it," Jared says.
Straight swap
The truck had been listed for sale for quite some time, possibly in part due to the price tag and the need to find a buyer that would truly appreciate the time and work that went into creating the truck.
Jared saw his opportunity to take a shot at buying the truck, but not in a traditional way. "I admit that I did stalk the seller's Facebook profile while dreaming of buying the truck.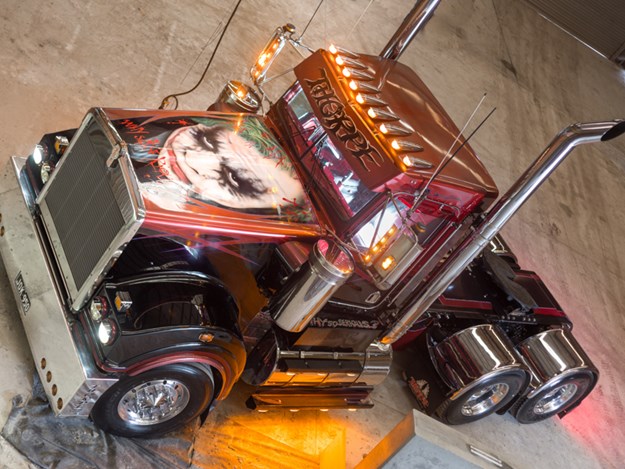 "It was while doing this that I noticed that he was into water-skiing and boating and it just so happened that I had a Malibu wake boat. This got me thinking whether he might consider a swap," Jared recounts.
Luck was well and truly on Jared's side and the seller agreed to a straight-out swap, the truck for the boat. Just like that Jared's dream had become an instant reality.
That was around six months ago and the lust for this truck has not waned one bit. Jared says he was originally going to work the truck but decided that it was just too good to put to full time work. For now, The Joker will be a regular at truck shows with Jared planning to take it to the Kenworth Klassic at Clarendon and the Dane Ballinger Memorial Truck Show in Bathurst, NSW.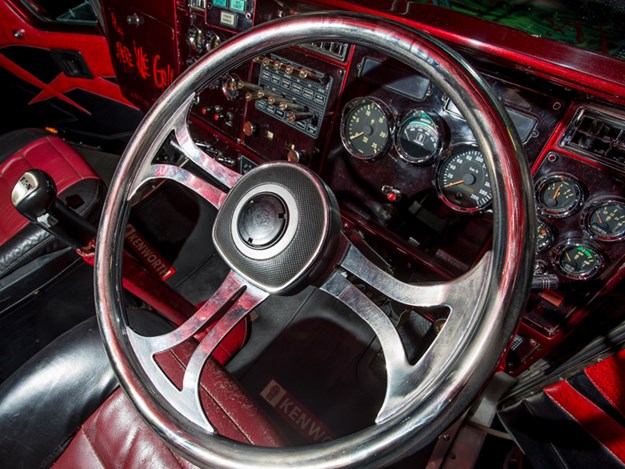 First things first, however. Some work, if you could call it that, will be required from The Joker. Jared has a mate that is involved in the car racing game, competing in the Porsche Carrera cup events. The Joker will take up duties carting the race cars to meetings around the tracks towing an ex-Jack Daniels racing car transport trailer. "This will allow me to get the truck working a little bit, with the added income of carrying out work on the race cars as well," Jared says.
"I have a few things I would like to change on The Joker. I have a polished turntable to go on it and I would like to get a set of super chromes to fit up; I'm a bit tired of all the polishing.
"At some point I may also change the exhaust pipes too, but other than that I'm just keeping up the maintenance and tidying it up," Jared says.
Passion indulged
If truck shows are anything to go by, classic, custom and show trucks are like drugs to many people. The lure of that next hit (a new truck or shiny bit to go on it) is so great that nothing can stand in the way, except maybe the wife, but let's not tell her about this. It's secret men's (or women's, we are all gender embracing here) business, right?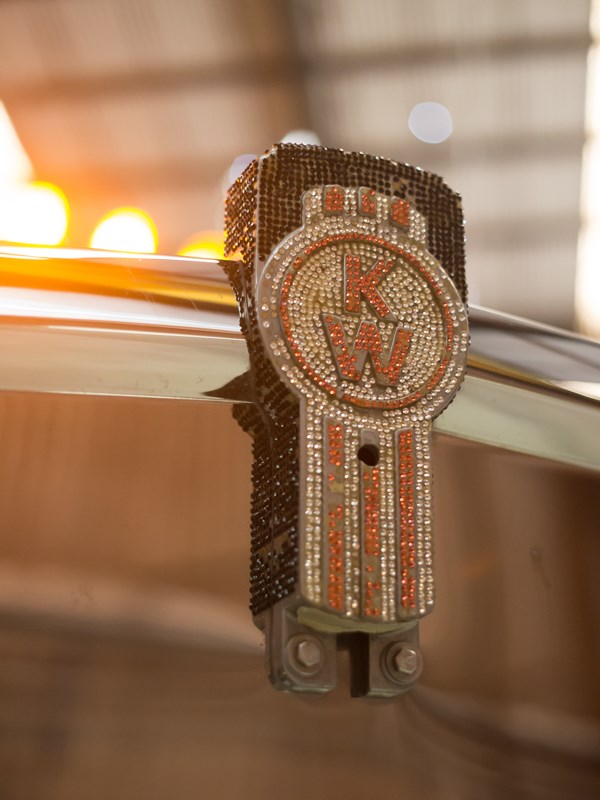 Fortunately, or unfortunately, depends how you look at it, Jared is single and can write his own narrative. He also lives at home with his parents which makes it a bit easier to indulge his passion.
Additionally for Jared, buying and selling machines and equipment provides some extra income to fuel his addiction further.
Jared has already negotiated his second customised truck which also happens to be a Thorpe truck as well. Next year he plans to take ownership of Life's A Circus, a Kenworth T908 which is currently running around Sydney as a truck and dog combination.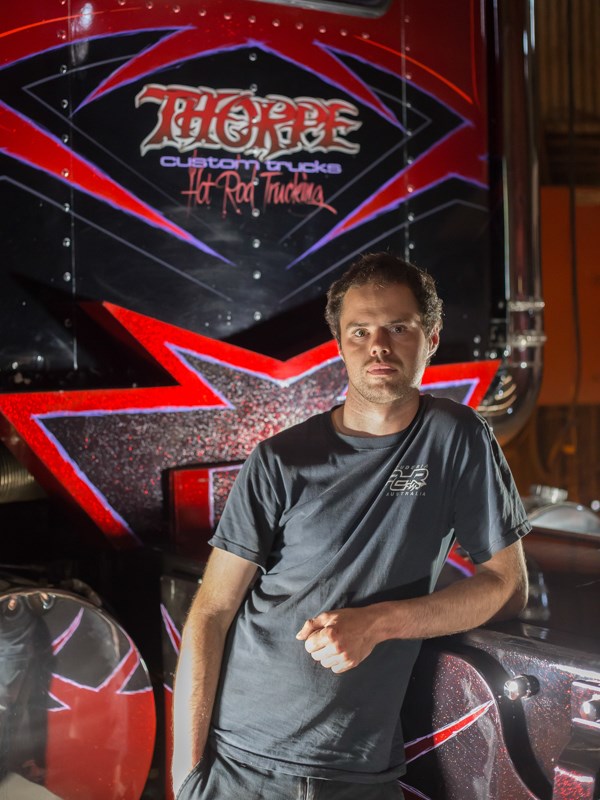 "I will probably shorten that truck up a bit as well as the sale is without the tipper bin. I am going to work that one, but I said that about The Joker and changed my mind, so anything could happen," he laughs.
Jared is also planning to buy a cab-over Kenworth, putting a driver in it while maintaining his income as a mechanic while he builds his business. But that's a little further down the road.
Subscribe to our newsletter
Sign up to receive the Owner Driver e-newsletter, digital magazine and other offers we choose to share with you straight to your inbox
You can also follow our updates by liking us on Facebook. 

Trucks For Hire | Forklifts For Hire | Cranes For Hire | Generators For Hire | Transportable Buildings For Hire