Vietnam veteran backs his Macks
---
An unpleasant encounter with a new truck salesman in 1995 indirectly led Bluey Gordon to owning and operating a fleet of Mack Trucks, eventually operating the first Anthem to hit the road on Queensland's Darling Downs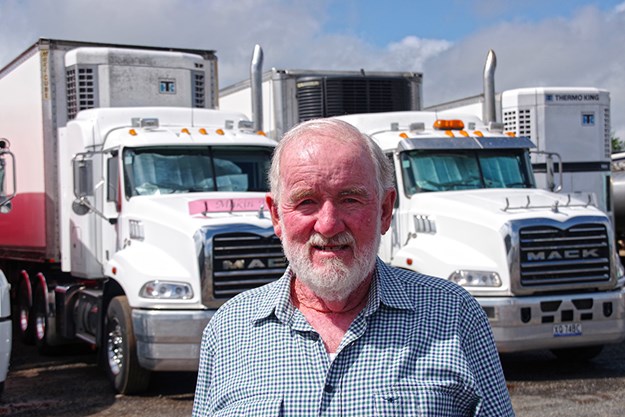 Bluey Gordon leans back on a desk chair, his demountable office building in the yard sitting adjacent to a varied assortment of Mack trucks. He's up for a chat and has a multitude of stories to tell, some of which can't be repeated here.
It's been a long haul for the 76-year-old. Born and raised in the Darling Downs city of Toowoomba, it's a place he's always called home, apart from a 12-month compulsory military assignment to Vietnam in the years 1967 to '68. But more about that later.
Bluey tells of trying his hand at a number of vocations, including truck driving, pulling beers, selling baked goods and, finally, running his own fleet of Mack trucks with a new Anthem leading the way.
For the record, Bluey's given name is Graham but, as with many males born with red hair in bygone years, that was never going to last.
"I've been Bluey all my life," he explains. "A lot of people wouldn't know my name."
He tells of his early working years driving a water truck around Miles and Chinchilla.
"That was when they were doing seismic for oil in those early days. They were just smaller rigs, just truck rigs. We were drilling holes and they were blowing them."
Bluey says he enjoyed the work and, as he says, it made him a "few dollars". Not bad for a bloke in his late teens during the 1960s.
That ended when he was called up for National Service in 1966, which the Coalition government had reintroduced the year before. Eight months later he was on a ship to Vietnam.
The general belief back then was that conscripts weren't required to go off to war unless they volunteered.
"A lot of people say you didn't, but there was no way out," Bluey says. "You were made to go; there was no volunteering about it all. I had my 21st birthday going over and 22nd coming back."
At the time there was growing opposition about Australia's participation in the Vietnam War and animosity towards the returning soldiers. The ship carrying Bluey and his war-torn mates, the HMAS Sydney, was due to dock on April 24. But it sat outside Sydney Harbour until April 26 to avoid possible protests.
Once the ship docked, Bluey was handed tickets for his trip back to Queensland. He had leave owing from his two years in service and headed home to Toowoomba. Three months later he received notification that he was to attend Enoggera Army Barracks in Brisbane to be officially discharged.
"When I went to Enoggera I was there for a week. They checked your teeth, grabbed your old fella and made you cough, and sent you home. I never ever heard from them since," Bluey says.
"Even to get the medals, we had to apply for them. No one came near us. That was the end of the story."
Bluey says he has no fond memories of the Vietnam War.
"It wasn't a place to be in any way, shape or form. There was nothing in the system that made you happy at all or what we had to do.
"A lot of people would agree with me that they should never have dragged us off the street and sent us there. It should never have happened.
"It would never happen to my kids. Never."
According to Bluey, he'd lost two of the best years of his life and returned with what he explains was a "bulletproof" attitude. The stigma surrounding returning Vietnam solders added to his state of mind, and friends from his pre-Army days were gone.
"I've got five children and they would tell you stories about what I was like. I was never physically abusive to any of them, but I was just cranky. I was just one of those blokes that, if it didn't go right for me, I'd go off my head."
---
RELATED ARTICLE: First Australian drive of new Mack Anthem
---
It wasn't until age 60 that Bluey sought professional help.
"I realised I was out of control for most of my bloody life."
League legend
However, there were plenty of good times for Bluey. Back from the war, he found work at Browns Transport, led by one of Toowoomba's most famous rugby league players, Edwin Brown, whose nickname, due to political correctness, can't be repeated here. However, any Google search will explain the Edwin Brown story and the protests leading to the removal of his name on a Toowoomba Sports Ground stand.
"He was a great bloke," Bluey recalls. "When I worked for him he used to employ blokes and bring them up and get them to play for Toowoomba."
With a bunch of young men working at Browns, Bluey made new friends that he's still good mates with today.
Brown's son was the local Leyland car dealer, leading to the transport business primarily running Albions, Austins and Leyland Boxer trucks.
"He had a lot of eight-ton trucks, he had trailers and did 30 trips a day to Brisbane. Most of them went down loaded and then back loaded. We had the foundry, abattoirs and we had bottles."
Bluey spent around 13 years at Browns Transport, eventually being promoted to the role of foreman.
A change of career came when his brother, Trevor Gordon, was offered the job of managing the Cheyenne Hotel in Drayton on Toowoomba's outskirts. Trevor invited Bluey to join the business where he stayed for close to seven years.
"We had a lot of fun at the pub," he recalls.
Following that venture, Bluey was back behind the wheel. Not in a truck, mind you, but a school bus that he operated for close on three years. He laughs when he says that one of the school children is now in his employ. "He was one of the kids who was well behaved."
Daily bread
After selling the school bus run, Bluey did a few odd jobs here and there until two locals he knew, Vyv Pascoe and Kerry Pugh, bought a bakery in town, renaming it Pascoe Pugh Bakeries. Bluey became a contractor, buying a van from the businessmen to deliver bread to vendors.
"After a while I told them I'd had enough. So, when I sold the vendors' run, they asked if I would work direct for them, which I did.
"They had a little truck and I had to deliver a lot of pies. You'd go out everywhere, out in the bush, up in central Queensland."
The trips would take Bluey north to towns such as Moura and Moranbah, delivering about 1,500 cartons of products each trip. Each organisation would take 100-150 cartons, mainly directed at school and club annual fundraising events.
Bluey admits to taste testing the goods along the way. "I'd load up at 2 or 3 o'clock in the morning and Kerry would give me a couple of pies and say, 'there's your breakfast, get going'," Bluey laughs.
"I did that for a while and then I got to the stage where I'd had enough. I'd had a dustup with some of the fellas – they were just too lazy."
However, Pascoe and Pugh obviously saw something more in Bluey, asking if he would like to try his hand at selling the bakery's products. Having Brisbane Boys College already on the books, Bluey went looking for further customers, winning over prominent establishments such as Brisbane Boys Grammar, Brisbane Girls Grammar, Holy Spirit and St Andrew's Hospital. He was eventually promoted to the role of sales manager.
"We used to take a little Isuzu down to Brisbane, a four or six tonner," he says. "Then, as we got bigger, I said: 'If you want to put a truck on, I'll put one on.' That's how it started."
Bluey bought his first truck in 1995, a maroon-coloured CH Mack, despite initially having Ford on his agenda. He'd just dropped off a load of pies in Brisbane and called into the Ford dealership. It wasn't a pleasant encounter.
"The salesman there just treated me like shit. I hadn't owned trucks before and he underestimated me.
"I said 'thanks' and walked out. From there I went to Mack and bought a truck that afternoon.
"A lot of people say, 'why are you buying a bloody Mack?' Because they look after me – it's a good brand," Bluey says.
With a new business name of Gradon Qld Pty Ltd, he was soon doing 13 trips to Brisbane each week. His truck tally grew to four – another CH and two Visions – when he picked up runs to the Gold Coast, Caboolture and Sunshine Coast. He has clocked up 30 years working for the same bakery, now known as Homestyle Bakeries under its new ownership.
Passenger seat
Bluey has bought eight new Macks since 1995, including three Granites. "One of them is rougher than the other two. What it is, I don't know," he says.
As for the new Anthem: "It's like sitting in a lounge chair. It's just the ride, it's like driving a car. It's very quiet and the seats are nice and comfortable. It's a nice truck."
Unfortunately, Bluey says he suffered a seizure a few years back, meaning he's no longer able to sit in the truck's driver seat, unless its bobtail around the yard.
"I've got a car licence but they took my truck licence off me three years ago. I love them but I can't get into them."
It was also around five years ago that Bluey was given the opportunity of buying a water truck business, Queensland Water Services. What made it extra attractive was that it came with three Macks.
Realising it was too big a task to run both businesses, his wife, Pamela, and one of his daughters, Leola, became directors of the venture, although Bluey laughs when he says he has the last say. "He's the boss," Leola asserts.
As for as the Macks' maintenance, in-house mechanic John See keeps the wheels rolling. John knows the Mack brand well, spending 14 years with the truck manufacturer. He also hops into the driver's seat when demand is high.
Unlike the bread deliveries, the water trucks can run up as far as Central Queensland, although they generally stick to the Darling Downs, down to Warwick and east to Ipswich.
Bluey also has a side tipper and a drop deck trailer for the occasional extra job.
However, water was not a friend of the Gordon family in late February this year. Like most of Australia's east coast, southeast Queensland copped a deluge and Bluey's bakery runs to Brisbane were hit by flash flooding. The blocked Warrego Highway, and then
a failed attempt to loop around through Cunningham Gap came with consequences.
"We lost a few loads," he says. "The bakery probably lost more than us."
Outside of the two businesses, one of Bluey's personal projects is restoring his first CH Mack, that's now back in the fold. He had sold the old truck off when it ticked over a million kilometres. Twelve months ago he recognised the old Mack on an auction website.
"I wanted it back because it was my first truck," he says. "I want to bring it back to its former glory."
Bluey plans to take the cab off, strip it back and redo the chassis, brakes and bearings. The old CH sits out on the family farm, alongside an old B-model that he's in the process of restoring.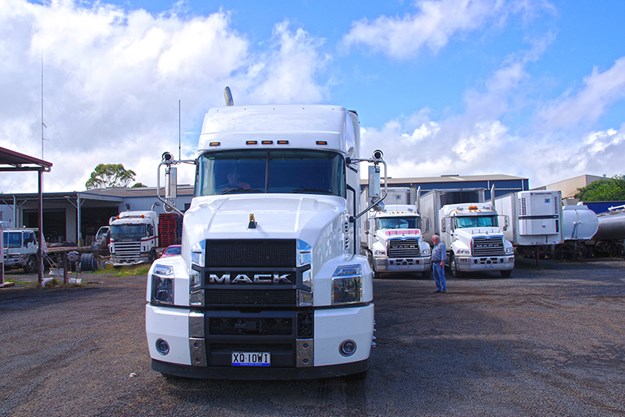 A Mack Vision, another old faithful but still working in the fleet, has clocked up more than three million kilometres with the help of an engine replacement.
"You wouldn't know it by looking at it. It's quite a tidy truck."
Bluey admits to spending most of his time on the farm nowadays, although he's always close to the phone.
"I've got cattle there, and we pull a lot of water out of the farm as well for the water trucks."
As for retirement? He leans back and replies emphatically: "Not at the moment". Bluey still has much to do, keeping an eye on business while tinkering with his beloved old Macks.
Subscribe to our newsletter
Sign up to receive the Owner Driver e-newsletter, digital magazine and other offers we choose to share with you straight to your inbox
You can also follow our updates by liking us on Facebook. 

Trucks For Hire | Forklifts For Hire | Cranes For Hire | Generators For Hire | Transportable Buildings For Hire