Living the trucking life USA style
---
It's said that everything's bigger over in the US of A. And that's certainly the case with Robyn Newman's 5700XE Western Star, a super-sized home far away from home that would give Australian authorities heart palpitations
Robyn Newman, who I got to meet while in Louisville, Kentucky recently, has a 150-inch (381cm) Bolt custom bunk fitted to her new Detroit-powered 5700XE Western Star. To put that into perspective, swing a cat in the back of a truck over here and all you'll hear is a constant knocking as the unconscious feline is battered by back walls and front seats.
If you swing a cat in the back of Robyn's Western Star, the meowing and whining, mixed in with the echoes created in a 150-inch bunk would sound exactly like I envision a Cardi B concert to be like. Then add in the amount she has to spent on extra Armor All … those Americans have it tough.
Robyn and her two dogs live on the road, hauling all over the US and her new Western Star is her future retirement truck.
"I spend maybe a week or two at home, a couple of times a year," Robyn admits, referring to her house in Tonopah, Arizona.
"After a few days, though, the dogs start heading outside and sitting by the truck, waiting to get going."
The trucking lifestyle has been intrinsically woven into Robyn's DNA for decades now, having begun her driving career back in the 1970s. "I've been driving for about 29 years on and off," Robyn explains.
Trucks were not in the family bloodline. In fact, Robyn grew up on a farm and was driving around the property from around seven years of age. By her early 20s she was out on her own and struggling. "I needed something to do to survive, something to pay the bills," Robyn recalls. So she purchased a 1968 Marmon from a farmer and started carting his hay.
"Back in those days there was no CDL [commercial driver's licence]. Instead, we started out with a chauffer's licence and grandfathered into the CDL when it came about," Robyn explains. "It was pretty much all guys back in those days, I didn't get to meet very many woman."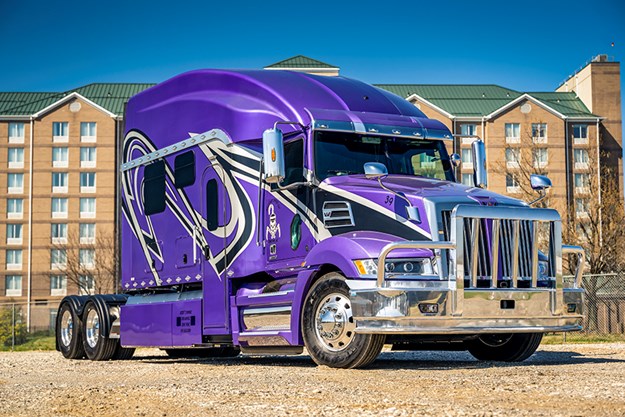 Robyn attests to the fact it may have been harder back in the '70s but the camaraderie of the industry was much stronger.
"The boys didn't like it, a woman in what they saw as a man's job, but once they learned you can do it and know what you are doing, they accepted you and became like big brothers.
"It was better back then, like if you broke down you would have heaps of people stopping to help you out."
It's a very similar theme to how many feel about the trucking industry in Australia as well.
Forensic studies
That original Marmon is a long way from the custom Western Star Robyn now operates. Those days of reaching through the Marmon's giant steering wheel to work the twin stick box however did allow Robyn to get to where she is now, albeit by a very circuitous route.
While she loved the trucking, Robyn chose to save up and head to college. Not business though, or even anything remotely transport related. In fact, she studied forensic science with the goal of getting into forensic pathology. Once she finished, she found herself influenced more by others' opinions.
Instead of pursuing her work with dead bodies she decided to head back to her love of trucking and travelling, replacing the classroom with the cab. It is worth noting, though, that the studying bug never left her and to this day Robyn does a lot of online studying while running her truck.
Robyn's return to trucking was behind the wheel of a W9 Kenworth. Again, it was her truck that she hauled for a company.
The way it works over in the US is that a lot of companies 'lease trucks' to drivers. Theoretically you are an owner-driver, but you run under the leasing company's 'authority'. It's like you are a company driver that runs their own truck. True independent truckers run under their own authority, meaning they have a lot more choice in who they cart for and where they cart to. By the time Robyn had progressed to her third truck, a new Freightliner Cascadia, she had decided to run under her own authority.
After putting more than one million miles on the factory-specced Freightliner, Robyn decided to replace it. She had already decided she wanted something a bit more to her preferences when it comes to something to live and work in.
She purchased a brand-new Western Star day cab and then went and saw the team at Bolt Custom Trucks in Fort Wayne, Indiana. That first Western Star had a wheelbase of 260 inches (660cm) and allowed for an 87-inch (221cm) bunk, all custom designed and built by Bolt.
"Bonnie Fielding, the sales lady, and AJ, the designer, were absolutely phenomenal," Robyn attests.
"I can't say enough about Bonnie, she's there the whole way through and AJ is a design wizard."
That first experience with Bolt ensured that when Robyn sold her first Star and set about replacing it in 2022 with the big purple Star you see now, there was no doubt Bolt was going to be her preferred customiser. Dealing with the same team again ensured not just a continuity for Robyn, it also meant she new what she would call the truck. It needed a big name as it would also be the first Western Star 5700XE with a 150-inch bunk fitted to it.
"I've called it BoJax," Robyn laughs. "People get botoxed, my truck got 'bojaxed'," added that the 'Bo' is for saleslady Bonnie and the 'Jax' is for the incredible designer AJ.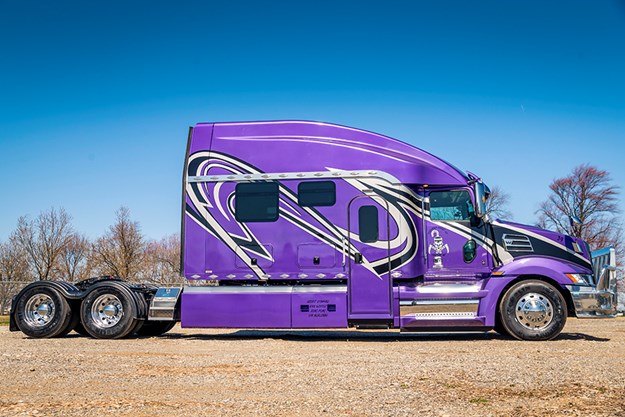 The Bolt Custom team got the new Star with just bare bones. The long wheelbase day cab 5700XE was as naked as can be – a blank canvas for Bolt to work on. Being that it was the first ever 5700XE with an integrated 150-inch sleeper it was a substantial task for Bolt Custom Trucks. With the arrival of the new Star range soon, though, it also means Robyn's truck will be one of only a few ever put on the road.
Bucket list
The overall goal of this truck was to be Robyn's "bucket list buggy". Robyn has worked all her life and the idea of retirement doesn't appeal. Therefore, it isn't a retirement truck.
"My goal is not to retire, just to slow down. I own my own trailer and have a bucket list of things I want to do in each state," Robyn says. "So, I wanted a truck I can haul a load with and when I get to different states, I can drop my trailer and go do my bucket list things.
"When I'm ready to move on I'll get a load and head to another state." I have to admit it's a lifestyle that I could get behind. With that in mind Robyn sat down with the Bolt team and worked out how to get everything she needed.
As you can see from the photos all the obvious stuff is included. Kitchen area, dining area, TV, storage space etc, etc. There's a shower and toilet area and the back wall folds down to become the queen size bed. The 36-inch TV is remotely attached to the roof and lowers down when needed. There's an easy access campervan-style side door and steps, making it easy for both Robyn and her two dogs to get in and out. That's the obvious stuff.
Now, let me introduce you do the stuff that you can't really see. The LED lighting throughout the whole bunk is incredible. Hidden lights around the roof create an amazing atmosphere. The kitchen is fitted with a convection microwave, meaning it can be used as either a microwave or an oven. It also has an induction stovetop. This means, rather than gas or electricity, it is electromagnetically operated. Using specific pans, the magnets heat only the pan, cooking amazingly quickly but ensuring the stovetop isn't scorching hot afterwards. That's a massive safety advantage in a sleeper cabin.
There is also a central vacuum system, allowing Robyn to just plug in the hose and vacuum the entire sleeper.
As fancy as the back is, I need to focus on the cab as well. Firstly, the truck is fitted with what Robyn refers to as a "Millennial anti-theft device" or, as we commonly call it, a gearstick. The factory seats have been removed and replaced with two Excalibur custom seats. For those wondering what's so special about them, sure, the air ride is to be expected. Yes, the heated side is definitely luxury when Robyn's up in around Canada, but what sets them apart is the 26-point massage system built in. Yeah, just sit with that for a moment.
Running all of the amenities is a diesel-powered generator system fitted to the big Star. That, along with the auto greasing system (it may be common for us, but not in the US) and toolboxes are all tidily hidden under Bolt's custom flirt skirts. These side skirts lift up like the baggage doors on a bus, making for easy access for Robyn. Behind the other skirts are two 150-gallon tanks, again a big step up from average American trucks running 120 gallons. For us, 150 gallons is about 567 litres.
Length laws
It definitely seems like Robyn's "bucket list buggy" is set to make her working life and then her attempts at retirement a lot easier, as long as she avoids tight corners and small roundabouts.
"Yeah, it doesn't really like the roundabouts. Aside from that I just have to go a bit wider for turns," Robyn admits when joking about its manoeuvrability.
However, a lot of Robyn's work is for long-term clients and on regular paths, so her truck is designed to get exactly where it needs to go. Robyn admits she still has to do a bit more investigating for a couple of clients as Canada has different length laws to the US and she may have to jump through a few hoops to pass in and out of Canada.
We need to finish up by focusing on the entire point of this story – how much time is spent cleaning the bunk before you can head home at the end of the shift. It's an epic task for our poor US mates when they have sleepers like this. We should be thankful that the wise overseers of our industry don't allow us to put a decent size bunk behind our standard B-double sets.
Subscribe to our newsletter
Sign up to receive the Owner Driver e-newsletter, digital magazine and other offers we choose to share with you straight to your inbox
You can also follow our updates by liking us on Facebook. 

Trucks For Hire | Forklifts For Hire | Cranes For Hire | Generators For Hire | Transportable Buildings For Hire