Truck drivers snubbed at rest stops
---
OPINION: Comfortable roadside facilities abound for tourists but it's the bare minimum for long-haul truckies
A recent trip to Darwin for a change with a triple road train kept me busy for a week or so. On the way up I stopped at roadhouses and truck bays, including some new green reflector bays. Truck Central, the big new road train site at Wishart, has plenty of room for parking up to triples and a loading ramp (which I used to double up trailers).
While there, I chatted with a driver who told me that while BP had built the truck stop, it was the Northern Territory Department of Infrastructure which supplied the funds and land for parking. A joint venture such as this has been done before at Miriam Vale in Queensland, but then the servo burnt down and some truckies complained the caravanners took it over. However, it is a better way to get what we need and will be pursued.
The aforementioned driver was accompanied by his wife for the run north. She raised an interesting question:
"How come all the truck bays have bins and nothing else and all the car/caravan bays have toilets and shade and tables?"
As I said, I had looked at the truck bays on the way up, stopped in one to make a phone call and thought they looked big enough, were paved and mostly well signed, although a few were missing some signage – the skid marks confirming others had missed them too. I looked at the many bays for caravans, mostly with 'No Truck' signs and thought they looked okay also.
But once this subject was raised, I looked a lot closer on the way south.
No truckin' toilets
Years ago I did a trip up with Simons National Carriers and recalled that, at the one place with a toilet sign, you could not even park a semi on the shoulder to go and use the loo, let alone a triple. It seems little has changed. There may have been one southbound caravan bay, where you could park safely on the shoulder, but most not.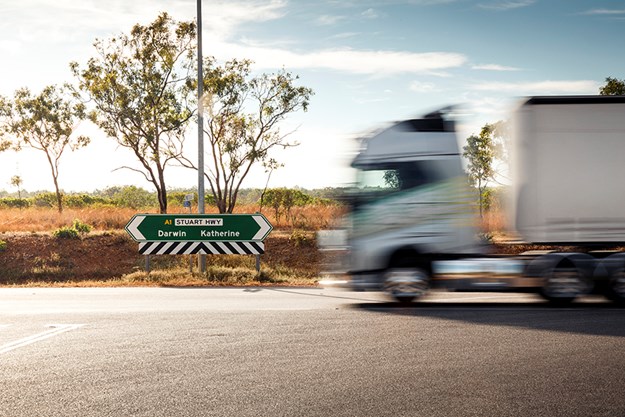 So where do truckies go to the loo? How can they build some for them and not for us? Yes, we can go to truck stops, but so can all the others. Some caravans have their own showers and toilets but I am yet to see a truck with a toilet. That is how far removed the road managers are from reality – they think trucks have toilets.
Then there are some big gaps. The next truck bay was over 75km, there were only two green reflector bays, but by magic a few more appeared over the last couple of days. From Mt Isa to the NT border, signed stopping bays at least filled the gaps between truck bays, but north from Augathella on the way up I had a strap come loose and was looking for a spot to stop for many kilometres. I asked another driver who told me of a spot completely unmarked, but you could turn a triple road train in there, but you wouldn't know. That too now has some green reflectors.
---
RELATED ARTICLE: NatRoad says rest area funding woefully insufficient
---
The Queensland Department of Transport and Main Roads will be getting more emails. I raised the issue of every red light through Rocky on the way to Mackay two weeks ago. Surely they can do better than stopping highway traffic for every single car on a side road at every single light!
NT empathy
I rang the NT Dept of Infrastructure and the gentleman he seemed to both care and have some empathy for the issues I raised. I told him I did not get to the NT regularly but I was serious in raising these concerns. He was not aware of the green reflector marking of informal truck bays and said they were working on improving facilities for truckies.
They were doing up shoulders both north of Camooweal and south of Three Ways and they looked nice and tidy, but in adding wider culverts, were nearly completely removing any wide shoulders.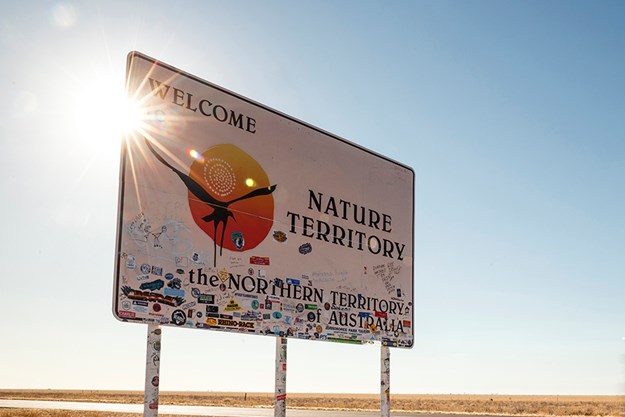 If you get tired between bays, hit a 'roo or need to take a leak, you have to stop on the road! Then with the wide culverts with large concrete ends you wouldn't even see one till you hit it if you had been forced onto the shoulder. A couple had the double guideposts to warn of this, the drops and the like, but most did not. Then without those shoulders we can use, there was nowhere else.
While they're doing good work to improve safety and the road, they simply don't understand our needs and the reality of travelling up there with big trucks and even bigger gaps between anywhere to stop.
There must be and it must be part of a national standard or rest area strategy, places to safely stop on a road shoulder, not necessarily a rest area, perhaps not even green reflector bays. Yes, some stopping bays do fill this need, but not all. A car can stop near anywhere safely, we need to be able to do so as well.
*ROD HANNIFEY, a transport safety advocate, has been involved in raising the profile of the industry, conducting highway truck audits, the Blue Reflector Trial for informal parking bays on the Newell, the 'Truckies on Road Code', the national 1800 number for road repairs proposal, and the Better Roadside Rest Areas Group. Contact Rod on 0428 120 560, e-mail rod.hannifey@bigpond.com or visit www.truckright.com.au
Subscribe to our newsletter
Sign up to receive the Owner Driver e-newsletter, digital magazine and other offers we choose to share with you straight to your inbox
You can also follow our updates by liking us on Facebook. 

Trucks For Hire | Forklifts For Hire | Cranes For Hire | Generators For Hire | Transportable Buildings For Hire