MAN on a mission: Penske Launches 15-litre D38 Engine
---
After a long break from the spotlight, Roger Penske was on hand in Brisbane this week to launch the new MAN TGX D38
In his first address to the Australian truck media since taking control of Western Star, MAN and Dennis Eagle operations in Australia and New Zealand more than three years ago, business and motor racing mogul Roger Penske has confirmed MAN's critical part in the future plans of Penske Commercial Vehicles.
Speaking this week during the launch of MAN's new TGX D38 flagship model powered by the 15.2-litre D38 engine at Brisbane's Mt Cotton Training Centre, Roger Penske said, "We expect MAN to be a powerful business for us."
Asked if MAN's inconsistent history in the Australian market was a negative for the brand, Penske said simply, "I'm not looking back, I'm looking forward.
"We wanted this (D38) model 18 months ago but two years from now we expect it to be successful.
"There is a trend to this type of truck," he emphasised, adding that brands such as MAN with a fully integrated engine, automated transmission and driveline package are fast becoming the preferred choice of truck operators at all levels but most notably with major fleets.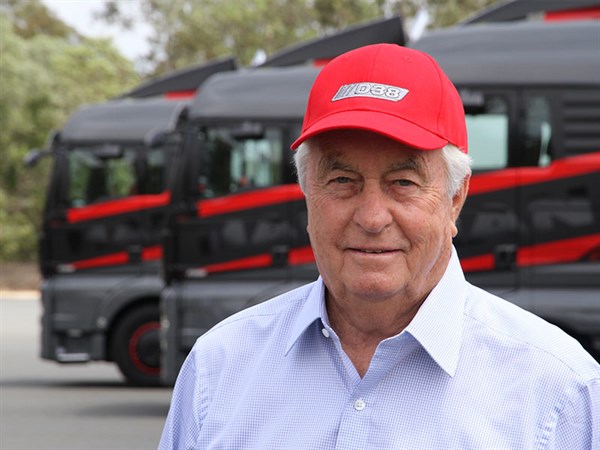 The Man! Roger Penske at the launch of MAN's new TGX D38 model.
Penske operations in the US run 244,000 trucks and it was an adamant Roger Penske who remarked, "We only buy AMTs (automated mechanical transmission) in the US now. They just have so many advantages."
Service and support are, however, the main focus of his Australian operations and the key to the growth of Penske Commercial Vehicles, he continued. "This is a very competitive market and things like fuel economy and service are the big ongoing issues today.
"We have to get better in our own business. We're going to ask a lot more of our dealers and if they don't stand up, then we'll do it with our own dealerships."
On the downward spiral of Western Star sales in Australia over the past three years, Roger Penske commented, "There are no excuses but this is a highly competitive market with low sales volumes, but we will build on the business.
"When we came to this market the exchange rate (with the US dollar) was 97 cents to the dollar. Today it's around 74 cents to the dollar, so we haven't had it easy in that respect.
"But we certainly won't give trucks away," he said in reference to the fierce price competition that exists among some competitors.
With third quarter sales results for this year showing MAN at just 2.1 per cent of the heavy-duty market and Western Star a poor 3.8 percent, Roger Penske said his expectations are for both brands to grow their shares.
"The buying trends are changing," he asserted, further suggesting that he sees significant potential for MAN to grow its share of the heavy-duty market, particularly with the entry of the TGX D38 model.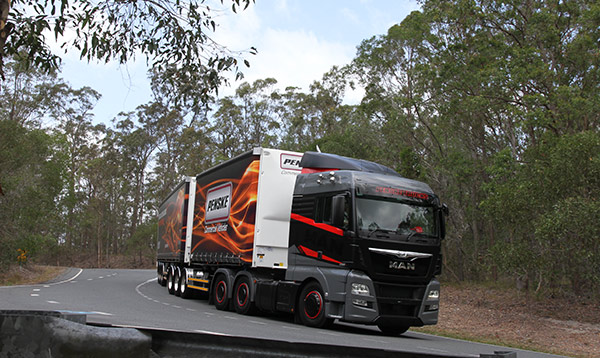 On the move. B-double work is obviously a major target for MAN's new flagship.
Engine Details
First launched in Europe more than two years ago and previewed in Australia at the 2015 Brisbane Truck Show, the D38 is an in-line six cylinder engine using a single overhead camshaft, twin sequential turbochargers and common-rail fuel injection to produce peak outputs of 411kW (560hp) and 2700Nm (1,991 lb-ft) of torque.
Euro VI emissions levels are achieved with the combination of EGR and SCR systems and what MAN explains is a 'closed particulate filter system', or CRT – continuous regeneration trap – to significantly reduce particulate filter service demands.
Other innovative features of the engine according to MAN include a 'Top Down' cooling system that pumps coolant from engine top to bottom, minimising cylinder head stress while protecting the injectors and exhaust valves.
Domed valves are also used, with additional convex shaping to prevent deformity, strengthen the valve disk and increase service life of the valve seating ring. This is particularly important, says MAN, for maintaining stringent emission standards over a prolonged period.
Furthermore, the German maker says a turbo exhaust valve brake (TEVB) has been developed to provide high engine braking capacity up to 600kW.
In another first for MAN, all cable routing is encased in foam-filled harnesses to dramatically reduce wear caused by rubbing and vibration.
The D38 is also claimed to use up to three percent less fuel than an equivalent Euro V engine due to a third generation common-rail system injecting fuel at up to 2,500 bar, or more than 36,000 psi.
A particularly notable performance aspect of the engine according to MAN is the low rpm torque delivery, with peak torque on tap from 930 to 1,350rpm due in large part to two-stage sequential turbocharging.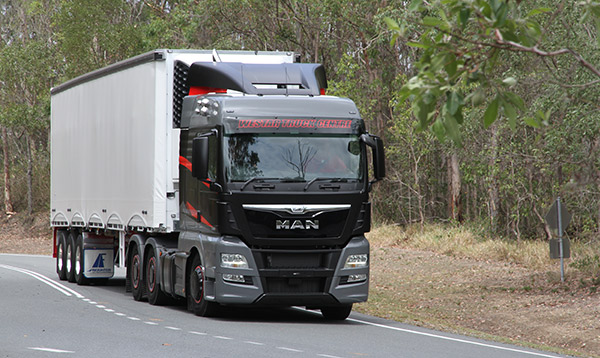 With 560hp and almost 2000 lb-ft of torque, 15.2-litre D38 engine makes light work of single trailer roles.
Aftercooling is provided by twin air-to-water intercoolers.
There's also an engine-powered, twin-cylinder air compressor designed to disengage whenever the charging of the air system is not needed, increasing operating efficiency by up to 90 per cent compared with a constantly running compressor.
Also said to be one of the lightest engines in the 15-litre class, the D38 uses an aluminium flywheel housing, an engine block and cylinder head made of lightweight compacted graphite iron, and a plastic sump and rocker cover.
MAN emphasises that the wide use of lightweight, high-strength materials throughout the design of the TGX D38 model not only provides tare weight advantages over competitors but also delivers "a near perfect balance of weight in a B-double application with an even distribution of load across the steer and drive axle sets".
Yet while it's the newest engine in MAN's line-up, the D38 is also said to share a high degree of parts commonality with the current D20 and D26 engines used in Australian models.
Meanwhile, oil drain intervals are certainly generous at up to 70,000 km in B-double applications and up to 100,000 km in single trailer roles.
With the introduction of the D38, MAN has also introduced an updated version of its automated TipMatic 12-speed transmission and a GPS-based cruise control system.
From all appearances, it seems MAN is on the move.
Subscribe to our newsletter
Sign up to receive the Owner Driver e-newsletter, digital magazine and other offers we choose to share with you straight to your inbox
You can also follow our updates by liking us on Facebook. 

Trucks For Hire | Forklifts For Hire | Cranes For Hire | Generators For Hire | Transportable Buildings For Hire