World first compliance navigation solution
---
Combining permit, infrastructure and compliance data with turn-by-turn navigation, Transtech's new SmartNav in-cab solution has been applauded by VicRoads, TCA and the VTA
Teletrac Navman subsidiary Transtech has a new in-cab application for transport operators, announcing SmartNav at the 23rd World Congress on Intelligent Transport Systems (ITS) yesterday.
The new solution, which will be used as part of an upcoming trial in Victoria, overlays compliance, infrastructure and permit data from VicRoads over turn-by-turn navigation to ensure trucks travel the most efficient permitted route to their destination.
Developed in response to a Victorian Labor government push for freight industry innovation in early 2015, SmartNav accounts for a vehicle's dimensions, permits, weight and type before calculating a compliant route to ensure it avoids hazards such as low bridges and restricted streets.
Speaking with Trade Trucks in the lead up to the launch, Transtech regulatory program and partner manager Anthony Laras says the company is "trying to give the driver the tools to make the best decisions in the cabin."
"We've felt passionately that there's been a lack of tools to help drivers actually be compliant," he says.
"Technology is so good now that you're going to find out if your driver has made a mistake or done the wrong thing, but you're going to find out too late. It's already happened.
"What we are really aiming for is this real-time view of route adherence."
Laras says the while compliance and permit data is available; it is scattered and doesn't make for efficient decision making.
"You can get that information," he says, "but you've got to dig through websites, you've got to use PDF documents in some cases and really, the pace of transport, doesn't allow you to be efficient when you are using that type of method to create a journey."
To make sure these routes are adhered to, Transtech's new solution also monitors driver positioning to provide real-time feedback.
"If he moves off that network it will create an alert for him and for the back-office of the transport operator, and it will get him back on the network as safely and quickly as possible," Laras says.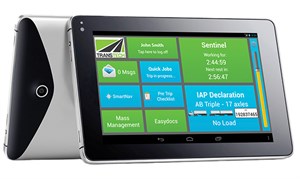 Running on Transtech's iFace tablet solution (right), SmartNav is about to undergo a Victorian trial but it is slated for an early 2017 commercial release.
After the Victorian release, Laras says the company is looking to expand its reach to the rest of the country.
"Once it becomes a product that is available, we'll work closely with TCA to approach other road managers in other parts of the country for it to become a reality for our customers in those states as well," he says.
"This is a real game-changer for heavy vehicle access and compliance."
Universal appeal
Backed by both the industry and governmental bodies, the solution promises wins for infrastructure and transport operators.
Speaking at the ITS launch, Victorian Transport Association (VTA) CEO Peter Anderson says the new Transtech solution answers compliance, efficiency, safety, routing and social needs.
"It's about big trucks on big roads: getting the freight vehicle to travel where it should, when it should and in the safest possible way," he says.
"The real outcomes of this technology are an improvement on average travel times to destinations, reduction of on road accidents, and the increase of the capacity of freight heavy vehicles to meet their customers' expectations.
"The community, the customers and the operators are all winners.
"The heavy vehicle industry needs the technology to be developed and introduced at a pace in which it can keep up. That is, making sure the margins of the business are included in the outcome destinations.
"Transtech does that with this technology."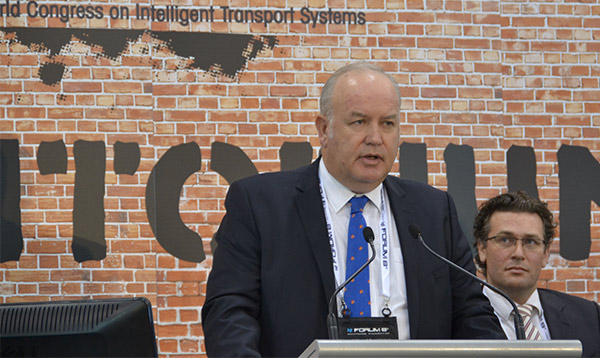 VTA CEO Peter Anderson speaking at ITS.
Also at the ITS presentation, Transport Certification Australia (TCA) general manager of strategic development Gavin Hill called SmartNav "a significant technology reform to the road transport task in this country."
"It may seem so obvious and so simple that it begs the question why hasn't anyone being doing this already," he says.
"Just yesterday, you saw another truck hit Montague St Bridge, if we have a product and service like this in trucks in Victoria, we could divert and give advanced notice to drivers to avoid that underpass if they are over a certain height."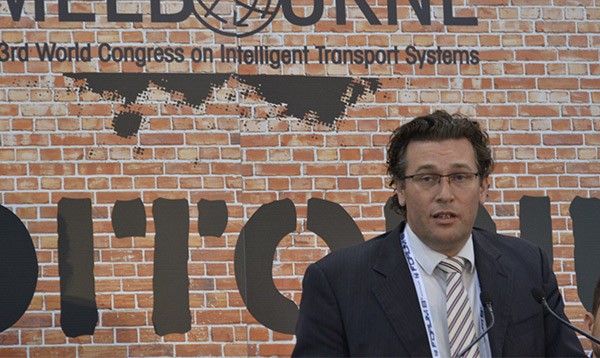 TCA general manager of strategic development Gavin Hill.
With coupling and decoupling in Australia, Hill says a driver could be running under a variety of compliance restrictions across a work week, a challenge that would be covered by SmartNav.  
"Some day you might be operating a semi-trailer and the next be operating a B-double," he says.
"And what this technology allows the drivers to do is have a tailored route guided system for the vehicle they are operating that day.
"I think it goes without saying that this is something the industry has been calling for for some time and the fact that we have been able to make it happen here in Victoria is a credit to the people behind it."
Congratulating VicRoads and Transtech for coming together on the technology, Hill says "going forward we want to take this to the rest of the country and use VicRoads as a benchmark from which other road managers can release information to telematics providers like Transtech to improve the management of heavy vehicles on our road network."
Subscribe to our newsletter
Sign up to receive the Owner Driver e-newsletter, digital magazine and other offers we choose to share with you straight to your inbox
You can also follow our updates by liking us on Facebook. 

Trucks For Hire | Forklifts For Hire | Cranes For Hire | Generators For Hire | Transportable Buildings For Hire