Trailer innovation for all occasions
---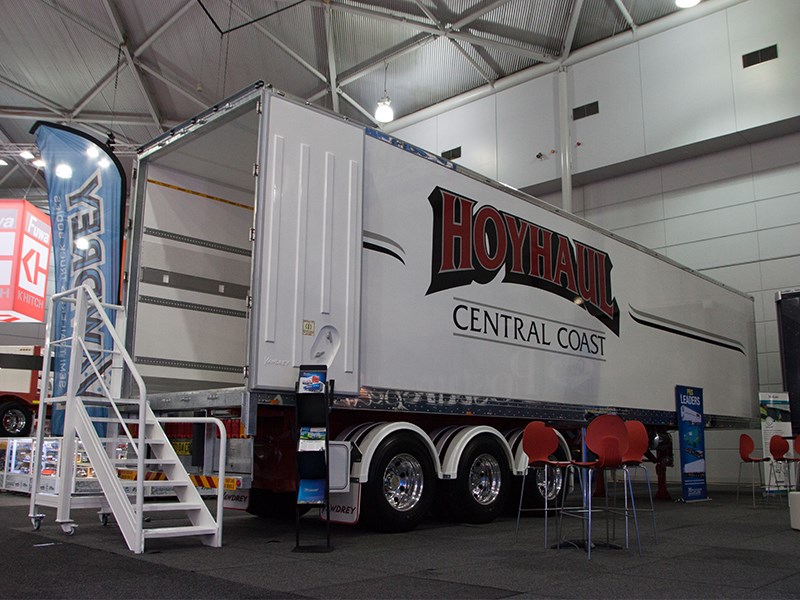 Vawdrey's 22-pallet freezer unit, belonging to HoyHaul, with an impressive tare weight of about 9.86 tonnes

The huge amount of trailer manufacturers displaying their wares at the 2017 Brisbane Truck Show was a reminder that it's not all about the mechanised monsters up front.
The road transport industry's insatiable demand for high-productivity, low tare-weight combinations has put Australia on the map as a leader in trailer innovation.
A distinct increase in made-to-order trailer demand has been brewing since the National Heavy Vehicle Regulator's (NHVR) Performance-Based Standards (PBS) scheme was introduced in 2007, with industry choosing to move more freight with fewer trucks.
From tippers to A-double trailer sets, the theme at Brisbane Truck Show this year was high productivity options for just about every application.
Some trailer standouts had displays normally reserved for spacious showrooms, somehow fitting an impressive array of high-quality trailers into the bustling Brisbane Exhibition Centre.
Owner//Driver takes a look at some impressive industry innovators with Show setups that hauled the patrons in!
VAWDREY
Family-owned manufacturer Vawdrey has more than 40 years in the trailer game, and their presence at the Brisbane Truck Show this year highlighted a strong productivity focus.
"PBS is alive in well, and we've got a range of approved trailers on display now," Vawdrey National Sales Manager Justin Simmonds said.
"We've got 26-Pallet options, 14-Pallet High Cube 4.6m trailers running under HML, we've got auto mezz deck devices, we've got auto curtain technology – we've got it all on show," Mr Simmonds said.
"There's a lot in the way of load restraint and productivity on offer and the 22-Pallet freezer unit, which comes in at about 9.86 tonnes  is a popular display at the show for us.
"The LatchLiner buckle-less curtain system also drew a lot of attention throughout the show."
Simmonds says a real benefit for Vawdrey is their focus on quality manufacturing and family-owned approach to business.
"We're family owned and we've been in Australian for about 43 years now and we've got a very loyal following," Mr Simmonds said.
"We're big enough to know and small enough to care, so we can build to a recipe rather than a price.
"We're always striving and pushing the industry and we have a few big surprises coming up so we aren't sitting idle, that's for sure."
The Drake Group
The Drake Group consists of key brands Drake Trailers, O'Phee Trailers and Drake Collectibles – with all three brands coming together to wow spectators at the Brisbane Truck Show.
Two stands housed more trailers than any other exhibitor, ranging from deck wideners, to low boys, and a magnificent range of detailed 1:50th die-cast truck and trailer models.
The Drake Group Business Development Manager Sam Drake says the Show was a great chance to showcase the strength of the collaboration between Drake Trailers and recently acquired O'Phee Trailers.
"The truck show was a great success that gave us the perfect platform to launch our recently formed entity 'The Drake Group'," Drake emphasised.
" It gave us the opportunity to demonstrate our capability in both trailer manufacturing markets as well as officially launch our latest in die cast models.
"The numbers were greater than we have ever seen, including quality customer base, enthusiasts and industry personnel.
"O'Phee Trailers has offered extensive advice and development into the Drake Trailers product both through manufacturing efficiency, techniques and general product improvements.
"The marriage of the two companies has been a great success and continues to strengthen."
As The Drake Group forges on, the synergy between brands is allowing true industry innovation in the design and engineering of a range of trailer types for everything from general freight through to heavy haulage.
MaxiTrans
Trailer powerhouse MaxiTrans saw sweeping success at the Show this year, from Freighters' dominant awards performance to a range of new products unveiled across Group's six equipment brands.
The theme for MaxiTrans was efficiency, staffing their enormous stand with a number of PBS specialists to provide advice to prospective buyers and inquisitive productivity-hungry operators attending the show.
Major releases from MaxiTrans included the next generation Maxi-Cube van and Peki truck body models, and a range of recently launched products were showcased like the Freighter T-Liner Mark II, Freighter Drop Deck Semi, Hamelex White PBS Dog Tipper with 'Landslide', and a Lusty EMS Drop Deck Semi Tipper.
A popular attraction was the enormous Azmeb High Volume Side Tipper, which in essence looks like two tippers on top of each other, occupying the back of the MaxiTrans stand.
MaxiTrans managing director and CEO Dean Jenkins attributed the awards to the hard working staff and a strong focus on safety and productivity.
"From the team who contributed to building the show trailers, to the engineers, purchasing and operational staff working in the background, everybody has contributed in some way to winning these awards and we should all be very proud," Jenkins said.
"The recognition from the judges is testament to our innovation program focussing on increasing the operational safety and productivity of our products."
Jenkins believes that over the past three years, through a range of product innovations, MaxiTrans has become the leading manufacturer of safe, efficient trailers across Australia and New Zealand.
Bruce Rock Engineering
Western Australian trailblazers Bruce Rock Engineering (BRE) showcased their popular side tippers, as well as showing off some game-changing Wabash gear.
BRE's partnership with US brand Wabash brings refrigerator units down under that feature better tare weights and thermal efficiency than anything else on the market, according to BRE Director Damion Verghoot.
"The Wabash ArticLite fridge unit is arout 20% lighter than anything else on the market, and has roughly 25 per cent better thermal efficiency," Verghoot said.
"This means less fridge fuel burn, better tare weights, and the way the box is made is superior because it's all aluminium and structural foam without wood or fibreglass.
"We bring the fridge units over from the US and put them on a Bruce Rock A-trailer chassis."
According to Verghoot, the Brisbane Truck Show went as well as the manufacturer could have possibly expected, making the trip over from Western Australia well worth it.
"It went really good for us - it was well worth the exercise of trekking across the country for," he said.
"The response was positive and we had a lot of enquiries and we've got a lot of quotes to fill.
"We also picked up a couple of orders!"
Verghoot says the next big developments for BRE are expanding their dealer network and further growing their east coast customer base, as well as launching an aluminium end tipper for grain applications, which will be due to drop in the next month or so.
Graham Lusty Trailers
With more than 100 years of combined management experience in the trailer game, Graham Lusty Trailers (GLT) products are well-known for their quality and longevity.
The Show saw GLT showcasing one of their trademark aluminium tippers and the ever-popular Triple 8 Engineering race car transporter, with Graham Lusty's championship winning Mosler MT900 GT3 onboard.
The transporter showed off GLT's workmanship and according to Graham Lusty, it's led to a host of orders.
"I built a trailer set for Roland Dane and Triple Eight Race Engineering and he's so happy with them he's ordered another set for next year," Lusty said.
"We had another team order a b-double set and we're in talks with three other teams about building them trailers."
A-doubles are a big focus for the manufacturer as they become more commonly used, and Lusty says a big benefit of GLT's A-trailers is their tare weights and strong aluminium tubs.
"We were one of the first manufacturers to go to grade 700 steel in the chassis and we've still got one of the lightest on the market," Lusty said.
"Combine that with our aluminium tubs that we've eliminated virtually all cracking in, over 30-40 years, and they stand up to rough conditions really well."
GLT has around 120 orders placed for trailers and the number just keeps on growing.
"With the rain last May, we had 50 trailer orders by June and that number has steadily increased to 120," Lusty said.
"Innovation has always been a strong point for us, and we're looking to build more plank sided trailers and it's the technology we're using in these race car transporters.
"We've got customers who bought trailers from us back in the 80's and they're sending their sons in to come and buy trailers off us now."
With around 30-40 per cent of GLT's trailers being PBS-approved, the manufacturer is anticipating a steady flow of customers wanting  AB-Triples and A-Doubles.
Check out the full feature  in the July 2017 edition of Owner//Driver, on sale July 10.
Subscribe to our newsletter
Sign up to receive the Owner Driver e-newsletter, digital magazine and other offers we choose to share with you straight to your inbox
You can also follow our updates by liking us on Facebook. 

Trucks For Hire | Forklifts For Hire | Cranes For Hire | Generators For Hire | Transportable Buildings For Hire