Quest for UD Croner
---
The upcoming launch of UD's Thai-built Croner marks the culmination of a remarkable development program driven as much by commercial necessity as engineering initiative. More to the point though, it graphically illustrates Volvo Group's inherent ability and acute willingness to draw on diverse global platforms to satisfy the demands of a particular market. In this case, a particularly demanding market. Ours!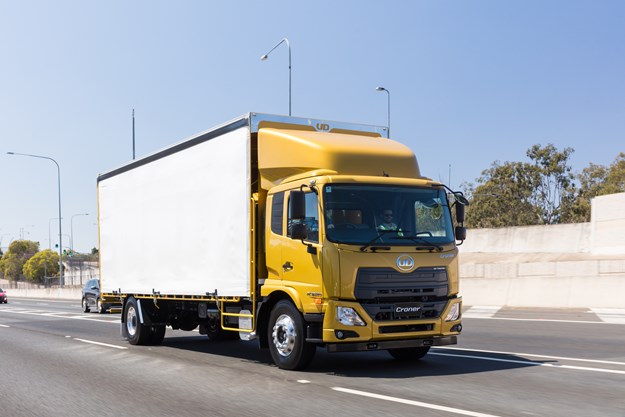 Masami (Mat) Ozono is a proud Japanese man who for more than 40 years has inched his way up the ladder of executive engineering appointments at UD.
Fortunately for me, his English is good and more fortunately for UD and its leagues of customers, his experience and passion for the brand are profound. Even better, and somewhat outside the square of standard Japanese response, he doesn't appear at all shy about delivering a sharp answer to a blunt question.
Anyway, as senior manager of product management and planning, Ozono-san has been at the pointy end of UD's Croner development program since the decision was taken in 2013 to design and build a replacement for the brand's long-serving Condor medium-duty range.
In a surprising development, however, it eventually became apparent that Croner would not replace Condor in every market. In fact, the new model would be built in Volvo Group's Thailand factory and specifically designed for what are broadly termed 'emerging markets' in Asia, the Middle East, South America and Africa.
But, it would not supersede Condor in UD's heartland – Japan! Instead, UD executive heavyweights did an unusual deal with arch-rival Isuzu to replace Condor in the Japanese market with a largely badge-engineered medium-duty model from its opponent's stable, much as it had already done with Mitsubishi Fuso in Japan's light-duty market.
Largely responsible for ensuring the durability and design quality of the entirely new Croner, Mat Ozono admits he was surprised and disappointed when first learning the outgoing Condor would be replaced in Japan by something other than a true UD product.
After all, and as he insists with absolute confidence, Croner upholds all the traditions of Japanese reliability and quality, fully endowed with the fundamental strength to be adapted for success in any market, 'emerging' or otherwise.
Yet Ozono-san certainly wasn't alone in his reaction to the Isuzu choice. Indeed, the ramifications of replacing Condor with an Isuzu equivalent stretched far beyond Japan. The suggestion, for instance, of a badge-engineered Isuzu replacing the tried and trusted Condor was quietly abhorrent to insiders at Volvo Group Australia (VGA) and notably, its UD devotees. 'Ridiculous' as one UD loyalist confessed a few years back.
Furthermore, and as a few well-placed phone calls were quick to confirm, neither were the heads at Isuzu Australia pleased at the prospect of UD competing for medium-duty sales with a truck from their own stable. "It won't happen," one high-ranking Isuzu Australia official pronounced with total conviction. "We'll fight it every inch of the way."
Given the obvious displeasure, even animosity, on several fronts, a few critical questions quickly emerged. Like, if not a badge-engineered Isuzu, what will UD do to replace Condor in the Australian medium-duty market? Or, given that UD makes no secret of its intention to focus squarely on its historical prowess as a heavy-duty specialist, will it simply withdraw from the Australian medium-duty market, just as it had already done years earlier in the light-duty sector?
Answers weren't easy to come by, especially given Volvo Group's confounding corporate mantra of never discussing future product plans. Within UD Trucks Australia, however, there was certainly quiet mutter that one way or another, the brand would continue to compete in the Australian medium-duty truck market. And for good reason, because just as Condor had competed in the 4x2 medium-duty category, it had also successfully contested the light end of the heavy-duty sector with three-axle rigid versions.
Consequently, and whatever Condor's eventual replacement proved to be, it became blatantly apparent that it would need to be a generously-specified truck capable of straddling both the medium-duty market and the lighter end of the heavy-duty business.
Aussie 'Special'
Finally, in late 2017 during a quick visit to UD's Ageo headquarters in Japan as some of the last Condors ran down the production line, clues about a possible Condor replacement for the Australian market started to seep out. Sure, unspoken and unsubstantiated, but clues nonetheless, obvious enough to anyone with an eye for detail and a proclivity for possibilities.
While the essence of the Japan trip was to witness UD's increasing prominence within the Volvo Group and its push into highly advanced autonomous driving technology, it was also an occasion for the brand to showcase its entire model range. Entire, except for one! Missing was the newly developed Croner which, like its Quester big brother, was essentially created for emerging markets rather than more technically advanced countries such as Japan and ultimately, Australia!
Put simply, the new model's absence in front of a group of Australian truck writers begged the question: Could the Thai-built Croner, officially launched in Thailand in March 2017, actually be Condor's secret replacement for our neck of the woods?
It seemed entirely possible but typically, extracting a response from UD's local leaders was like pulling teeth with tweezers.
But then came the 2019 Brisbane Truck Show when UD surprised everyone – well, almost everyone – with a pre-production version of the new Croner (one of two in the country at that time), and in the process announcing its intention to launch the model here in the first quarter of 2020 after what senior managers said was a prolonged development program for Australian conditions.
As we would soon learn, it was a program that had already gathered plenty of essential support from UD in Japan and Thailand. Indeed, as Mat Ozono would later confirm, just as Croner was never intended for the Japanese market, nor did the original design objective take account of Australian requirements. In short, a great deal of international input was required to make it happen.
Fortunately, in both design strength and production quality, Croner had the foundations to create a model capable of achieving well beyond its original objectives. Still, as a succinct Mat Ozono remarked, "Croner for Australia was a difficult project" largely because VGA's UD operatives pushed for equipment and features not on the standard component inventory, starting with the mandatory front under-run protection (FUPS) bar.
Predictably, a higher level of standard safety features was especially high on the Australian agenda, including a driver's airbag (Bosch), seatbelt pre-tensioners, daytime running lights and in the not-too-distant future, electronic stability control and adaptive cruise control. It also meant cab crash testing went back under the microscope to reaffirm the structure's strength and compliance with Japanese and European standards.
To further satisfy modern-day market requirements, high levels of diagnostics and a wide range of display options on a dash-mounted 150 mm touch screen were deemed essential.
In effect, the combined resources of engineering teams in Australia, Japan and Thailand set about producing a Croner adapted to the needs and wants of the crowded and highly competitive Australian market.
At the head of the local engineering effort was product manager Neil Carey who, with UD Trucks Australia vice-president Mark Strambi, admits to thinking long and hard about what they wanted for Croner.
The foundations were undeniably strong, with the fundamental design and structural integrity of the truck providing what Carey described as, "A very good platform to build on … everything about the truck is built to a Volvo Group standard."
In fact, both Mark Strambi and Neil Carey were keen to emphasise that in many areas, Croner is a significantly more advanced truck than its predecessor. "Particularly in electrical architecture," added a resolute Carey.
Critically, however, their opinion of the truck's inherent durability was well-founded. In the lead-up to its Thailand launch where Croner is built alongside UD's heavy-duty Quester and Volvo models in the Thai Swedish Assembly facility on Bangkok's eastern outskirts, the model is said to have undergone one of the most gruelling test regimes in UD's long history. In addition to 1.7 million engineering hours and 90 test rigs, a fleet of 100 field test trucks accrued around 1.4 million kilometres over 18 months, working in actual customer operations in markets as distant as Peru, South Africa, India, United Arab Emirates, and obviously, Thailand.
According to a convincing Mat Ozono, the severity and duration of the test program left no doubt of Croner's ability to endure harsh work in some of the world's most diverse conditions.
Similarly, and despite the desire to implement a number of advanced features, Neil Carey emphasised that "keeping it simple" was equally high on the local agenda. That meant, he explained, a cab, chassis and powertrain capable of serving a wide range of operations and body types, from flat-tops to tippers, vans, crates and specialist configurations such as hook-lifts, garbage compactors and the like.
Smart Spec
For Croner's initial crack at the Australian market, 'keeping it simple' means just two models – 4x2 and 6x2 – with identical powertrains led by a Euro 5 version of the lively G8HE 7.7 litre, six cylinder common-rail engine offered by UD as part of Volvo's group engine family. Actually, it is largely the same engine now powering an expanded line-up of UD's flagship Quon range which in Euro 6 configuration recently made big news as the truck of choice for a large Linfox contract.
Croner's two Australian models are the 4x2 PK 18 280 and the 6x2 PD 25 280, each version dispensing 280hp and 1050Nm (774ft-lb) of torque through Allison's stunningly smooth and highly intuitive Allison 3000-series six-speed automatic transmission.
While there is no manual or automated transmission option, it took only a few hours behind the wheel of a pair of pre-production 4x2 units in and around Brisbane to easily agree with Neil Carey's assessment that it would be an odd instance when anything other than the super-slick Allison better suited shorthaul suburban work.
Mat Ozono agrees, citing increasing interest in the auto box from Croner markets in several parts of the globe, and in the process reinforcing the wisdom of specifying the Allison auto for a model that will almost certainly spend the bulk of its life battling through the 'burbs.
Importantly, Croner is available with an optional engine-driven power take-off (PTO) or a locally-sourced transmission PTO with the choice of side or upper mounting points.
It's also worth pointing out that Croner's maximum torque is notably higher than the 900Nm (664ft-lb) peak on the superseded Condor, allowing UD to specify a faster and potentially more fuel efficient standard diff ratio: 5.57:1 compared to Condor's 6.17. At this stage there is no limited slip diff option but as with most things, market demand will ultimately determine future availability.
Predictably, anti-lock drum brakes and an effective exhaust retarder provide the stopping power.
Moving on, gross vehicle weight ratings are 17.5 tonnes on the 4x2 PK and 24.5 tonnes on the 6x2 PD, while both models have a gross combination mass (GCM) rating of 32 tonnes.
Typifying the wide range of intended workloads, there's an equally wide range of wheelbase options. In fact, no less than eight lengths stretching from 3.75 to 6.5 metres on the two-axle model while its three-axle brother comes in 5.05, 5.7 and 6.7 metre versions.
Underneath are parabolic front springs with a stabiliser bar and at the back, the choice of airbag or multi-leaf suspension, with air suspension on the rear 'tag' axle of the 6x2. However, for its initial foray into the market, an electronically controlled lifting tag axle will only be available on the shorter 5.05 metre wheelbase of the 6x2.
As for the cab, it's largely typical of the medium-duty class in that it's 2.3 metres wide, offers easy entry and exit on two well-placed steps, provides excellent forward vision, ample mirrors, reasonable storage space, an air-suspended and suitably adjustable driver's seat, and convenient switchgear and control layout.
By any measure though, it's a stretch to call the space behind the seats a 'sleeper' in the Australian sense. At best, it's a marginally acceptable bunk area which, while well short of generous for anything other than a few hours snooze or an occasional overnight stay, at least provides a modicum of 'wriggle room' on a mattress more than half a metre wide. What's more, it's at least available with dealer-fitted curtains, so overall it's potentially a better bunk than its Japanese counterparts.
Meantime, the standard equipment list sports a number of worthwhile features including cruise control and what UD calls a 'selective speed limiter', allowing lower top speeds than the standard factory-set limit of 100km/h to be programmed by the truck owner through a password-protected function on the instrument panel.
Obviously enough, the aims of the variable speed limiting function are to potentially enhance safety and fuel efficiency. But so, too, does an in-built 'fuel coach' strive to maximise efficiency through a digital display in the centre of the instrument cluster which highlights in real time how the driver's performance is affecting fuel consumption. Whether the driver takes note or not is something else altogether, but the 'fuel coach' function at least allows him or her to gain some insight of the right foot's influence.
In a similar vein, 'big brother' is watching with UD citing the ability to download fuel and performance reports through Croner's integral telematics functions.
And finally on the cab, and indeed Croner in general, the overall build quality of both the pre-production units in Brisbane and those seen in Thailand appears absolutely first-rate. As Mat Ozono commented in a press statement, 'Japanese reliability and robustness is in the DNA of UD trucks (and) Croner upholds that tradition.'
In fact, looking at the quality of Australia's first Croners emerging from the Volvo and UD production plant in Thailand, the tradition is thriving.
Subscribe to our newsletter
Sign up to receive the Owner Driver e-newsletter, digital magazine and other offers we choose to share with you straight to your inbox
You can also follow our updates by liking us on Facebook. 

Trucks For Hire | Forklifts For Hire | Cranes For Hire | Generators For Hire | Transportable Buildings For Hire