Kenworth lays on master class to combat pandemic
---
EXCLUSIVE INTERVIEW: In a year like no other in living memory, Paccar Australia achieved far more in 2020 than simply endure a crisis decimating lives and livelihoods across the country. Way beyond expectations or even hopes, Australia's top truck maker quietly stamped its mastery on the heavy-duty market and in the process showed what it truly takes to excel in tough times. A rare and revealing interview with Paccar Australia chief Andrew Hadjikakou
It's mid-week in early December and Victorians are tentatively emerging from 112 days of severe lockdown – unquestionably the strictest and most gruelling restrictions in the country, by a long shot.
Yet, walking through Tullamarine airport for the first time in a year, and in cafes and hotels and shops, there's a subtle but nonetheless sanguine sense of reprieve as the state nervously retreats from a depressingly difficult and, as many believe and begrudge, largely avoidable second wave of COVID-19 infections. A wave that took more than 800 Victorian lives.
Still, it comes as no real surprise that at Paccar Australia headquarters in Bayswater on Melbourne's south-eastern rim, COVID protocols remain robust and uncompromising. Security has always been tight at 'Kenworth castle' but never like this.
For employees and visitors alike, temperature checks are first order of the day, social distancing is disciplined, masks are mandatory and within the executive sanctum of head office, it's quickly apparent that despite half hidden faces, some office staff are only now seeing each other for the first time in months.
In most cases, many months as lockdown forced the 'work from home' ethos to become something of a new norm for white collar workers.
What does come as a surprise though, the whole place is abuzz. In fact, if it weren't for the masks and all the signs about keeping the bug at bay, you'd swear it was just any ordinary day on the job during a peak period.
Sparkling new trucks are everywhere, fresh off the production line, a maze of models, colours and configurations. There's movement all around as trollies and forklifts ferry components into the beating heart of the Bayswater plant as yet another creation rumbles off the line, looking for a temporary parking space before heading to work in the hard and fast tempo of Australian road transport.
It's just as obvious, however, that far more than health and social protocols have changed since the last time I was here almost two years ago. Behind the main production facility, for instance, there's a vast new building set to add a new dimension to Paccar's production capability as the company prepares to soon celebrate 50 years of Australian truck manufacturing. It's all part of what Paccar Australia managing director Andrew Hadjikakou had several years earlier announced as a $37 million expansion of the Bayswater plant, approved by Paccar principals in the US, yet, as he proudly pointed out, funded entirely by the Australian operation.
The announcement came at the handover of the first DAF model assembled on the Bayswater line and the likeable leader known to many as simply 'Hadge', was boldly upbeat about Paccar's plans. The plant expansion, he enthused, is a massive make-over that will double the physical footprint of the Bayswater facility and see the installation of advanced robotics to not only enhance production efficiencies, but significantly bolster warehousing capacity to meet expected increases in demand for both DAF and Kenworth models.
That demand, however, is already happening. Big time, across the board, but most spectacularly on the Kenworth front. Despite the ravages of COVID-19 on the economic and social fabric of the country, Paccar Australia generally and Kenworth specifically appear to have kicked goals from every angle in the back half of 2020. Goals, perhaps, beyond anyone's expectation or comprehension, including the Paccar faithful.
Even so, it's a subdued and typically mild-mannered Hadjikakou who contends that 2020 has been "… a challenge for everyone, like nothing any of us have experienced before and hopefully, like nothing any of us will have to experience again".
After a few seconds, he calmly adds: "Despite everything, we are incredibly grateful and fortunate to have the people and products we do." If there's a hint of hubris in the comment, it is certainly well masked, so to speak. 
One-on-One
Several weeks out from the end of the most tumultuous year in living memory, it was blatantly apparent Kenworth would finish 2020 on an astonishing high. Indeed, December's delivery figures would soon show just how astonishing, sling-shotting the premier brand to an indomitable lead of the heavy-duty sector and in the process, reinforcing its increasingly historic hold on the big end of the business.
Perhaps more than anything else though, the 2020 performance carved in concrete the critical extent and peerless depth of Paccar's commitment to Australian truck manufacturing and vitally, the inestimable value of its local supply chains.
Typically of course, the company doesn't talk publicly about things like the daily build rate of trucks out of Bayswater but monthly delivery figures make it easy enough to discern that at the end of 2020, there were around double the number of Kenworths rolling out of the plant each day than at the same time in 2019. So, if speculation is correct that there were eight or nine units a day rolling off the line a year ago, it's not hard to calculate that somewhere between 15 and 20 trucks were filing out of the factory each working day at the close of 2020. Like I said, the place was abuzz.
Again despite the confronting circumstances of COVID-19, it is a remarkable achievement given that the back-end of 2019 saw an aggressive Volvo closing in on Kenworth's reign at the top of the heavy-duty sector and mid-way through 2020, actually knocking KW off the leadership perch for first half honours.
From the outside looking in, at the end of June 2020 and with Victoria reeling under brutal lockdown as a severe second wave of COVID-19 took hold, it seemed Kenworth's footing on the top rung of the ladder was at severe risk of slipping into second spot for at least the remainder of the year.
Since then, however, the turnaround has been incredible. While production at Volvo's Wacol (Qld) plant slid markedly in the second half, Kenworth build rates started a steady rise. Significantly, Volvo Group Australia (VGA) dispensed with around 130 people in the second half of 2020 whereas Paccar in November announced an intention to hire substantially more people. It was an announcement completely at odds with signs at the end of 2019 that Bayswater's employee numbers were being cut.
In the quiet confines of his office though, Hadjikakou did not dwell on numbers or comparisons with competitors, but nor was he shy about confidently asserting that Paccar Australia's employee numbers will soon enough increase by around 300 people.
"We've already added a lot of new staff," he emphasised before quickly adding, "and there are more to come. We've certainly not retrenched anyone."
Even more emphatic were his insights on the harsh realities enforced by the COVID crisis and more to the point, an immense regard for the people and policies that have not just helped guide the company through a brutally difficult time, but carve a remarkably bountiful passage on the way through.
Asked his thoughts when it became starkly apparent that COVID would have such a dramatic impact on Australian life and business during the initial national shutdown, a candid Hadjikakou conceded: "Early in the year when we all started hearing the news here and abroad, it was very hard to be optimistic given so much uncertainty in the world.
"That said, I was always confident we would weather it [but] the great uncertainty for us was what would the lockdown actually mean and what it meant for our employees and our communities. That was very hard to get a grip on and we were learning day-by-day, even hour-by-hour."
There were, he continued, also long conversations and directions coming from the US parent company, Paccar Inc.
"As it turned out, our parent company was extremely wise to mandate that all Paccar factories worldwide would shut down for a month in March. That was a God-send because it gave us a firebreak, a period where we could assess what needed to be done to make our plant COVID-safe, protect our employees and basically re-engineer the line with social distancing, screens and barriers. It was a lot of detail and a lot of new ideas were brought into play but all of it was absolutely essential.
"We moved very fast with face masks, making them mandatory even before they were mandatory in the general population. That was a really good move."
Asked if he saw opportunities as well as obstacles during this period, a thoughtful Hadjikakou replied: "Yes, there were opportunities but perhaps not in the way some people might think.
"The opportunity for us was to make sure we were safe and that we met our obligations to our customers. These were the real opportunities with COVID because it meant completely rethinking the way we thought and acted in our business.
"Out of that have come a lot of good things. Like, I believe the 'work from home' scenario is here to stay in different ways in the future, and the way we have been able to relook at our processes, the way we clean and the way we keep ourselves hygienic.
"I have people in the factory who regularly tell me they feel safer here at Bayswater than they do at their local supermarket. Given what we've all been through, that's really special."
Similarly, there's a notable mix of pride and relief in this voice when he adds: "We didn't lay off a single staff [member] during the whole period [and] we continued to pay all our staff during that shutdown period in March. They were paid as if they were still working."
Nonetheless, such actions obviously come with a significant cost and it's a blunt Hadjikakou who admits to a considerable economic 'hit' during the month-long downtime.
"We weren't building trucks, we weren't delivering trucks and obviously, we weren't invoicing trucks, but we wanted to make sure our employees didn't have the anxiety of 'do I have a job, don't I have a job, or am I going to get paid?'
"In the factory there are close to 400 full-time people on a couple of shifts and all that had to be put on ice until we knew what needed to be done. It was pretty unsettling," he remarked.
Suppliers, too, were high in Hadjikakou's mind.
"I was confident though [that] our suppliers would be okay. Our supply chain was intact and that's one point where I feel particularly proud of being Australian-made, with so much of our supply base not coming from overseas but being sourced locally. In many parts, our suppliers are within a 10km radius of the factory.
"That is a big benefit to us. Huge. We didn't have to rely on the long lead times of overseas supply chains. I knew we would be shielded from much of that because so much of our business really is Australian-made."
---
RELATED ARTICLE: Paccar fends off pandemic and recruits
---
By April, COVID constraints and information channels from government and health authorities were becoming clearer. Thus, Paccar's month-long closure came to an end and with road transport increasingly deemed an essential industry, Bayswater starting building trucks again. But any sense of relief was short-lived.
"The factory went back to work but then came the big one. The second shutdown which hit only Victoria," he says sharply.
Things were very different this time.
Close call
"We were very close to being completely shut down in that second lockdown," said a frowning Hadjikakou, easily recalling the stressful events of June.
"We weren't a candidate for JobKeeper either, so we lobbied to be considered an essential business. We lobbied very hard at local, state and federal levels and we called on a lot of people to help us, too.
"We were very determined, the plant needed to stay open to support essential businesses and they (government authorities) listened. They could see the connection between us, our workforce, and the need for trucks to keep the country and the economy moving.
"But shut down was a very real threat and it ran right up until the last minute, the last tick of the clock when the Victorian government finally announced those industries which could stay open and heavy vehicle manufacturing was one of them.
"The fact that we got through as an essential service is one of the best highlights of my professional life even though the burden during that time was immense on our entire leadership team. We kept telling ourselves 'we can't afford to shut down, we need to support our employees and we also need to support our industry'.
"It certainly wasn't an easy time but," he adds with a wry smile, "all's well that ends well. We got through it but none of us want to go through it again."
From then on, Paccar marched forward, fully in step with a burgeoning road transport industry. As a forthright Hadjikakou explained: "With transport being designated an essential service during COVID, and therefore the supply chain also designated essential, that really drove the volume in our factory."
So all up, you've done well in a difficult time and perhaps far better than you may have first thought? The question extracted an immediate response: "Yes, that's very true," he fired back, citing Paccar's products, people and policies as foundation strengths before willingly pouring praise on federal government initiatives
to keep the economy moving, not least with the instant asset write-off program.
"We can thank the federal government a lot," he asserts. "It has done some remarkably good things to protect Australia and we are the best country in the world in terms of the way we have responded to coronavirus.
"What the government has done to stimulate the economy with the instant asset write-off and depreciation schedules have definitely benefited capital purchases such as trucks, giving truck owners immense economic benefits.
"That certainly helped our industry [and] a lot of the capital intensive industries like mining and agriculture.
"We can be proud of the [federal] government's response and I think they have done an excellent job," he insists.
Accordingly, the instant asset write-off has made a new truck an attractive proposition and as an upbeat Hadjikakou conceded with a shrewd grin, even higher priced aspirational models have become more affordable.
"I spend a lot of time talking to fleets and truck owners generally, and throughout this whole period there's definitely been an undercurrent of sentiment towards Australian-made. That sentiment is always there but it's certainly evident now.
"Our strength is that we are able to supply and build to requirements but the instant asset write-off has definitely made it easier for an operator to buy a new truck.
"It really is once-in-a-lifetime stuff and the fact that it will be available until June 2022 bodes well for all of us in the industry," he said convincingly.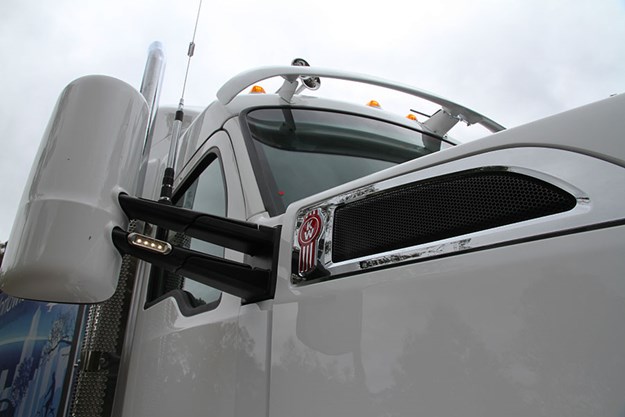 It is, however, a reflective and genuinely considerate Hadjikakou who quickly counters even the slightest suggestion of COVID being a good news story for Paccar Australia.
"I don't think COVID is a good news story on any level," he said bluntly. "What it has done is create demand for trucks and we have been fortunate enough to be in that supply chain and able to react quickly to demand, but when I think of the toll that COVID's taken globally in communities and in people's lives, it's not good. Not good at all.
"We would all rather it never happened."
Future focus
For all the tumult and challenges of 2020 though, the launch of a revamped DAF range early in the year and more recently, the new Kenworth T410 SAR went ahead largely as planned. Likewise, it was a reassuring Hadjikakou who declared that further plans for this year are also proceeding to schedule.
"Yes, everything is progressing to plan," he said confidently. "We've had to address how we do things to keep everyone safe, but 2021 is a milestone year for Paccar and there will be plenty to cheer about, particularly after all the bad news around manufacturing in Australia over the last five and six years.
"In March we will celebrate 50 years of manufacturing Kenworth at Bayswater and with the new factory expansion we'll also be ramping up assembly of DAFs."
A few months later there's the Brisbane Truck Show and COVID-permitting, Paccar has big plans to showcase a number of new developments, not least the new T410 SAR. There are also rumours of a special edition 'Legend SAR' making an appearance for a short-term model release.
According to a non-committal Hadjikakou: "I can only say that previous 'Legend' initiatives have been very successful so I can't see why an SAR wouldn't be just as popular."
While Kenworth is king in the Paccar world, with new developments continuing to evolve in both cab-over and conventional classes, Hadjikakou confirmed that DAF figures especially high on Paccar Australia's radar. Higher than ever before.
Right now the 6x4 DAF CF85 model is the only unit assembled at Bayswater, delivering around 40 per cent of all DAF sales in Australia. It is, however, an assertive Hadjikakou who said that while DAF is currently assembled from imported kits, "the end goal is to build them out from parts drawn into the production line, in the same way we have been so successful with Kenworth".
As he further stated, the new factory expansion will be a major generator of DAF's greater prospects.
A question which caused a few moments of quiet deliberation was whether or not a Cummins X15 engine is being considered for DAF's flagship XF model, currently limited to 530hp (395kW) from the Paccar MX-13 engine.
Hedging his bets somewhat, he replied: "We are looking at all different opportunities [but] to fill that gap with a high displacement engine makes sense.
"We need to weigh up the whole product portfolio, where it sits globally. It won't be a local project [and] we will be relying on our global product planning to deliver something like this."
Even so, he cites Cummins as an exceptional supplier to Paccar. "[It] has been for decades but in that high horsepower region, we'll just have to wait and see what happens with DAF." Either way, the Bayswater facility certainly has the engineering capability to fit a Cummins X15 into the XF.
Perhaps the deciding factor will be a new DAF cab rumoured to be under development in Europe, and whether or not Paccar's DAF decision-makers will facilitate the inclusion of a bigger bore engine. Maybe even a lightweight big bore engine from a Cummins plant in China.
Who knows! "Yeah, who knows," he said with a shrug and a wry smile.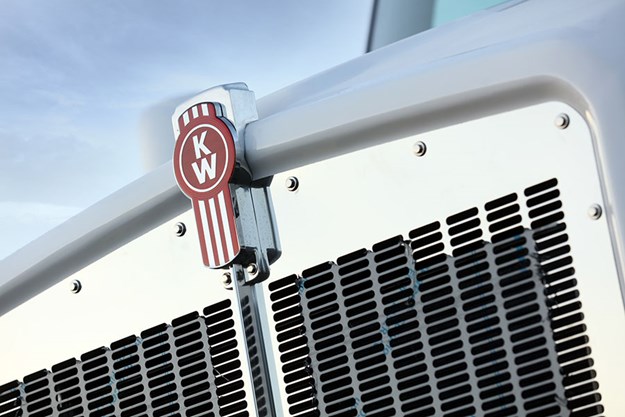 Time was now short and despite the demands and difficulties of the past 12 months, it was a smiling Hadjikakou who expressed his deep satisfaction after 15 years with Paccar Australia, the last six as only the fourth managing director in the past 40 years or so. Of those four, all but one have been Australian.
Asked if Paccar Australia will emerge stronger from the COVID crisis, he said calmly: "I think so. The principles that make Paccar a strong, viable organisation have not changed.
"We went through the GFC and the '91 'recession we had to have', and the same principles that saw us through those times are still very much intact today. If anything, they're even stronger.
"We don't have any debt in our business, that's a big one for us. We fund all of our investments through cash, we have a really strong focus on employee wellbeing, we manage our supply chain well, and if you look at our dealers there are 10 families who have been with us for the 50-year journey and longer, so there's real consistency there.
"There's also real strength that underpins the organisation through good times and bad times, so nothing has changed in that regard at all.
"We still hold those values. I believe we always will."
Subscribe to our newsletter
Sign up to receive the Owner Driver e-newsletter, digital magazine and other offers we choose to share with you straight to your inbox
You can also follow our updates by liking us on Facebook. 

Trucks For Hire | Forklifts For Hire | Cranes For Hire | Generators For Hire | Transportable Buildings For Hire