Isuzu ups safety on new N Series
---
New Advanced Driver Assistance System adds extra safety dimension to Isuzu's updated 4x2 light-duty range
Isuzu Trucks has announced what it states as the safest Isuzu truck ever developed for the Australian market with major updates to its new N Series light-duty range.
Isuzu says the latest incarnation of its 4x2 N Series trucks will offer operators not only the brand's famous promise of reliability, but the next generation of truck safety with the introduction of Isuzu Intelligent Safety.
There are a number of cosmetic enhancements to the range, notably the improved cabin appointments. These updates include an interior revamp in seat cover material and cabin appointments. Behind the dashboard also comes a new CAN converter circuit and connector, making it a simple exercise to fit a fleet management or telematics system.
Outside, a new exterior lamp assembly with prominent foglamps gives the new range a distinctly different forward appearance.
As per other Isuzu line-ups, the new N-Series boasts a wide breadth of range to cater for customers' needs in various vocations. In addition, all new N Series trucks receive at least 500kg increases in towing capacity—up to 4,500kg rating for models with 4HK1 engines (NPR, NQR and NPS models), and 4,000kg rating for all other models in the range.
Isuzu says Isuzu dealerships will match the towing increase, offering genuine towbars and a selection of 50mm or 70mm tow-balls rated to the truck's capacity as an optional accessory, available at extra cost.
The main talking point, however, is the introduction of Isuzu's new Advanced Driver Assistance System, or ADAS, which complements the existing safety suite which is found in all N Series 4x2 trucks.
Isuzu Australia Limited national sales manager, Les Spaltman, notes that new N Series trucks were built to support operators across a gamut of applications, but that urban operators would find particular benefit in Isuzu's ADAS.
"Isuzu's data shows that most businesses needing a light-duty truck operate in urban settings, including freight movement in cities and residential areas, business-to-customer service or delivery, and operators needing their trucks on site within metro areas," Spaltman says.
ADAS is said to have been cleverly and carefully designed to observe changing traffic conditions and assist drivers in maintaining a safe distance from other road users, pedestrians, cyclists, and objects. This all works to help avoid collisions with a combination of warning alerts and automations that activate when an imminent crash or potentially dangerous change in driving environment is detected.
The ADAS features include Advanced Emergency Braking system (AEB) with Forward Collision Warning (FCW); Lane Departure Warning system (LDW); Traffic Movement Warning (TMW); Distance Warning System (DWS); and Auto Lighting System (ALS).
The eyes behind ADAS is a Hitachi stereo 3D camera, which Isuzu says has proven to be incredibly accurate in object detection, as well as speed and depth perception – whether it's in daylight or night operation.
Isuzu points out that the dual-lens Hitachi camera is mounted inside the truck's cab in a central dashboard position which is not attached to the windscreen and thereby does not obstruct the driver's view. The aim is to give the camera a superior field of vision to detect lower-height objects while in motion (such as children), aimed at operators working in built-up areas.
While emergency breaking and lane departure warning systems have been regular safety items in modern trucks, Isuzu claims its Advanced Emergency Braking system with Forward Collision Warning (FCW) works by way of the dual optical sensor camera, which monitors the environment in front of the truck. It is said to detect and determine the distance of three-dimensional objects such as vehicles, pedestrians, bicycles and other objects that appear in front of the truck.
If the FCW system determines a collision is likely and depending on the circumstances and severity of the situation, the system will respond with either audible and visual alerts, or autonomous activation of the vehicle's brakes.
Isuzu says that, under normal operating conditions, the system is designed to avoid a collision with a speed difference up to 50km per hour and can reduce the risk of a collision impact for higher speed differential's, even at night.
Similar to systems found in many new passenger cars, Isuzu's Lane Departure Warning works via sensors that detect and monitor the vehicle's trajectory in relation to lane markings on roads or the road edge itself, providing audible and visual alarms for the driver if the vehicle begins to wander out of the lane marking or over the road edge.
With the aim of improving safety even further, Isuzu's Distance Warning System (DWS) is designed to ensure the truck operator is travelling at a safe distance from the vehicle ahead. Isuzu states that this allows drivers to pre-set a desired minimum distance (depending on application or environment). The DWS will then alert drivers with a subtle visual warning on the dash when an unsafe distance is detected.
According to Isuzu, the system has been intuitively programmed to only activate when speeds exceed 30km per hour, making it particularly useful for highway driving while preventing spurious warnings in situations such as traffic jams.
"It's also in these dense, high-traffic situations that the most unfortunate collisions occur, with our data also showing pedestrian and cyclist accidents with trucks accounting for the largest percentage of serious injury and death," Spaltman continues.
"Linked to the dual-camera placed for optimal visibility of low-height objects, our ADAS is designed to be an extra set of eyes on the road, helping the driver monitor everything from other road users, pedestrians and cyclists, through to changing traffic conditions."
Isuzu believes operators who do face those unavoidable traffic conditions, or who are operating in metro settings, will also appreciate the Traffic Movement Warning (TMW) system, another feature unique to Isuzu's N Series ADAS.
The TMW system monitors stationary vehicles ahead and will alert the driver with a clear but subtle warning sound when forward traffic movement is detected more than five metres from a truck's stopped position.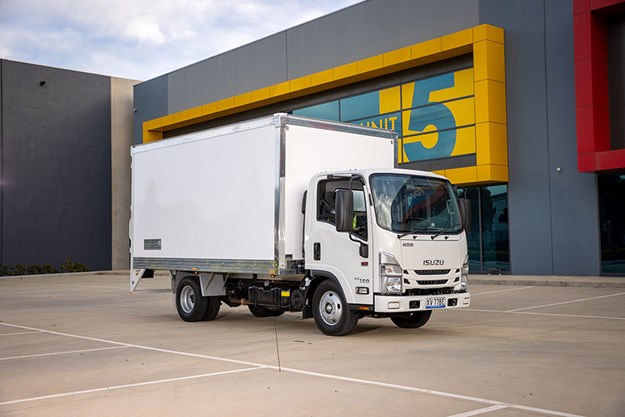 Rounding-out the Isuzu Intelligent Safety suite in the new N Series 4x2 range is an Auto Lighting System (ALS).
The ALS functions automatically when selected by the driver, adjusting headlight and taillight brightness to meet changing outside lighting conditions, providing drivers with optimum lighting for safe driving and road use.
Dependent on models, other additions to the line-up include a customisable speed limiter (set at the dealership), new cab-tilt warning device, and suspension seats in selected narrow-cab models.
Isuzu says customers can also expect to see new product hitting its Ready-to-Work range, with tipper and tradepack line-ups expanded, plus additional models slated for 2022 release.
"We are incredibly pleased to offer our customers the next generation of safety in light-duty trucking with our updated N Series range," Les Spaltman says.
"With confidence, we can say these are the safest, most advanced, diesel-powered light-duty Japanese trucks in the Australian market.
"In terms of work-smart features to keep drivers safe and comfortable, and capacity to get the job done, we believe operators will see a huge difference between owning a new Isuzu N Series truck compared with any other similar truck out there."
Subscribe to our newsletter
Sign up to receive the Owner Driver e-newsletter, digital magazine and other offers we choose to share with you straight to your inbox
You can also follow our updates by liking us on Facebook. 

Trucks For Hire | Forklifts For Hire | Cranes For Hire | Generators For Hire | Transportable Buildings For Hire