Freightliner charges into BEV market with new eCascadia
---
Freightliner launches eCascadia to battle Kenworth, Volvo in the battery truck market
Freightliner in the US has unveiled the new eCascadia at the Advanced Clean Transportation Expo currently underway in Long Beach, California.
Freightliner says its new battery electric eCascadia provides customers with a zero-emission version of the diesel-engine Cascadia and debuts its innovative safety and connectivity features.
Extensive development and rigorous testing through several prototypes and customer-tested trucks, resulted in a powerful and efficient battery electric truck with multiple battery and drive axle options, providing a typical range of 370km (depending on vehicle configurations).
The eCascadia is ideally suited for short-haul routes that allow for depot-based charging, examples of which include last mile logistics, local and regional distribution, drayage and warehouse to warehouse applications.
320-470 hp (Horsepower)
Typical range of 370km (depending on vehicle configurations)

Multiple battery options and maximum capacity of almost 440 kWh

Recharge of 80 per cent in approximately 90 minutes
Up to 37 tonnes max GCW (Gross Combination Weight)
Available with single or tandem eAxle
116" day cab configuration
Powered by in-house developed Detroit ePowertrain
Detroit, the industry-leading manufacturer of state-of-the-art engines, axles and transmissions, is the power behind the eCascadia. The in-house developed Detroit ePowertrain is designed for a full integration with the eCascadia for maximum power, increased driving dynamics, and driver comfort, all with zero emission.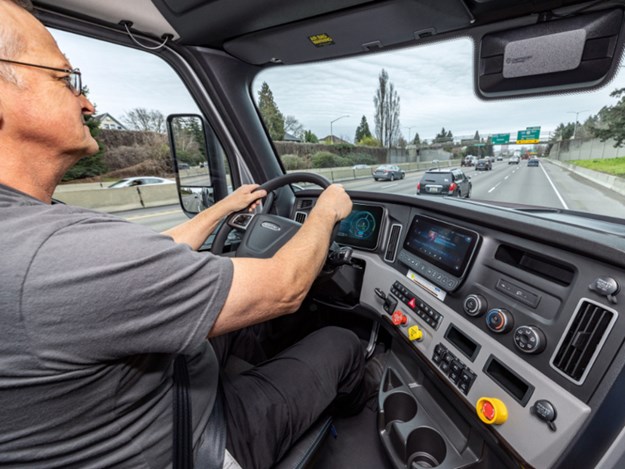 The eAxle is an electric drivetrain component integrated with an electric motor, transmission and specialized electronics within a compact unit. Detroit's ePowertrain provides two eAxle designs including a dual motor with max torque of 23,000 lb-ft (31000Nm) and max power of 395 hp, and a single motor featuring a max torque of 11,500 lb-ft (15600Nm) and max power of 195 hp.
The Detroit ePowertrain offers three battery options for a range of sizes and average, zero-to-full charging times starting with 194 kWh (one and a half to three hours), 291 kWh (two to four hours), and 438 kWh (two to six hours). Detroit's Li-Ion batteries enable the eCascadia to meet critical range targets without sacrificing payload.
Because the Detroit ePowertrain produces less heat than a traditional combustion engine, temperature and packaging requirements for cooling are minimized. This allows the eCascadia to come with closed hood vents, and a new grille, which reduces drag by forcing more air around the vehicle, as opposed to pulling it through the radiator.
With series production of the eCascadia starting this year, Freightliner enters a new era from testing and validation to real world customer applications and follows a clear path of strong business focus.
The flagship truck, the Freightliner eCascadia, together with the Freightliner eM2, has already covered more than one million miles in testing on public roads while in customer hands. Now, with its world premiere, start of series production and customer deliveries beginning in 2022, the new battery electric eCascadia and its dedicated services, bring DTNA and their customers one step further towards CO2-neutral transportation.
New grille design for aerodynamic improvements
Because the Detroit ePowertrain produces less heat than a traditional combustion engine, temperature and packing requirements for cooling are minimized. This allows the eCascadia to come standard with closed hood vents, a new grille, which reduces drag through forcing more air around the vehicle as opposed to pulling it through the radiator. Additional aero improvements are available in the Aero-X package, standard on the 6x4 model, which includes front wheel well closeouts, air skirts under the high voltage battery impact protection panels, quarter fenders with aero spoilers, and drive wheel fairings.
Designed for driver comfort
One of the most consistent pieces of feedback provided by customer drivers piloting pre-series production models is that the eCascadia offers exceptional driver comfort due to the elimination of engine noise and vibration inside the cab, the torque response in the driver seat and instant torque characteristic that allows smoother operation during high traffic conditions.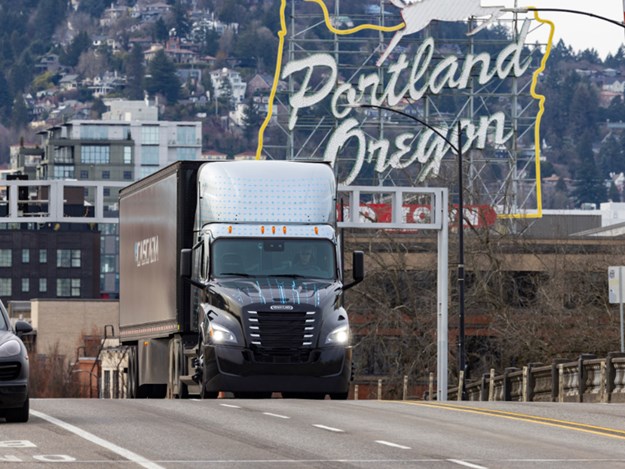 The eCascadia's interior includes an ergonomic and modern wraparound dash, featuring a two-screen LCD digital display that provides the driver with customizable access to vehicle status information on the A-panel screen, and an infotainment B-panel screen featuring multimedia connections. Proven features in the Cascadia have been carried over to the electric version, such as the multi-function steering wheel controls that allow the drivers to accept, decline and end phone calls without removing their hands from the steering wheel, change controls of the instrument cluster unit menus, utilize cruise control, and control stereo volume. A quick-release adjustable steering column comes with full range of motion for driver comfort, an integrated windshield wiper control, and a right-hand column mounted stock switch for shifting, as well as adjusting regenerative braking intensity between low, medium, and high settings.
"The introduction of zero-emission trucks and all their needed support systems is truly a game changer. By developing electric vehicles, investing in charging infrastructure, and offering eConsulting services, we are determined to do our part to make commercial transportation emission-free," says John O'Leary, president and CEO, DTNA.
Subscribe to our newsletter
Sign up to receive the Owner Driver e-newsletter, digital magazine and other offers we choose to share with you straight to your inbox
You can also follow our updates by liking us on Facebook. 

Trucks For Hire | Forklifts For Hire | Cranes For Hire | Generators For Hire | Transportable Buildings For Hire