Steel seals the deal for Moore Trailers clients
---
Moore Trailers, one of the most recognisable road transport trailer brands in Australia, has battled COVID repercussions during the past couple of years. Despite setbacks, however, the company is continuing with its expansion plans, which will see it increase the output of its steel-based products
You simply can't miss it! The lengthy mural near Pittsworth on Queensland's Gore Highway is a welcome sign for long-haul drivers that they're on the home stretch of the Melbourne-Brisbane northern run. Most importantly, behind the mural's wall sits the facility of one of Australia's most successful trailer manufacturers – Moore Trailers.
And, despite some setbacks, business is booming. According to the company's founder Lionel Moore, the Darling Downs facility is pushing out around 10 trailers each week, with grain and gravel tippers among the most popular orders.
"Side tippers for gravel and grain and roadbase, and we do a lot of dropdecks, low loaders, special flat beds that go into mine sites," Lionel says. "All sorts of weird and wonderful things."
Moore Trailers has increased its customer base markedly in Australia since opening its doors in 1998. In preparation, the company's first shed was built in 1994. The main production shed followed in 2000.
Starting his own business seemed inevitable for Lionel with his trailer-making background. At age 15 he started work at O'Phee Engineering who operated out of Pittsworth.
"I did my apprenticeship at O'Phee's under Bill and Jim. From there I worked for them for 27-odd years.
"They fell on hard times in 1988 and went into receivership, so I established my own business because I couldn't find work for my two sons," he says.
"I've been building trailers for 57 years; that's all I know."
Lionel bought the land in 1992. A couple of years later it was earmarked as heavy industrial.
"At the moment I've got about 30 hectares of industrial land, so there's plenty of room for expansion if my boys want to go on with it."
Lionel's boys are sons Grahame and Shayne Moore. Grahame is in charge of production while Shayne handles the day-to-day running of the company. The family connection also includes Lionel's granddaughter, Caitlyn, who is the office receptionist.
Tragically, Grahame's son Justin Moore passed away due to a car accident in 2019. At the time he was undertaking an apprenticeship at Moore Trailers.
"That knocked the shit out of us; none of us have sort of recovered from that," Lionel says. "Ideally he would have taken his father's job and later on take my job.
"My other grandkids aren't old enough. One boy, Shayne's son, is willing to start tomorrow, but he's only 13. He wants to become a welder."
Larger facility
Moore Trailers recently added another 16,000 cubic metre manufacturing building across the lane from its original premises. Lionel says while it's currently a production facility, with around 100 workers on the job, plans are to relocate the current offices into the new building.
While the location of Moore Trailers may seem like a little off the beaten track, the fact that it's situated on a major freight route has worked in its favour. Also, its reputation has grown through word of mouth as well as showcasing its products at selected events.
"We don't do any big advertising campaigns," Lionel points out.
"We like to do truck shows – the Brisbane Truck Show is pretty well the major truck show in Australia today – and we like to do some field days, AgQuip in Gunnedah, Ag-Grow in Emerald and FarmFest in Toowoomba."
Not limited to the Australian market, Moore Trailers' reputation has led to exporting its products to New Zealand, Fiji, Papua New Guinea and South Africa.
"We built bottom dump trailers for carting raw sugar for Fiji, then the South African ones were all rear end chassis tippers for grain. It's surprising the amount of grain that's grown in South Africa," he adds.
Both Fiji and New Zealand buy low loaders from Moore Trailers, while molasses tankers are also on Fiji's shopping list. For Papua New Guinea its roll-on, roll-off trailers that go on barges for transporting mobile houses in the mines for accommodation packages.
"We do about 30 or 40 of them in one go," Lionel says.
He laughs when he says mobile houses would come in handy around the Pittsworth area.
"Pittsworth is a very modern attractive town, but the rental accommodation is slim. We find it difficult to employ people mainly because of accommodation."
It's a situation that's seemingly endemic across the transport industry, not only in recruiting drivers but finding skilled workers in manufacturing as well. In a bid to fill its ranks, Moore Trailers has looked further afield. Currently around a third of its workforce is from a country other than Australia.
"We've got about 35 overseas workers here," Lionel continues.
"We've got Chinese, Vietnamese, workers from the Philippines, Iraq refugees and Sudan. We've got a very multicultural workforce.
"One of the best workers we had here was a Chinese girl. No-one could build a toolbox as fast as her."
The onset of COVID put the inevitable spanner in the works in the Moore Trailers facility, with visas becoming almost non-existent.
"We've got a lot of people in the Philippines wanting to get to Australia to start work, but to get people with visas has been virtually impossible," he explains.
Not surprisingly, COVID has also impacted the company's existing workforce. Lionel says everything was running smoothly up until March this year.
"Virtually every man in the shed has caught COVID, so some weeks we've been down 20 men.
"I think it's the Omicron what these fellas have been getting. The Delta didn't affect us. It's only since they relaxed all the laws and took all the face masks off. We've immunised everyone here, voluntary of course. I think I've only got one bloke that doesn't believe in vaccines, but he ended up with COVID and was off for a fortnight. He was sick as a dog."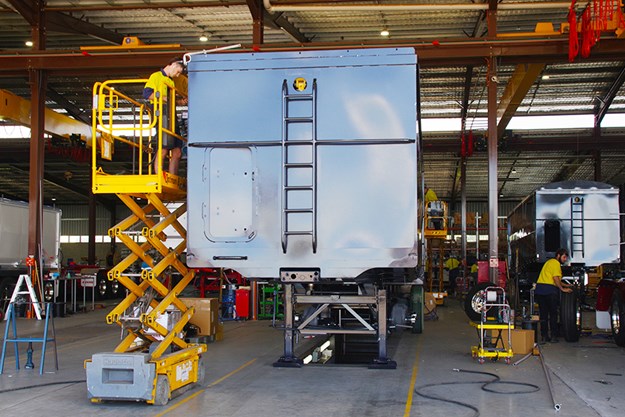 COVID caused another hurdle last year when border closures prevented clients from collecting their new purchases. Moore Trailers, however, found a solution to that restriction, at least for the southern state customers.
"If we sold a trailer say in Victoria or NSW, we'd transport the trailer to Goondiwindi and then they'd have to come up. The police at Goondiwindi were very good so they would allow them an hour to come and hook up. That worked for us in getting our deliveries out," Lionel says.
"We talked to them and they gave us some sort of exemption. Blokes had to ring up and get themselves a permit; they were only allowed an hour to come through to where we had them parked, hook up and they weren't allow to talk to anyone. And that worked.
---
RELATED ARTICLE: Moore Trailers display at last year's Brisbane Truck Show
---
"Whereas Tweed Heads, that was just ridiculous. They just turned everyone around and sent them home. But they could go to the police in Moree and get the exemption permit and then come up to the border and hook up the trailer and go."
Port charges
While COVID has also impacted some parts supplies, so has the war in Ukraine. Lionel says shipping has taken a hit with insurance costs rising for companies accessing the Suez Canal. China is another issue, but he says the finger can be pointed at Australia's ports for "big charges in freight".
"There used to be a 1,000 ships coming out of China. I don't know what happened because 18 months ago we could get a container out of China for $2,600. The last one was $15,000 in freight.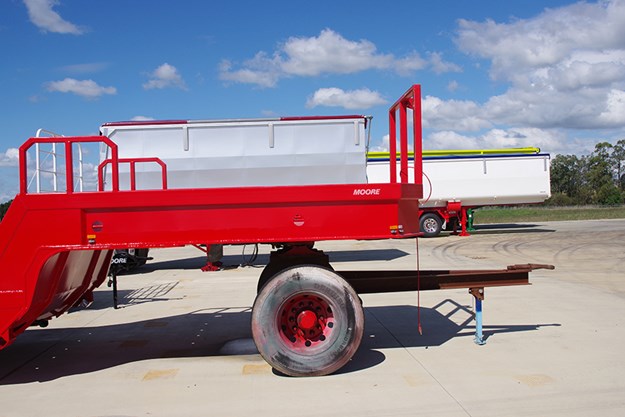 "It's mainly because they don't want to come to Australia because everywhere else in the world, you pull up, you unload and you're gone. In Australia they sit in the port for three or four days because of the ridiculous workers we have in control of the wharves," Lionel exclaims.
"Say they come to Brisbane and want to drop 100 containers and pick up 100 containers, they will take about three or four days to get it done. Whereas in Singapore they'll be done in an hour."
On the contrary, steel supplies from Japan have remained mainly unaffected. Hardox, however, was another issue last year due to the pandemic.
"A lot of our products come out of Germany and Italy for torque hubs and gearboxes for special trailers we build. A lot of the factories were shut for 12 months so it was very hard times getting componentry, especially out of Italy."
Despite those frustrations, Moore Trailers is looking at further expansion, including hiring another 50 employees to fill roles in the painting, assembling and welding departments. Again, the business will need to look outside the local community because, as Lionel says, there's currently 100 per cent employment in Pittsworth.
"At the moment we're building 10 trailers a week. We need to get that up to about 15 or 20 a week," he explains. "We've got about 18 months' worth of work in and 1,000 trailers on order.
"The only thing we don't build is vacuum or pressure tank and we don't build aluminium, we build all steel. And we don't do the tautliner style."
Despite his two sons occupying high profile positions with the business, Lionel, now aged 73, still spends around 60 hours each week both in the office and the production facility. And, with Moore Trailers boasting the largest variety of trailer manufacture in Australia, not to mention the company's expansion projects, Lionel has plenty of work to keep him busy for a long time to come.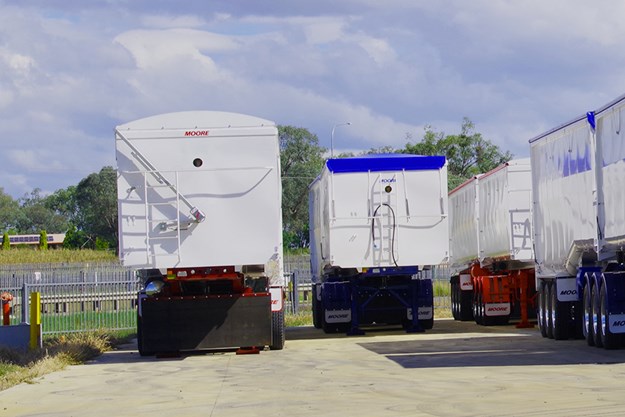 Subscribe to our newsletter
Sign up to receive the Owner Driver e-newsletter, digital magazine and other offers we choose to share with you straight to your inbox
You can also follow our updates by liking us on Facebook. 

Trucks For Hire | Forklifts For Hire | Cranes For Hire | Generators For Hire | Transportable Buildings For Hire