Hino Australia is today equipped with the best product range in its long history here. High on the heap is a versatile 9.0 litre line-up capitalising on the modern-day brilliance of Allison automatic shifters. We take two for a run through the 'burbs and beyond
Through no fathomable fault of its own, Hino Australia hasn't had the easiest time over the past year or two. Corporate indiscretions in Japan on emissions data, COVID-induced production issues, and most lately, news that Toyota's Hino and Daimler's Fuso are set to become stablemates in coming years have to some extent impacted the brand's competitive stability.
To what extent exactly is anyone's guess but more to the point and with little alternative, Hino's local leadership has simply powered on, working extremely hard to keep an entrenched customer base satisfied. In a nutshell, doing its best with what it has.
Fortunately, what it has is the best model range in the brand's Australian history and better still, arguably the best in the business on many model-to-model comparisons with its main competitors.
There's no question that with the launch of its new wide cab 500-series in 2017 and introduction of the much-acclaimed 700-series trucks during the difficult heights of COVID‑19 in 2020, Hino's medium and heavy-duty product range reached a new peak in almost every department.
In many ways, 500-series laid the foundation for a revitalised Hino assault but it was unquestionably the arrival of the 700-series which put the brand on a broader and significantly higher pedestal. True, the absence of a flagship 700-series model with 500hp or more was a disappointment in some estimations (including this one) but nonetheless, Hino's local team was intent on making the most of an altogether safer, smarter and downright more appealing range of trucks.
Indeed, in casual discussions with the likes of sales and marketing chief Richard Emery and product strategy manager Daniel Petrovski, ongoing acceptance and customer demand have remained bright lights despite the unforeseen gathering of darker clouds in recent years.
For a forthright Richard Emery, however, 2022 was a memorable year for good and not-so-good reasons. A 35-year veteran of the automotive business with a self-professed capacity to roll with the commercial and corporate punches, he joined Hino at the start of 2022 in what he insists was "… a long-term decision to take this role. I'm not here for just a two-year fling.
"Nor," he adds sharply, "am I a panicker."
Even so, he'd barely warmed the executive chair before being confronted with many months of production stoppages and component shortfalls which had harsh impacts on critical models in the Hino range. Asked for an estimate on how many potential sales were lost during 2022, a candid Emery put the number at around 800 units. All lost, he emphasised, "due to events completely outside HMSA's (Hino Motor Sales Australia) control."
In almost the next breath though, he contends 2022 was also, "… a successful year given the cards we were dealt (and) we'll go close to reclaiming that 800 in 2023."
---
RELATED ARTICLE: Hangin' with Hino's new hybrid
---
No question, this year seems guaranteed to deliver an all-time Australian record for truck sales and providing supply lines flow smoothly from Japan and local bodybuilders are able to keep pace with a booming market, Hino also has its sights set on a record result.
"There's definitely no lack of demand for our trucks right across the range," says a typically passionate Daniel Petrovski, ever ready to cite the features and versatility of the 700-series as major factors in Hino's appeal. Despite being launched in the middle of Covid constraints, "700-series," says an upbeat Petrovski, "has been the success we aimed for and not only meets but exceeds our expectations."
"Like Daniel said," Richard Emery chimes in, "there's no shortage of demand and we keep asking Japan for more simply because we can sell more."
As for continuing the ambitious and somewhat naïve hopes and dreams of previous Hino administrations to knock Isuzu Australia off its historic perch and claim top rung on the overall truck sales ladder, both men are quick to dismiss the subject. Isuzu has, after all, nothing short of an insurmountable lead.
Equally though, the threat of an aggressive Fuso taking second slot in the overall market stats obviously doesn't sit well with the Hino faithful. Not at all, but it's an emphatic Richard Emery who asserts, "We have a very loyal market, especially in things like small tippers, tilt trays and various niche applications."
The goal, he insists, is to meet customer demand and maximise every opportunity. "We don't try to be all things to all people but what we do, we aim to do well."
Two of a kind
Justifiably confident in its modern line-up, Hino certainly hasn't been tentative in offering various models for road test runs over the past year and more, notably 700-series trucks in various truck and trailer configurations punched by the brand's long-serving 13 litre engine with up to 480hp. For whatever reason though, 9.0 litre versions seem to have largely flown under our radar. Until now!
Simply stated, the 9.0 litre range may be something of a quiet achiever in the 700-series stable but even so, it has the versatility to cover a diverse range of applications and loses nothing in terms of advanced safety, comfort and appointments compared to its bigger bore brothers. Yet whereas 13 litre models are equipped with ZF's acclaimed Traxon automated manual gearbox, all 9.0 litre models in the 700-series range come standard with the stunning smoothness, ease and operational intuition of an Allison fully automatic transmission.
Consequently, the opportunity to sample two trucks from each end of the 9.0 litre line-up was easy to accept, starting with a regional run in an FH 1832 4×2 model configured as a rigid tipper towing a single axle trailer. Then a few weeks later, a day-long stint steering an FY 3036 eight-wheeler hook-lift tipper outfit through the bowels of Sydney and its western suburbs.
Different as they are, the two trucks also share much in common, not least Hino's A09C turbocharged and intercooled six cylinder engine sporting a Euro 6 emissions standard derived from a diesel oxidation catalyst, particulate filter and SCR system.
Likewise, they share the same functional, air-suspended and stylish 700-series cab, and vitally, an impressive level of standard safety functions under what Hino calls its 'SmartSafe' system. By any measure, it's a comprehensive and commendable package led by autonomous emergency braking and pedestrian detection as well as vehicle stability control, ABS anti-lock, adaptive cruise control, lane departure warning and effective auxiliary retardation through an engine compression (Jake) brake and exhaust brake.
Yet despite the extent of the safety package, the Japanese maker has stuck rigidly to drum brakes rather than discs.
Obviously enough, powertrains of the two models reflect their differing demands. In essentially rigid 4×2, 6×2 and 6×4 configurations where gross vehicle mass (GVM) ranges from 17.4 to 26 tonnes, the 9.0 litre delivers 235kW (320hp) and 1275Nm (940lb-ft) of torque, feeding through an Allison 3000-series six-speed double-overdrive automatic shifter and 5.25:1 final drive ratio.
However, it's only in the FY 3036 8×4 model with its GVM of 30 tonnes that 9.0 litre outputs are pushed to 265kW (360hp) and 1569Nm (1157lb-ft), requiring the heavier capacity of an Allison 4000-series double-overdrive six-speeder with a marginally deeper 5.428:1 diff ratio.
City slickers
Primarily offered as a 4×2 rigid and with wheelbase options stretching from 4.2 to 6.0 metres, the FH 1832 is the baby of the 700-series family but it also has a 500-series close relative in the guise of the GH 1832.
So what makes the 700-series FH different from the 500-series GH? For starters, the 9.0 litre engine in the GH runs a Euro 5 emissions system but more to the point according to Daniel Petrovski, the GH cab stands around 125mm higher than its FH sibling. That, he says, is one of several reasons that despite a higher price tag, there's a distinct customer preference for the lower entry of the FH version with its more comprehensive safety package.
One of many 700-series configurations used in Hino's expansive demo fleet over the past year and more, our FH test unit had notched more than 18,000km and was perhaps an ideal showcase for the model's likely workloads in construction and landscaping roles where a rigid tipper might be coupled to a low-slung trailer hauling an excavator, backhoe or the like. For this exercise, a loaded Hino 300-series tipper was a suitable substitute for a small earthmover and combined with a load of stone in the Hardox steel body of the 700-series, the outfit grossed 22 tonnes.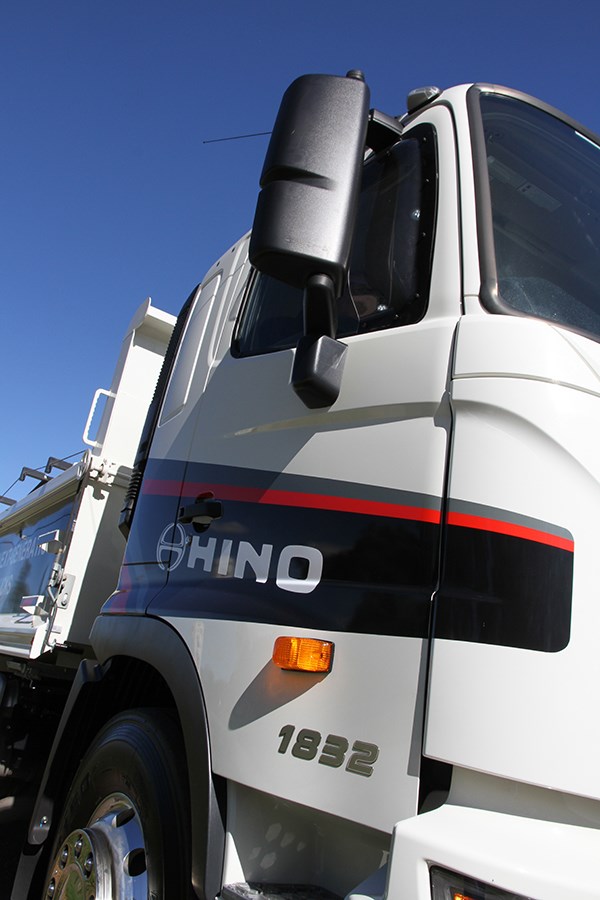 It didn't take long to be reacquainted with the neat, appealing and functional layout of the 700-series cab. All controls and switchgear are easily understood and ideally placed while ride comfort, steering and overall road handling were equally impressive on a day where the combination was run through suburban streets, country backroads and fast freeways. All up, a tad over 200km of widely different conditions and traffic flows with a couple of sharp climbs in the mix.
Throughout it all, the ease, smoothness and intuitive 'smarts' of the Allison shifter made the most of the 9.0 litre engine's outputs. In strict performance terms, the FH 1832 is not a barnstorming powerhouse but with the aid of seamless shifts and the entirely appropriate timing of the Allison auto, the six pot's willingness to dig deep and use as much as possible of the torque band delivered a stoic effort. At times, surprisingly stoic.
On freeway stretches cruising through the Allison's tall 0.653:1 overdrive top gear, 100km/h is notched at a twitch over 1600rpm.
As for fuel consumption, the truck's return of 2.8km/litre – or 7.9mpg for us more mature types – seemed more than reasonable over a day of vastly different demands.
All up, the 9.0 litre FH 1832 in this configuration simply showed another dimension to the diverse abilities of a highly functional 700-series model range.
Even so, it was a day behind the wheel of the FY 3036 eight-wheeler which arguably did most to highlight the attributes of Hino's 9.0 litre line-up and in the process, demonstrate the ease and absolute suitability of the modern-day Allison auto in heavy-duty metro work.
After all, and let's be blunt, the daily demands of piloting an eight-wheeler rigid through city streets and suburban snarls are for most people, probably about as appealing as a nail through a big toe. To coin David Bowie, 'It ain't easy.' 
Fortunately, an Allison's attributes make the job less gruelling and combined with a truck which has comfort and operational ease as inherent traits, mixing with mindless metro traffic on narrow city and suburban lanes is at least made more tolerable, and safer
Like the FH model tested a few weeks earlier, the eight-legger had also done its fair share of demo duties, with more than 21,000km on the clock when we drove out of Hino headquarters on a busy mid-week morning. Again, like the FH model, the 8×4 was loaded with large stones to also gross around 22 tonnes.
With Hino Australia's likeably pragmatic Barry Noble along for the ride, it was an easy decision to run the truck through the sort of city and suburban conditions where hook-lift tippers make their living. Typically, almost six hours of driving resulted in little more than 120km of travel through Sydney's main thoroughfares and inner western suburbs.
Still, and despite the relatively light weight of the test unit, it was more than enough to form the opinion that Hino's 9.0 litre FY has the features to at least make it a respectable competitor to its Japanese rivals, namely UD, Isuzu and Fuso.
Admittedly, Hino was slow to introduce a factory-fitted twin-steer assembly with load sharing suspension and will subsequently have its work cut out to infringe on the established acceptance of its chief competitors. However, there's no question it has the qualities to make a mark, eventually.
For starters, the 360hp version of the 9.0 litre engine is a lively and responsive performer, made all the more appealing by the superb synergy with the Allison automatic. On the face of it, and taking into account the relatively modest gross weight, the day's fuel return of 2.2km/litre (6.2mpg) may not seem particularly favourable but again, the truck was toiling in teetering traffic flows for the whole exercise.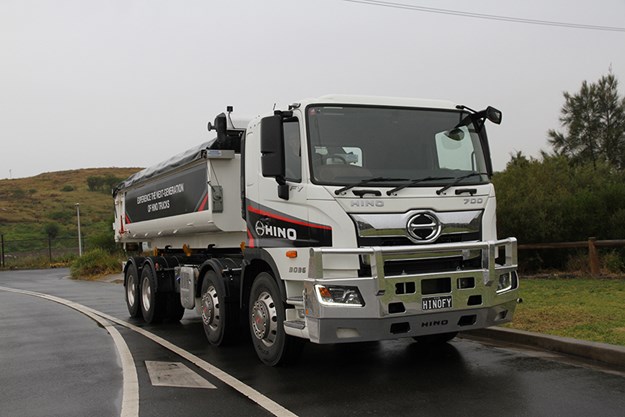 Likewise, ride and handling were extraordinarily good in tight traffic and on a few surprisingly broken suburban roads, showed none of the choppiness that can afflict some twin-steer designs. It was, quite simply, a smooth performance throughout but like all eight-wheelers, don't expect a tight turning circle.
In areas of heavy traffic, however, the FY reaffirmed our opinion that the large mirror housings on Hino's 700-series can obstruct the driver's field of vision, particularly on traffic emerging from the right at roundabouts and the like.
All up though, the FY 3036 demo truck provided a smooth and comfortable workplace for workloads that are often difficult, demanding and congested.
As for the powertrain, there's a lot to like about a responsive and surprisingly spritely 360hp 9.0 litre rating working in concert with the seamlessly slick smarts of the modern Allison transmission. For city and suburban work, Hino has been wise to make the auto shifter standard on all its 9.0 litre 700-series models.
To recall the words of Hino's Richard Emery, "We don't try to be all things to all people but what we do, we aim to do well."
Photography: Steve Brooks