Fuso Canter 4x4 Truck Review
---
As winter brings its chill to Australia's south-east, Matt Wood finds out how the Fuso Canter 4x4 Crew Cab handles the Victorian High Country's snow, mud, and tough descents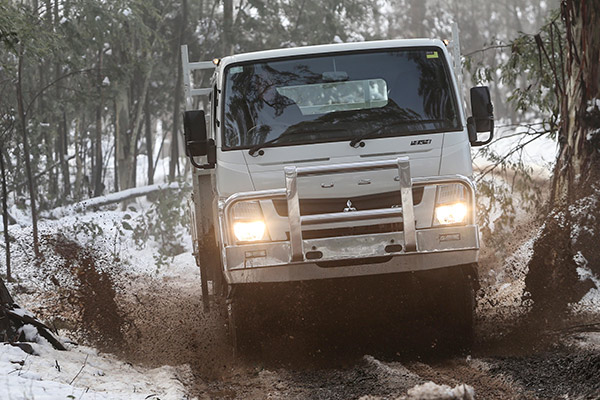 Winter does strange things to people. The Scandinavians have long been aware of this, that's why they invented saunas, hot tubs, and strange things to do with pickled fish.
What ever gets you through the long freezing nights eh?
Yet in Victoria we always seem to react with disgruntled surprise when winter bares its frosty teeth. It's like we live in the vain hope that winter may get a little distracted this year and forget to show up. Like knowing a speeding fine is coming in the mail but being pissed off when it finally shows up.
I recently found myself standing in ankle deep snow next to a Fuso Canter 4x4 Crew Cab in the Victorian High Country as winter made its icy presence felt. And I noticed another strange effect that cold weather has on people; it makes people shuffle on the spot like a dance class in an old people's home.
Seriously, watch a bunch of people standing in the snow from a distance and it looks like they're all quietly getting their boogie on to Tie a yellow ribbon round the old oak tree.
The 4x4 Canter, however, gets a boogie of its own going on when playing in the snow.
Fuso Canter 4x4 Details
Fuso engine and transmission
The Fuso uses a 3-litre EGR engine to shuffle in the muck and creates 110kW of power and 370Nm of torque.
A 5-speed manual tranny is used for the swapping of cogs and a 2-speed transfer case is used for off-road duties.
Canter cab options
This little off-roader is available in light truck 6,500kg GVM guise or can be down rated to a car licence friendly 4,500kg GVM.
And it's also available in single cab or 7-seat crew cab form.
The Canter's interior is unapologetically Spartan and functional, yet comfortable enough.
Basic switchgear is for the most part well placed and gauges easy to read.
The multi-media system is pretty much the same as you'd find on equivalent trucks in this class and displays truck specific navigation if needed. 
Selecting four-wheel-drive is a matter of pressing a button on the dash and then jumping out to lock the front hubs.
Then you can chose from either high or low range. From there its point the jigger at gnarly obstacle and see how it goes.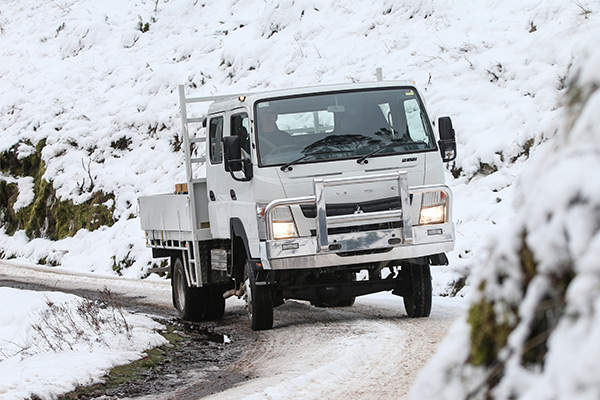 Performance 
To keep the rear duals firmly on the ground and my kidneys intact we also had 1,200kg of payload sitting in the steel tray of our Canter.
Winter had arrived with a vengeance and as such most High Country tracks were closed.
So we headed to the Buckland Valley which lies in the shadow of Mount Buffalo and tackled Goldie Spur Track.
This track winds along in the shadows of the powerlines that wind their way through the valley from Gippsland. And really it's the perfect terrain for a truck like the Canter.
Slippery forest roads, fire trails, and snow are the perfect natural habitat for the 4x4.
On-road testing
The Canter is really first and foremost an on-road truck that can be taken off-road to a point.
So the Fuso is quite at home on the blacktop and will cruise at the legal highway limit with ease. And the 215/75R17.5 rubber that the Fuso wears on all four of its feet is relatively quiet when it comes to road use.
This truck was actually a fire service spec truck so as a result it arrives sans air bags and electric windows. The idea being that in the advent of a burn over during a bush fire the heat can't detonate air bags and the window wiring can't melt and disable the windows.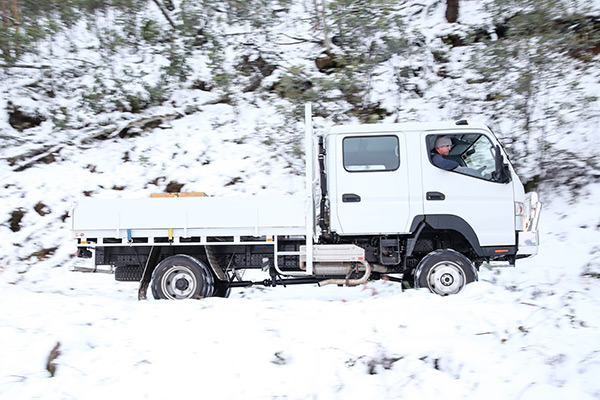 Off-road testing
I found the Fuso to be surprisingly capable off road.
Initial impressions were that the DPF and exhaust were hanging a little low and would affect ramp over angles, yet we didn't drag the exhaust at all.
The Fuso's forward control layout also acts as a great passive safety feature.
You only hit an obstacle going too fast once, after you've bounced off the roof a couple of times you'll slow the hell down and never do it again.
Slippery fire trails were handled relatively easily, and even some tougher off-road climbs and descents.
In fact, the descents were made a lot easier by using the Fuso's exhaust brake.
A sliding, out of control descent is bad news in any off-road vehicle but in a truck the extra weight makes it even worse.
Yet, I was able to wander down to some tight tracks brimming with snow, slush, and mud without any unscripted sideways action.
The exhaust brake kept my foot off the brake pedal and gently grabbed all four wheels on the way down the hill.
The lack of a front diff-lock also hampers climbing to a certain degree. But the rear limited slip manages to keep things moving in the right direction in most cases. 
Water troubles 
One of the bigger downsides for the Fuso however is a lack of wading depth. In factory form the Canter 4x4 is rated at a mere 330mm.
In other words, don't submerge the diff, transfer case or gearbox. If you do happen to get it wet, it's recommended that you revise the service schedule to ensure that no water has gotten into the important bits.
That said, it's relatively easy to fit an aftermarket breather kit for the aforementioned components.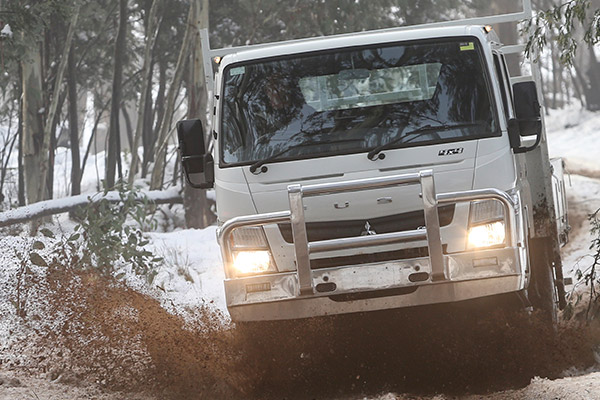 Verdict
Ultimately and increase in wading depth and the option of single rear wheels rather than duals would boost the gutsy Fuso's off road aspirations.
That said though, in factory form it remains a versatile truck that is equally at home on the road, building site or soggy paddock.
And as I found even dancing in the snow.
The Fuso Canter is offered with a 3 year 100,000 kilometre/2,000 hour warranty.
Dealer sourced pricing (cab chassis only excludes on road costs)
Single cab 4x4 $60,000
Crew cab 4x4 $65,500
Subscribe to our newsletter
Sign up to receive the Owner Driver e-newsletter, digital magazine and other offers we choose to share with you straight to your inbox
You can also follow our updates by liking us on Facebook. 

Trucks For Hire | Forklifts For Hire | Cranes For Hire | Generators For Hire | Transportable Buildings For Hire