Iveco ML150 Eurocargo 4x4 and Iveco Daily 4x4 review
---
The Simpson Desert is an iconic trip that features highly on many a bucket list. Tackling the trip with a couple of Iveco trucks and a fleet of dirt biking lunatics adds to the fun.
Against an early morning backdrop of glowing outback rock escarpments I rolled out of my swag to contemplate the coming day….and to have a wee.
The cries and squawks of birdlife wafted through the trees overhead as our party stirred and shuffled bleary eyed into the rapidly growing light.
---
Check out our video of the Iveco ML150 Eurocargo 4x4 and Iveco Daily 4x4 road test
---
The early explorers faced innumerable hardships and challenges as they traversed this harsh wilderness. In those early days Central Australia was no place for the faint hearted.
A Motely Crew
I however wasn't going to be roughing it too much really.
Our party consisted of an anesthetist, an ENT specialist, an ex-moto GP star and sports commentator, the owner of an ARB store, 2 ex RAF chopper pilots circumnavigating the globe by motorcycle, a fix it all truck driver, a dirt bike mad Iveco engineer and me….who was told there would be beer.
Which kinda sounds like a very long-winded segue into a bleary-eyed pub joke.
But, instead of camels and horses we had trucks and motorcycles. The bikes were a fleet of Honda CRF450s, the trucks an Iveco ML150 Eurocargo 4x4 and an Iveco Daily 4x4.
As you may have guessed already, the Eurocargo belongs to ex-moto GP star Daryl Beattie. This truck is the core of his adventure motorcycle tour business where he guides customers along some of this country's most iconic outback trails.
Cape York, The Simpson Desert and the Canning Stock Route all feature as potential itineraries for those that want a supported dirt bike blast with Daryl Beattie Adventures.
Custom Off-Roader
This Eurocargo has been extensively customised and features a Unidan body. This houses storage for camp gear and luggage, a mobile kitchen, workshop and external shower.
Underneath the body there's 1000 litres of water, 400 litres of shower water 600 litres of diesel (aside from the standard tanks on the truck) and 500 litres of unleaded for the bikes.
On the way to and from tours the truck also tows a trailer to transport the bikes, including Daryl's personal set of wheels, an Africa twin.
Power comes from a 6-cylinder, 5.9 litre Iveco Tector engine which makes 280hp at 2,700rpm and 950Nm of torque at between 1,250rpm and 2,100rpm. Gear changing is via a 6-speed manual tranny.
The big camo beast is constant 4-wheel drive with a 2-speed transfer case. The front, rear and centre differentials are all lockable.
This particular truck has had a couple of aftermarket mods to help it in the rough stuff.
Firstly the Iveco has been fitted with an AIR-CTI central tyre inflation system, secondly a set of extremely beefy adjustable King shocks have also been installed underneath.
Sans trailer, this truck grosses about 13,500kg when loaded for the bush.
Also along for the ride was an Iveco Daily 4x4 which came courtesy of Iveco head office for some photo ops.
Our starting point was Ooraminna Station about 35 kilometres south of Alice Springs. The station buildings and the remnants of an old film set lie in a natural rock amphitheatre that lights up in the morning and evening sun.
It also turns out that there are also a couple of bars of 3G phone reception from the top of a nearby hill.
In retrospect was kind of amusing to see the silhouetted figures of phone tapping individuals with faces aglow sending last messages to the outside world before venturing into the desert and looking very much like a troupe of tech savvy meerkats. 
Our route was to take us to Mt Dare via Binns Track and Old Andado homestead and across the 1100 or so sand dunes of the Simpson Desert to Birdsville.
A distance of over 1000 kilometres. The bikes would be fanging it. In the big Eurcargo though, we'd be slogging it.
Scott (Scooter) McLean usually steers the big jigger on these trips however I scored first stint behind the wheel of the ML150 as we rolled out of the station via some bush tracks heading towards Santa Theresa.
Low-Range Rollin'
I used low range for a bit until we got to the main (dirt) road to join up with Binns Track. The ML felt very much at ease on these roads.
The truck is a vital part of the trip mainly because it has all the camping gear, food, water and fuel on board, so I had to keep pedal to the metal.
Clearly the bikes are faster but they rely on the truck getting there in reasonable time.
So I was able to play out my childhood Dakar fantasies in the Eurocargo. With a massive plume of bulldust streaming from the military spec Michelin tyres I kept the go-pedal nailed while keeping my eyes peeled for obstacles that would have both Scooter and I bouncing off the roof.
In fact, while the bulldust holes were a challenge for the bikes and their riders the big Iveco just ploughed through them with ease. I even managed a little amusement at the bike tyre tracks in the dirt.
Here and there you could see the outline of a body and footprints in the dust where a rider had been bucked off in the powder fine dirt.
Under Pressure
With tyre pressures dropped to 52psi at the front and 67psi at the rear, the stretch from Old Andado and it's preserved homestead to Mount Dare proved to be a highlight as we wound through the trees at speed. It was hard driving yet with spectacular scenery.
We rolled into the Mount Dare 400 kilometres later to set up camp at what would be our last contact with civilization for 3 days.
From here on in the truck would be much slower than the rest of the party.
The rock and rubble strewn landscape sprawled out before us. as we took things at a much steadier pace. We'd left well before the bikes but I had to keep my eyes peeled on the mirrors and rear-facing camera for them as they caught up and attempted to overtake.
Once past the oasis of Dalhousie Springs and into the desert proper tyre pressures were again dropped to 40psi on the front and 62 psi on the rear.
As we followed the French Line we started the slow work of sand dune climbing and even slower descents.
Busy Track
It was still pretty early in the season, however there was still regular traffic along this route.
The eastern face of the dunes were already becoming quite carved up as a result of unlocked drivetrains spinning up the sand.
The result is a rutted off-set sand staircase which makes a truck with a high centre of gravity like the Eurocargo rock and buck wildly if a slow and steady approach isn't adopted.
After hours of slogging up and down the dunes in low range it was almost a relief to turn south onto the Rig Road and run high range between the parallel dunes.
We rolled to a halt to get a bit more stiffness in the adjustable shock only to find that the hard desert driving had taken its toll. A bottom mounting nut and spacer had disappeared.
Thankfully the shocker was still sitting on its mounting otherwise there may have been a little more swearing and bush engineering to remount it.
Scooter rummaged around in his bag of tricks and found a couple of nuts and a spacer.
With the sun low in the sky we rolled into camp just off the Rig Road to be greeted by a bunch of sweaty dust covered bikers hankering for what passes as beer in these parts. They were all to a man grinning like lunatics after the day's antics.
I don't think I've ever met so many people who think that a good day in the desert is being slammed into the dirt by your bike!
Dingo Chorus
As the speckled curtain of night was drawn back by the sun and the chorus of foraging dingoes faded we stirred for another day. We packed up camp and Scooter and I hit the road again.
The width of the truck and the vegetation meant that we ran with the mirrors tucked in.
Those mirror housings may be tough but they're no match for a repeated battering from the hardy desert scrub.
We soon found ourselves again grinding through the dunes on the French Line heading East. Some may say that the endless climbing of dunes and clay pan crossing can get monotonous.
But for me the novelty of taking in the view from the vantage point of a truck cab never wore off. It really is a stunning landscape of endless horizons and scrubby dunes.
Though I only really got to contemplate this when not concentrating on keeping the big Iveco upright. It's no mean feat to keep over 13 tonnes of truck moving through the sand safely.
We hit Poepple Corner, skirted the massive salt pan and trundled up to the French Line to again find a ravaging gang of bikers eagerly awaiting our arrival.
The load rack on top of the Eurocargo's Unidan body also found another use. I'd climbed up and tied some frozen steaks to it so they could thaw during the day.
I don't know if the repeated battering of the track helped tenderize them but at camp around the fire that night that steak would have to rate as the best I've ever eaten.
Judging by the amount of dingo activity that night it sounded like the wild life agreed too.
It also may have had something to do with Scooter throwing the food scraps on the ground near my swag; bastard.
Daily Time
After 3 days in the Eurocargo I snaffled the keys to the little Daily and pointed it east towards Big Red. After the truck, the Daily 4x4 felt like a sports car!
Admittedly the Daily didn't really have any load on board but this was the first time that I'd had a chance to drive the updated 4x4 in an off-road setting.
This little truck just flew up the dunes. Light weight and a set of 37-inch mud terrain tyres and low tyre pressures really made a huge difference in the desert.
The Daily has high, intermediate and low-range but in this terrain there was no need for anything other than high-range with the centre diff-locked.
The Daily uses a 3 litre Euro 6 turbo-diesel engine for power and makes 170hp and 400Nm of torque.
This updated powerplant does have a habit of being a little laggy even though peak torque is from 1250rpm, but keep the tacho needle at around 3,000rpm (peak power) and it will have a fair old crack at most things.
A couple of times I grabbed the rear diff lock to make cresting of a couple of dunes a little more dignified.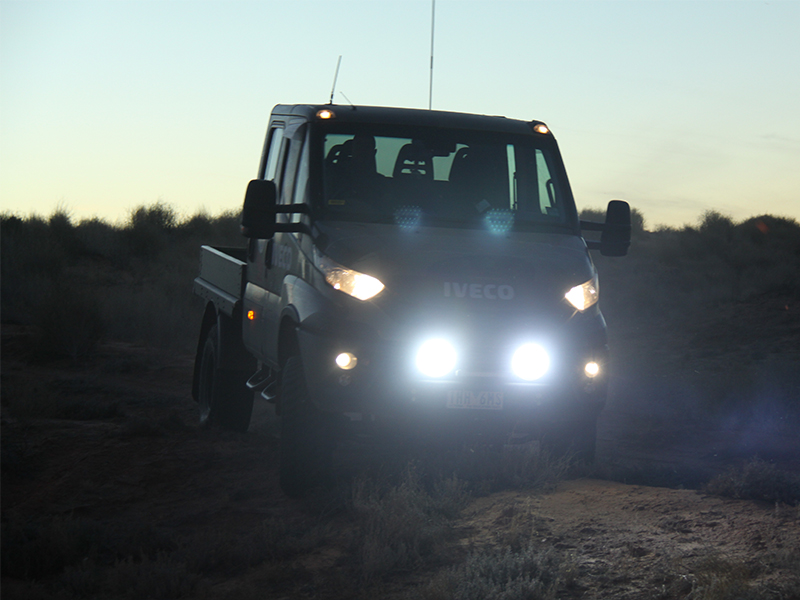 Big Red
After running amok in the desert sand for a few hours I crested a dune to find Big Red awaiting me. I nailed to go pedal under the gaze of the waiting bikers on top of the famous dune. And to my embarrassment, I didn't make it to the top.
I could see the nervous look on the face of Iveco's Joel Reid as he watched me make another attempt.
If I hadn't managed to get this tough off-roader to the top they may still be searching for my body. Really it just came down to speed and tyre pressures and the Daily scrabbled to the top of the dune.
The close-gated gear shift in the Daily made it very easy to slip into the wrong gear when trying to grab a cog in a hurry. That's my defence anyway!
Ultimately, I walked away quite impressed by the ML150 and its off-road capabilities. The long flat torque curve of the Tector engine made it a flexible performer off-road. Durability hasn't been an issue for this truck to date either.
This wasn't a staged media drive, this was a working truck with over 40,000km on the clock so far, much of it in the outback and on the dirt and close to GVM.
In this role however a torque converter auto such as an Allison would help with off-road tractability and would make the most of the Iveco donks' available oomph.
Retardation and Auto
The only downside of an Allison off-road though is it needs some retardation.
Relying on an exhaust brake to hold you back off road with smaller displacement engines equipped with an auto generally results in bump-fart-bump-fart kind of boogie on steep descents as the exhaust brake cuts in and out in conjunction with the rising revs. 
An auto even when locked in 1st will still let the revs climb.
I realize that optioning an Allison and 'box mounted retarder isn't a cheap exercise but it would be an off-road monster with that set up.
The Birdsville Pub was a welcome sight after a few days in the desert. It had been a great trip and as an added bonus, after four days sharing a truck Scooter hadn't felt the need to stab me with a biro. He must be a top bloke.
I've had a couple of big nights in the Birdsville Pub in the past but this one took the cake. I'd go into more detail but, hey, what happens on the road, stays on the road.
Economy
The Daily 4x4 proved a thrifty fuel sipper out in the back blocks. Admittedly it wasn't lugging a great deal of weight.
However 17l/100km is nothing to sneeze at. The hard working Eurocargo also surprised returning 43l/100km.
Bear in mind much of this was spent grinding through the sand in low-range.
Muddlife Crisis
Piers Hammond and Steve Hamilton are on the trip of a lifetime having travelled overland from the UK on their KTM adventure bikes.
Darryl and Scooter bumped into this pair of mad bastards at Mount Dare after a failed attempt to cross the Simpson unassisted.
After a chat they decided to tag along for the ride. They made it second time around!
Both guys are ex RAF chopper pilots and have seen active service in the Bosnian conflict and Iraq as well as Afghanistan.
It made for some fascinating campfire conversation as Piers regaled us with tales of flying a Chinook with a failing engine amongst other hair raising adventures.
Their ride around the world is to raise awareness and money for a couple of charities.
The John Egging Trust was established in memory of a former RAF colleague and Red Arrows pilot, John Egging who was killed in an airshow accident.
The JET works to get young people out of their lounge rooms and into the wilderness and realize their potential. Above and Beyond was set up to support patients in the public NHS system in the Bristol area.
By the time you read this Piers will be on his way across the US while Steve has fallen under Australia's spell for the time being.
You can follow their travels at muddlifecrisis.com.
Specifications Iveco Eurocargo ML150 4x4
Engine: 5.9 litre Iveco Tector SCR turbo-diesel
Power: 280hp @ 2,700rpm/ 950Nm @ 1,250rpm to 2,100rpm
Transmission: 6-speed synchromesh manual
Drive: Constant 4x4 with 2-speed transfer case
Diff Locks: Front-Centre-Rear
GVM: 15,000kg
Specifications Iveco Daily 4x4 Dual Cab Chassis
Engine: Euro 6  3 litre turbo-diesel
Power: 170hp/125kW@ 3000rpm/ 400Nm @ 1250rpm
Transmission: 6-speed manual
Drive: Constant 4x4 with high, intermediate and low-range
Diff locks: Front-Centre-Rear
GVM: 4,495kg
Subscribe to our newsletter
Sign up to receive the Owner Driver e-newsletter, digital magazine and other offers we choose to share with you straight to your inbox
You can also follow our updates by liking us on Facebook. 

Trucks For Hire | Forklifts For Hire | Cranes For Hire | Generators For Hire | Transportable Buildings For Hire