Beyond Better
---
The recent preview in Melbourne of the first Freightliner Cascadia in Australia was far more than just a peek at a new model about to undergo an extensive local test program. It was, in no uncertain terms, that point where Daimler Trucks North America officially hit the 'reset' button in a US$100 million bid to finally make Freightliner a front-runner on the Australian market. Steve Brooks presents this special report
Sometimes, you just have to go with your gut. So, here's a tip! In a few years from now, let's say three or four, Freightliner will surpass Mack as the second most popular conventional truck on the Australian market.
Yep, it's a big call and almost sure to set the dog barking.
Not only that, but with Freightliner currently skewered on less than four percent of the heavy-duty market, I could be monumentally wrong. If so, it'll simply demonstrate a couple of salient facts. One, that I'm not nearly as intuitive as age and experience might suggest, and two, that Freightliner principals here and abroad remain incapable of satisfying the significant demands of our supremely competitive market.
On the other hand, I could also be right. If that turns out to be the case, then rather than highlight any innate intuition on my part, it will deliver definitive proof that Daimler Trucks North America (DTNA) is finally offering the Australian market far more than platitudes and outdated designs.
Critically, it will confirm the American market leader is at long last supplying Australia a modern, advanced and long overdue conventional truck which has been engineered, tested and specified to the point where Freightliner can actually do what it has always been capable of doing. That is, create nervous consternation among its chief combatants by scaling to substantially higher heights on the heavy-duty heap.
The product being fashioned to drive Freightliner to this bold new future is the latest Gen II version of Cascadia, or 'New Cascadia' as the Yanks refer to it, which will be launched here in 2020 after being subjected to the most comprehensive and expensive testing and engineering program ever undertaken by Freightliner outside the USA. According to high level sources on both sides of the Pacific, DTNA has committed a staggering US$100 million to a Cascadia right-hand drive program aimed squarely at fulfilling the corporate giant's ultimate goal of being the leader of every market it contests. And according to the same high level sources, that includes Australia more than ever before.
Funny thing, though, I'm not sure I want to be right. Like its corporate cohort Volvo, Mack is at least locally assembled, employing Australians in an Australian factory, and for that reason has every right to attract some degree of patriotic fervour.
The same, of course, goes for that other local legend and undisputed king of the conventional class, Kenworth.
Not for a moment, however, does the gut or any other part of the anatomy predict that Freightliner will be knocking Kenworth off its perch anytime in the foreseeable future. That's not to suggest it can't happen but right now, given Kenworth's current strength and the fact it has a couple of exciting new models being primed for release later this year, it's hard to see Bayswater (Vic) losing its grip on the conventional crown.
Again, I could be wrong but in this instance, I think not. Still, there's a big gap between Mack and Kenworth, and it stands to reason that in any effort to climb to higher rungs on the heavy-duty ladder, forging past the bulldog will be Freightliner's first hurdle. Likewise, it'll also be the first indicator of whether Freightliner truly has its act together or not.
Nonetheless, it's a highly competitive commercial world we live in and no matter where a truck's made, the simple reality is that if the product's right, if the price is right, and if the support network's up to scratch, most trucks will sell well no matter where they're made or whose badge is on the hood.
Still, that's a lot of 'ifs' and up to this point, Freightliner hasn't done a particularly good job over the past two decades of achieving even a respectable portion of its inherent potential. In fact, it could be easily argued that no brand of heavy-duty truck in the modern history of the Australian transport industry has been capable of so much yet delivered so little of its inherent promise.
Then and now
Freightliner's Australian history starts in 1989, about eight years after the troubled US brand was acquired by German giant Daimler-Benz.
For our neck of the woods, the foundations were built on the durable versatility of the simple, strong FLC112 model, a truck configured specifically for the Australian market and which is still to be found earning an honest keep in many applications. For good reason, the FLC won a burgeoning band of followers and for Freightliner, the future looked remarkably bright.
In fact, the future shone like a rising star when the late '90s brought the Argosy cab-over and Century Class conventionals to an Australian market openly grateful for a US-sourced alternative to Kenworth product, especially the aged K-series cab-over. Compared to what was available at the time, Argosy was a revelation in US cab-over design and while they would never admit it, Kenworth insiders were worried.
However, problems weren't long in dampening the early euphoria. Simply put, Freightliner had been incredibly fortunate with the FLC112. Based on a construction truck platform and with a cab largely sourced from proven Mercedes-Benz stocks, FLC survived despite limited local testing prior to its Australian introduction.
On the other hand, Argosy and its conventional kin were effectively right-hand drive copies of their US counterparts and with almost no local testing to expose durability deficiencies in Australian conditions, cracks were quick to appear. Literally and physically.
Making matters profoundly worse, US engineering resources were slow to respond to dilemmas Down Under and that, in a nutshell, has been a major factor in Freightliner's steady slide to mediocrity over many years.
So, given these issues, and the somewhat hollow assurances by top-level US executives over many years that Australia was being given a new importance in Freightliner's future, why should the presentation in Melbourne of a lone left-hand drive Cascadia provoke such gut-given confidence that things will be vastly different this time around?
Well, a number of things, not least the simple belief that Freightliner has probably learned more from lost opportunities than any other high-profile brand on the Australian market. Most impelling of all, however, was a lengthy one-on-one discussion with Richard Howard, DTNA's senior vice-president of sales and marketing, the day before Cascadia was presented to Australia's transport press in a Melbourne studio.
The message was simple: "Improvement means understanding why we didn't get the results we want. If you lose, don't lose the lesson."
Classic evolution
Before we get to that, however, it's worth putting Cascadia's credentials into perspective. The first version, now referred to as Classic Cascadia, was launched in the US in 2006 and quickly became the flagship for Freightliner's ascendancy to Class 8 (heavy-duty) leadership.
Riding the crest of a wave, nothing much changed on the product front until 2013 when aerodynamic enhancements created Cascadia Evolution.
Then in a huge redevelopment which saw around US$400 million invested in a swathe of new design, drivetrain and safety features, 'New Cascadia' was launched in late 2016. Success was immediate.
Cascadia remains America's top-selling Class 8 (heavy-duty) truck by a country mile. According to Richard Howard, around 85,000 units have been ordered since the new model's launch, and Freightliner currently holds a staggering 40 percent share of a US Class 8 market which will this year consume at least 280,000 trucks.
What's more, Freightliner now holds similarly strong shares of buoyant Canadian and Mexican Class 8 markets, meaning Cascadia is possibly the most successful linehaul truck in North American history. That's big!
As for the design and features of the new model, an upbeat Richard Howard said simply, "Our customers have their fingerprints all over this truck."
Even so, history shows success on the North American market is no guarantee for success in any other part of the world, especially ours, and while holding true to corporate doctrine, Richard Howard was eager to get the message across that Australia is vastly higher on the Freightliner agenda than ever before. One hundred million dollars higher.
"In years past," he explained, "we had more of an export mentality. We dealt with 40 markets globally but three years ago we decided to move to a more international business structure which will see Freightliner bring the best of the best (a term he regularly used to describe 'New Cascadia') to five key markets outside the USA and Canada."
Those markets are Chile, Peru, Mexico and the only two right-hand drive countries, Australia and New Zealand.
"That means Australia will get the best we have in on-highway trucks, as well as being specifically designed for the Australian market. We know we have to bring that product here if we are to have the opportunity to be an undisputed leader in the Australian market."
Vitally, Cascadia's introduction here will signify that Freightliner principals in Australia and the US are at long last singing from the same song sheet; reading from the same script; working off the same plans; pulling on the same rope; drinking from the same trough; tapping into the same keg; shopping in the same store; snuggling in the same cot; chewing on the same chop … if you get my drift. But if that's not clear enough, it means right-hand drive models are now an integral part of Freightliner's main game rather than a second-string 'Special Projects' off-shoot as they have been for most of the past 20 years.
Market watch
An Englishman based at DTNA headquarters in Portland, Oregon, Richard Howard has a strong background in corporate finance and is quick to emphasise that investments of this magnitude are only made after careful analysis of a particular market's potential for sales leadership.
"We are committing resources, money and time to the Australian market in ways we have never done before," he continued. "That's the big difference today, that we are investing to be number one."
Maintaining the message, "Every market is different (with) different applications and different customer needs. We understand that, and all our key markets must be on the same product platform so we can bring all new developments and leading technologies together for those markets at much the same time.
"So when it comes to product, we're all on the same page with 'New Cascadia', whether it's the US, Canada, Mexico or Australia. That's critical when you consider the advances we're achieving with engines, transmissions and drivelines."
Obviously keen to push the product profile, a confident Richard Howard said that while 'New Cascadia' offers some engine and driveline options (specifically Cummins, Eaton and Allison), the propensity is for an all-Daimler engine and drivetrain package. He says that on current figures, 99 percent of Cascadia buyers in the US are opting for a Detroit engine, 94 percent are opting for Daimler's DT12 automated transmission and significantly, close to 70 percent are specifying the 'Detroit Assurance' active safety system.
Locally, Cascadia is almost certain to be the first conventional truck on the Australian market to offer a highly advanced integral safety system, including the standard provision of a driver's airbag and possibly side airbag.
The 'Detroit Assurance' safety package delivers a full suite of advanced systems and according to Richard Howard, "It's the electrical architecture of Cascadia that provides the platform for us to do that (and) there are large US customers who tell us that before the introduction of the active safety systems, they had a 1-in-4 incident rate which is now down to 1-in-19.
"It has also led to a huge reduction in repair costs due to the system's ability to react in anticipation of a collision, lessening the impact to the point where in one fleet's experience, the average repair cost has dropped from $7000 to $300.
"Other customers tell us they've eliminated rear end collisions altogether," he asserted.
Great, but how did Freightliner, or rather DTNA, manage to get the Australian market so wrong for so long?
Reflections for the future
"The numbers tell the story and none of us are happy about where we are in terms of market share in Australia," Richard Howard said bluntly. "We have a good team in Australia but in product terms we have to bring the best of the best to this market and that means a truck which is absolutely set for Australian conditions."
Yet while choosing his words carefully, and citing the severely negative influence of the Global Financial Crisis (GFC) on decisions at the time, he conceded it was a mistake to endure with a tired Century Class rather than introduce the original Cascadia to Australia in the first few years after its US release in 2006.
"Century Class has not been in the US market for many, many years, so Australia is now running on a generation of product which is quite different to our lead product for North America," he commented.
"When I look at how we approached things in the past, during the time of the GFC, I can understand the reasons why we didn't bring Classic Cascadia to Australia. Even so, it was a mistake not to introduce it here at that time."
Quiet for a few moments, a thoughtful Richard Howard continued, "I know we're at a low ebb at the moment in terms of current market position but on the product side, our best is yet to come.
"But no matter what the product, we have to continue to do the right thing by customers and dealers."
Asked if Cascadia is a case of Freightliner asking the Australian market for another chance, he resolutely replied, "I wouldn't say another chance, but I think we owe our customers the best choice.
"Our customers in Australia deserve the same choices as the US or Canada, and that's what we will do."
But hasn't customers' faith in Freightliner been bruised, even abused by continuing to deliver such an outdated product range? "I wouldn't say abused but trust is the key," he replied. "Our reputation and character are often the only things we have in life and we'll do everything we can to support our customers, whatever market we're in."
But that said, Freightliner some years back pulled out of the right-hand drive South African market, so is this push with Cascadia a 'make or break' effort for Freightliner on the Australian market?
A definite Richard Howard said abruptly, "No. We are fully committed. There's no make or break about it (and) by developing an international market focus, we have a clear strategy now on how we want to get to a top position in the future.
"That strategy is 100 percent committed. We are in for the long haul."
So, you're basically giving our market an assurance that Australia is a critical part of DTNA's future?
"Absolutely. This country is a key piece of our strategy for the future. It is an absolutely critical market."
It was a similarly resolute Richard Howard who asserted there will be no repeat of the slow response to engineering requirements if issues arise during Australian testing or later, when Cascadia is in full service here.
Importantly, he insists America is well aware of Australia's ability to unearth problems that occur nowhere else. "Despite the immense amount of testing that has been done and continues to be done in America, it's almost certain there will be things we find in testing here that we haven't seen anywhere else.
"Again, it's critical we respond in a timely manner to those developments. Australia is the first export market for this new generation of Cascadia and we will be making absolutely sure there will be a quick and thorough response to any issues that arise," he confirmed.
For now, that's it!
Testing times
Local testing has started in earnest and the day cab model on show in Melbourne with its spectacularly vivid 'camouflage' was simply the first of many. As we've already reported, 'the first test trucks will be left-hand drive – equipped with camera and monitor technology to safely operate on public roads – before an increasing number of right-hand drive models join the program.'
What's more, as Freightliner added in a recent press statement, the 'exhaustive multi-million dollar test program for the truck in local conditions (is) to ensure the best possible specification is selected and that it stands up to Australia's tough roads and conditions.
'This will be in addition to testing that will be carried out by the research and development team at DTNA in the US.'
While guarding specific details, Freightliner insiders conceded the test program will include day and sleeper cab models with various specifications on bumper to back-of-cab (BBC) dimensions from 116 inch to 126 inch, powered by 13 litre and 16 litre Detroit Diesel engines with SCR emissions systems, driving through Daimler's 12-speed DT12 automated transmission.
Ultimately, the Cascadia range will cover applications from local and regional distribution up to roadtrain triples combinations.
Cascadia will, of course, replace the aged Century Class range of conventionals but it's not yet clear if it will also lead to the demise of the Coronado model. Typically, time will tell, though it's hard to see Coronado continuing when the full Cascadia range is up and running.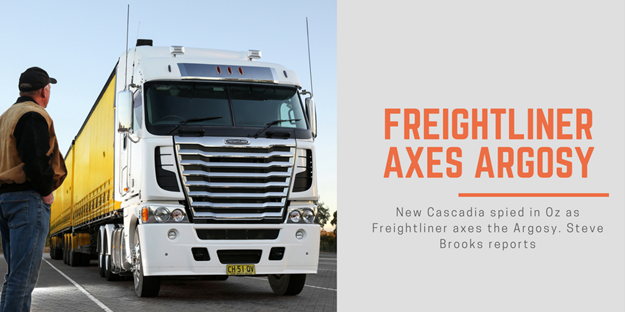 Meanwhile, the excitement within the local Freightliner camp is almost palpable, with none more excited than the brand's Australian director, Stephen Downes. You get the distinct impression the next 18 months to the launch of Cascadia can't come fast enough. Fair enough, too, given that since his arrival at Daimler Trucks Australia from Kenworth, Downes has had to contend with the inherent issues of a tired and increasingly uncompetitive product range. Basically, the same issues conceded by Richard Howard.
Admittedly, a quick glance at the first Cascadia in Melbourne was nothing more than a snapshot of what's to come. A couple of things were, however, encouraging. Simple things, like the way the doors close firm and strong, the design and apparent strength of mirror bracketry, the neat and easy layout of switchgear, wands and instrumentation, and most evident of all, the similarity of some in-cab components and controls with the new Mercedes-Benz cab-overs.
And therein comes the critical question of what Freightliner will do to fill the cab-over void left by the departure of Argosy?
The answer is … nothing! Simply, there will be no Freightliner cab-over and that should surprise no one, particularly given the fact the North American market for cab-overs has been dead and buried for well over a decade. To be blunt, Argosy has been living on borrowed time for years.
So, just as Volvo sells cab-overs only and Mack sells conventionals only, Daimler Trucks Australia will be on the same path with Freightliner going all-out with Cascadia and Mercedes-Benz continuing to make big inroads with its new generation of cab-overs.
Following several years of intense testing on the Australian market, the resurrection of the Benz brand has been nothing short of outstanding. The first half of this year, for instance, has seen Mercedes-Benz move past Mack into fourth place on the heavy-duty ladder.
In a few years from now, let's say three or four, it's a fair bet Freightliner will be doing exactly the same.
Subscribe to our newsletter
Sign up to receive the Owner Driver e-newsletter, digital magazine and other offers we choose to share with you straight to your inbox
You can also follow our updates by liking us on Facebook. 

Trucks For Hire | Forklifts For Hire | Cranes For Hire | Generators For Hire | Transportable Buildings For Hire