ProStar in profile
---
In this comprehensive report, Steve Brooks takes a look at the long-winded arrival of International ProStar on the Australian market, talking exclusively with the first ProStar owner in Australia, then steering a B-double up the Hume to find a truck with plenty of positives. But first, here's a bit of background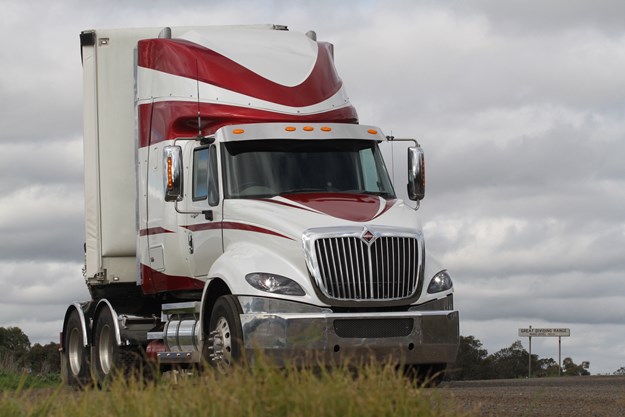 It's finally here and have no doubt, it's a truck with the potential to eventually carve a respectable presence in a field full of fierce competitors.
Sure, ProStar's passage to prominence won't be easy, but it's certainly not beyond the bounds of possibility.
That said, there has ever been a more protracted, convoluted entry to the Australian market than International ProStar.
It was, for instance, back in February 2015 when it was first announced that ProStar would make its local debut at the Brisbane Truck Show in May that year and with it, of course, the re-entry of the International brand to the Australian market.
Six months earlier in the US, a senior Navistar executive speaking to a small group of Australian truck media at the company's grandiose corporate headquarters in Chicago, indicated Navistar's intention to remain part of the Australian market.
"Navistar is in Australia to stay," said Eric Tech, the former head of Navistar's global operations. What he should have added, perhaps, were the words "… in one form or another."
Even so, it was a bold statement, though seemingly based more on corporate correctness than firm intention. After all, International parent company Navistar was at that time still supplying Cat-badged trucks to the Australian market and despite considerable badgering, Eric Tech would not be drawn on whether International's involvement in Australia would be as a fully factory-backed operation or through a distribution agreement with a corporate partner. A partner such as Iveco.
Eventually, after much speculation that Navistar and Iveco were about to regenerate their previous associations – this latest enterprise is, in fact, the third time the two entities have forged an association – both companies in October 2015 issued a press release stating, 'It's a done deal. Iveco appointed Australian distributor of International trucks.'
Then silence. Other than occasional snippets from cautious sources and increasingly shallow notions about International's 'entrenched psyche' and 'incredible heritage' in Australia, there was barely a whisper form either outfit for more than two years.
To be blunt, it was all a bit weird. Was this really the return of an iconic brand or was it just another example of corporate complexity and confusion on a grand scale? From the outside looking in, those two years did little more than spawn speculation that negotiations between Iveco and Navistar weren't quite as smooth as initially hoped.
From all appearances, it seemed the inevitable dissolution of the Cat connection was providing Navistar with the option of either packing up and going home, or again joining with Iveco in a bid to put International back on the Australian map, this time with a fully imported ProStar.
Obviously, Navistar chose the latter while at Iveco, with its Powerstar model struggling for sales, there was more long-term potential in having a Cummins-powered ProStar as the company's spearhead conventional.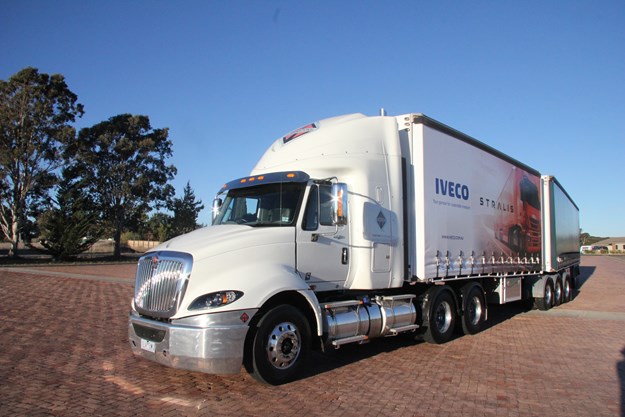 Together Again
International and Iveco have plenty of shared history, not least the clever initiative orchestrated around the turn of the century by former Iveco Trucks Australia managing director Alain Gajnik which saw the introduction and ultimately, local production at Iveco's Dandenong (Vic) plant of International 9200, 9900 and later, 7600 conventional models.
For the better part of a decade, everything appeared to be rocking along reasonably well until Navistar in 2009 pulled the plug on the association with Iveco and jumped into the corporate cot with Cat.
It was a sad and unfortunate end to what, from all appearances, had been a reasonably productive arrangement for both entities. What's more, it saw the steady disintegration of the critical support structures essential to the survival of any truck brand. In fact, several sources say that the rebuilding of sales and service structures was a major reason for the long delays in ProStar's arrival on the Australian market.
Still, while the Cat exercise undid all the good work, the Cat-badged truck was based on ProStar and at least confirmed the structural and mechanical merit of the International cab and chassis.
Consequently, ProStar is not altogether new to Australia, with many facets of the truck operating since 2010 in the guise of the Cat-branded CT630 model.
What's more, with an experienced and dedicated team of local engineers, the Cat range steadily graduated from trucks with few options and limited application potential to models suitable for a far wider range of roles, ultimately right up to roadtrain triples. Fortunately, those same engineers now guide the local development of ProStar.
So in a nutshell, the engineering and durability advances made with the Cat-badged product should be, and ultimately may be, easily applied to Prostar. Providing, of course, market acceptance and subsequent sales growth deliver sufficient incentive to invest in expanded models and options.
And that's where the crunch comes; in resurrecting the market's faith in the future of the International brand because no matter how you look at it, that faith took a terrible pounding when Navistar flicked Iveco in favour of a Cat company which had already scurried out of the truck engine business and would soon after exit the truck business altogether. In effect, Navistar was left holding the Cat can.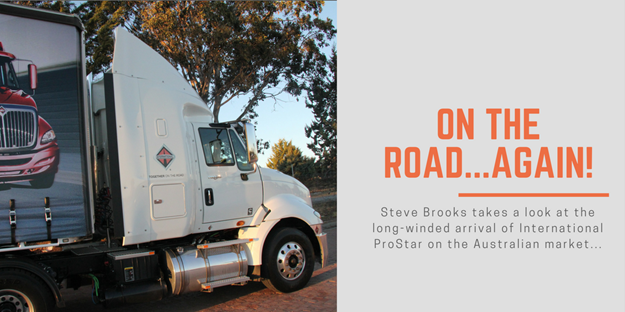 However, resurrecting that faith will take a concerted and consistent effort at all levels of the Iveco and International networks, from senior executives on both sides, dealers and vitally, sales and service personnel. Indeed, internal faith in the future of the product will be as instrumental to the brand's success as its acceptance by customers.
Patience, perseverance and a reasonable price reflecting ProStar's modest standing in a highly combative market, will be paramount.
However, ProStar has something the Cat truck never had. A Cummins engine, and more to the point, the security of a power provider which won't walk away from the truck business.
Whether you're a Cummins fan or not, the world's leading independent diesel engine maker has many attributes in this country, not least a remarkably strong and highly regarded service network, and a heavy-duty product range which in its latest 15 litre X15 form has matured far beyond the maladies plaguing its EGR predecessor.
All up, ProStar has the ability to make a mark in this fiercely competitive market. If it doesn't, it won't be the truck's fault.
Subscribe to our newsletter
Sign up to receive the Owner Driver e-newsletter, digital magazine and other offers we choose to share with you straight to your inbox
You can also follow our updates by liking us on Facebook. 

Trucks For Hire | Forklifts For Hire | Cranes For Hire | Generators For Hire | Transportable Buildings For Hire