Safety a priority for Hino
---
Hino's new 'street smart' 500 Series Standard Cab medium-duty truck is matching the larger European rigs in terms of technology and, more importantly, safety.
The terms 'next generation, 'ground breaker', 'game changer' and the like have been bandied around whenever a new truck model has been released, especially in recent years. So where does the new Hino 500 Series Standard Cab fit in among that terminology? According to Bill Gillespie, Hino Trucks Australia general manager, the new 'street smart' Hino deserves to be identified as a 'mind changer', a phrase that surfaced during a Hino meeting in 2018.
Intrigued, I travelled north to Hino Motors HQ in Tokyo to catch a preview of the new models before their Australian release.
First off was the driveline, with the Hino 500 Series Standard Cab range powered by a heavy-duty A05 five-litre four-cylinder diesel. It's interesting to note that the A05 is a smaller version of the A09 six-cylinder engine that sits in Hino's 700 series heavy duty models in Japan, as well as the 500 Series Wide Cab models in Australia. What's more, the A05 produces as much torque as the larger J08 engines in the 500 Series Wide Cab models, plus 10 to 20 per cent more torque than the J07 engine in the superseded Standard Cab trucks.
Depending on the models within the new range, engine power ranges from 240hp to 260hp.
The FC 1124 and FD 1124 come with the A05-TE engine, delivering 240hp at 2,300rpm and 794Nm of torque at 1,400rpm. The FE 1424 crew cabs get the A05-TD, again with 240hp at 2,300rpm and 833Nm of torque at 1,400rpm.
The top-of-the range FD 1126 and FE 1426 models receive the A05C-TC, with Hino boasting peak power of 260hp at 2,300rpm and a torque rating of 882Nm at 1,400rpm.
"The high torque output and the low revving nature of this engine is further evidence of its heavy duty genes – while reducing rpm improves the fuel efficiency it also reduces stress on the engine and ultimately improves reliability and durability," says Daniel Petrovski, manager of product strategy for Hino Trucks and Buses in Australia.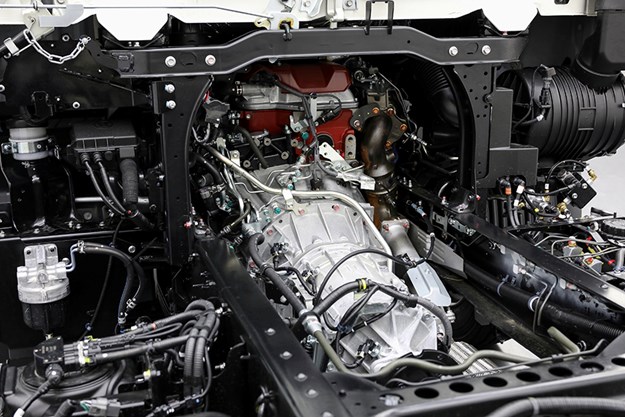 The six-speed Allison 2500 automatic transmission is available across the entire new range of 500 Series Standard Cabs, although more traditional choices remain. The FC and FD models are fitted as standard with the LX06 and MX06 manual gearboxes; the FE model housing the MX07 manual. While the LX transmission was fitted to the previous Standard Cab models, the new range of MX 'boxes are designed to support the A05 engine's increased torque.
FE and FD customers also have the choice of the Hino Automated Manual Transmission (AMT) with the MX06 and MX07 engines.
Bill Gillespie, however, foresees that most buyers will opt for the Allison fully automatic 'box. More to the point, he says advance sales are pointing to the Allison at 70 per cent, 25 per cent for manual, while only 5 per cent of customers will choose the AMT.
"You drive an AMT and then you drive a full auto, but unless you're particularly keen on AMT, I think you'd buy the full auto," Gillespie says.
"The biggest problem we've got at the moment is: a) people wanting to be truck drivers; and b) being experienced seems to be an issue.
"So if they can get an automatic, and I know it goes against the grain for hard core truck people, but if they can do that, that's what they will be doing.
"The wide cabs have an Allison auto, a number of our trucks run the Allison automatic, so it's not new to our brand and of course it's not new to the wider truck world. It's very well received," Gillespie adds.
The increased power comes despite the claim that the 500 Series Standard Cab range is the cleanest Japanese-built medium duty truck to reach Australian shores. It meets the Japanese strict but oddly titled post-Post New Long Term (pPNLT) emissions standards, which Daniel Petrovski points out is equivalent to Euro 6.
"This is the beauty of system where we run the DPR [Diesel Particulate Reduction system] and then the SCR [Selective Catalytic Reduction]," Petrovski says.
"We are getting the best bang for our buck out of the engine and the combustion process, getting the power and most efficiency we can, which is really the big story for Hino.
"It's the whole driveline, the improvement in power delivery, driveability and the fuel economy that we're getting out of these new drivelines."
However, an obviously excited Petrovski says the jewel in the new 500 Series Standard Cab are the active safety systems. "They are certainly going to take the market to the next level in regards to safety." 
Turning point
There's no doubt about it. Hino is banking heavily on its safety technology in the new trucks to close the gap on Isuzu's number one ranking in the medium duty market. It introduced Vehicle Stability Control in 2011, which Petrovski says was a turning point for Hino as a brand.
"Now our competitors are starting to follow that. They haven't all caught up yet, even with this technology seven years ago, but it is something that the governments are looking at with vehicle stability control as a mandated standard feature in the next lot of brake ADR requirements."
Passive safety features include the UN ECE R29 EGIS (Emergency Guard Impact System) cab, driver's SRS airbag, and the Isri NTS2, which now comes with a seatbelt and an SRS pre-tensioner.
The front underrun protection (FUP) device, mandatory for the FE model, is now also available in the single cab FC and FD models.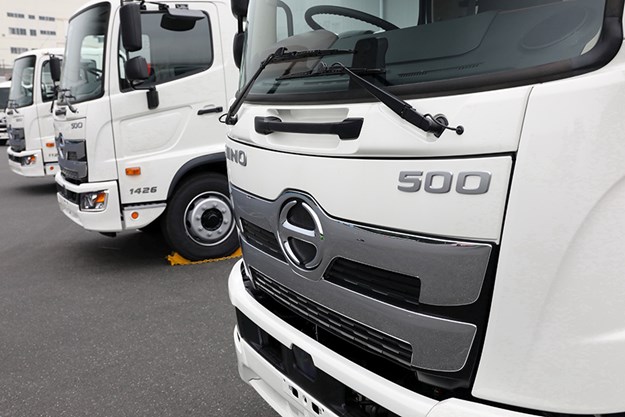 However, the big talk of the new 500 Series Standard Cab series is the Pre-Collision System (PCS) – the first of its kind in a Japanese medium duty truck – which incorporates Safety Eye (SE), Autonomous Emergency Braking (AEB) and Pedestrian Detection (PD). Previously, these are items you'd most likely only see in a mid-sized or heavy Euro truck.
Put simply, if you're behind the wheel of a new 500 Series Standard Cab and are approaching a slow moving or stationary vehicle, the SE camera detects the possible danger and alerts the driver visually through an message on the dash and an audible alert through the two-channel speaker system. This overrides any other operation of the speakers, such as radio or a favourite music playlist.
If for whatever reason you take no action, the PCS activates the AEB and automatically activating the brakes to avoid a collision.
Hitting the brakes, or attempting to steer around the vehicle in front will signal the AEB that the driver has everything under control. If a collision is unavoidable, the PCS will take additional action such as flashing the rear brake lamps or, if a collision has occurred, activate the hazard lights.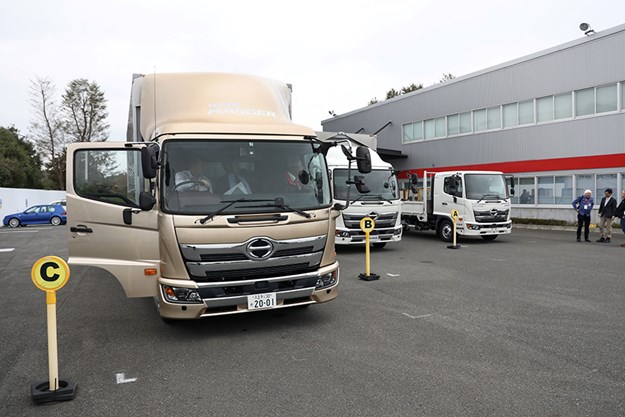 So, it was with quiet trepidation that I climbed into a Hino's passenger seat at the Hamura Test Centre near Tokyo to grab a first-hand look at the PCS in action. First of all, we did a circuit of the track before rounding the bend to be confronted by a stationary vehicle dead ahead.
With one eye peering through the windscreen, and the other on the brake pedal, it was soon evident to me that the Japanese driver of the Hino truck had no intent on hitting the brakes. He didn't flinch either as the truck came to a complete stop, well before any possible contact. Impressive!
A safer option was taking three of the new models around the Hamura track for a test run with Hinos of varying transmissions – manual, AMT and Allison auto. Traditionalists may argue, but the Allison auto is impressive.
Fortunately, I wasn't required to be a guinea pig for another of the PCS features – Pedestrian Detection.
"Pedestrian Detection does, as the name suggests, see people walking on to the road, and it also uses the PCS system to stop," Daniel Petrovski explains.
Again, the system will warn the driver to apply the brake using both visual and audible alerts. However when questioned, Petrovski was quick to point out that PD will not pick out other living things such as cattle or kangaroos, the latter being well off the Japanese radar.
Petrovski believes it's the first time PD has been installed in a truck, one of the many advantages of being part of the Toyota Group.
"We've been able to adapt their safety systems to the Hino truck to the point where a lot of these systems are operating on a 12-volt circuit," he continues.
"So we have our normal truck 24-volt operating systems, and we have these safety systems operating on a 12-volt. So it is a great benefit being part of this greater Toyota Group."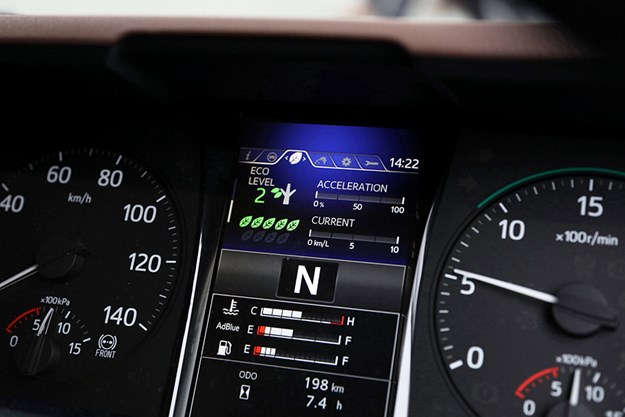 The PCS Safety Eye also comes into effect with Adaptive Cruise Control and Lane Departure Warning, also adapted from Toyota. Petrovski says not only is Adaptive Cruise Control a beneficial safety item, it also aids with fuel efficiency. It's a step ahead of a car's regular cruise control.
Petrovski explains that once you've turned on the cruise, you then set the speed required. "If you are travelling at 80km/h and there's a vehicle in front and it's doing 60km/h, the vehicle will slow down."
He says it's especially beneficial on single lane country roads because, despite the Hino being forced to activate the engine brake to slow down, there's no need to switch the cruise control back on.
"So the benefits are that you can use your cruise control more often, which in Japan they do call 'fuel saving cruise', because with your cruise control you're ironing out those constant movements in acceleration, which unconsciously you're making to keep up with the traffic.
"And that is the most fuel efficient way to drive."
You can also set a safe distance via a left hand rotary switch on the steering wheel, ranging from 16 to 27 metres. It does, however, depend on traffic density, how fast you're travelling or that you simply prefer to feel safer driving further back from the vehicle in front. 
Speed traps
A further feature of Adaptive Cruise Control is an overrun setting, from 1 to 15km/h, which comes into play when driving downhill.
"So if it is set at 5km/h, and you get up to 85km/h going down the hill, the vehicle will apply the engine brake and bring you back to that tolerance you've set," Petrovski explains.
"For the professional drivers out there, whose licence is their livelihood, this is a protection system in terms of helping them to maintain that set cruise control speed and not go over where the speed trap is usually going to be set up for you."
As far as Lane Departure Warning is concerned, most urban delivery drivers will be pleased to hear that it doesn't kick in until the truck is operating above 60km/h. So no issues with constant alerts in loading areas where lane markings can be in abundance.
Petrovski says a sideline extra, Staggering Warning, ties in with Lane Departure Warning, which can analyse and warn of erratic driving.
"Erratic means those quick movements every now and again, which lends itself to being that of a tired driver.
"So what Staggering Warning will do, it will alert you and come up on the screen and on the speakers, and it pre-charges or prepares the PCS for an incident.
"It's basically saying, 'hey, something's not right with the driver'. Whether they're tired or whether they've had a medical condition, and the vehicle gets itself ready. So it's quite an important early detection system," Petrovski says.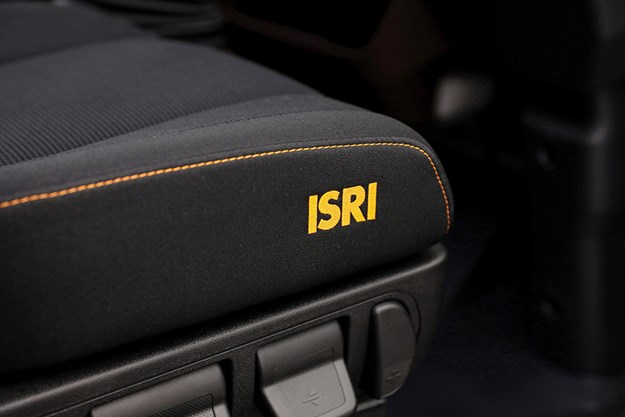 However, he's quick to add that the new features are not a "package" as such, but are standard on all new Hino 500 Standard Cab models.
"We as a brand have decided that safety is important. We're not going to make it an option.
"When we talk about these features and what they do, they are active safety features but they are also driver aids.
"And when we are sitting with the customer and the driver, and we are doing our driver training, we educate the driver that these are systems for them to use to stay safer.
"The driver should be paying full attention to the road and what's going on around them, because safety systems aren't going to be a solution for every single situation out there on the road," Petrovski confirms.
"But they will make a massive difference to some of those very common accidents on Australia roads."
Petrovski explains that when Hino did its research to introduce autonomous emergency braking, it was aware that the Australian government was pushing hard for it to be fitted to trucks.
"It's already mandated in Europe, but in Australia, one of the most common accidents where there are fatalities, are truck to single passenger accidents where a passenger car may be waiting to turn right on a country road, single lane, and for whatever reason a truck doesn't see them, and runs into the back of them.
"They're the type of accidents where AEB and PCS are going to come into play and really make a difference to that road toll." 

Driver enticements
Bill Gillespie believes that the extra technology in the new truck, as well as its drivability, especially with the Allison auto, could entice new blood into Australia's truck driving ranks and encourage others to switch companies.
"If there's a driver shortage, which there is, and you've only got your labour to sell as a driver and you can drive this truck, or you can drive some 20-year-old shit box, basically I know what you'll be driving. You'll go to drive for people who have modern equipment. Why wouldn't you?
"And the legal situation is that, if you can buy and drive this truck versus others, and you choose not to do that and put your drivers in trucks of lesser safety, in our view, you potentially open yourself up to some risk," Gillespie adds.
"I think, from our point of view, we specified the new 500 series around technology, and we think Australians are adopters of technology. And I think they'll like that truck.
"It will appeal to the owner-driver who wants to have a couple of trucks to drive that are safe, and the big corporate fleets which have to look after a lot of different drivers and they want very safe operating conditions for their drivers.
"Then of course, the engine having Euro 6 equivalent emissions should appeal to the big fleets and the medium-size fleets as well."
Gillespie sees the new truck being a hit in the tilt tray market, and for local councils and government but, more importantly, distribution work, especially with the FD model.
"The FD is much more of a truck. That six pallet to eight pallet work, that's the bread and butter of distribution work in Australia and with full automatic, we think they'll be very popular."
IN addition, he believes the new 500 Series Standard Cab range will go a long way to shortening the gap between Hino and perennial pacesetter Isuzu.
"I think there'd be 10 different reasons why, in our view, the gap between ourselves and Isuzu is so large.
"Some of it is just historical; they've had a very strong product range for a very long time and they've been very strong with the major fleets and some of the big government departments.
"And in some of those areas, if they have one brand of truck, they tend to stay with the same brand of truck.
"In our view, we're better than our current sales, but the point is you've still got to do it."
Whether the new 500 Series Standard Cab range can be the "mind changer" Hino believes it is, that remains to be seen. But it's certainly packing the goods to make that happen.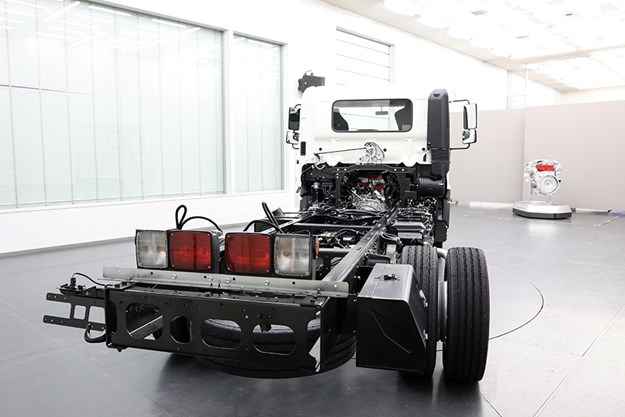 Subscribe to our newsletter
Sign up to receive the Owner Driver e-newsletter, digital magazine and other offers we choose to share with you straight to your inbox
You can also follow our updates by liking us on Facebook. 

Trucks For Hire | Forklifts For Hire | Cranes For Hire | Generators For Hire | Transportable Buildings For Hire