Cascadia trial on track
---
A right-hand drive Freightliner Cascadia has been quietly undergoing extensive testing in a Queensland operator's fleet, prior to its official Australian launch.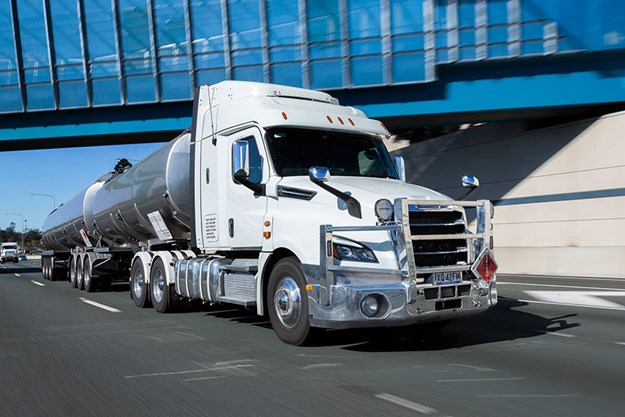 It was an opportunity too good to miss and the timing simply could not have been better: a stint aboard the first right-hand drive Freightliner Cascadia test truck in the country, just days before heading to the United States for a detailed look at the testing and development work being done in preparation for the model's Australian launch later this year. A Cascadia 126 model, the right-hooker has been operating in the fuel haulage fleet of Toowoomba-based Maktrans since February this year and with almost 72,000km under its belt, has done everything expected of it, according to company owner Rob Hannaman.
Maktrans runs nine trucks with Freightliner Coronado punched by Detroit's DD15, being Rob's established combination for the 25 metre B-double applications that dominate the business, hauling fuel across a broad expanse of Queensland and NSW. The only exceptions are a recently purchased Mercedes-Benz 2663 model for a new A-double configuration and, of course, the Cascadia test unit punched by a Detroit DD16 dispensing 600hp (447kW) and a tenacious 2,050ft-lb (2,779Nm) of torque.
Joining two left-hand drive test units operating from Victoria, the Maktrans Cascadia is effectively a hand-built pre-production unit brought to Australia to continue the test program that Freightliner is banking on to verify and secure Cascadia's durability for the Australian market.
According to senior Freightliner insiders, several more right-hand drive trial units are soon to join the local test program, which is being run in sync with an extensive engineering and test exercise in the US. The extent of that exercise and its aim to ensure Cascadia does not suffer the durability dilemmas of some predecessors, is the fundamental reason behind Freightliner's invitation to visit the US operation.
Meantime, the Maktrans truck is the same unit showcased on the Freightliner stand at this year's Brisbane Truck Show, obviously with the 'camouflage' now removed. It is also the first Cascadia in Australia to sport a sleeper cab – the shorter 36 inch version which will be offered along with 48 inch and 60 inch bunks.
Critically, driver reaction to the Cascadia has been highly positive with Maktrans driver Trevor Conroy quick to concede he'd be more than happy to stay in the trial truck for as long as possible.
"It's a good thing," said the straight-talking 62 year-old during a run from Brisbane to the top of Cunningham's Gap on his way to deliver a B-double load of diesel to a roadhouse in northern NSW. "As far as I'm concerned, it's a better truck all-round than Coronado."
Why? "It's more comfortable, quieter, a lot better visibility," Trevor says simply. "There are just a lot of things about it I like, including the automated 'box. It's just so good everywhere, and easier, especially in traffic."
As for handling and road manners, he contends the steering is certainly firmer at low speeds than its Coronado equivalent, "But you couldn't say the steering's heavy. Not at all, and it keeps a good line on the road."
Just an hour or so after leaving Brisbane, ride quality and road manners were certainly showcased on the rippled, rutted surface of the Cunningham Highway where the Cascadia delivered exceptionally high standards.
It was on this stretch, however, where Cascadia displayed a surprising and totally unexpected quality totally at odds with most of its predecessors. Despite the fact the truck had shortcomings in some areas of fit and finish, typical of any pre-production unit, there was not one – I emphasise, not one – rattle, squeak or squawk from the moment I climbed in to the time I climbed out at Fisher's roadhouse at the top of Cunningham's Gap.
A smiling Trevor Conroy agreed. "Yeah, there are no noises that shouldn't be there."
Cynical as it may sound, this was an amazing feat for a brand often pilloried for poor attention to detail, suggesting that the Cascadia cab has inherited a level of Benz architectural strength which largely eluded its forebears. Except, of course, for the original and much revered FLC112 model which also happened to have a cab derived from Mercedes-Benz.
Road Report
One of the truck's two regular drivers, Trevor spends four days behind the wheel before handing over to John Malpress for the remaining three days of the week.
While acknowledging that most drivers have their own ideas and individual preferences on what's good and what's not, Trevor is a big fan of the standard seat. "I'm not a tall bloke and my back's not real good at the best of times but this is probably the most comfortable truck seat I've ever sat in."
What about the bunk? "It's alright for me and it'd probably be fine if you were the truck's only driver but for our work, a bigger bunk would be better, for sure. It'd make life easier."
Quiet for a moment, he adds abruptly, "The worst thing about it is the mattress. Bloody Yank mattresses are crap." Fortunately, Freightliner in Australia uses a far better mattress.
Any other issues? Again, he takes a few moments before stating that apart from some initial delays with wiring for Dangerous Goods compliance, the truck has been largely trouble-free.
"We've just been told to put mileage on it and that's exactly what we've been doing, except when it got taken off the road for the truck show," he remarks.
Asked if he's noticed a difference in fuel consumption between the 600hp DD16 in the Cascadia and the 560hp (418kW) DD15 in the Coronado he normally drives, both units hauling largely identical B-double tanker sets at loaded weights up to 68 tonnes, an adamant Trevor Conroy insists, "A big difference. This truck (Cascadia) is heaps better on fuel."
He quickly scans through the test truck's on-board monitoring system to reveal an average consumption of 51.4 litres per 100km, or 1.95km/litre, recorded over the previous 3,500km.
Much of Cascadia's instrumentation, switchgear and control functions are from the same family store as the latest Mercedes-Benz models and Trevor concedes it took "a little while" to come to grips with the various functions but now, "it's not a problem".
Time and distance passed quickly and it wasn't long before Aratula fell behind and the long Cunningham's climb started to rear up.
As he usually does, Trevor simply set cruise control and let the DT12 automated shifter do its thing for most of the climb until, with just a kilometre or so to go, he switched to manual mode in preparation for a shift down to fifth on the approach to the sharp lip at the top.
In an incredibly strong pulling performance, the DD16 revealed the deep reserves of grit and grunt you'd expect from a big bore engine with such formidable torque output, hauling easily over the lip in fifth gear at 20km/h and Trevor reporting, "My right foot's not even flat to the floor."
It was, however, the synergy and intuition of the engine and transmission package that truly impressed, with the DT12 in auto mode demonstrating an advanced ability to let engine speed to run to the higher end of the rev range on steep sections rather than regularly jumping to an unnecessary and unwanted upshift.
All up, it's impossible to judge the long-term suitability of any truck from just a hundred kilometres or so in the shotgun seat. But this much is indeed evident: Freightliner Cascadia is demonstrating the attributes to suggest America's number one brand of heavy-duty truck will later this year cross the Pacific with far more in its favour than any of its forebears.
Stay tuned, because our next report on Cascadia will also be from the other side of the Pacific.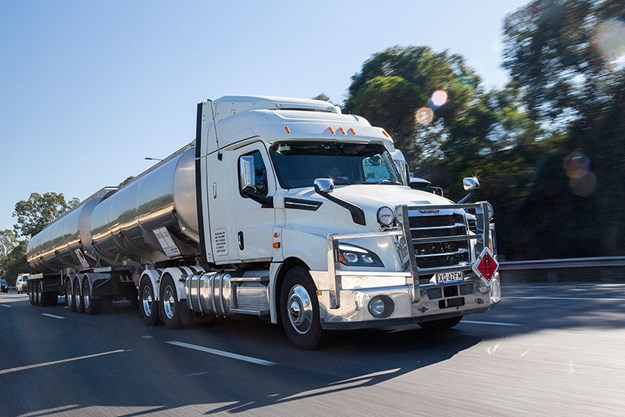 Subscribe to our newsletter
Sign up to receive the Owner Driver e-newsletter, digital magazine and other offers we choose to share with you straight to your inbox
You can also follow our updates by liking us on Facebook. 

Trucks For Hire | Forklifts For Hire | Cranes For Hire | Generators For Hire | Transportable Buildings For Hire